Nikon Coolpix W100 review
Verdict
The Nikon COOLPIX W100 is without doubt the best value rugged waterproof compact currently on the market. It's a fraction of the cost of models with similar rugged credentials – it's waterproof to a depth of 10 metres, freeze proof to -10C, can survive a drop from 1.8 metres and is dustproof. There's a decent 3x zoom and although the 2.7 inch screen is smaller and lower resolution than on more expensive models it does the job perfectly well. You also get built-in Wifi with NFC as well as a Bluetooth wireless connection that can automatically send all your photos to your phone using Nikon's SnapBridge app.
But the thing that sets the COOLPIX W100 apart is its simplicity and ease of use. From the two big buttons on the top panel – one for photos, the other for movies – to the four big buttons on the back which between them allow you to access nearly all of the camera's features via big, bold, simple menu pages, this is a camera designed for photographers of all ages and experience levels. The big buttons and simple navigation also make it perfect for use in the water of course. That, combined with the low price makes it ideal if you want something that you can hand over to the kids without worrying about it, or if you want something for yourself that you won't shed too many tears over if it ends up at the bottom of the ocean or down a ravine – at least you won't have to worry about losing your pics along with the camera as SnapBridge will have ensured they'll all be on your phone!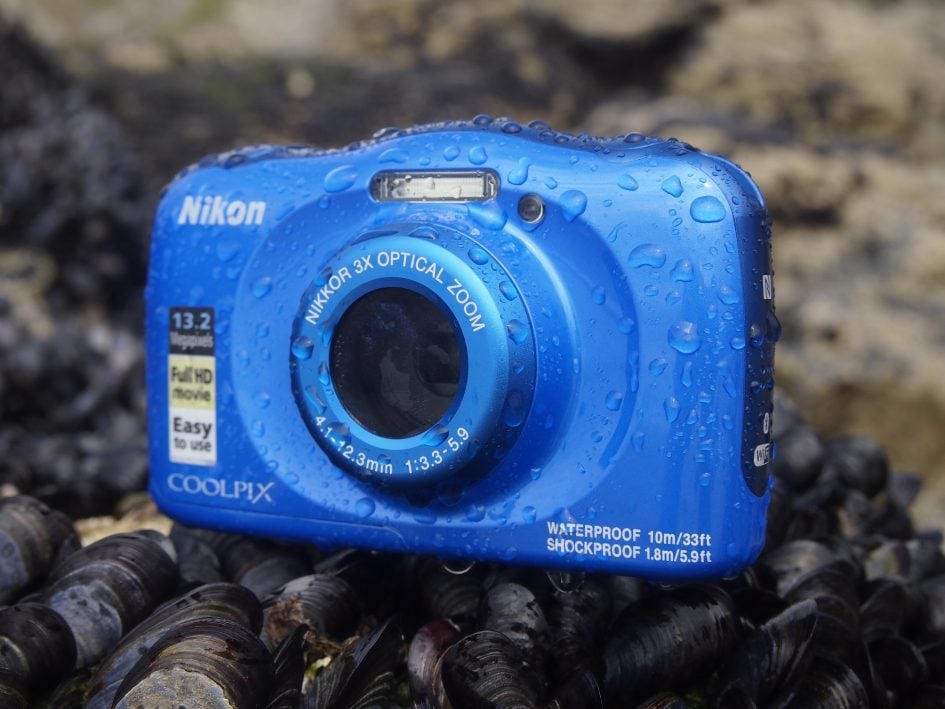 So the COOLPIX W100 is easy to use and relatively worry-free, but don't expect sophistication. The picture quality from the mobile-phone sized sensor is quite noisy, even at the base 125 ISO. You can't use the optical zoom for movies and, annoyingly, the digital zoom can't be disabled. It has no optical image stabilisation, exposure, including ISO sensitivity, is fully automatic and there's only one movie mode, albeit a decent 1080 / 30p quality. In it's favour, it does have fairly decent 4.7fps continuous shooting plus an interval shooting mode.
If you want better quality photos and video, a longer, wider zoom lens, a bigger, higher resolution screen, more control over exposure settings, or faster continuous shooting, any of this years rugged waterproof compacts will offer some or all of those things, at a higher price point of course. If you're thinking of taking a step-up check out my Nikon COOLPIX W300 review, Fujifilm Finepix XP120 review, and Olympus TOUGH TG-5 review.
But none of the higher priced rugged compacts offers the ease and simplicity of the COOLPIX W100, add to that the excellent phone connectivity provided by SnapBridge and all the fun features and it's not hard to see why I've given the COOLPIX W100 a Highly Recommended Award.
Good points
Easy to use
Wifi, Bluetooth and NFC
4.7fps 11-frame burst shooting
Bad points
Small sensor produces noisy images
No optical stabilisation
No optical zoom for movies
Digital zoom can't be disabled

Check prices on the Nikon Coolpix W100 at Amazon, B&H, Adorama, or Wex. Alternatively get yourself a copy of my In Camera book or treat me to a coffee! Thanks!