Nikon COOLPIX S9900 review
Verdict
The COOLPIX S9900 is a more affordable competitor to the best selling Panasonic Lumix TZ70 ZS50 and the Sony HX90V. Both of those are premium compact super-zooms that are attracting buyers with a high level specification and a degree of control that will appeal to serious hobby photographers.
For many though, the most important thing about a compact super-zoom is the lens and in terms of its range the Nikon's 25-750mm equivalent is a match for the Lumix and Sony models, but my tests show that's it's not quite up to the same quality as the optics on those models.
And while both both Panasonic and Sony have good quality electronic viewfinders as an alternative to the screen, that's a feature you won't find on the lower-priced COOLPIX S9900. But it does have an excellent LCD screen which can now fold out and angle in any direction and there's also something you won't find on either of the higher-priced models – a second command dial for altering exposure settings.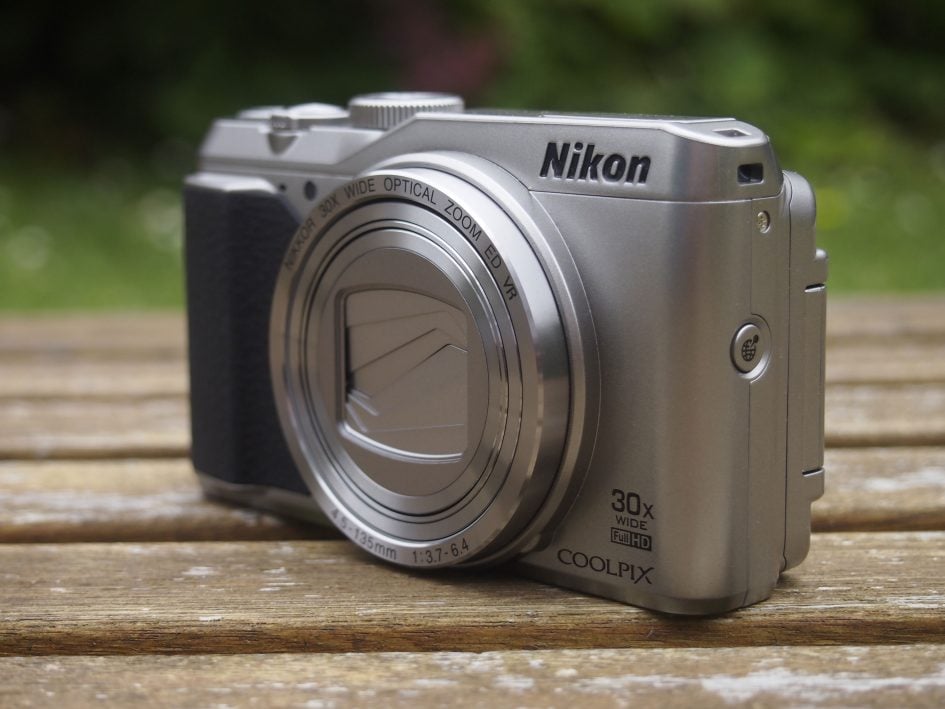 The COOLPIX S9900 also adds NFC for easier Wifi connections, allowing you to initiate wireless transfers and remote control by gently tapping your smartphone against the camera body. And while Panasonic is moving away from location features, abandoning built-in GPS and mapping features on the TZ70 / ZS50, Nikon continues to support them on the S9900. Not so good are the remote shooting features which remain very basic.
The S9900 is also a less capable video camera than either the Sony HX90V or the Lumix TZ70 / ZS50, both of which offer 1080 / 50 / 60p HD modes compared with 1080 / 25/30p on the S9900. To make matters worse, Nikon has, for reasons only it can know, dropped one of the better high speed video options of the earlier S9700, HS720/2x, which allowed you to shoot 720p movies for half-speed slow motion playback. That said, the Sony HX90V doesn't have any hi speed modes, though if you're prepared to edit you can effectively use the 1080 / 50 / 60p mode for half-speed playback at 25 or 30fps. You can do the same with the Lumix TZ70 / ZS50 which also has 720p video at 100fps, or VGA video at 200fps for a four-times or eight-times slow-down respectively. For more details on either model, see my Panasonic Lumix TZ70 ZS50 review or Sony HX90V review.
If you're on a tight budget and are prepared to sacrifice a built-in electronic viewfinder, the COOLPIX S9900 represents great value for money – especially considering it sports a fully-articulated screen and built-in GPS. But bear in mind there are other options at this price point. The Canon PowerShot SX710 HS, like the COOLPIX S9900 has a 30x optical zoom and lacks the electronic viewfinder provided on the more expensive models. The earlier COOLPIX S9700, which is still in the Nikon line-up is also worthy of serious consideration. It lacks the newer model's command dial, NFC chip and articulated screen and is missing the time-lapse and Short movie show features. If you can live without those it could prove to be a real bargain, but as always compare prices between the old and new models carefully as the latest ones can often receive greater discounting due to volumes.
Good points
30x stabilised optical zoom.
3in Vari-angle LCD screen.
2nd command dial.
Time-lapse video feature.
Bad points
Comparatively bulky.
Lacks an electronic viewfinder.
Basic remote shooting features.
No RAW mode, but it's of limited use on this type of camera.