In depth
The Nikon COOLPIX S33 is a low-cost, water-proof, dust-proof, freeze-proof, and shock-proof compact designed, in Nikon's own Words, 'for all the family'. As well as being tough and inexpensive, the COOLPIX S33 is very easy to use. Both the physical controls on the camera itself, as well as the menus, are very simple. Almost everything, including exposure and focus, is automated, with a range of scene modes for things like shooting underwater or at night and for adding effects.
The COOLPIX S33 doesn't have built-in Wifi or GPS and lacks many of the sophisticated features of more expensive waterproof models. But it's not entirely devoid of cool features, it has an interval timer and backlit shooting modes and if you hold the shutter button down it'll fire off a 4.7fps burst. In terms of toughness, it's waterproof to a depth of 10 metres, shock-proof to 1.5 metres and you can use it in temperatures down to -10C, so it's good for the piste as well as the pool or the seaside. Essentially though, the COOLPIX S33 can be summed up in two words – simple and inexpensive. Since it'll survive drops, knocks and dunks in the water, it's perfect for kids.
I tested the COOLPIX S33 alongside Canon's PowerShot D30, which looks similar but costs nearly three times the price albeit packing in more features. I've also compared it with Nikon's own premium waterproof compact the COOLPIX AW130. Like the Canon D30, the COOLPIX AW130 is nearly three times the price of the S33, so read on to find out if you really need what these more expensive models have to offer or if the budget COOLPIX S33 fits the bill for you.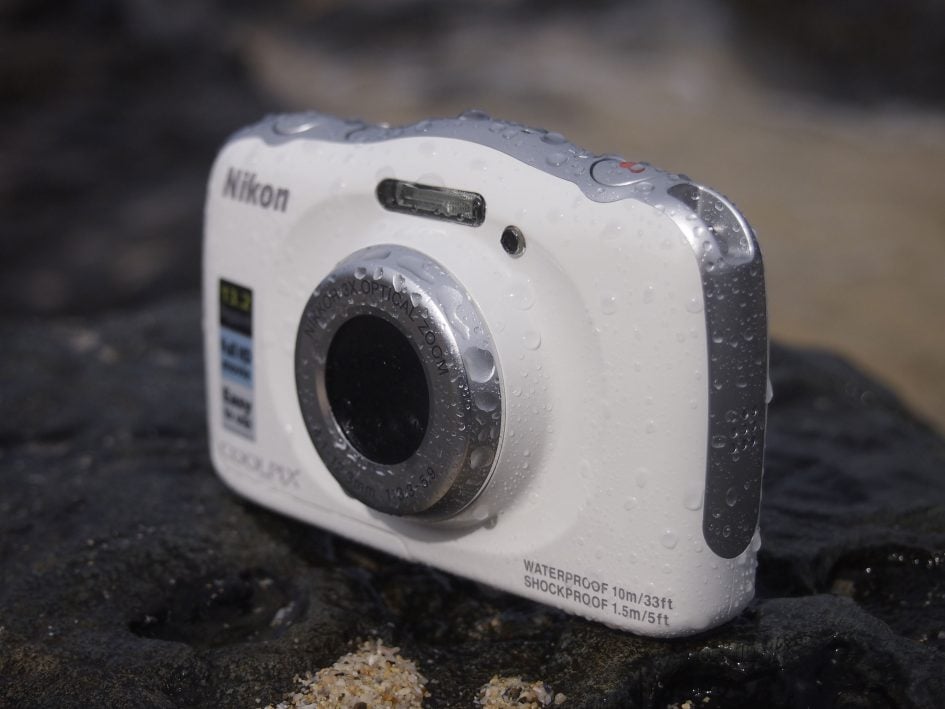 Nikon COOLPIX S33 design and controls
Like everything else about it, the design of the COOLPIX S33 is simple, but it's also surprisingly elegant and distinctive. Less block-like and angular than many rugged waterproof models, the COOLPIX S33 doesn't go for the macho look, it's all shiny plastic and gentle curves. This isn't the only thing about it that's likely to appeal to younger users, there's a lot about the S33 that kids will like.
The lens is set in the middle of the front panel in what could be described as a shallow crater. The panel dips inwards and the lens rises out of it capped with a silver bezel, or contrasting colour. The top panel also has silver, or colour detail which contrasts with the gloss paint on the plastic body. The COOLPIX S33 is available in blue, pink, yellow or white. Any colour you like, as long as it's not black.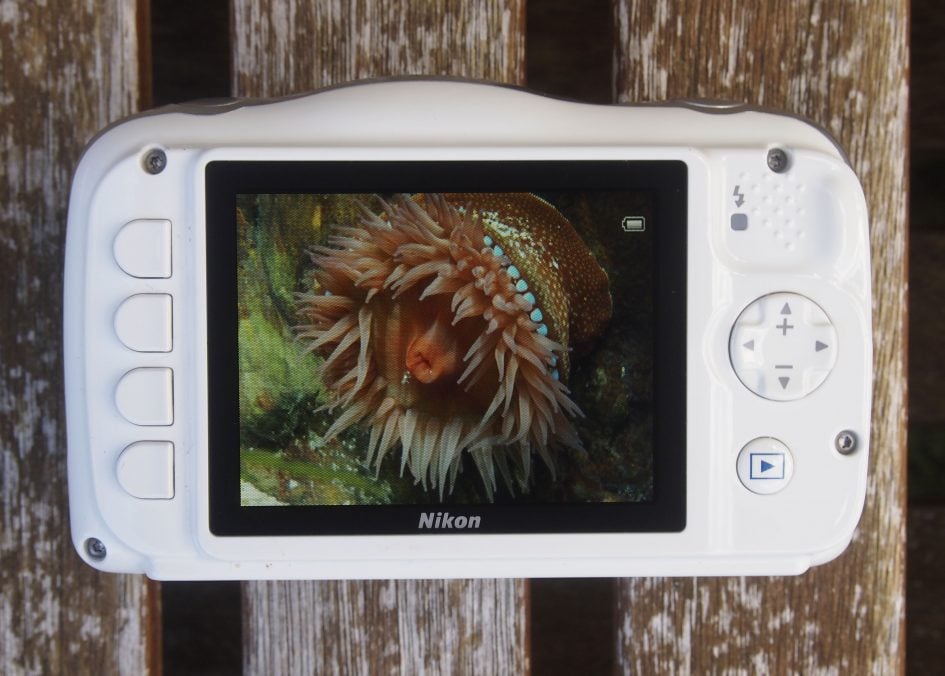 The flash is located directly above the lens and has a maximum range of 3.1m at 1600 ISO. Just below it there's an AF assist light. The front is otherwise uncluttered, there's no grip material and on the back there's just a moulded dimpled recess in the plastic for your thumb, despite that I always felt I had a secure grip on the S33, even one-handed. When you hold it in your hand you realise that crater on the front isn't just there to look cool, it's the perfect niche for your second and third fingers to get a grip.
On the top there's an unconventional button layout; there's nice big shutter release button exactly where you'd expect to find one but there's a second one at the opposite end of the top panel with a red dot in the middle for movie recording. It's the first time I've seen photo and movie taking given equal weight like this, it's a simple idea but one I really like. It's something you'd have no problem explaining even to very young kids, and little fingers will have no trouble pressing the big round buttons.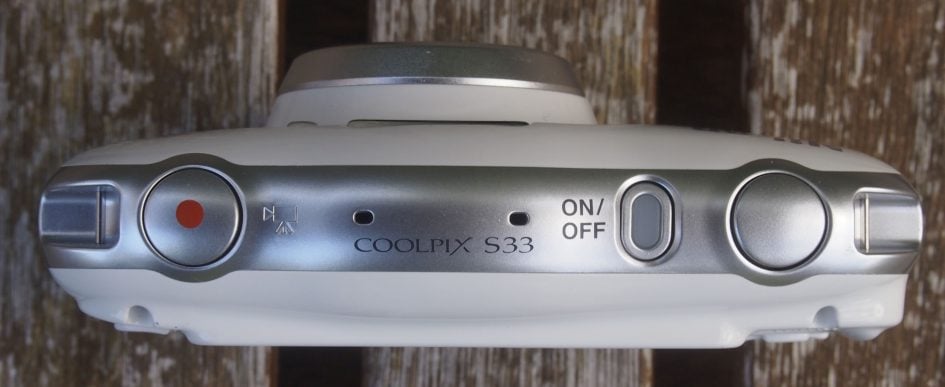 Round the back there's a four-way controller, the top and bottom buttons of which do double duty as a zoom rocker, a playback button and four big buttons ranged down the left side of the screen. The S33 has no menu button, instead you use these four buttons to select shooting modes and access the limited settings on offer. I'll talk more about how this works in the shooting experience section below, for now I'll just say that, once you get used to it, it's a lot easier than navigating a menu system with a four-way controller.
There's only one door on the COOLPIX S33 and that's on the base of the camera. To open it you need to push against a sprung latch whilst pushing the door towards the camera edge, it can effectively be done one-handed, but it's pretty secure and I had no problems with it in the water. Inside the combined battery and card compartment you'll also find a USB / charging and mini HDMI port.
The COOLPIX S33's battery is good for 220 shots, a little on the meagre side and well short of the 300 shots you'll get with the Canon PowerShot D30 or the even more generous COOLPIX AW130 which provides 370 shots from its fully charged battery.
The supplied mains charger plugs into the S33 via a standard USB cable and the S33 can also be charged from a laptop, car adapter, portable battery or whatever other power source might be available. Convenient if you're on holiday as you can use the same cable and charging source as for other USB devices. The COOLPIX AW130 has the same arrangement, but the Canon D30 charges the battery outside the camera using a mains charger.
At 2.7 inches diagonally, the COOLPIX S33's screen is small, the AW130 and Canon D30 both have 3 inch screens. And with a resolution of 230k dots it's also less detailed than the 461k dot D30 and the 921k dot AW130. It's not just that the S33 is in more expensive company, generally speaking its screen is basic, with even budget compacts these days boasting 3 inch screens.
That said, the S33's screen is adequate. Yes it's smaller and a little less detailed that what you'd see if you spend more, but it does the job. It has a bright contrasty picture providing you're looking at it more or less straight on. It does have a narrow vertical viewing angle though, so if you're holding it above your head or below you in the water it can be hard to see much.
Nikon COOLPIX S33 lens and stabilisation
The COOLPIX S33's 3x lens has an equivalent range of 30-90mm and a maximum aperture of f3.3-5.9. If you compare that with the the 4x Canon D30 at 28-140mm or the COOLPIX AW130 at 24-120mm it clearly can't compete – its wide angle isn't as wide and you can't zoom in as close.
The difference between 28 and 30mm isn't huge, but if you like to take wide shots of scenery or big groups, the COOLPIX AW130's 24mm setting will accommodate them much more comfortably. Plus both the D30 and AW130 can zoom in a bit closer to more distant action, though even the Canon D30's 140mm telephoto isn't long enough for small distant subjects like birds, small fish more than a couple of feet away, or surf shots taken from the shoreline.

With a maximum aperture of f3.3, closing to f5.9 at the telephoto end, the S33's lens is reasonably bright, though, and is actually brighter at the wide angle setting than the Canon D30. So in low light you've as good a chance of capturing good quality images, though the S33's smaller sensor will impact on the quality – check out my results pages to see just how much of a difference that makes.
The COOLPIX S33 lacks active image stabilisation – where the lens or sensor is shifted to compensate for camera movement and allow sharp photos to be taken at slow shutter speeds in low light. Instead it has what Nikon calls Electronic VR – photos are processed by camera firmware to sharpen them up. It's not nearly as effective as the optical stabilisation employed in the Canon D30 and COOLPIX AW130, so the S33 won't be able to take photos in the same low light conditions as those models. It also means movies can be a little shaky – especially if you're shooting with the lens zoomed in.
Nikon COOLPIX S33 movie modes
As with many of its features, the COOLPIX S33's movie modes are basic, but easy to use. There is really just one movie mode, so no complicated settings to worry about. Press the big button on the left side of the S33 and you'll get automatically exposed 1080 / 30p clips.
The maximum recording time for a single clip is 29 minutes and sound is recorded via the stereo mics mounted in the top panel. Note that the more expensive Canon D30 only has a mono mic.
You can't use the S33's optical zoom whilst movie recording is in progress, so you'll need to adjust the zoom to frame up your shot before pressing the record button. If you attempt to zoom during recording, the digital zoom is activated which simply scales up the image resulting in a poorer quality result. The digital zoom is also a bit clunky – it zooms in steps rather than a smooth progression. Generally it's probably best avoided.
Not being able to zoom during movie recording is something the S33 has in common with budget compacts of an earlier era, these days even the most basic cameras can zoom and most can also take still shots while you're shooting a movie, something else the S33 can't manage. It's not alone in that though, the Canon D30 can't do it either, if you want to take high resolution photos while you're recording a movie, the COOLPIX AW130 is the one to go for in this group.
There are three other movie modes, 'small' 640 x 480 at 30fps and Small old-fashioned which is also 640 x 480 pixels but at 30fps with a vignette and scratches added to give a surprisingly effective old fashioned look. It's all good fun, but even one slow motion mode would have been a better option.
Finally, the COOLPIX S33 has a movie miniature mode which captures a still frame with blurred regions top and bottom every two seconds. These are then combined into a 1080 / 30p movie. There's a 300 shot limit, which makes for a maximum movie length of 10 seconds and you can't move the in-focus band which is fixed to the centre of the frame in landscape orientation. It's not as sophisticated as the Canon D30's miniature mode which allows you to set the size and position of the frame and provides three speed settings, but the result is higher quality – 1080p compared with 720p – and it's simpler to use.
Nikon COOLPIX S33 shooting experience
The COOLPIX S33 has upgraded autofocus and now includes the Target finding AF feature common in other COOLPIX compacts. Target finding AF identifies both human and non-human subjects in the frame when the camera is pointed at a scene. Potential subjects are identified and tracked with green rectangles. It seems to have an uncanny knack for picking the main subject in a scene which for some situations is a real improvement on the nine-area AF mode – at least when subjects are on dry land and stationary or slow moving.
At the beach I had quite a hard time getting the COOLPIX S33 to focus on people in the water. I'd say at least three quarters of my shots were out of focus and I missed a lot through having to wait for the focus to lock onto something. It's always more difficult to auto focus when you're in the sea as there's a lot of water moving around and less of substance for the camera to focus on; water droplets on the lens can also make life difficult for autofocus systems. But the S33 was particularly poor in this respect. The only thing you can do is take lots of pictures to ensure that you have a proportion that are in focus.
The other useful addition to the S33's auto focus features is underwater face framing mode which employs face detect AF to identify faces underwater. On the face of it (sorry) that may sound no different to any other kind of face detect AF, except of course that anyone underwater is likely to be wearing goggles or a mask, making face detection much more of a challenge.
That's not all there is to it though, Underwater face framing mode isn't just about face detect AF, it captures photos automatically when it detects a face. The idea is that if you don't fancy diving yourself you just thrust the camera below the surface and wave it about – when it spots a face, it takes up to three shots. And it works. The S33 was actually pretty good at identifying even goggle and mask-clad faces – as long as they were reasonably close to the camera and front-facing.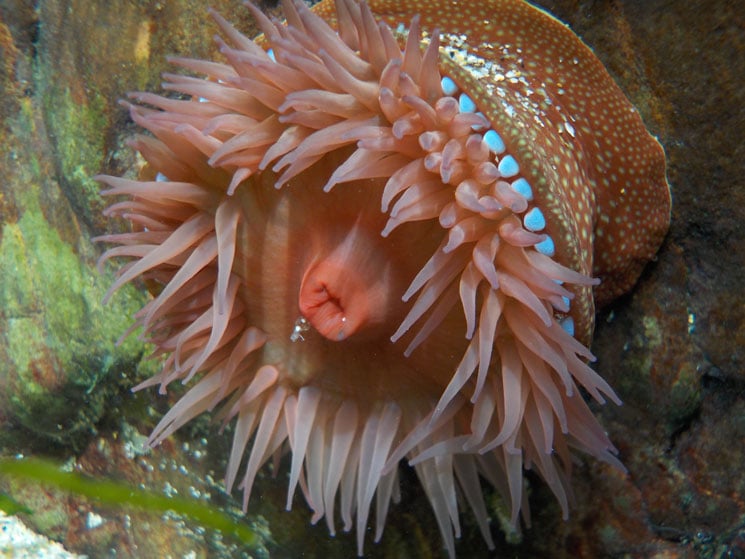 Aside from the physical specifications, probably the biggest difference in practice between the COOLPIX S33 and the other rugged waterproof compacts I tested is in the menu system and handling. I've already said that the S33 is very simple to use and part of that simplicity is down to its no frills features. But Nikon has also thought carefully about the design of the menu system. This isn't a dumbed-down version of what you'll find on other COOLPIX compacts, but something designed from the ground up to be kid and camera-novice friendly.
The first clue that you're dealing with something a bit different is the column of four buttons down the left side of the screen, oh, and the absence of a conventional menu button. The four-way controller looks conventional enough until you realise that the up and down positions work the zoom and left and right are used very rarely when you need to scroll through a horizontal icon bar, for example to select a scene mode.
The top button does just one thing – it sets auto mode, so whatever mode you happen to be in, or if someone else has been using the camera, all you need to do is press that button to get back to Auto mode.
The second button displays a menu for the Flash and Self timer functions. This is where you'd normally use the four-way controller to navigate the options before pressing a central OK button to select, but the S33 does it differently, using the buttons to make selections. The first option is always back, the second button in this case gets you to the flash options and the third one to self timers. Press the self-timers option and it's the same setup on the next menu – top button to go back and three further options on buttons two, three and four – 10s self-timer, Smile-timer and off.
Each button has a screen icon opposite to tell you what it does – the third button down is for selecting scene modes, choosing decorative frame overlays and colour rendering options, including a selective colour filter. Finally the fourth button takes you to the settings menu.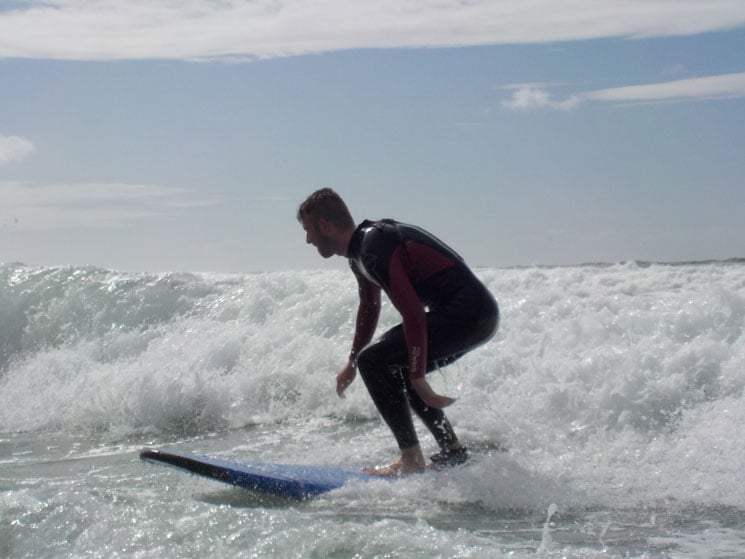 Only when you get to an option where you need to choose from more than three things do you need to use the left/right buttons on the four way controller to make a selection. So to change the image size you first press button 4 for settings which gives you four options – (1)Back, (2)Change sounds, (3)Choose a size and (4) Camera settings. Press button 3 to choose a size and you get three more options – (1)back, (2)Photo size and (3)Movie frame size. Press button two and the back option is followed by three more choices (2)Large (13 Megapixels), (3) Medium (4 Megapixels) and (4) Small (2 Megapixels.
The scene mode menu looks more like a conventional COOLPIX screen with an icon strip at the bottom which you navigate using the left/right buttons on the four-way controller. The available scene modes include Shoot night scenes, Shoot close-ups, Photograph food, Shoot under water, Underwater face framing, Shoot at intervals, Take a series of pictures, Photograph Fireworks, Shoot backlit scenes, Mirror, Add a bubble effect, Add a Neon effect, Add a cartoon effect, Take soft pictures, Create a diorama effect, and Shoot a movie miniature. I like the plain english descriptions – 'Shoot close-ups' will probably make more sense to very young photographers than 'Macro' and for good measure each option is accompanied by a photo example.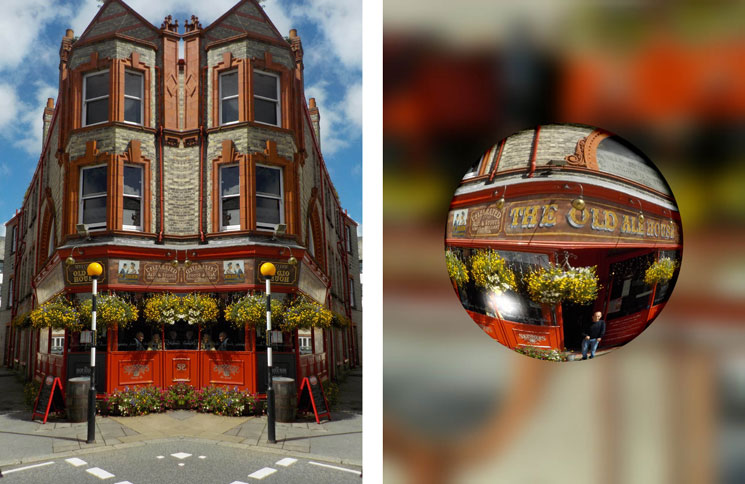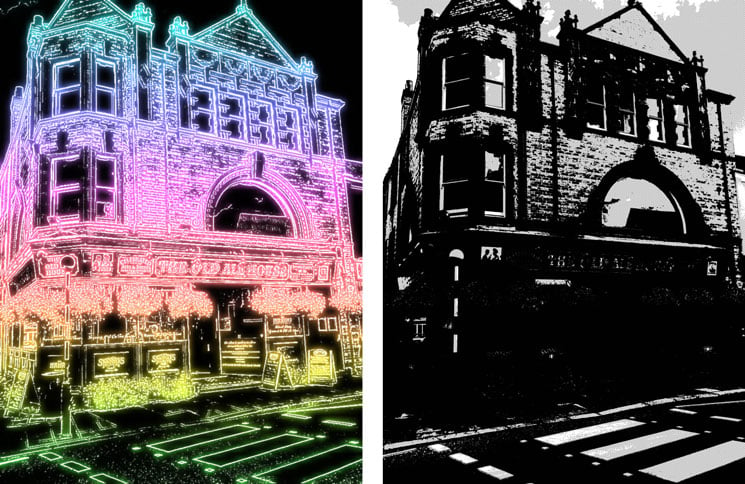 Above left: COOLPIX S33 : Neon. Above right: COOLPIX S33 : Cartoon
While we're on the subject of close-ups, the COOLPIX S33 has a closest focus distance of 5cm, that's not nearly as close as the Canon D30 or COOLPIX AW130, both of which can close focus to 1cm, but it will get you close enough to get detailed shots of small sea creatures for example.
If you choose 'Take a series of pictures' the COOLPIX S33 shoots continuously while the shutter is held down at a rate of 4.7fps for an 11 frame burst. I tested it and it was actually a little slower than the published rate, but it shot 13 frames at a steady 3.55 fps. It's not what you'd call fast and the S33 lacks the fast reduced resolution modes of the COOLPIX AW130 and the Olympus TOUGH models, but it's easily good enough to record a few seconds of action – a dive, a cartwheel, skim boarding or bodyboarding, for example. It's a better option than the Canon D30's 1.9fps at almost twice the speed, but like most compacts, the focus and exposure are fixed on the first frame, so you may find that subjects moving rapidly towards or away from you are out of focus.
It would have been nice to see a panorama mode here, particularly given that the COOLPIX S33's 30-90mm lens doesn't provide the widest field of view at the wide angle setting. But in that respect it's no different to the Canon D30 which also lacks a panorama option. If you're keen on panoramas you'll need to consider spending a little more money on the COOLPIX AW130 or one of the Olympus TOUGH models, All of which have a panorama mode as well as wider angle lenses.
Finally, there's one thing the COOLPIX S33 can do that you won't find on more sophisticated models and that's bark like a dog when you take a photo. You can choose from a sound library that also includes a bird, a zapper and various other electronic tones which can be assigned to other buttons as well as the shutter release. For the more conventionally-minded there's also a more conservative click.