Nikon COOLPIX P1000 review
Verdict
The Nikon COOLPIX P1000 is a DSLR-styled super-zoom with a world-beating 125x zoom range. This is a camera that's really all about the lens. Starting at a comfortably wide 24mm, it just keeps on going, all the way to an equivalent 3000mm – that's powerful enough to take photos of the moon with the poles cropped. Closer to home, the P1000 can focus as close as 1cm for impressive macro shots. At the wide angle setting the maximum aperture is f2.8, closing to f8 when zoomed all the way in. The lens is optically stabilised and when shooting movies there's the option of additional electronic image stabilisation.
Beyond the lens, the COOLPIX P1000 has a comparatively small 1/2.3 inch sensor with a resolution of 16 Megapixels and can save RAW files as well as JPEGs. It can shoot a one-second burst of full resolution frames at 7fps. There's also a choice of numerous lower resolution continuous shooting options up to 120fps albeit only at VGA (640×480) resolution. The P1000 offers 4k video recording in addition to 1080p and 720p modes and there are also high speed (slow motion) modes that playback at 2x (720p) and 4x (480p).
The P1000 has a nice big 3.2 inch LCD screen which is fully articulated as well as 0.39 inch 2.3 million dot OLED Electronic viewfinder. It has a built-in flash plus a hotshoe, a socket for an external microphone, a mini HDMI port and a USB port that's used to charge the battery in the camera.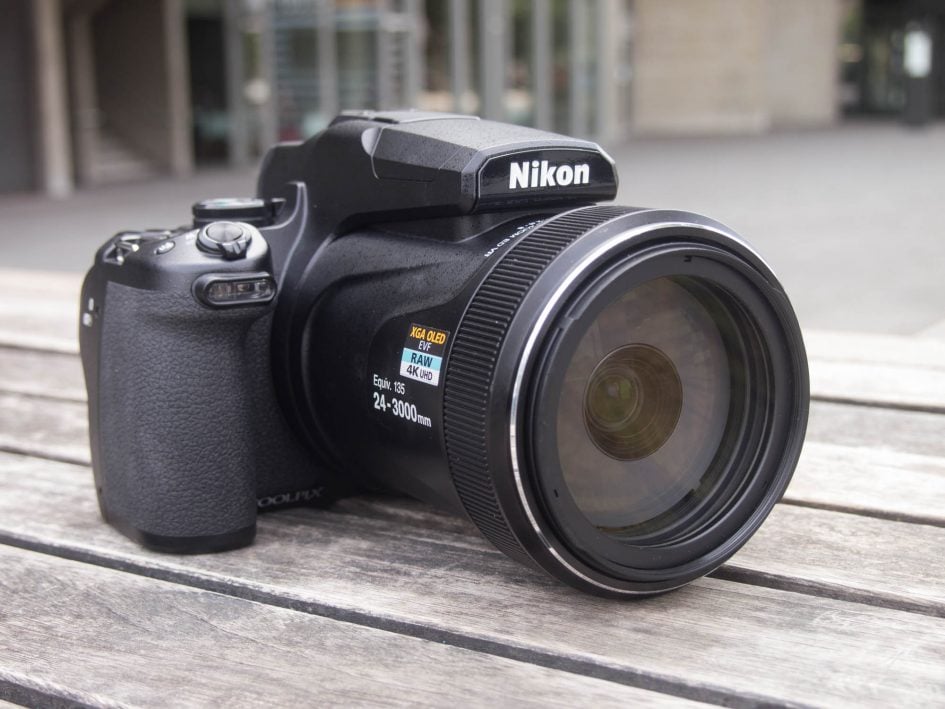 If you like the idea of a mega-zoom, but are wondering what the alternatives to the COOLPIX P1000 might be, the short answer is that you won't find anything to match its incredible 125x range. That said, there are options if you're prepared to compromise a little and settle for something that goes long, but not quite that long. So the question you need to ask yourself is, how important is that 3000mm top end to you and how often are you likely to use it? Bear in mind some of the caveats I mentioned in my review, namely that it's very difficult to handhold the camera and frame a subject at such a long focal length and, other than in bright conditions, at f8 you may find yourself struggling to avoid camera shake and having to shoot at higher ISO sensitivity settings.

The most obvious competitor to the P1000 is Nikon's own COOLPIX P900. With a range of 24-2000mm it comes close to the P1000's range (if you reckon a shortfall of 1000mm isn't close, in terms of angle of view, it's less of a difference than you might think). It has the same 1cm macro focus distance and, like the P1000, has a 16 Megapixel sensor and provides broadly the same exposure modes and shooting features. It lacks Raw shooting, 4k video, a hotshoe, an external mic socket and, though it has Wifi, lacks the P1000's Bluetooth connection and seamless background image transfer.

The P900 has an articulated side-hinged screen that can face forward; it's fractionally smaller than the P1000's but shares the same 921k dot resolution. And the the P900's electronic viewfinder is both smaller and lower resolution than the P1000's. So there's a few compromises to be made in addition to the zoom range, and while individually, I don't think any of them is necessarily a deal breaker, there's no doubt that the P1000 offers substantially more for your money. On that subject, if you decide you can live without 4k, that extra 1000mm and the other things, the P900 is currently priced around 40 to 50 percent lower than the P1000.

Outside of the Nikon brand, there's the Canon PowerShot SX70 HS – an update to the SX60 HS that retains the older model's 65x zoom, with an equivalent range of 21-1365mm. So the SX70 HS's zoom range tops out at less than half that of the P1000, however at the wide end it boasts a super-wide 21mm wide angle. The other thing to consider is the maximum aperture – at f3.4-6.5 the SX70 HS isn't as bright as the COOLPIX P1000's lens, though to be fair none of these models boasts particularly bright maximum apertures, particularly when zoomed in.

The SX70 HS has an updated viewfinder with a similar size and resolution to the P1000. Another similarity is the screen, which although slightly smaller at 3 inches has the same 921k dot resolution, and is fully articulated. The SX70 HS's sensor is the same size but packs 20 Megapixels onto it (not necessarily a benefit on a small sensor), supports RAW shooting, 4k video (with a crop) and provides superior continuous shooting at speeds up to 10fps. So, aside from the zoom range, there are fewer compromises to be made than with the COOLPIX P900 – and the SX70 HS will sell for around half the price of the P1000. See my Canon SX70 HS review so far for more details.

Finally, the Panasonic Lumix FZ80 / FZ82 is another option well worth considering if the prospect of less zoom for less money is one that appeals to you. The Lumix FZ80 / FZ82's 60x range extends from 20 to 1200mm with a maximum aperture of f2.8-5.9. It has an 18 Megapixel sensor that supports raw shooting, 4K video and 10fps continuous shooting – plus Panasonic's 4K shooting modes for 30fps bursts at 8 Megapixel resolution. The Lumix FZ80 / FZ82's has a comparatively small 0.2 inch 1.17 million dot electronic viewfinder and its 1040k dot screen is fixed and can't be repositioned like those on the COOLPIX P1000, the P900 and the PowerShot SX70 HS. Despite that, it has one thing that all those models lack – it's touch sensitive, allowing repositioning of the AF area by tapping the screen as well as many other advantages. But perhaps one of the most compelling arguments for the FZ80 / FZ82 is a price tag that's the lowest of all these models – around a third of what you'll pay for the COOLPIX P1000. See my Panasonic Lumix FZ80 / FZ82 review for more details.

Finally if you're really serious about shooting sports and action and need a super-zoom camera that can focus as confidently as a DSLR, fire quickly and sport a sensor that's larger than any of the models above for better quality, then aim for the Sony RX10 IV. It's almost twice as expensive as the P1000 and has a much shorter 24-600mm range, but the fact it can handle action confidently and deliver better results in low light makes it the model to aim for if you're mostly shooting sports and wildlife and want the best results. See my Sony RX10 IV review for more details.

Nikon COOLPIX P1000 final Verdict

The Nikon COOLPIX P1000 is undeniably the king of super-zooms when it comes to zoom range. Its awesome 125x reach, extending from a 24mm wide angle to an eye-watering 3000mm, is unmatched and deserving of a new mega-zoom classification all of its own. Beyond the zoom it has more to offer, including a large bright viewfinder, a big articulated screen, RAW shooting, 4K filming, an external mic socket, in-camera battery charging and Wifi with Bluetooth.

Its continuous shooting performance is a little lacklustre, with a 7fps burst with fixed AF and exposure its best effort, and for the few seconds it takes to write that burst to the card, the camera is effectively bricked, so for sports and action photography it's not the best choice. And when zoomed in to the maximum 3000mm focal length, there's effectively one choice of aperture, f8, which means shooting at higher ISOs unless the sun is shining. Even then, you'll either need very steady hands or some other support, such as a monopod, tripod or convenient wall, to stabilise the camera and keep your subject centered in the frame.

Despite those reservations, the COOLPIX P1000 is a lot of fun. It allows you to get really close to very distant subjects and capture shots that would literally be beyond the scope of any other DSLR-styled super-zoom on the market. For most of us, those kinds of shots might comprise a very small percentage of our portfolio. But if you're into wildlife or sports, or you just like taking pictures of far off, inaccessible subjects, there really is nothing to beat the COOLPIX P1000's reach. That said, if you're happy with a slightly shorter, more manageable zoom range, the COOLPIX P900, Canon PowerShot SX70 HS and Panasonic Lumix FZ80 / FZ82, all have plenty to offer at a fraction of the price.

Check prices on the Nikon COOLPIX P1000 at Amazon, B&H, Adorama, or Wex. Alternatively get yourself a copy of my In Camera book or treat me to a coffee! Thanks!