Nikon COOLPIX L840 review - Verdict
Verdict
The Nikon COOLPIX L840 updates the year older COOLPIX L830, extending the optical zoom from 34x to 38x and adding Wifi and NFC. There's a new Snap-back zoom button, full resolution continuous shooting gets a little bit of a boost, the number of shots you can get from a set of AA batteries is increased and there's a new Short movie show mode that compiles short clips into a longer movie in the camera.
The COOLPIX L840 may not have the longest of zoom ranges; it has a super-wide 22.4mm wide angle starting point, but with a maximum telephoto of 855mm it falls short of the Canon PowerShot SX410 HS at 960mm equivalent and there's an even bigger gap between it and the PowerShot SX530 HS's 50x zoom which extends to 1200mm.
That may or may not be an issue, depending on the kind of photography you do, but don't let the fact that the COOLPIX L840's zoom can't match other models put you off. It's got plenty of other things going for it including an excellent 3 inch 921k dot flip-out screen, very long battery life, a wide range of movie modes and good full resolution burst shooting backed up with a range of reduced resolution continuous modes, plus of course Wifi with NFC. Scroll down to find out how it compares overall with the similarly-priced Canon PowerShot SX410 IS and the more expensive SX530 HS.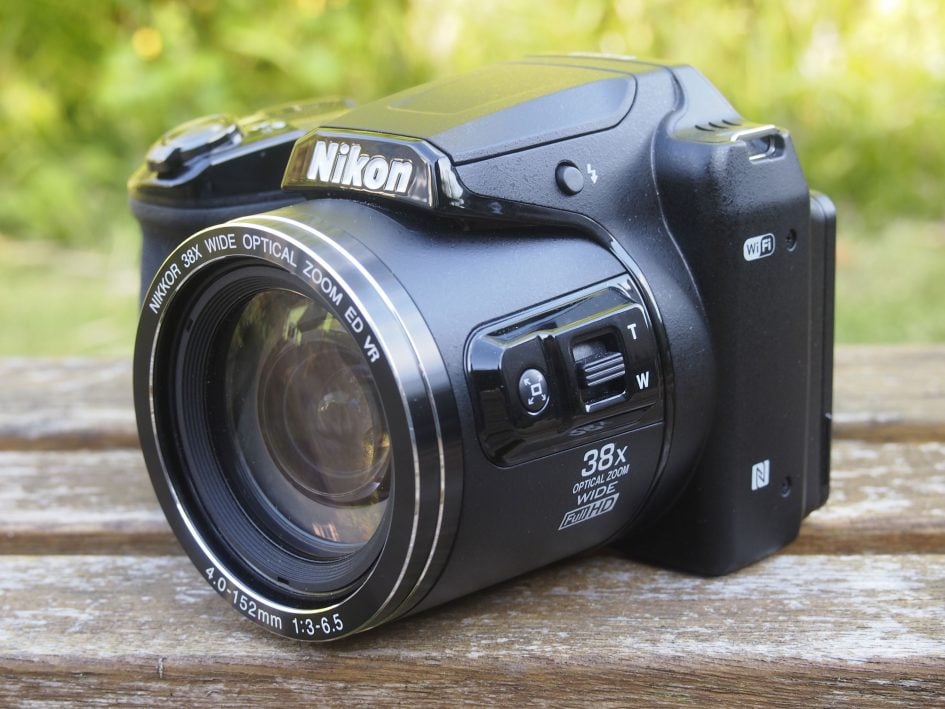 At 38x, the COOLPIX L840's optical zoom range is slightly shorter than the PowerShot SX410 IS's 40x. But look beyond that and it has a wealth of advantages over the Canon model. To begin with, although the COOLPIX L840 falls short of the the PowerShot SX410 IS's maximum zoom by what looks like a significant figure – 855mm compared with 960mm, in practice the difference isn't as large as those numbers suggest. Plus the COOLPIX L840 compensates with a slightly wider 22.5mm super-wide angle compared to 24mm on the SX410 IS.
The COOLPIX L840's 16 Megapixel sensor produces slightly smaller photos, but with less noise, so if you like to make big prints the L840's won't be quite as large as the SX410 IS's, but they'll look better. Beyond the lens and sensor, the COOLPIX L840 offers Wifi with NFC making it easy to download photos to a smartphone and share them. You can also control and shoot remotely with the L840 using your phone.
The L840 has a much higher resolution 921k dot screen that displays a more detailed view than that on the 230k dot screen of the SX410 IS. More importantly, it's hinged and can be flipped up or down to keep the sun off and make it easier to compose low and high angled shots. It has better quality 1080 / 25p video compared with 720 / 25p on the SX410 IS and better continuous shooting.
Finally, the COOLPIX L840 has much longer battery life than the PowerShot SX410 IS with a greater choice of power sources using AA alkaline or rechargeable batteries. The advantage is that you'll get 740 shots with four AA NiMH rechargeable batteries in the COOLPIX L840 compared with a measly 190 from the SX410 IS's proprietary rechargeable battery (or 245 shots in Eco mode). But you'll have to buy the batteries and a charger for the L840 and many people prefer the convenience of a battery and a charger that's included in the box. The other drawback with AA batteries is their size and weight, the L840 is significantly bigger and heavier than the SX410 IS. See my Canon SX410 IS review for more details.
The PowerShot SX530 HS boasts a substantially longer 50x zoom range that will get you that much closer to the action. Another thing to bear in mind is that while the SX530 HS's maximum aperture at the full extent of its zoom is comparable to the COOLPIX L840, at around the 855mm equivalent mark (the maximum zoom on the COOLPIX L840) it's around half a stop brighter.
With 921k dots the COOLPIX L840's screen is more detailed than the 461k dot screen of the PowerShot SX530 HS, but the COOLPIX L840's real advantage over both Canons is that it can flip up or down – great for shooting from low and high angles, but also for keeping the sun off. None of these models has a viewfinder, which can make a big difference when shooting at longer focal lengths, but the SX530 HS provides Seek Assist features to help with framing when zoomed in. The COOLPIX L840 now has a similar Snap-back zoom button, but it's not as sophisticated as the Canon's
The SX530 HS is a more advanced model in terms of shooting modes with a mode dial that provides PASM shooting modes in addition to a fully auto mode with scene detection. On the COOLPIX L840 you're limited to auto exposure modes. The SX530 HS also lets you focus manually, though it doesn't provide a moveable AF area like the COOLPIX L840. Another area where the L840 scores over the SX530 HS is continuous shooting with a better 7fps one-second burst at full resolution, compared with 1.6fps on the SX530 HS. And where the SX530 HS offers a 4 Megapixel 10fps mode, the COOLPIX has a much wider range of continuous shooting options at reduced resolution.
The COOLPIX L840 's best quality HD video modes at 1080 / 25p and 1080 / 50i are on a par with the SX530 HS's 1080 / 30p mode. but it also offers a reduced resolution quarter speed slow motion mode at 640×480 resolution and a 2x speed HD mode. The SX530 HS has Hybrid auto mode which shoots a short clip prior to each photo you take and assembles them into a short movie and the COOLPIX L840 has the similar (but not quite as good in my view) Short movie mode.
In some respects, the COOLPIX L840 outshines the PowerShot SX530 HS in ways you wouldn't expect of a camera costing up to a third less. Its screen is higher resolution and flips out, it has better continuous shooting and matches the SX530's Wifi capabilities. Crucially though it lacks the more expensive model's zoom reach as well as its advanced shooting modes and manual focus capability. See my Canon SX530 HS review for more details.
But while it may not offer the longest zoom range in a budget super-zoom, the Nikon COOLPIX L840 has a great deal to offer, it represents excellent value for money and is therefore highly recommended.