Nikon COOLPIX AW130 review
Verdict
The Nikon COOLPIX A130 is the most waterproof compact currently on the market. With a depth rating of 30 meters it'll go twice as deep as the Olympus TOUGH TG4 and TG860. If you want to dive deeper with a camera you'll need to think about a conventional model with an expensive waterproof housing.
But it's not all about diving to the depths of the ocean, or even the local lido. Many people simply want a camera they can take into the shallows or onto the beach without worrying about a few splashes or sand geting into it. Aside from its deep water credentials, the COOLPIX AW130 is a very capable all-round compact. It has a 5x zoom with a great wide-angle and a bright f2.8 maximum aperture. Only the Olympus TOUGH TG4 has a brighter f2 lens.
The AW130 also has a good range of shooting modes and more autofocus modes than is typical on waterproof compacts. Its continuous shooting performance is good, providing you're prepared to compromise on image size – at full resolution it can only shoot a sub one-second burst. It has plenty of video options including a best quality 1080/25/30p HD mode, slow motion at a reduced resolution and the Short movie show feature that compiles short clips into a longer movie. It's equipped with wifi and NFC as well as GPS with a built-in map display.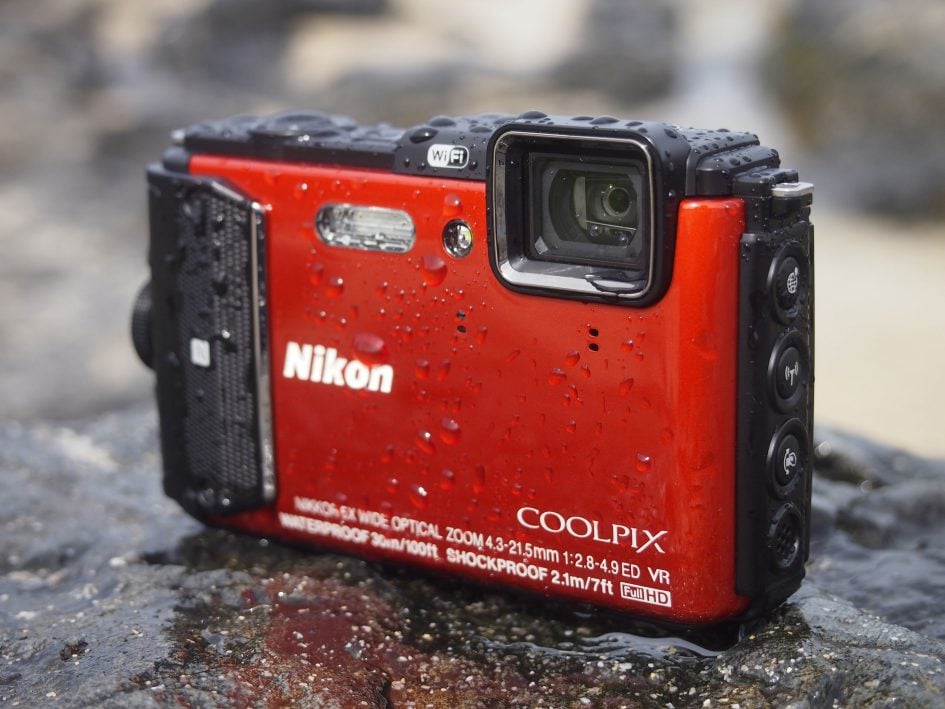 There's room for improvement though. The AW130's physical control layout and design can be difficult to work with, and that's a serious criticism when applied to a camera designed for extreme environments. And Nikon's attempt to circumvent them by tapping or shaking the camera is simply impractical. Olympus does a much better job of it with Tap control which, unlike the AW130's Action control, doesn't require any button pressing and provides a much better set of options. Read on to see how the COOLPIX AW130 compares with the Olympus TOUGH models in other respects.
As we're talking about rugged waterproof models we should begin with those specifications. As I've mentioned with a depth rating of 30 meters the COOLPIX AW130 can go twice as deep as the TOUGH TG4 which can go to a maximum depth of 15 meters. Both models are shock-proof to 2.1 meters and can be used in temperatures down to -10C. The figures for the TOUGH TG860 are the same as for the TG4.
The TOUGH TG4 has a 4x optical zoom with an equivalent range of 25-100mm compared with a 5x optical zoom on the AW130 with an equivalent range of 24-120mm. However, the TG4's f2-4.9 maximum aperture is a stop brighter than the AW130's f2.8-4.9 lens when zoomed out. That means lower ISO sensitivity settings and less noisy pictures under the same lighting conditions.
The AW130's 3 inch screen has a higher 921k dot resolution than the 461k dot screen on the TOUGH TG4 but the TG4's menu system is easier to navigate and I also found the control layout better on the Olympus model.
For movies, there's not a lot to choose betwen them with the COOLPIX AW130 offering a best quality 1080/25/30p compared with 1080/30p on the TG4 and both including a couple of high speed modes, though one of the AW130's is actually a half speed mode. Both models have a time-lapse feature and the AW130 additionally offers the Short movie show feature which assembles short clips into a longer movie.
The AW130 has fewer shooting modes and only Auto exposure control and it also lacks a RAW mode. Like the TOUGH TG4 it has lots of reduced resolution continuous shooting modes and at full resolution can shoot at 7fps, but only for 5 frames compared with 100 frames at 5fps on the TG4.
Like the COOLPIX AW130, the TOUGH TG860 has a 5x optical zoom, but with an equivalent range of 21-105mm wider field of view at the maximum wide angle and telephoto ends of its range. And its f3.5-5.7 lens isn't as bright as the f2.8-4.9 lens on the AW130.
The AW130's 3 inch screen has a higher 921k dot resolution than the 461k dot screen on the TG860, but it's fixed and not nearly as versatile for selfies and angled shots. The TG860's menu system is easier to navigate and I also found the control layout better on the Olympus model.
The TG860 is a better movie camera than the COOLPIX AW130 with a 1080 / 60p best quality mode against 1080 / 25/30p on the COOLPIX AW130. Both models have slow motion modes, and both have a time-lapse movie feature. While neither has an HD slow motion option, the TG860's 60p modes can be edited outside the camera for half-speed 30p playback. Both models are similarly equipped for continuous shooting offering a short burst at full resolution along with faster reduced resolution modes.
Finally, both TOUGH models offer better remote operation when paired with the Olympus OI Share app on your smartphone than the very basic options provided by the Nikon App.
There's a lot to consider when buying a waterproof compact, not least of which is how much time you'll be spending in the water or climbing, skiing or snowboarding. All of these models are good performers in and out of the water; as usual, you need to decide what kind of photography you're going to be doing and pick the model with the features that are likely to help you get the best results.
The COOLPIX AW130 is a good all-round performer that's strong on video features, GPS, AF modes and macro shooting. One or other of the TOUGH models can beat it on any of those individual features (with the exception of the GPS), but you may not like the rest of the package. For example the TG4 has a brighter lens, better continuous shooting and handling, and better macro modes, but is a little more expensive, lacks GPS mapping and can't go as deep. The TG860 has better movie modes and a flip-up screen, but the screen is lower resolution, 16:9 proportioned and not so great for stills shooting. The COOLPIX AW130's strength is that it offers a great balance of features, and on that basis it comes Recommended.