Nikon COOLPIX AW130 review
In depth
The Nikon COOLPIX AW130 is a rugged waterproof compact with a 16 Megapixel sensor and a 5x stabilised optical zoom. It's waterproof to a depth of 30 meters, shock proof to 2.1 meters, dust-proof and can operate in temperatures down to -10C.
The AW130 was launched in February 2015 alongside the company's other waterproof compact, the budget COOLPIX S33 and replaces the year-old COOLPIX AW120 which remains in the Nikon compact line-up for now. As is fairly typical with 2015 rugged models, the updates are incremental; the AW130 shares the same sensor, the same 24-140mm f2.8-4.9 zoom lens and the same 921k dot OLED screen, and like the earlier model has built-in Wifi and GPS. Nikon has added NFC to make Wifi connection to your smartphone easier and there's now a chunky grip that wraps around the front. And there's that 30m depth rating – up from 18 meters on the COOLPIX AW120, making the AW130 the most water-proof of any of the rugged compacts.
In my review I've tested the COOLPIX AW130 alongside two of its biggest competitors the best-selling Olympus TOUGH TG4 and the TG860.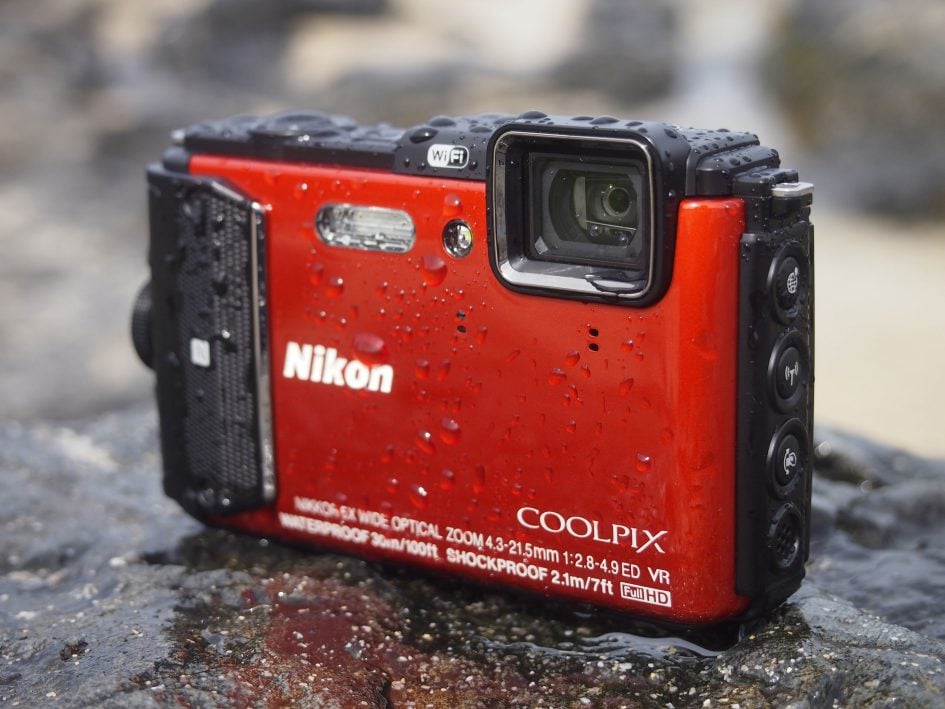 Nikon COOLPIX AW130 design and controls
There's something straightforwardly honest about the COOLPIX AW130's design. It looks like a camera built for tough environments, but in a practical way; there are no chunky screws, big shiny cleats for attaching straps or over-engineered lens bezels. The camouflage colour scheme is a bit much, but the AW130 is also available in more conventional black, blue, orange or yellow.
My review model was orange, an attractive copper coloured plate protects the front of the camera, everything else including the new grip is finished in black. It's practical and attractive without being showy. It feels solidly put together and is a comfortable fit, in my hand at least.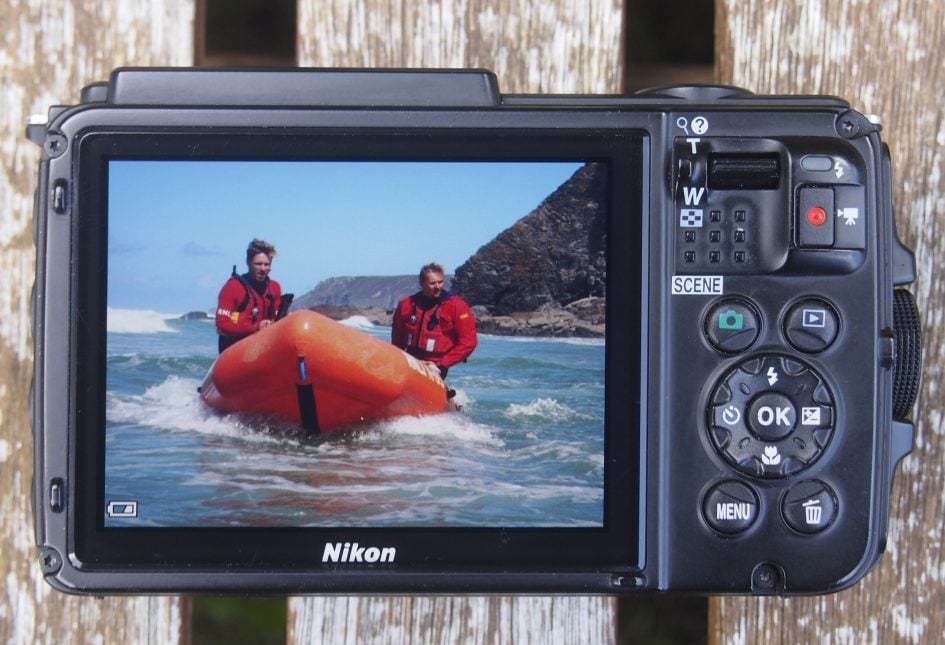 The new grip provides a substantial raised dimpled surface for your fingers to hold onto and I never felt in danger of losing the AW130. Despite that, you'll need to invest in a good quality wrist strap though. For reasons I can't fathom, Nikon supplies the AW130 with a conventional neck strap – not much use in the water, or on land for that matter.
The AW130's lens is mounted on the top left corner of the body, leaving plenty of room below for a firm grip with your left hand should you need it. There's a raised section on the top panel that houses the GPS and Wifi aerials dipping down on the right where you'll find the on/off button and a large dimpled shutter release button.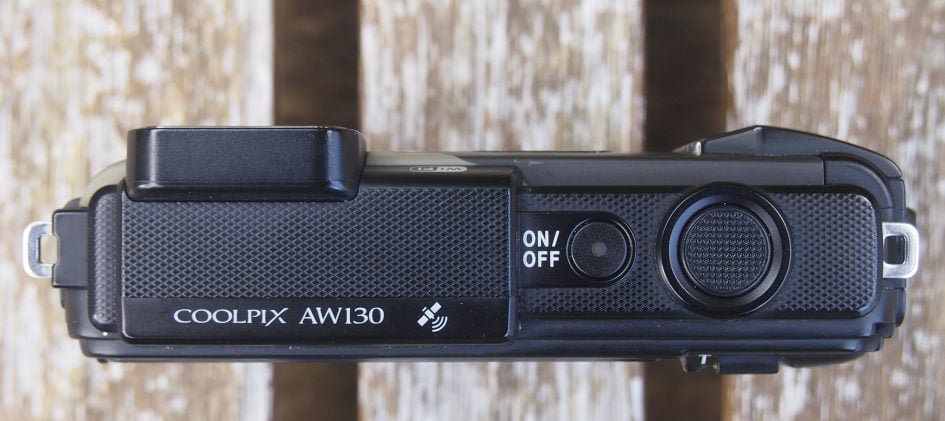 The rear panel controls on the AW130 are positioned to the right of the screen which is a 3 inch OLED panel with a resolution of 921k dots. The screen is bright and contrasty and has a wide angle of view both horizontally and vertically. Like all screens it's difficult to see in bright sunlight and if you're taking pictures just below the water you'll also experience difficulty seeing anything due to reflections.
The only way around those shortcomings is a viewfinder or an articulated screen. While you won't find a waterproof compact with a viewfinder, the TOUGH TG860 has a flip up screen that folds forwards for selfies and can be angled to avoid reflections. But the TG860's screen is 16:9 proportioned which means a smaller viewing area with black bands top and bottom when shooting 4:3 stills. There's a similar problem to a lesser extent with the 3:2 screen on the TOUGH TG4. With a 4:3 screen matching the proportions of full resolution still photos the COOLPIX AW130 provides the biggest and most detailed view of all three. Of course when it comes to video it's a different story and the TG860's screen wins out with the biggest movie view of the three.
The zoom rocker situated just above the indented dimpled thumb-rest operates in an up/down fashion and right next to it is the movie record button. Below that is the four-way controller that Nikon calls a multi-selector, flanked by scene mode, playback, menu and delete buttons. I found the AW130's control layout cramped and poorly designed, I'll talk about that in more detail in the shooting experience section later.
On the left side of the camera body there's a column of three buttons which from top to bottom activate the map display, Wifi, and Action Control – which allows you to change settings by tapping the camera. Below there is a speaker grille.
On the other side is a sealed door with a wheel latch that has a locking pin at its centre. To unlatch the door you push in the central pin and rotate the wheel, which is easier than it sounds. Behind the door you'll find the battery and card compartment along with the USB / Charging port and a mini HDMI port.
The battery is same EN-EL12 used in the earlier AW120 and provides enough power for 370 shots, an increase of 20 over the earlier model and better than the 300 shots you'll get from the TG4 or TG860, however, with any of these models extensive use of the GPS and Wifi is likely to significantly shorten the battery life so it would be advisable to carry a spare.
Remaining power is shown on screen by a segmented battery graphic. The battery is charged in the camera using a standard USB cable which is also supplied. If you don't want to carry the mains charger with you, you can plug in and recharge from a laptop, car adaptor, portable battery or any other convenient source. It's the same arrangement with the TOUGH models, but because Olympus uses a proprietary port on the camera, you need to remember to take the supplied cable with you. The COOLPIX AW130 can use any USB cable with a USB micro connector on the camera end.
Nikon COOLPIX AW130 lens and stabilisation
The COOLPIX AW130 has a 5x optical zoom with an equivalent range of 24-120mm and a maximum aperture of f2.8-4.9. It's comparatively middling in terms of its zoom range and brightness; the Olympus TOUGH TG4 doesn't have quite the reach of the AW130 with a 4x 25-100mm, but it's a full stop brighter at the wide angle setting so better for low light shooting. The TOUGH TG860 also has a 5x zoom but with a super-wide 21mm wide angle extending to 105mm at the telephoto end. It's not quite as bright as the AW130's lens though with a maximum aperture of f3.5-5.7

But unless you're a fan of the super-wide angle the AW130's range is in some ways more usable. 24mm captures a pretty wide field of view and is fine for big groups and small interiors like boats, plus the 120mm zoom gets you that little bit closer to the action than the 105mm on the TG860. One other thing to note is that the TOUGH TG4 provides Aperture priority exposure mode which means that you can manually select f2. As you'll see in my high ISO noise page, there's no guarantee that the AW130, or the TG860 for that matter will choose the widest available aperture when the situation demands it.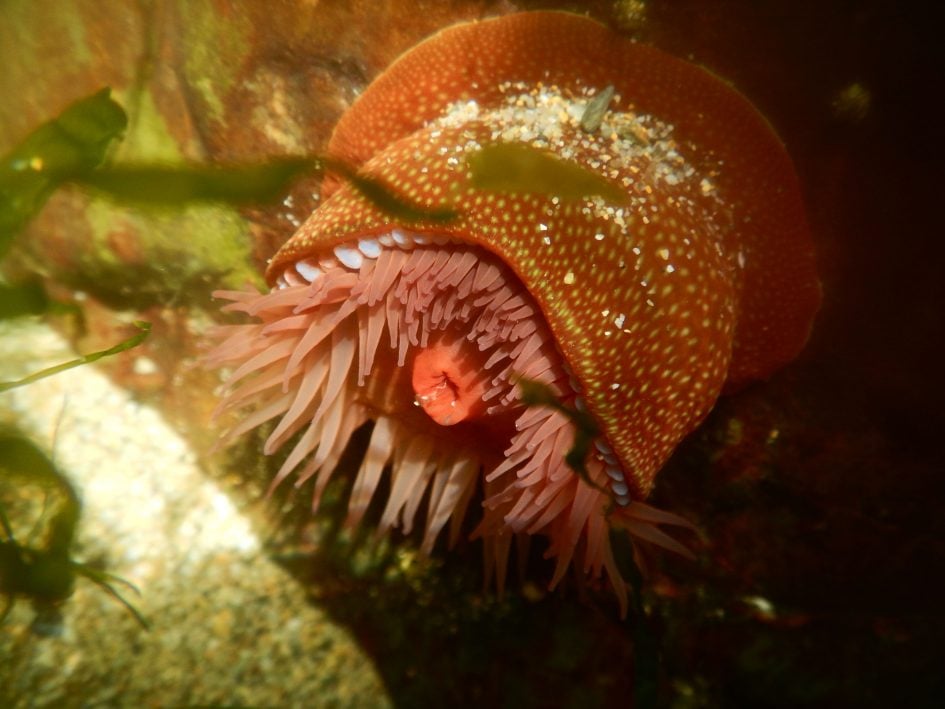 Like the TG4 and TG860, the COOLPIX AW130 has a closest focus distance of 1cm at the wide angle setting so you can get really close in to small subjects for macro photography. You set macro mode by pressing the bottom point on the four-way controller in Auto shooting mode. It also works in the underwater, Pet portrait and Smart portrait scene modes.
You can use the zoom in macro mode, but unlike the TOUGH models, the closest focus distance doesn't remain at 1cm when you zoom, so you have to move further away from your subject. So while you can't use the zoom to increase magnification, it's useful to avoid getting too close and casting a shadow. If you're a big macro fan, though, the TOUGH TG4 with its ability to zoom and focus at 1cm, focus stacking mode for increased depth of field and optional macro lighting attachments is hard to beat.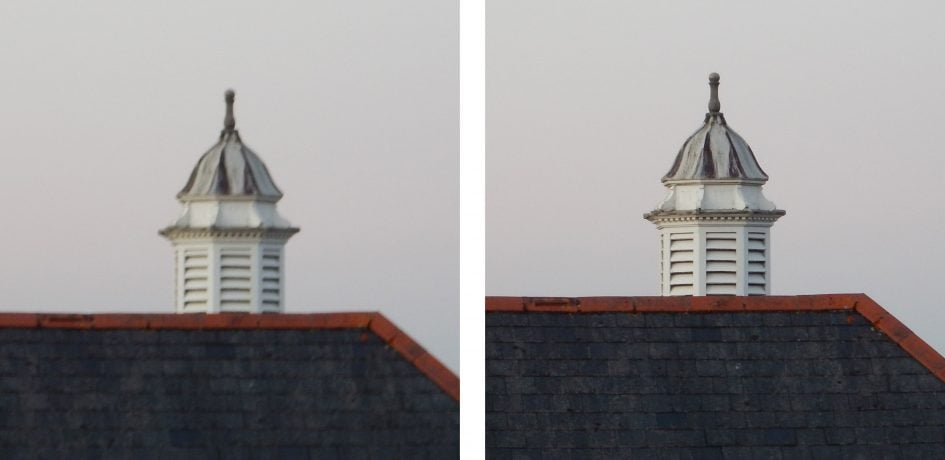 The COOLPIX AW130 has optical image stabilisation which Nikon calls Photo VR. Vibration reduction is set separately for stills and movie shooting (movie VR) with Photo VR activated from the Setup menu. In addition to the On and Off positions there's a third option called Hybrid. This combines the optical stabilisation with in-camera post processing to digitally remove any blurring that remains. The digital correction is applied only under certain conditions, including when the shutter speed is slower than 1/30 at the wide angle setting or 1/60 at the telephoto focal length and when the sensitivity is 200 ISO or lower.
To test the COOLPIX AW130's stabilisation I zoomed the lens to its maximum 120mm equivalent setting and took a series of shots at progressively slower shutter speeds, first with Photo VR turned off and then with it on. As you can see from the crops above, the COOLPIX AW130 can produce blur-free shots down to 1/10 at the maximum zoom range which is nearly four stops slower than would be advisable without it.
Nikon COOLPIX AW130 movie modes
The COOLPIX AW130 retains the best quality 1080 / 30p/25p HD mode of its predecessor which is encoded at around 15Mbit/s. You can switch between NTSC and PAL compatible frame rates, so all the 25 and 50fps modes I mention here are also available at 30 and 60fps.
Next on the menu is an interlaced 1080i50 mode, followed by 720p25 and lastly a VGA mode that records 640×480 resolution video at 25fps (or 30fps). The earlier model's 720p mode saved in Apple's edit-friendly iFrame format has been dropped.
The COOLPIX AW130 also has a couple of HS options for playback at speeds other than real time. HS 480/4x shoots 640×480 video at 4x normal speed (100 or 120fps depending on the frame rate selected) which plays back at quarter speed. HS 1080/0.5x records full HD video at half the normal frame rate for double-speed playback. But both the earlier model's HS720/2x option, which records 1280×720 at double the normal frame rate for half speed playback, and the HS240 8x mode have been dropped.
This appears to be something that's happening more generally on Nikon compacts with the same modes dropped from the S9900 super-zoom model. It's a bit of a shame, particularly in the case of the 720p half speed option; I reckon most people would prefer to have a 16:9 slow motion mode in preference to an HD mode that plays back at 2x normal speed.
Compared with the TOUGH TG4 the COOLPIX AW130's video modes are more numerous, but the best quality modes are similar. The TG4 lacks the AW130's ability to switch between NTSC and PAL video frame rates and also lacks it's interlaced modes. The TG4's 640×480 quarter speed mode matches the AW130's but it also has a 320×240 eighth speed mode – dropped on the AW130. The AW130 has a 2x speeded up HD mode, I'm not sure that's a big crowd puller though.
For the best video features the TOUGH TG860 is the model to aim for. It has a best quality 1080/60p mode as well as slow motion modes in 16:9 as well as 4:3 formats.
But while the COOLPIX AW130 loses some video modes, it does gain a new movie feature in the form of Short Movie show. This works in a very similar way to the Hybrid movie mode (formerly Movie Digest) found on Canon compacts and records a set number of clips of a couple of seconds of 1080 / 25/30p footage which are then assembled in-camera into a longer movie.
You can choose between 15 2-second, three 10-second, or five 6-second clips which are then assembled into a 30-second movie. You can shoot 16:9 12 Megapixel Normal quality still photos when the mode dial is in the Short Movie Show mode position, or leave to shoot full resolution photos before returning to pick up where you left off. It's a neat feature though not quite as user-friendly as Canon's which shoots a short clip every time you take a photo.
The COOLPIX AW130 provides two autofocus modes for movie shooting, Single AF (AF-S), which sets the focus at the beginning of your clip and Full time AF (AF-F) which continually adjusts it. AF-S is the default, but if you want to record anything that's moving, or if you're panning the camera from near to far subjects, you need to switch to Full-time AF. I found the COOLPIX AW130's full-time AF mode to be very capable, as you can see from the clips below.
The COOLPIX AW130 doesn't support any of the PASM exposure modes for movie shooting, regardless of the position of the mode dial and ISO, the sensitivity and exposure are set automatically. In that respect it's the same as the TOUGH TG4 and TOUGH TG860.
Nikon COOLPIX AW130 shooting experience
The COOLPIX AW130's design works well both on dry land and in the water – up to a point. The dimpled surfaces and new grip make for secure and comfortable one-handed operation and the shutter button, often spongy on waterproof models has a positive action. There's only one sealed door to open to get at the battery, card and ports and the buttons down the left side provide unimpeded access to GPS, Wifi and Action control, which I'll come to in a moment.
But on the rear of the camera it's a different story. At first glance the proximity of the zoom rocker and movie record buttons to the thumb rest looks cramped, but it's actually comfortable and convenient – all you need to do to zoom in is apply upward pressure with your thumb and the movie record button is a short slip to your right.
The real problem on the rear panel is the four-way controller or Multi selector as Nikon calls it. As well as on the four cardinal points, the Multi selector has raised sections in between, so there are eight positions altogether, though only the ones at the top, bottom, left and right have a function. This design makes it very difficult to push any of the buttons, the only way I could manage it consistently was with my thumbnail – and I have quite small hands.
Action Control is a feature that allows you to control certain functions by shaking or tapping the camera and given the difficulty I had with the Multi selector this sounded promising. To activate it you must first press the Action control button on left side of the camera body. Five options are then listed on the screen and a further shake or tap scrolls through them. finally you need to press the Action control button a second time to select the highlighted option.
This is so badly thought out and implemented it's hard to know where to begin with the criticism. Let's start with the available options; two of them, Start movie recording and Quick playback already have dedicated buttons. It makes no sense to press the Action control button, shake the camera, then press the Action control button a second time to start movie recording when you can just press the movie record button.
The final option exits Action control without doing anything, something that's just as easily accomplished by half-pressing the shutter release, so a wasted button. That leaves current position, which uses the GPS to show your current position on the map display and shooting mode selection.
Selecting underwater mode conventionally when you're in Auto takes six button presses. First the scene button, then four upward presses on the multi selector, followed by OK. To do the same thing using Action control takes three button presses and four shakes or taps. My point is it's not really any easier.
Action Control need two improvements to make it worthwhile. You should be able to turn it on all the time from the menu – like Tap control on the Olympus TOUGH models. Having to press a button both to activate it and then to confirm your choice of options really defeats the object. Secondly it needs a more useful set of options – things that are easier to do than the button equivalent when your hands are very cold or wet or when you're wearing gloves.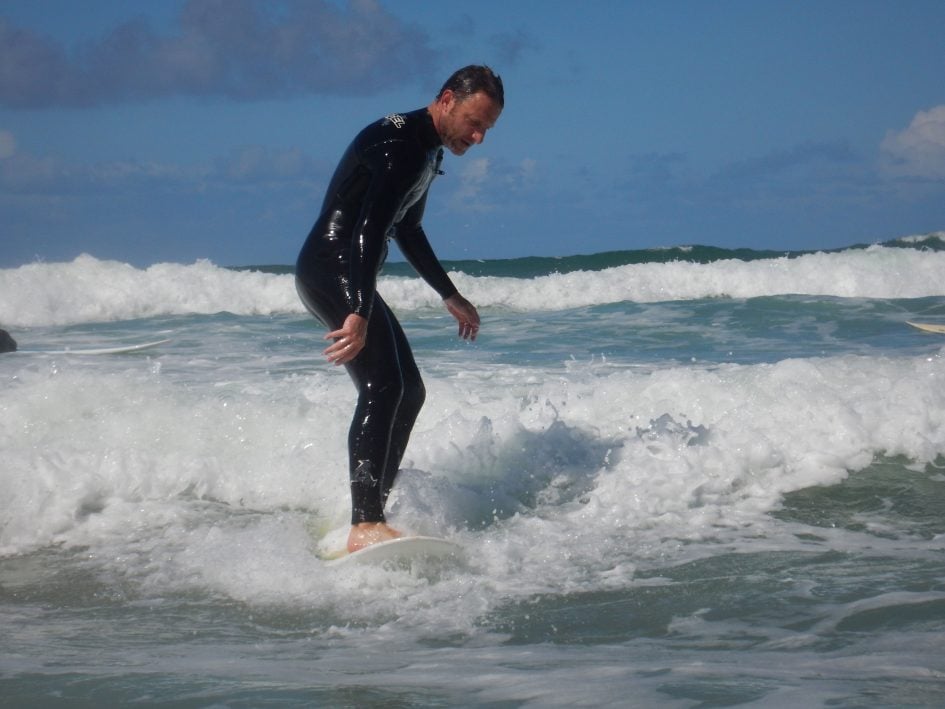 There are no fewer than five AF area modes on the COOLPIX AW130, more than is usual for a camera in this class. Face priority works well when people are within a few metres of the camera in good light. If there are no faces in the frame it defaults to the nine-area AF system which it uses to focus on the subject closest to the camera. Alternatively you can manually select the focus area from one of 99 positions using the multi-selector to move the frame around a 9×11 grid, or set a central focus point.
The COOLPIX AW130 includes target finding AF which identifies people or objects in the frame and tracks them with green rectangles. If you're shooting people, face priority is probably a better choice of AF modes, but target finding does seem to have an uncanny knack for picking the main subject in a scene which for some situations is a real improvement on the nine-area AF mode. Except it doesn't work very well in the water. For that I found Centre AF or manual positioning of the AF area produced the best results.
Finally, there's a subject tracking mode which allows you to identify a subject with an AF point which then follows it around. This works well, provided your subject is well spearated from the background, you're not zoomed in a long way and the subject isn't moving quickly or erratically. Again, for surfing shots and other water-based activities I found tracking wasn't the best option.
The COOLPIX AW130 has two full resolution continuous shooting modes at 7fps and 2.2fps. The faster of the two shoots a 5-frame burst, focus and exposure are fixed on the first frame for all continuous shooting modes. There are two faster settings that shoot 1280×960 images at 60fps and 640×480 at 120fps. There's also a clever Pre-shooting cache mode that starts recording when the shutter is half pressed; when you fully press the shutter the COOLPIX AW130 captures a burst of 25 1280×960 frames at 15fps including up to 5 cached frames from before the shutter was fully depressed.
The problem with a 5-frame limit is that at 7fps you can capture less than one second of action, which means you have to get your timing just right and, even if you do, you might miss the best part of something if it takes longer than three quarters of a second.
The TOUGH TG4 can shoot 100 full resolution frames at 5fps – a little slower then the AW130, but a lot more useful. But the TG860 is similarly limited to a short 7fps 7-frame burst. Both the TOUGH models have reduced resolution modes for faster shooting that are comparable with those on the AW130, but compacts aren't generally known for their continuous shooting performance and these are no different. That said, continuous shooting is a good way to improve your chances of getting one or two good frames from a fast moving subject over using the single shooting drive mode.
New to the COOLPIX AW130 is a Time-lapse Movie mode which shoots a sequence of images at pre-defined intervals and assembles them into a 1080 / 30p HD movie. There are five presets – Cityscape, Landscape, Sunset, Night sky and Star trails. Each shoots 300 images at intervals of 2, 5, 10, 30 and 30 seconds respectively which are then combined into a 10 second movie.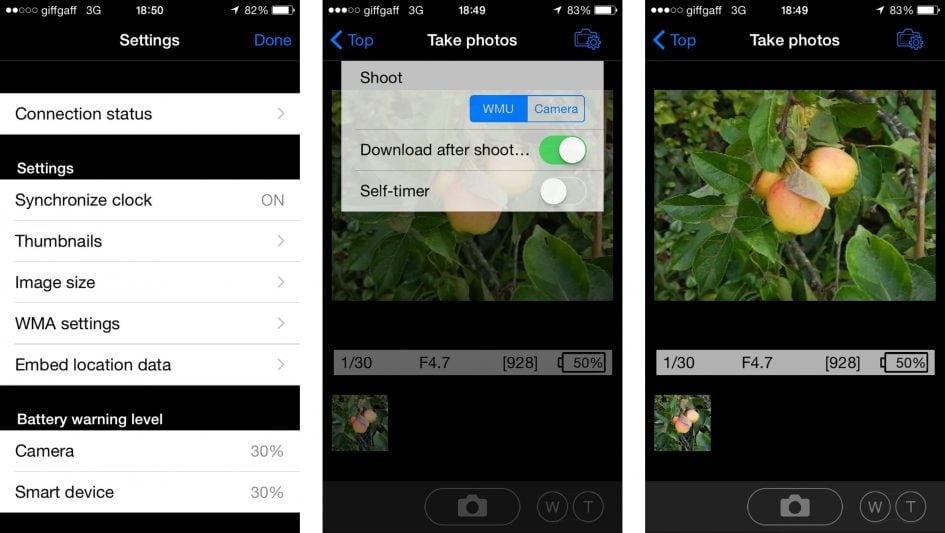 The COOLPIX AW130 has built-in Wifi and a new NFC chip means that you can tap it with a suitably equipped smartphone to initiate a connection; if your phone has NFC you just tap it on the side of the camera. If you don't have NFC all you need to do is enable Wifi from the menu then select the COOLPIX AW130's SSID on your phone. Before you do that, it's advisable to set up security options on the camera, otherwise you've got an open Wifi connection that anyone can tap into; a default approach by Nikon right now.
You then have the option of remote shooting using Nikon's Wireless Mobile Utility app as well as downloading images from the card in the camera. The remote shooting features are pretty basic; the camera shoots in Auto mode and there's no exposure control available, not even exposure compensation. You can zoom the lens in fairly stacato steps and there's a noticeable lag between tapping the control on your phone and the camera responding. That's it, no option to change the ISO sensitivity, or white balance, set the drive mode, set an interval timer or tap the screen to focus – all things you can do remotely using the Olympus app with TOUGH models.
Downloading images from the camera's card to the phone appears straightforward, You can view the images in a grid, get a full screen look at a low resolution preview and select it for download. However when I tested it, I could no longer download photos at their original size – only VGA or what Nikon Calls 'Recommended size' which in my case turned out to be 1440×1080. I just can't understand why Nikon has done this, sure it's quicker to download smaller files to your phone and most of the time that's what you'll want to do, but it was nice to have the option to for original sized downloads and I don't see what's gained by removing it.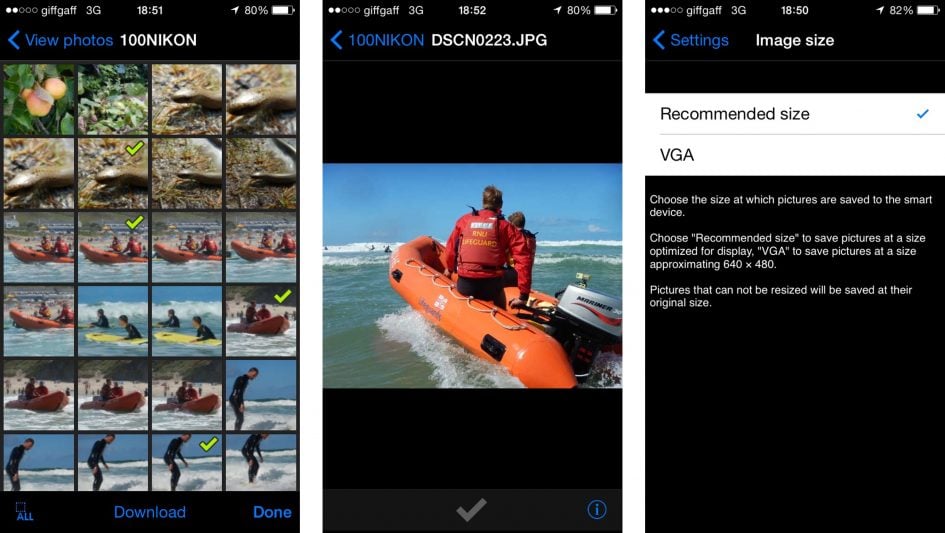 But while its remote shooting via Wifi is lacklustre, the COOLPIX AW130 makes up for it with GPS features. The built-in GPS receiver tags images with lat and long co-ordinates and though these aren't displayed on the screen overlay during playback as on the TOUGH models, you can display the location on a map display, calculate distances between images or an image and your current location, and display points of interest. There's also an electronic compass display which tags photos with the direction you were facing when you took the shot.
In addition to Auto mode the COOLPIX AW130 has Scene Auto selector mode which uses scene detection to choose the most appropriate scene mode. The AW130 is pretty good at recognising when it's night, when you're close to the subject and when the subject is backlit and when there are people in the shot. It can also tell when the camera is underwater, so it's a good option for when you're in the water, but not always under it.
There's also an Easy panorama mode with two resolution options: Normal captures 180 degree photos with a maximum size of 1536×4800 pixels, while Wide captures 360 degree shots at 1536×9600. There are 18 modes in all on the scene mode menu. In addition to Easy panorama, there are the usual ones you'll find on pretty much any compact – Portrait, Landscape, Sports, beach, Snow, Sunset and so on. There's also backlighting HDR mode which shoots several frames and creates a composite with a wider tonal range than could be captured in a single shot. And of course there's an underwater mode.
Like all COOLPIX compacts, the AW130 also has a good selection of effects filters, some of which are shown below. If you like your effects, though, the TOUGH models have a broader spread of more interesting effects filters.