Nikon COOLPIX A1000 review - Verdict
Verdict
The Nikon COOLPIX A1000 is an update to the COOLPIX A900 pocket super-zoom camera which, to be blunt about it, brings it closer in specification to the Panasonic LUMIX TZ95 /ZS80, or more accurately the earlier Lumix TZ90 / ZS70. Those updates include a 1166k dot electronic viewfinder, a touch screen, RAW shooting and an additional zoom rocker on the lens barrel.
In some respects the COOLPIX A1000 outclasses the TZ95 / ZS80, not least with its 35x zoom lens with an equivalent 24-840mm which outreaches the TZ95 / ZS80 at the telephoto end by a small, but not insignificant margin of 120mm. And its screen, now touch-capable, flips up as well as down and under, making it a little more versatile than the Lumix's up and over screen.
The COOLPIX A1000's 1166k dot electronic viewfinder put it on a par with the the Lumix TZ90 / ZS70 – the current model when the A1000 was released in early 2019. Shortly afterwards Panasonic launched the Lumix TZ95 / ZS80, upgrading the viewfinder to a 3.2 million dot panel and leapfrogging the COOLPIX A1000. The Lumix TZ95 / ZS80 viewfinder is undoubtedly more detailed, but, having used both, the resolution difference isn't as big a deal as I would have expected.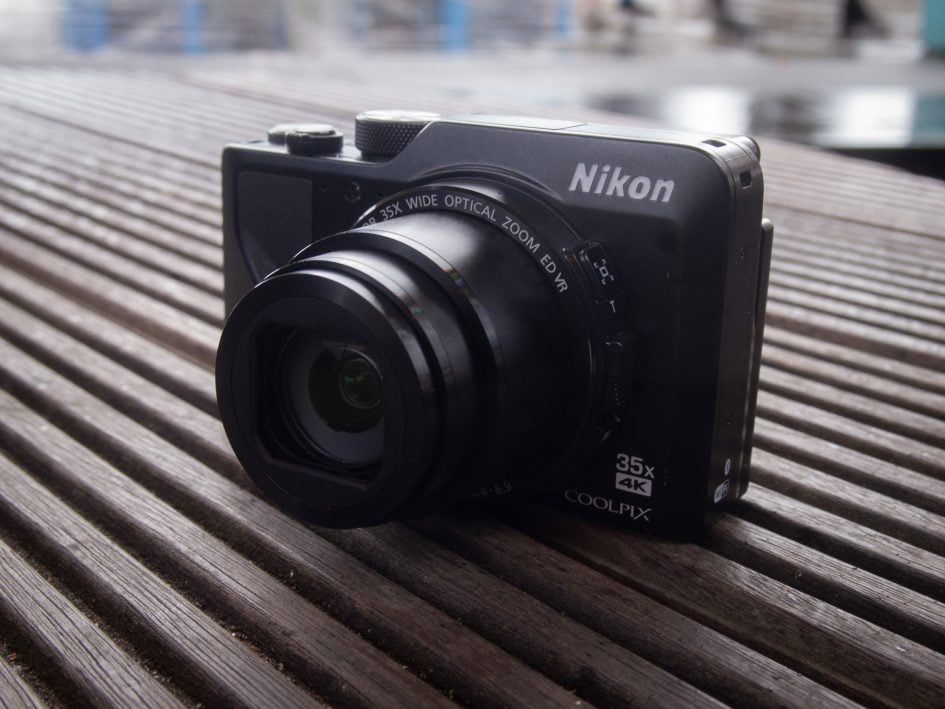 For shooting video there's not much to separate the two models. Both offer 4K modes as well as a range of 1080p options in addition to slow motion video, where the COOLPIX A1000 edges it with a half-speed 1080p mode compared with 720p on the Lumix TZ95 / ZS80.

You can tap the screen to pull focus on the TZ95 / ZS80 while recording, which can be very useful and it also benefits from 4K shooting modes which give you 30fps continuous shooting at 8 Megapixel resolution as well as post focus and focus stacking modes (in addition to conventional 20 Megapixel continuous shooting at 10fps). Against that the COOLPIX A1000 can capture a full resolution one-second full resolution burst at 10fps, or 1600×1200 resolution images for a one-second 60fps burst or a half-second 120fps burst.

The COOLPIX A1000 is equipped with Wifi and Bluetooth; Nikon was the first to offer wireless image transfer in the background over the low-power Bluetooth connection and it's still the best. You turn it on and it just works, sending photos to your phone as you shoot. While the Lumix TZ95 / ZS80 now has Bluetooth and can do the same background image transfer trick, Bluetooth is used only to setup a Wifi connection, which is then used to transfer the images. It works pretty well, but it isn't as straightforward or energy-efficient as SnapBridge.

If you've read this far, you'll appreciate that the things that separate the COOLPIX A1000 and Lumix TZ95 / ZS80 are significant, yes, but not major features. Personally I prefer Panasonic's touch screen layout, quick menu access and the convenience of the TZ95 / ZS80's programmable lens ring. Others, with equal justification, might point to the COOLPIX A1000's extended zoom reach, its second control dial, more versatile articulated screen and superior wireless features (though while we're on that subject, the TZ95 /ZS80's remote shooting app is far better than the COOLPIX A1000's).

One factor I've not yet mentioned is price. The COOLPIX A1000 currently retails for around ten to twenty percent less than the Lumix TZ95 / ZS90, depending on where you're shopping. If budget is a major consideration you can still snap up the older COOLPIX A900 but price savings aren't great, and for most people won't justify the sacrifice of the viewfinder and touch screen. A better option might be the older Lumix TZ90 / ZS70.

Ultimately though, the COOLPIX A1000 comes very close to providing everything the Lumix TZ95 / ZS80 offers. It adds a decent electronic viewfinder, a touch screen, some new controls, and RAW shooting, all at a price that's very competitive and for that reason comes highly recommended.

Check prices on the Nikon COOLPIX A1000 at Amazon, B&H, Adorama, or Wex. Alternatively get yourself a copy of my In Camera book or treat me to a coffee! Thanks!