Nikon 8-15mm f3.5-4.5 fisheye review - Verdict
Verdict
The Nikon 8-15mm f3.5-4.5E ED is a high quality fisheye zoom that could easily replace both current Nikon fisheye lenses: the DX 10.5mm f2.8G and the 16mm f2.8D. Optically it is better than both plus adds the possibility to produce fully circular fisheye images at 8mm on a full-frame/FX sensor which up to now no current Nikon fisheye could. So in effect it is three lenses in one. But this has its price, literally: The new zoom has a list-price 1250 USD / 1500 EUR which is roughly double that of the current prices of Nikon's other fisheye lenses.
Let's see how the new lens compares to some alternatives.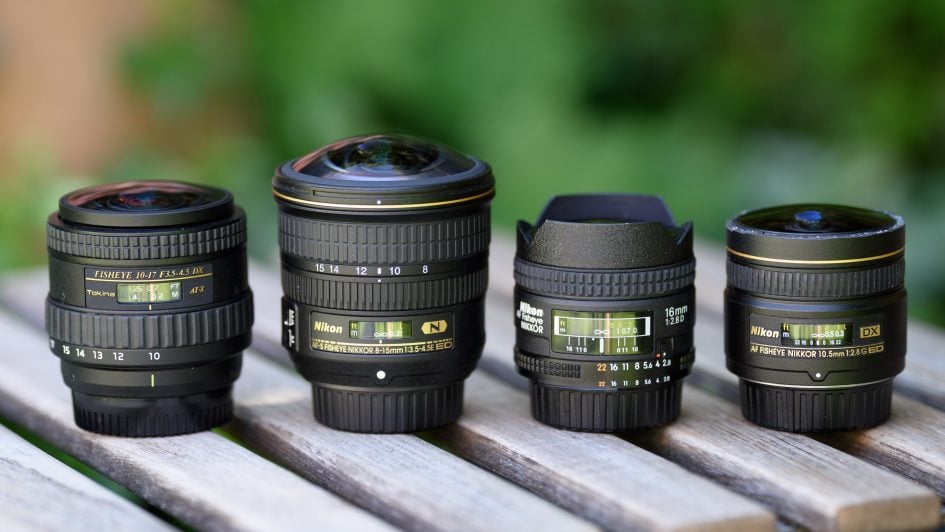 Compared to Tokina 10-17mm f3.5-4.5 DX NH
The Tokina is the only other fisheye zoom for Nikon F mount (also available in Canon EF mount). And it can fill the full format sensor from around 14mm focal length – when you get the "NH" version without lens hood. The major difference is the focal length: It starts only at 10mm which is OK to fill an APS-C/DX sensor but the lens cannot project a fully circular image on a full-frame sensor like the Nikon can at 8mm. On the long end it is 2mm longer than the new Nikon which gives a roughly 10% larger magnification (at a given distance) than the Nikon can achieve. The other major difference is the lack of a focus-motor in the lens so it will not AF on a Nikon D3x00 or D5x00 body. Looking at the optical results the Tokina produces the softest images in this test except for the Siemens star test in the FX-corner at 15mm. Stopping down to f8 or f11 yields very usable results – but only in the DX image circle. That's perhaps the take-away lesson from testing this lens: Although it can fill a full-frame sensor it's best used on an APS-C/DX crop. Keeping this limitation in mind the Tokina is certainly the cheapest way to get a fisheye zoom (around 500 USD/EUR). For more test-shots see my Tokina 10-17mm Flickr album.
Compared to Nikon 16mm f2.8D
As a "D" lens Nikon's 16mm f2.8 full-frame fisheye suffers from the same deficiency as the Tokina: No built-in focus-motor so no AF on a Nikon D3x00 or D5x00 body. At 16mm focal length it delivers a 180 degrees diagonal only on full-frame sensors. On a  DX sensor the angle of view is severely limited to 107 degrees and you should use Nikon's 10.5/2.8G lens instead to reproduce the full 180 degrees. The lens is smaller and lighter than the new Nikon 8-15mm and it produced quite good results in the center but was soft at the borders of the DX image circle and further outside – even stopped down to f4.5 to be comparable to the new fisheye zoom. To remedy this softness the lens needs stopping down to f8. At around 750 USD/EUR it costs only half of the new lens but you're effectively losing two stops compared to the new lens if you want comparable sharpness. For more test-shots see my Nikon 16/2.8D Flickr album.
Compared to Nikon DX 10.5mm f2.8G ED
For 650 EUR the Nikon 10.5mm f2.8G is even cheaper than Nikon's 16/2.8D. But although it is designated as a "G" lens it needs a body with built-in AF drive. So it does not autofocus on D3x00 or D5x00 bodies! It is of similar size and weight as the Nikon 16/2.8D and thus smaller and lighter than the new 8-15mm zoom. It also offers an f2.8 focal ratio which is one stop brighter than Nikon's new fisheye. But you have to stop down to f4.0 to achieve similar image quality. The built-in lens-hood (which I had sawn-off in my copy of this lens) limits its use to DX-crops. On an FX-sensor it looks like this. See my Nikon 10.5mm f2.8G Flickr album for more test-shots.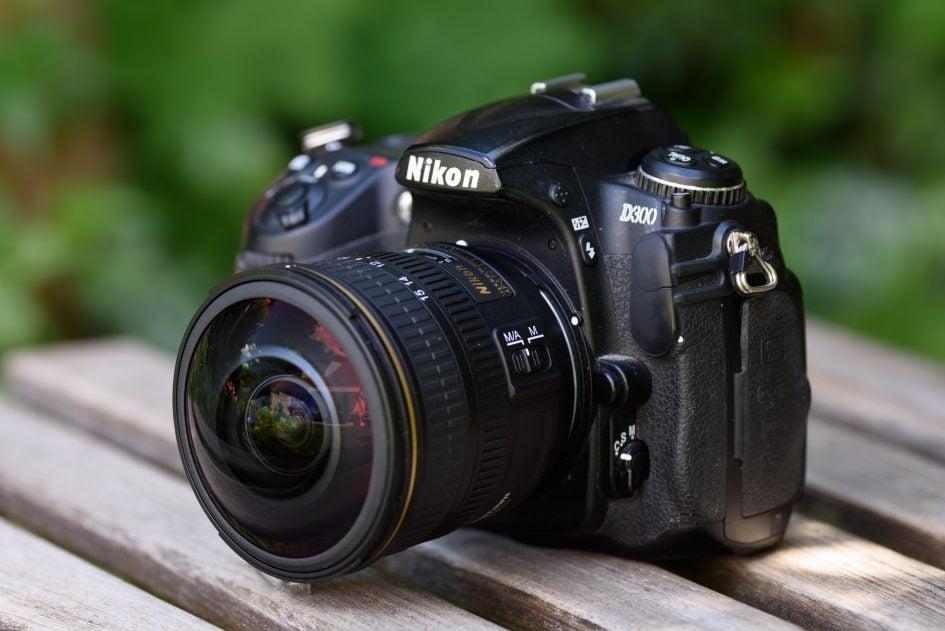 Nikon 8-15mm f3.4-4.5E final verdict
This is a unique lens for Nikon DSLRs: it's a fisheye, it's a zoom and it goes down to 8mm focal length producing fully circular images on full-frame/FX bodies. This combination was not available for Nikon shooters before. It is also the only fisheye from Nikon that can auto-focus on D3x00 and D5x00 bodies. It is well-sealed against the elements, puts away with the mechanical aperture coupling and adds dirt-repellent fluorine coating on the front and rear lens elements. But most importantly: the optical performance is very convincing topping that of both Nikon fixed focal fisheyes as well as the fisheye zoom from Tokina. Yes, the lens has its price but it effectively replaces three fixed focal fisheye lenses and thus is the most versatile tool. Add a quite and reliable focus and a moderate size and weight and you get a package that clearly earns a Highly Recommended.
Good points:
Unique fisheye zoom starting at 8mm focal length.
Very good sharpness and contrast across the image even wide open.
Mostly good flare/glare resistance.
Built-in focus drive.
Bad points:
High price.
Some haloing in high contrast situations.
Use the tabs to visit the other pages which include more in depth information, full quality test results, and sample images!

Check prices on the Nikon 8-15mm Fisheye at Amazon, B&H, Adorama, Wex. Alternatively get yourself a copy of my In Camera book or treat me to a coffee! Thanks!