Nikon 8-15mm f3.5-4.5 fisheye review
In-depth
The Nikon 8-15mm f3.5-4.5E ED fisheye is a 1.9x super wide-angle zoom. It has an angle of view of 180 degrees and projects a circular image at 8mm on a full-frame sensor, completely covers a DX-sensor at 11mm, and completely covers a full-frame sensor at 15mm. So this zoom covers effectively three separate fixed-focal fisheye lenses. The only thing you cannot do with it is to project a circular image on a DX-sensor: for that you'd need a 5.5mm fisheye lens. Announced in April 2017, it fills a gap in Nikon's lineup of lenses as up to now Nikon only offers its 10.5/2.8G DX fisheye and the 16/2.8D FX fisheye. Nikon equipped its new lens with an electromagnetic diaphragm mechanism, nano crystal coat plus fluorine coating on the front and rear lens elements for easier cleaning, and also hardened the lens barrel with additional sealing against dust and moisture. This makes the gold-ringed lens fit Nikon's line-up of professional lenses and they charge accordingly: 1250 USD / 1500 EUR is the list-price for this new zoom.
To find out how the new Nikon 8-15mm f3.5-4.5E ED fisheye performs I tested it against Nikon's own 10.5/2.8G DX and 16/2.8D fisheye lenses plus Tokina's AT-X 10-17/3.5-4.5 AF DX NH fisheye on the demanding D810 body. So if you're shopping for a fisheye lens, you've come to the right place!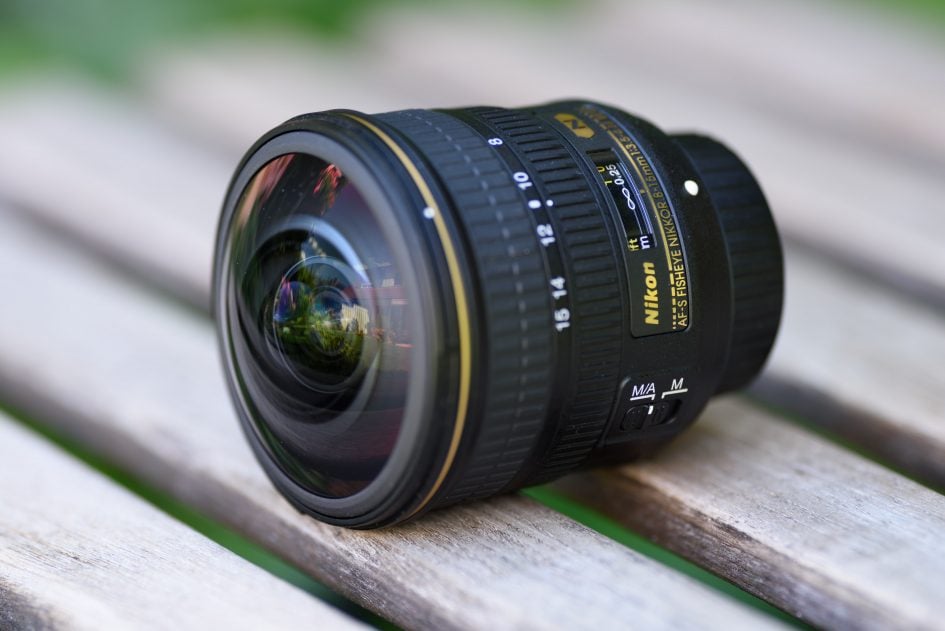 Facts from the catalog
As usual I'll have a look at the technical data first. I've rated the features with a [+] (or [++]), when it's better than average or even state of the art, a [0] if it's standard or just average, and [-] if there's a disadvantage. I'll compare it mostly with Nikon's only other full-frame fisheye, the 16/2.8D.
Size (diam. x length): 78 x 83mm (3.1 x 3.3in) without lens hood at its shortest length which is at 10mm focal length. This is par for the course for a modern lens. The lens hood adds another 11mm in length and has a diameter of 96mm. The old 16/2.8D fixed focal is much smaller at 57 x 63mm with lens hood. [0]
Weight: 485g (17.1oz.). The 16/2.8D is 290g. [0]
Optics: 15 elements in 13 groups which is much more than the 8/5 of the 16/2.8D. But that lens isn't a zoom. The new lens has three (extra) low dispersion and two aspherical elements. Nano coating should reduce flare and ghosting. [+]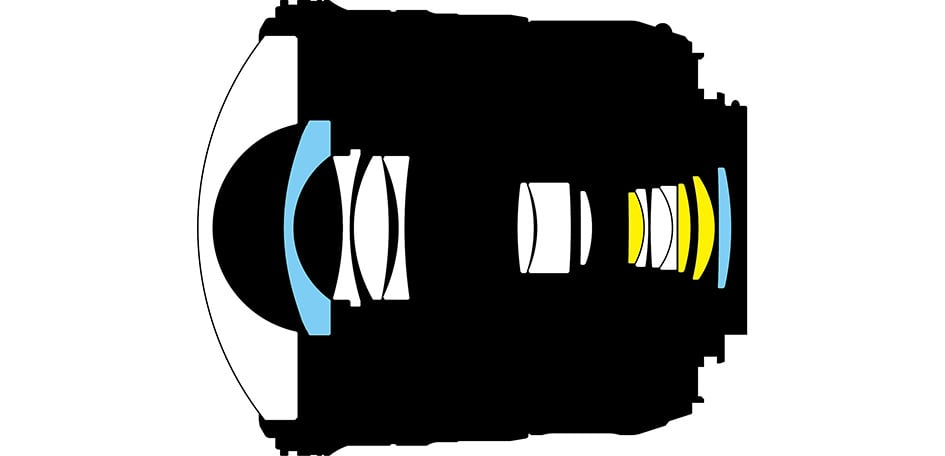 Closest focus distance/max. magnification: 0.16m (0.52ft) / 1:2.9 (at 15mm focal length) compared to 0.25m (0.82ft) / 1:10 with the 16/2.8D. The maximum magnification of the new Nikon is quite good but you only have around 3cm of working distance. A magnification of 1:10 is achieved at around 0.27m distance which gives 14cm working distance. [+]
Filter-thread: None of the fisheye lenses (or any ultra wide-angle zooms from Nikon, Tamron, Sigma or Canon for that matter) offer a filter-thread. Their bulbous front elements prevent that. But you can insert 27x29mm gel-filters in a slot over the rear lens-element. See next photo. The Nikon 10.5/2.8G has a similar slot and the 16/2.8D offers a special type of screw-in filter over the rear lens-element. [+]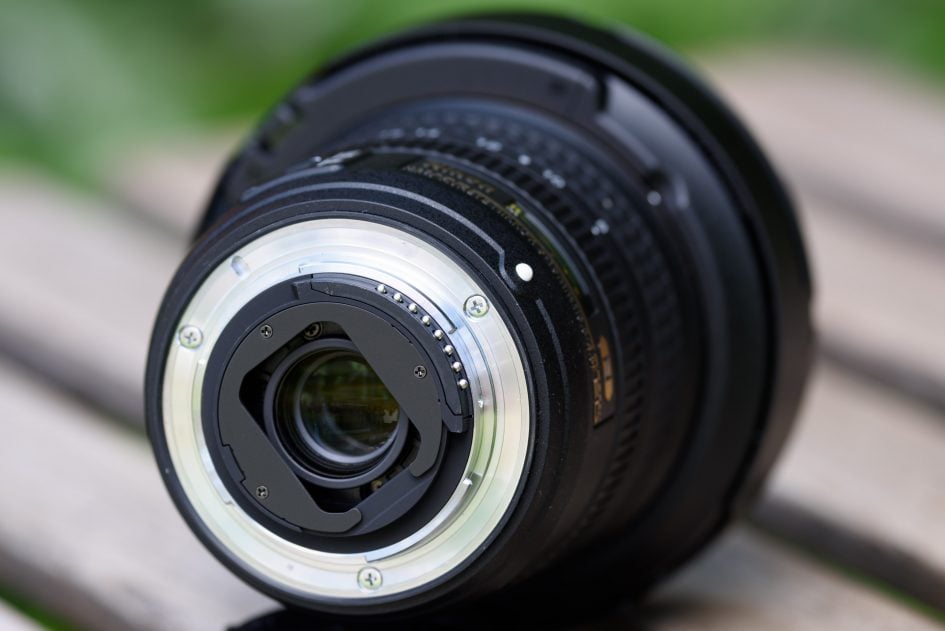 Image Stabilization: No fisheye lens has image stabilization. [0]
Auto Focus: HSM (Hyper Sonic Motor), so it also works on camera bodies which don't have an AF-drive built in like Nikon's D3x00/5×00. Manual-focus override is by simply turning the focus ring. All the alternatives from  Nikon and Tokina need a focus-motor in camera to drive the AF. [+]
Covers full frame/FX or smaller = very good. As does the 16/2.8D. [+]
Price: around 1250 USD / 1500 EUR (incl. 19% VAT), 100% more expensive than the 16/2.8D which can be had for around 750 EUR. But to put the price of the new Nikon in perspective: The Canon 8-15/4.0 L fisheye currently sells at around 1200 EUR. [0]
Comes with a standard soft case. The lens hood has an interlock to prevent accidental loss. It can be removed and should be when you're shooting circular images on a full frame sensor below 14mm focal length. The front lens-cap does arrest in place when mounted on the lens hood (see next photo) – very good! When you use the built-in flash the shadow of the lens (even without hood) is always visible at the bottom of the image at any focal length on an FF-/FX sensor. If you crop to APS-C/DX format the shadow is slightly visible at a focal length of 11mm and becomes more pronounced at shorter focal lengths. The onboard flash of the D810 can fill the DX frame at 15mm focal length relatively well but shows heavy vignetting at 12mm and shorter focal lengths. [0]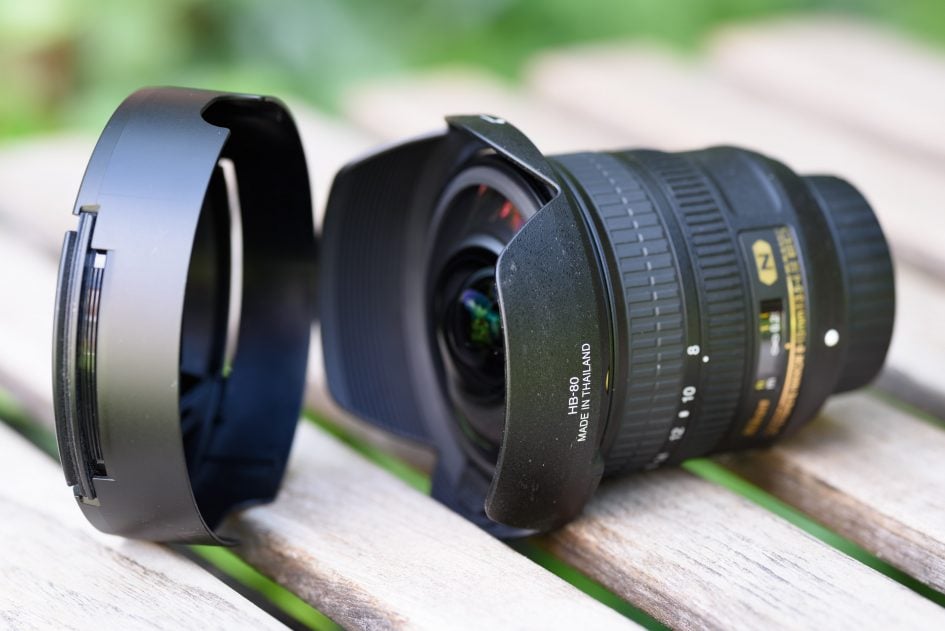 Distance information is relayed to the camera, so the Nikon body can do all the advanced exposure-related stuff with this lens. Same with the competition. [+]
Aperture ring: no. The 16/2.8D has one. [0]
Sealing: A rubber grommet at the lens-mount and more in the lens barrel. [+]
The score in the "features-department" is 0[-]/6[0]/7[+]. This is pretty good with no real down-side.
Here is what the 8-15mm zoom projects on the sensor:

On a full-frame sensor the angle of view is always around 180 degrees regardless of the focal length  you use while on a DX sensor the angle of view narrows from 180 degrees at focal lengths between 8mm and 10mm to 110 degrees at 15mm.
Following is the coverage of the Nikon 10.5/2.8G (with sawn-off lens hood to generate a circular image) and the Nikon 16/2.8D:

And in case you wonder how a "straight" 15mm lens would capture the same scene following is an image from the Tamron 15-30/2.8 VC at 15mm:

Alternatives
There is only one other fisheye zoom available for Nikon (and Canon) bodies: The Tokina AT-X 10-17mm f3.5-4.5 AF DX. It is designated as a lens for APS-C/DX-sensors but my tests showed that it covers full-frame sensors well at focal lengths of 14mm and longer. If you're using it on a full-frame body you should get the "NH" version which has no hood. This allows for circular images albeit with 29mm diameter at 10mm focal length which get's cut off at the top and bottom by the sensor. See the following images:

Nikon up to now only offered two fixed focal lenses with fisheye characteristic: the AF DX 10.5mm f2.8G and the AF 16mm f2.8D. Be aware though that both lenses need a body with integrated AF motor to auto-focus.
Canon users can get the EF 8-15mm f4.0 L USM from 2010. It has a street price around 1200 USD / EUR and was tested as very sharp in the center. But it softens markedly towards the corners and exhibits some strong lateral color aberrations when used wide open. And of course it cannot be adapted to Nikon DSLRs. See Gordon's Canon 8-15/4.0L fisheye review.
Sony users don't have a fisheye zoom for E (or A) mount but can get a lot of fixed focal fisheyes mostly from Samyang/Walimex and the Sony 16/2.8 for A mount. But with the help of the appropriate adapter either the Canon or the Nikon 8-15mm zoom can be used on Sony E-mount bodies.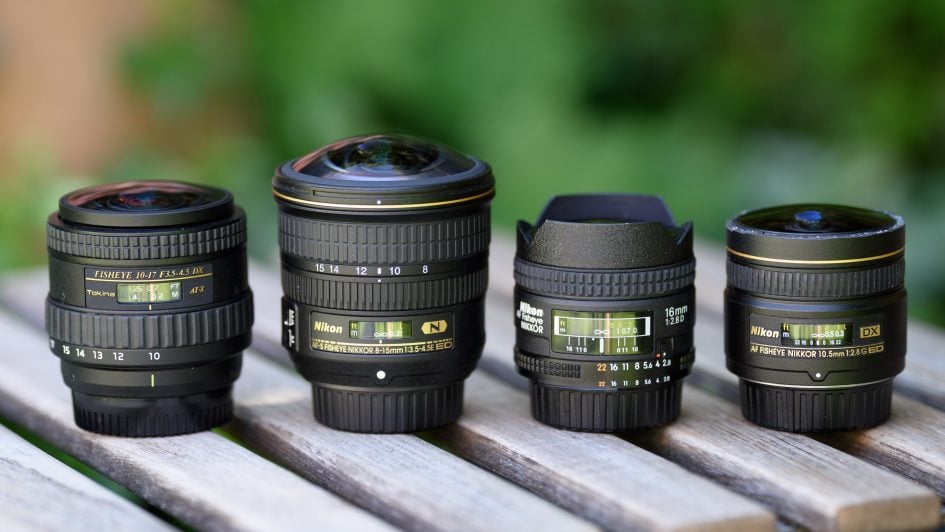 Focus

Focus accuracy and repeatability is critical to consistently produce sharp shots. Repeatability (the accuracy of focus on the same subject after repeated focus-acquisition) of this lens is very good (measured 99.1% in Reikan FoCal) with no outliers over a series of 40 shots under strictly controlled test conditions. And there is only very little performance variation whether the lens focuses from infinity or from a closer distance.

At 15mm focal length the lens focuses with no hunting in around 0.3 sec from infinity to 0.27m, which is very fast. The focus ring has no slack/play between its movement and the focus-action and a throw of 55 degrees which is good enough for manual focus wide open. Its rubberized surface is 10mm wide and can be turned with one finger. The zoom ring turns through 60 degrees and has a 14mm wide rubber surface and can also be turned with one finger. Nikon put the zoom ring at the front of the lens and the focus ring behind that.

AF-operation is very quiet from the outside, and if you record video with the built-in microphone the AF-drive produces a slight hiss and only faint clicks at the start or stop of focus-movements.

As you pull focus, you'll notice some focus breathing: the image becomes less magnified at closer focusing distances. When I adjusted the focus from infinity to 0.27m, I measured a 1-2% decrease in magnification at 8mm and 15mm focal length which is minimal and should not prove distracting when shooting video. Next check out my quality results and sample images!

Check prices on the Nikon 8-15mm Fisheye at Amazon, B&H, Adorama, Wex. Alternatively get yourself a copy of my In Camera book or treat me to a coffee! Thanks!