Nikon 28mm f1.4E review - Verdict
Verdict
The Nikon 28mm f1.4E is a high quality wide lens that fills the gap between their 24/1.4G and 35/1.4G lenses for full-frame bodies. It delivers very good image quality coming close to or even surpassing the Zeiss Otus 28/1.4 in my tests. This performance coupled with the build-quality of a professional Nikon lens and a reliable AF makes for a compelling package although at a price: For around 2000 USD / 2400 EUR any weaknesses of this lens come under close scrutiny. Let me go through them step-by-step.
Longitudinal CA/Magenta haloing: Nikon's new lens shows some magenta loCAs and it also produces some visible magenta haloing where bright high-contrast areas bleed into darker ones. This can be seen at f1.4 and f2.0.
Slightly soft DX-corner: Perhaps it is the excellent resolution of fine details in the center that make the softer DX-corners a small disappointment. Mind you: performance in the DX-corner (and beyond) is still good to very good at f1.4 and f2.0. But scanning through an image at 100% magnification from the center to the corners reveals this slight imperfection.
No image stabilization: Image stabilization of wide-angle lenses might not be deemed terribly important. But with 36+MP full-frame sensors as well as 24MP APS-C/DX sensors it is increasingly hard to achieve really sharp shots devoid of (micro-)blur. The old 1/focal-length rule for shutter-speeds that are on the safe side no longer applies for the pixel-densities of modern sensors: today we're more talking about using 1/60 sec on an unstabilized lens of 28mm focal length. Especially night scenes with their extreme contrast benefit from keeping ISO low to preserve as much of the dynamic range of the scene as possible. In these situations image stabilization would be a boon for hand-held photography. And Tamron has proven that you can build large aperture primes with image stabilization and not compromise image quality for it – although to be fair only with f1.8 focal ratio.
Let's see how the new lens compares to some alternatives.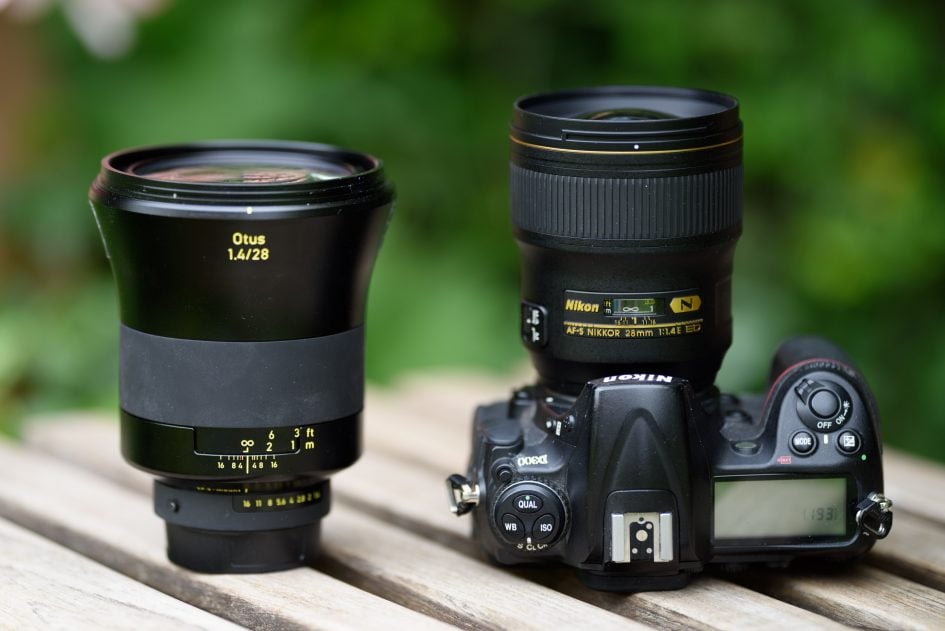 Compared to Zeiss Otus 28mm f1.4
Optical performance plus build quality: The Zeiss Otus 28mm f1.4 delivers sharpness, contrast, resistance against contra light, coma, loCA, purple fringing, Bokeh on a very high to exceptional level even at f1.4 and puts this in a package that exudes quality in every aspect of its physical presence. This is really the lens that you can use wide open with little to no compromise in optical performance and in that it is the reference to benchmark other 28mm lenses against. Compared to Nikon's new 28mm f1.4E the Otus is practically devoid of magenta haloing and renders high contrast scenes with very few colour artefacts. It also delivers a more even performance across the sensor especially with more details at the border of the DX image-circle than the Nikon produces. Albeit the Nikon has a slight advantage in center resolution. The downsides of the Otus? You have to focus manually, the lens is twice as heavy and considerably larger than the Nikon, and it has an eye-watering price-tag of 5000 USD / 4500 EUR. So all-in-all the new Nikon 28mm f1.4E decidedly looks like the better choice for everyday use. For further information about the Otus have a look at my Zeiss Otus 28mm f1.4 review.
Compared to Nikon AF-S 24mm f1.4G and Sigma 24mm f1.4 Art
Both the Nikon 24mm f1.4G (around 1800 EUR) and the Sigma 24mm f1.4 Art (around 750 EUR) are the shorter cousins by 4mm to the new Nikon 28mm f1.4E. Both lenses deliver very good image quality and got a Highly Recommended (see my Nikon 24mm f1.4G review and my Sigma 24mm f1.4 Art review). The shorter focal length produces an angle-of-view of 84 degrees (on a full-frame sensor) as compared to the 75 degrees of the new Nikon 28mm f1.4E. By cropping 1.17x (still delivering 26MP on a D810) you get the same framing from the 24mm lenses as from the 28mm lens. Looking closer into the performance of the 24mm alternatives both suffer from strong coma blurring the FX-corner and a dip in DX-corner performance that at least with the Sigma is more pronounced than from the new Nikon. Both also cannot match the excellent center resolution or the Bokeh of the 28mm. So if you value image quality and can cope with the 17% longer focal length I'd recommend Nikon's new 28mm f1.4E over the 24mm f1.4 alternatives from Nikon and Sigma.
Compared to Nikon AF-S 28mm f1.8G
For 650 EUR the Nikon 28mm f1.8G is a much cheaper alternative to the new 28mm f1.4E. You give up two thirds of a stop in focal ratio but also get a much lighter (330g) and smaller (73 x 81mm) package for it. Optically it is no match for the new 28mm f1.4E: It suffers from focus-shift when stopping down, has strong coma that blurs the FX-corner and some strong longitudinal color aberrations. See my Nikon 28mm f1.8G review for more information.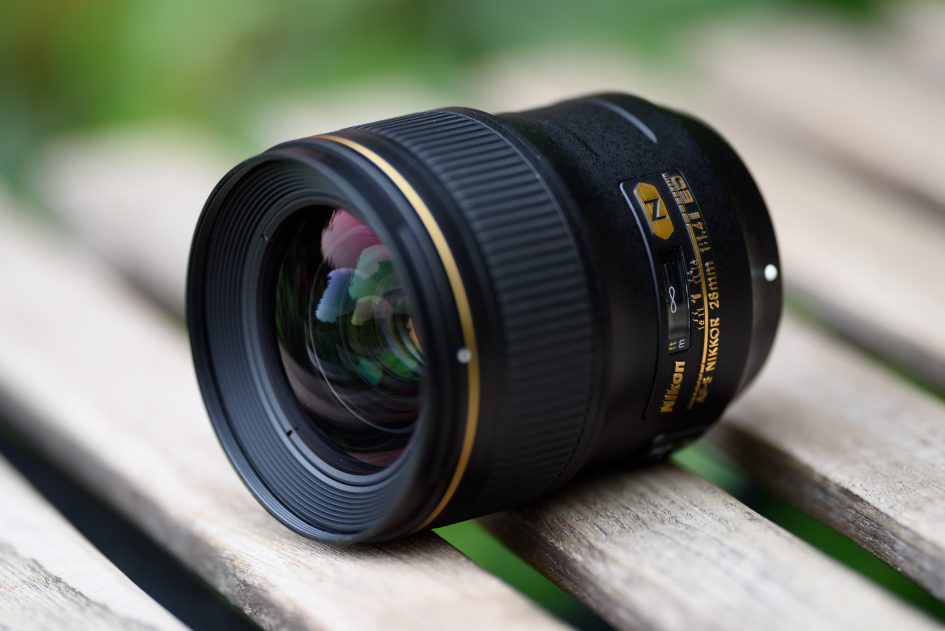 Nikon 28mm f1.4E final verdict
This might be just another f1.4 wide-angle lens in Nikon's line-up. But I think Nikon has advanced the bar just like they did with their 105mm f1.4E: not only does the lens put away with the mechanical aperture coupling and adds dirt-repellent fluorine coating on the front and rear lens elements but the optical formula makes it better than its 24mm and 35mm f1.4 siblings. Yes, the lens does show some magenta haloing/loCA and one could wish for a better resolution of fine details at the border of the DX image-circle. But this is niggling on a very high level. The lens produces excellent resolution of fine detail in the center, has a pretty soft Bokeh for a wide-angle lens and is resistant against flare and glare. Add a quite and reliable focus, a good hardening against the elements and a moderate size and weight and you get a package that clearly earns a Highly Recommended. So the new Nikon 28mm f1.4E is well worth its price.
Good points:
Unique combination of f1.4 focal ratio, 28mm length, and AF.
Excellent sharpness and contrast in the image center even wide open.
Good flare/glare resistance.
Good Bokeh for a wide-angle lens.
Only little distortions.
Bad points:
High price.
Magenta loCA and haloing.
Performance at DX-corner could be better.
No image stabilization.
Read on, there's much more to this review: use the tabs to visit the other pages which include more in depth information, full quality test results, and sample images!

Check prices on the Nikon 28mm f1.4E at Amazon, B&H, Adorama, or Wex. Alternatively get yourself a copy of my In Camera book or treat me to a coffee! Thanks!