Nikon 24-70mm f2.8E VR review
Verdict
The Nikon AF-S 24-70mm f2.8E ED VR is a pro-grade standard zoom which delivers very good performance overall, with astonishingly good FX-corners. It also adds image-stabilization that works very well. So what's not to like about the successor to one of Nikon's best-selling full-frame DSLR lenses?
Well, the first copy of the lens that I had for testing was decentered, the electromagnetic diaphragm did not guarantee a smooth and stable progression when stopping the lens down, and the front-/back-focus of the lens could not be corrected effectively with one AF fine-tune value for different focal lengths. Although it was built in Japan and Nikon took almost two months longer than planned to deliver the first batch of the new lens it obviously didn't manage quality control properly. All these are bugs that can be dealt with: You either give your copy back to the dealer and get a new one or you send it in to Nikon service. But this is still a major annoyance that you shouldn't expect from a professional grade lens costing 2500 EUR. And my second copy turned out to be decentered as well, but that was fixed by Nikon service.
Finally the lens is big and heavy, even bigger and heavier than Nikon's 300/4.0E VR tele-photo lens. And it does produce quite some vignetting and strong distortions. Now let's see how the new lens compares to it's predecessor and the competition.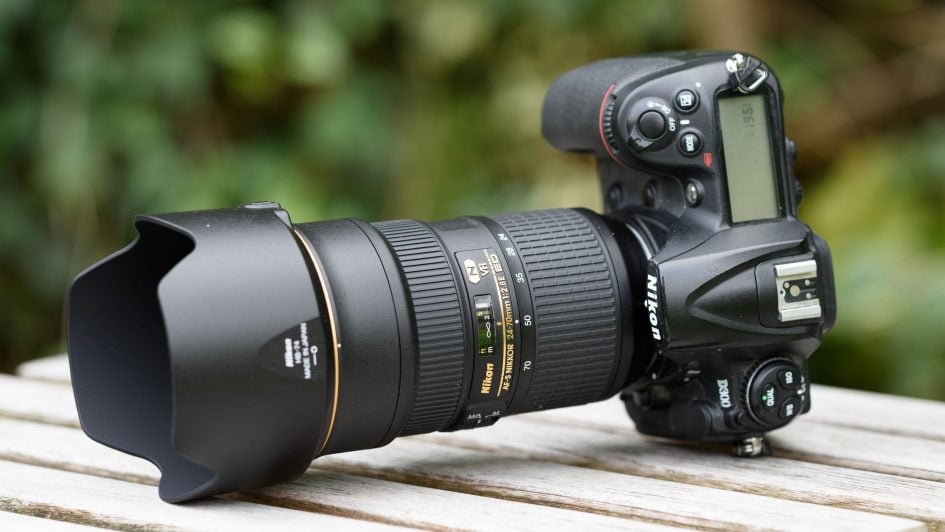 Compared to Nikon AF-S 24-70mm f2.8G ED
The predecessor of the new lens currently serves as the workhorse for many professionals and amateurs alike. It's the natural benchmark against which the new lens is to be judged. So let's start with the two obvious benefits of the new lens compared to the Nikon 24-70/2.8G. First, the new lens has an image stabilization that is good for three to four stops and makes hand-holding at shutter-speeds of 1/20 sec down to 1/5 sec (depending on focal length) easy. Secondly, the image quality in the FX-corner is much better than before. So producing images that are sharp corner-to-corner needs less stopping down than with the predecessor.
But the older 24-70/2.8G still has its merits: It produces sharp images in the DX image-circle with little or no stopping-down – sometimes even surpassing the new lens. And it's shorter and lighter than the 24-70/2.8E VR and has less vignetting and fewer distortions at the long end. Add to this a price that is about 1000 EUR cheaper than the new lens (at current street-prices) and you have a compelling alternative at hand. See my Nikon 24-70/2.8G review for details.
Compared to Tamron SP 24-70mm f/2.8 Di VC USD
Tamron built the first stabilized 24-70/2.8 zoom and it still has to be lauded for this. Only competition can drive innovation. The Tamron still offers very good image quality at the center wide open, comparable to Nikon's new zoom. DX-corners also hold up pretty well and the FX-corners are still usable albeit cannot reach the performance of the new Nikon zoom. In my Tamron 24-70/2-8 VC review I only found two issues: The image stabilization needed some time to "lock-on" and the aperture didn't stop down properly from f2.8 to f4.0 on the tested copy. But for a third of the price of the new Nikon 24-70/2.8E VR the Tamron is still a very viable alternative. Just don't expect it to be as robust as the new Nikon.
Nikon AF-S 24-7mm f2.8E ED VR final verdict
Having the most effective image stabilization and the best image quality across the FX-sensor in its class earns this lens a Highly Recommended. Be aware though that this performance comes at a price: literally and in an increase in size and weight.
PS – don't forget you can support my work next time you order anything at Amazon, B&H or Adorama by first clicking through to them using the links above and in the sidebar. It works for anything you order at any time – thanks for your support!
Summary
Good points:
Good to very good quality across the full-frame area.
Weather sealing.
Quiet and fast AF operation.
Very good image stabilization.
Bad points:
Stronger vignetting and distortions than predecessor.
Large and heavy.
Very high price.