Nikkor DX kit lens group test: 18-55mm vs 18-70mm vs 18-135mm vs 18-200mm VR - Verdict
Verdict
---

Nikkor DX 18-70mm

Good points
Slightly longer zoom range than basic kit lens
Brighter f4.5 aperture at telephoto
Superior build quality to standard kit lens
Fast and quiet SWM focusing motor

Bad points
Pricier than official kit lenses
Corner sharpness issues
DX 17-55mm f2.8 is brighter (but pricey)
DX 18-200mm is longer and has VR

Scores
(relative to DX 18-55mm II kit lens)

Build quality:

Optical quality:

Specification:

Value:

Overall:

22 / 25
20 / 25
18 / 25
17 / 25

77%

---

Nikkor DX 18-135mm

Good points
More flexible range than standard kit lens
Better build quality than standard kit lens
Fast and quiet SWM focusing motor
Affordable and supplied with lens hood

Bad points
No VR – so watch out for shake at 135mm
Below average geometric distortion
Only sold in bundle with new body
Nikkor DX 18-200mm more compelling

Scores
(relative to DX 18-55mm II kit lens)

Build quality:

Optical quality:

Specification:

Value:

Overall:

18 / 25
17 / 25
18 / 25
20 / 25

73%

---

Nikkor DX 18-200mm VR



Good points
Highly versatile 11.1x zoom range
Effective anti-shake VR feature
Fast and quiet SWM focusing motor
Polariser-friendly internal focusing

Bad points
Non-VR 18-200mm rivals at half the price
Modest macro performance
Heavier and larger than rivals
Smaller effective range at close focus

Scores
(relative to DX 18-55mm II kit lens)

Build quality:

Optical quality:

Specification:

Value:

Overall:

22 / 25
20 / 25
23 / 25
20 / 25

85%
Each of the four Nikkor lenses we tested has its pros and cons and we'll discuss each in turn.
Nikkor DX 18-55mm II
The DX 18-55mm II is the most basic Nikkor kit zoom for Nikon DSLRs. It has the shortest optical zoom of the four models tested and the lowest build quality. It also has a rotating front section which can prove annoying for users of polarising filters and doesn't come with a lens hood.
But, and this is the big but, it's actually very good for the money. The optical quality is surprisingly good and the focusing both quicker and quieter than, say, Canon's EF-S 18-55mm kit lens. Sure the other lenses tested here are superior, but if budget demands you go for the DX 18-55mm II, you'll at least be getting one of the best affordable kit lenses on the market. If size and weight are an issue, it's also worth mentioning it's the smallest and lightest of the four models here.
Nikkor DX 18-70mm
The Nikkor DX 18-70mm offers much more than just an extra 15mm over the most basic Nikkor kit lens – it's a step-up in every respect. The build and optical quality are superior, the maximum aperture when zoomed-in is brighter, the focusing a little quicker, the end section doesn't rotate when focusing, and it comes with a lens hood.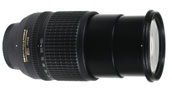 It is overall a far superior lens, but this is reflected in a higher price. If you're after a superior general purpose zoom lens though and aren't bothered about spending much extra for either the brighter DX 17-55mm f2.8 or the longer, stabilised DX 18-200mm, then it's a great choice. If you're buying a new Nikon body, look out for bundles with the DX 18-70mm, as they're often cheaper than buying both separately.
Nikkor DX 18-135mm
The Nikkor DX 18-135mm is the longest official kit lens on the market, boasting two and a half times the power of standard 18-55mm models when zoomed-in. This provides the lens with much greater compositional flexibility, but it's more than just a longer version of the DX 18-55mm II. While not up to the build quality or focusing speeds of the DX 18-70mm or DX 18-200mm lenses, the DX 18-135mm is superior in both respects to the DX 18-55mm II. The front section also doesn't rotate which is good news for users of polarising filters and it additionally comes supplied with a lens hood.
It's not all good news though. The DX 18-135mm suffers from greater geometric distortion than the others whether zoomed-in or out, and there's greater coloured fringing when zoomed-in. Like the DX 18-55mm II, it employs a plastic lens mount and you should also watch out for camera shake when zoomed-into 135mm – that's equivalent to over 200mm and remember this lens doesn't have stabilisation. But it does offer many key advantages over the standard DX 18-55mm II kit lens and represents great value when bought in a bundle. It's undoubtedly one of the classiest official kit lenses from any manufacturer, but if you're buying a new body and can afford to spend more, the DX 18-200mm VR is a more compelling choice.
Nikkor DX 18-200mm VR
The Nikkor DX 18-200mm is the most powerful and impressive lens in this group test, and indeed one of the most popular lenses on sale today. It offers a massive 11.1x optical zoom range and makes it usable under a variety of conditions thanks to built-in Vibration Reduction; this really works too, allowing you to handhold exposures three to four times slower than normal. The build quality and focusing are roughly equivalent to the DX 18-70mm, placing both well above the other two official kit lenses. The front section also doesn't rotate when focusing and it additionally comes with a lens hood.
The DX 18-200mm VR isn't without its downsides though. It's the biggest and heaviest of the group, by far the most expensive, isn't particularly bright, and also suffers from creep where the lens barrel can retract or extend under its own weight when pointed up or down – you can see a demonstration of this in our video tour. Its enormous popularity has also seen frustrating shortages in supply.
Finally, any lens with such a large optical zoom range won't perform as well as a decent lens with a shorter range, although to be fair the DX 18-200mm VR actually delivers very good results. There's also an interesting optical effect to be aware of where you won't enjoy as much magnification when focused at close range. We've illustrated this in our 18-200mm Issues feature, although again to be fair this affects other ultra-zoom lenses.
The bottom line is the Nikkor DX 18-200mm VR remains probably the most compelling general-purpose lens for Nikon DSLRs; indeed many new DSLR owners have adopted the Nikon system just to use it. Most people will also find it covers virtually all their requirements, which eliminates the need to carry multiple lenses not to mention any worries about dust when you change them.
Ultimately if you can afford the Nikkor DX 18-200mm VR and don't mind its size and weight, we'd highly recommend going for it as an all-round general purpose lens for any Nikon DSLR. And if you're in the market for a new Nikon DSLR, look out for bundles which include it as an up-market 'kit lens', as it may work out cheaper than buying them separately.
We're pleased to present a video tour of the Nikkor DX 18-55mm, 18-70mm, 18-135mm and 18-200mm VR lenses, demonstrating their physical characteristics and coverage in practice. There's no need to download any new software – just press the play button in the middle of the screen below and wait for the video to start; you may need to press the button twice. The quality and any delay before playing may vary depending on your internet connection.
---

Nikkor DX 18-70mm

Good points
Slightly longer zoom range than basic kit lens
Brighter f4.5 aperture at telephoto
Superior build quality to standard kit lens
Fast and quiet SWM focusing motor

Bad points
Pricier than official kit lenses
Corner sharpness issues
DX 17-55mm f2.8 is brighter (but pricey)
DX 18-200mm is longer and has VR


Scores
(relative to DX 18-55mm II kit lens)

Build quality:

Optical quality:

Specification:

Value:

Overall:

22 / 25
20 / 25
18 / 25
17 / 25

77%
---

Nikkor DX 18-135mm

Good points
More flexible range than standard kit lens
Better build quality than standard kit lens
Fast and quiet SWM focusing motor
Affordable and supplied with lens hood

Bad points
No VR – so watch out for shake at 135mm
Below average geometric distortion
Only sold in bundle with new body
Nikkor DX 18-200mm more compelling


Scores
(relative to DX 18-55mm II kit lens)

Build quality:

Optical quality:

Specification:

Value:

Overall:

18 / 25
17 / 25
18 / 25
20 / 25

73%
---

Nikkor DX 18-200mm VR



Good points
Highly versatile 11.1x zoom range
Effective anti-shake VR feature
Fast and quiet SWM focusing motor
Polariser-friendly internal focusing

Bad points
Non-VR 18-200mm rivals at half the price
Modest macro performance
Heavier and larger than rivals
Smaller effective range at close focus


Scores
(relative to DX 18-55mm II kit lens)

Build quality:

Optical quality:

Specification:

Value:

Overall:

22 / 25
20 / 25
23 / 25
20 / 25

85%