Nikkor AF-S DX 18-200mm f/3.5-5.6 G ED VR II
Real-life sharpness at 200mm - Nikkor DX 18-200mm VR II vs DX 55-200mm VR
Real-life sharpness at 200mm – Nikkor DX 18-200mm VR II vs DX 55-200mm VR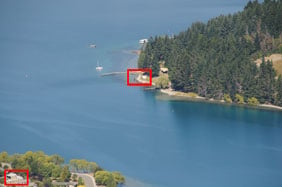 To compare sharpness at a telephoto focal length of 200mm, we shot this scene with the Nikkor DX 18-200mm VR II and DX 55-200mm VR, using a Nikon D90 body at all apertures.
The D90 was set to RAW to avoid in-camera JPEG corrections; all files were processed in Nikon's Capture NX 2.2.3 with lens corrections disabled and the default sharpness of 3. VR was disabled on each lens, and magnified assistance in Live View used to confirm the focusing.
The image above was taken with the Nikkor DX 18-200mm VR II mounted on a Nikon D90 body. The lens was set to 200mm f8, and the D90 to 200 ISO. In the samples below, the exposures were identical with each lens and the crops taken from the areas marked with the red rectangles for presentation here at 100%.
To end our real-life results, we've compared the DX 18-200mm VR II against the DX 55-200mm VR with both lenses fully zoomed-into their maximum focal length of 200mm. At this point, both lenses offer a maximum aperture of f5.6.
On the previous page at 135mm we saw a small but noticeable advantage to the corner sharpness of the DX 55-200mm VR over the super-zoom, but at 200mm, the difference becomes greater. At f5.6 and f8, both lenses are suffering from some coloured fringing, but the DX 55-200mm VR is simply much sharper in the corners than the DX 18-200mm VR II super-zoom.
As we've seen before, the situation becomes much closer in the centre of each frame, but look closely and there's slightly greater definition to the DX 55-200mm VR samples. Note what looks like a slightly different white balance on each shot is in fact differences in the colour rendition of each lens. The shots were taken moments apart and the RAW files processed with the same Daylight white balance setting.
In terms of sharpness though, the result here confirms what we expected: namely a lens with a shorter focal range should out-perform one with a longer range, although as we've seen throughout these pages, there can still be some surprises.
Now see how the lenses compare in terms of geometric distortion and vignetting, or if you've seen enough, head straight to our verdict.
Corner sharpness at 200mm
Nikkor DX 18-200mm VR II
Corner sharpness at 200mm

Nikkor DX 55-200mm VR
Corner sharpness at 200mm

f5.6, 200 ISO

f5.6, 200 ISO

f8, 200 ISO

f8, 200 ISO
Centre sharpness at 200mm
Nikkor DX 18-200mm VR II
Centre sharpness at 200mm

Nikkor DX 55-200mm VR
Centre sharpness at 200mm

f5.6, 200 ISO

f5.6, 200 ISO

f8, 200 ISO

f8, 200 ISO