Nikkor AF-S DX 16-85mm f/3.5-5.6G ED VR
Quality
Nikkor DX 16-85mm VR design and build quality
Nikkor DX 16-85mm VR coverage
Real-life wide-angle sharpness at 16mm – Nikkor DX 16-85mm VR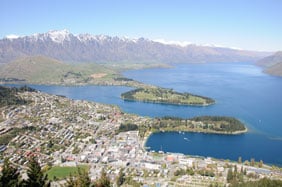 To compare real-life corner sharpness when zoomed-out, we shot this scene with the Nikkor DX 18-105mm VR on the Nikon D90 body. The DX 18-105mm VR was zoomed-out to its shortest 18mm focal length and tested at all aperture settings with VR disabled. The D90 was set to its base sensitivity of 200 ISO and into RAW mode to avoid in-camera JPEG corrections; all files were processed in Nikon Capture NX2 with lens corrections disabled.
The image above was taken with the Nikkor DX 18-105mm VR mounted on the Nikon D90 body. The lens was set to 18mm f8, and the D90 set to 200 ISO. The crops are taken from the lower left corner and the centre, and presented here at 100%.
Like most lenses, the DX 18-105mm VR suffers from some softening in the corners, and here it's a little worse than that seen above with the DX 16-85mm VR – although it should be said it's not bad considering it's a kit lens. Stopping down to f8 slightly improves the situation in the corners, but not hugely.
Interestingly while the DX 16-85mm VR benefitted from stopping down to improve the sharpness of crops taken from the centre of its images, the DX 18-105mm VR performs remarkably well across its aperture range. Even when wide open at f3.5, the centre crop from the DX 18-105mm VR looks pretty respectable here, so a good result for the kit lens.
As always, the results here just represent one part of the story though, so to see how the lenses compare when zoomed-in, head-on over to our Nikkor DX 16-85mm VR Real life corner results at telephoto.
Nikkor DX 18-105mm VR with Nikon D90
Wide (18mm) corner

Nikkor DX 18-105mm VR with Nikon D90
Wide (18mm) centre

f3.5, 200 ISO

f3.5, 200 ISO

f4, 200 ISO

f4, 200 ISO

f5.6, 200 ISO

f5.6, 200 ISO

f8, 200 ISO

f8, 200 ISO