Nikkor AF-S DX 16-85mm f/3.5-5.6G ED VR
Intro
The Nikkor DX 16-85mm VR was announced in January 2008 alongside the D60 DSLR. It equips all DX format bodies with a general-purpose range that's equivalent to 24-128mm, making it an ideal walk-around lens with wider coverage than most kit lenses.
The VR in the title stands for Vibration Reduction, Nikon's optical anti-shake system, with the company claiming up to four stops of compensation. This should allow you to handhold shots at much slower shutter speeds than normal.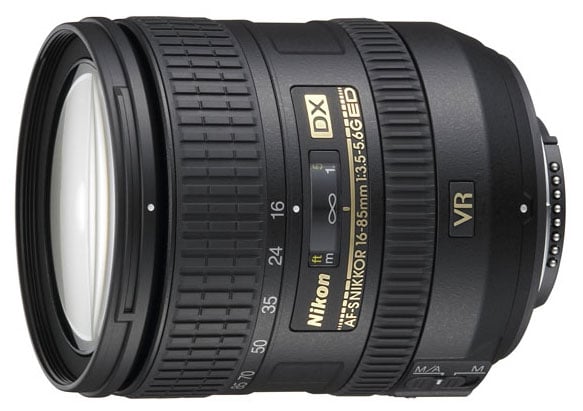 As an AF-S model, the DX 16-85mm VR features one of Nikon's quick and quiet SWM focusing motors, which also means it'll autofocus on Nikon bodies which don't have their own built-in focusing motor, including the D40, D40x and D60 models. Unlike most kit lenses, the DX 16-85mm also features a metal lens mount with rubber sealing and a window showing focusing distance markers.
The DX 16-85mm VR is clearly a well-featured general-purpose lens, but the Nikkor range is not short of alternatives for DX-format bodies. Beyond the existing DX 18-70mm, the standard D80 and D90 kits came with good quality 18-135mm and 18-105mm lenses, while the DX 18-200mm VR remains one of the best super-zoom options around; even the DX 18-55mm kit lenses deliver respectable quality. None may boast the 24mm equivalent coverage of the DX 16-85mm VR, but the question is whether there's sufficiently compelling reasons for owners of DX-format Nikon bodies to switch to this model instead?
Find out in our Nikkor DX 16-85mm VR full review where we'll examine the build quality, focusing speed, coverage and of course the optical quality compared to a variety of other Nikkor lenses.
And to see a demonstration of its highlights, check out our Nikkor DX 16-85mm VR video tour where you'll also get a chance to see and hear its AF performance in action.
Testing notes
We tested a final-production DX 16-85mm VR lens with various Nikon bodies, although the bulk of our tests employed the Nikon D90. The Nikkor DX 16-85mm VR is designed to work with all DX-format Nikon DSLRs, or FX-format bodies in 'cropped' mode. Our sample had a serial number of 22052058.