Nikkor AF-S VR 70-300mm f/4.5-5.6 G IF-ED - Outdoor scene: Nikkor 70-300mm VR vs DX 55-200mm VR with Nikon D80
Outdoor scene: Nikkor 70-300mm VR vs DX 55-200mm VR with Nikon D80
The sets of crops below reveal the 70-300mm VR delivering higher contrast and sharpness to the budget DX 55-200mm VR lens, although as discussed in our review of that model, there doesn't appear to be much – if any – difference in the actual amount of detail captured.As you'll see in our studio resolution tests on the next page, the resolving power of each lens appears to be limited by the D80's 10 Megapixel sensor, although it will be interesting to retest each lens with higher resolution Nikon bodies to see if differences emerge. Before moving onto the next page though, scroll down further to see a new set of comparative results taken with each lens zoomed-into a longer focal length of 200mm.
Nikkor 70-300mm f/4.5-5.6 VR
Using Nikon D80 at 70mm f8

Nikkor DX 55-200mm f/4-5.6 VR
Using Nikon D80 at 70mm f8

f8, 100 ISO

f8, 100 ISO

f8, 100 ISO

f8, 100 ISO

f8, 100 ISO

f8, 100 ISO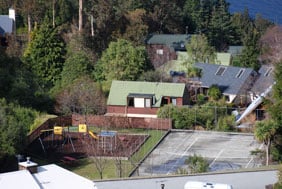 To compare real-life performance at a longer focal length we shot the same scene with the Nikkor DX 55-200mm VR and 70-300mm VR using a Nikon D80 within a few moments of each other using the camera's best quality JPEG and lowest ISO settings. Both lenses were set to a focal length of 200mm and the tests performed at f8. VR was disabled for each lens.The image left was taken with the Nikkor 70-300mm VR and D80 at 200mm f8; the original JPEG measured 4.83MB. The crops below are taken from the bottom left, middle and lower right sections of the originals and reproduced here at 100%.

With both lenses zoomed-into 200mm, the pricier 70-300mm VR takes a noticeable lead in terms of sharpness. Viewed in isolation the crops from the DX 55-200mm VR aren't at all bad, but compare them directly against the 70-300mm VR and it's clear the classier model is capable of delivering much sharper results. This superiority is visible on all three crops.
Neither lens is immune from coloured fringing though: the first row of crops taken from the bottom left corner of the image reveal a little coloured fringing around high contrast areas. Ultimately though this second set of results show the DX 55-200mm VR doesn't perform as well at 200mm compared to the 70-300mm VR – although to be fair the 200mm focal length represents an extreme for one lens, but a mid-way point on the other.
Nikkor 70-300mm f/4.5-5.6 VR
Using Nikon D80 at 200mm f8

Nikkor DX 55-200mm f/4-5.6 VR
Using Nikon D80 at 200mm f8

f8, 100 ISO

f8, 100 ISO

f8, 100 ISO

f8, 100 ISO

f8, 100 ISO

f8, 100 ISO
Nikkor 70-300mm VR lens results continued…