Nikkor AF-S VR 70-300mm f/4.5-5.6 G IF-ED - Nikkor 70-300mm VR verdict
Nikkor 70-300mm VR verdict
Nikkor 70-300mm VR verdict
The Nikkor 70-300mm VR is a classy telephoto zoom for both Nikon film and digital SLRs. It offers a powerful range which perfectly complements general purpose zooms like the DX 18-70mm, the vibration reduction facilities are very effective, while both the build and optical quality are a step-up from budget models.
In our outdoor test results the 70-300mm VR exhibited higher contrast and sharpness throughout its focal range when compared against entry-level lenses like the DX 55-200mm VR – it can be subtle at times, but it's certainly visible. Being corrected for full-frame use also means DX-format bodies like the D80 use the best parts of the lens, which results in superior edge and corner performance. In our vignetting tests for example, we measured very little light fall-off in the corners when used with a DX format DSLR. The AF is also quick and quiet, and there's a manual focusing ring with full-time over-ride and a window with distance indicators for those who want to make fine adjustments.
The 70-300mm VR is clearly a superior lens to budget models like the DX 55-200mm VR, but it is noticeably bigger, heavier and almost twice as expensive. So before wrapping-up, here's how it compares against its entry-level counterpart along with the popular DX 18-200mm VR super-zoom.
Compared to Nikkor DX 55-200mm VR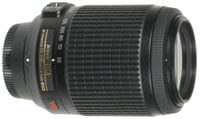 The Nikkor DX 55-200mm VR is one of the best value lenses around right now for Nikon DX-format DSLRs. It's compact, light and perfectly complements the DX 18-55mm kit lens, extending the effective range to 300mm for useful telephoto coverage. The addition of Vibration Reduction effectively reduces camera shake and in order to support AF on its entry-level DSLRs, Nikon's had to equip the lens with a quick and quiet SWM focusing motor which gives the DX 55-200mm VR a degree of classiness that's absent on rival budget telephoto zooms. It even comes with a lens hood.
At this price point though you shouldn't expect miracles, and indeed the DX 55-200mm VR can suffer from fringing and softness in the extreme corners of the frame, especially at longer focal lengths. The build quality is also fairly basic compared to higher-end lenses like the 70-300mm VR, although to be fair it's not poor in any way and many photographers will prefer the light weight. Finally, like the DX 18-55mm II kit lens, the manual focusing is fairly basic, with a thin ring perched at the end of the lens and no distance markings, nor clutch for full-time operation.
Ultimately if you're happy with the build and optical quality of the DX 18-55mm kit lens and simply want something with a longer reach, then the DX 55-200mm VR is the lens to go for. It may not be perfect, but still represents remarkable value. See our Nikkor DX 55-200mm VR review for more details.
Compared to Nikkor DX 18-200mm VR
The Nikkor DX 18-200mm VR is one of the most popular lenses on the market today and is responsible for selling many new DSLR owners into the Nikon brand. It delivers a highly flexible 27-300mm equivalent range (on DX-format DSLRs), thereby covering wide angle to respectable telephoto without having to carry two lenses, waste time or potentially miss shots when switching them, nor run the risk of dust entering the body when you do.
The DX 18-200mm VR is however relatively expensive compared to simply complementing an existing general-purpose lens with a telephoto zoom – it comes in around 50% more than the 70-300mm VR and costs almost three times the price of the DX 55-200mm VR. If you can afford it and are happy with a maximum focal length of 200mm though, the DX 18-200mm VR is one of the best all-round lenses you'll ever use – and a great reason for choosing the Nikon system in the first place. But if you're just after something which complements rather than replaces an existing lens, go for a telephoto zoom instead. For more details, see our Nikkor DX 18-200mm VR review.
Nikkor 70-300mm VR final verdict
The Nikkor 70-300mm VR is a great up-market telephoto zoom for Nikon owners. It may cost almost twice the price of the DX 55-200mm VR, but is superior in every respect to this budget lens. The optical and build quality are better, the range longer, the AF slightly quicker and the VR a little more effective. It is a superior product, and at the asking price, still represents very good value.
That said, it is more expensive than the DX 55-200mm VR, not to mention bigger and heavier too, so the choice between these two lenses depends on your budget and requirements. If you own the DX 18-55mm kit lens and are satisfied with the build and optical quality, or are on a tight budget, then the DX 55-200mm VR is hard to beat – it simply represents remarkable value. If however you desire a step-up in build and optical quality or simply need a longer focal range, then the 70-300mm VR is worth spending the extra – and you won't miss the gap between 55 and 70mm.
If you currently own the DX 18-70mm lens and want a telephoto zoom to match its build and optical quality, then the 70-300mm VR is the natural and sensible choice. It's also a more compelling match for the DX 18-135mm, as the DX 55-200mm VR doesn't zoom-in much further.
Ultimately Nikon DSLR owners are spoilt when it comes to telephoto zooms. They have two quality options to choose from without breaking the bank: the budget but surprisingly respectable DX 55-200mm VR, and the up-market 70-300mm VR which delivers improvements in all respects at an affordable price. If your budget's tight, the DX 55-200mm VR remains a superb choice, but if you can afford to spend the extra and don't mind the additional size and weight, the 70-300mm VR won't disappoint. Like the DX 55-200mm VR, it comes Highly Recommended.
Good points
Great all-round telephoto zoom.
Very effective VR anti-shake facilities.
Fast and quiet SWM focusing.
Perfectly complements DX 18-70mm lens.
Works with full-frame bodies.
Bad points
Bigger and heavier than DX 55-200mm VR.
Zoom ring a little stiff, but at least no creep.
DX 55-200mm VR a cheaper alternative.