Nikkor AF-S VR 70-300mm f/4.5-5.6 G IF-ED
Intro
The Nikkor 70-300mm VR is a high performance telephoto zoom designed for use on all Nikon's SLRs, be they digital or film models. Launched alongside the Nikon D80 in August 2006, it perfectly complements the DX 18-70mm, matching the superior build and optical quality of this up-market kit lens, and extending its focal range without interruption.
Delivering an equivalent focal range of 105-450mm on a DX–format body such as the D80, it offers a powerful reach which is invaluable for wildlife and sports photography, while also providing an ideal set of focal lengths for portrait work. Crucially for anyone thinking of upgrading their body in the future, it's also compatible with full-frame Nikon DSLRs like the D3.
The 70-300mm VR additionally features vibration reduction to combat camera-shake with Nikon claiming up to four stops of compensation. With VR built-into the lens you'll also see the benefit when composing your shot through the optical viewfinder, which is very reassuring at longer focal lengths. It's also an AF-S model which means quick and quiet auto-focusing, along with full compatibility with both the D40 and D40x DSLRs.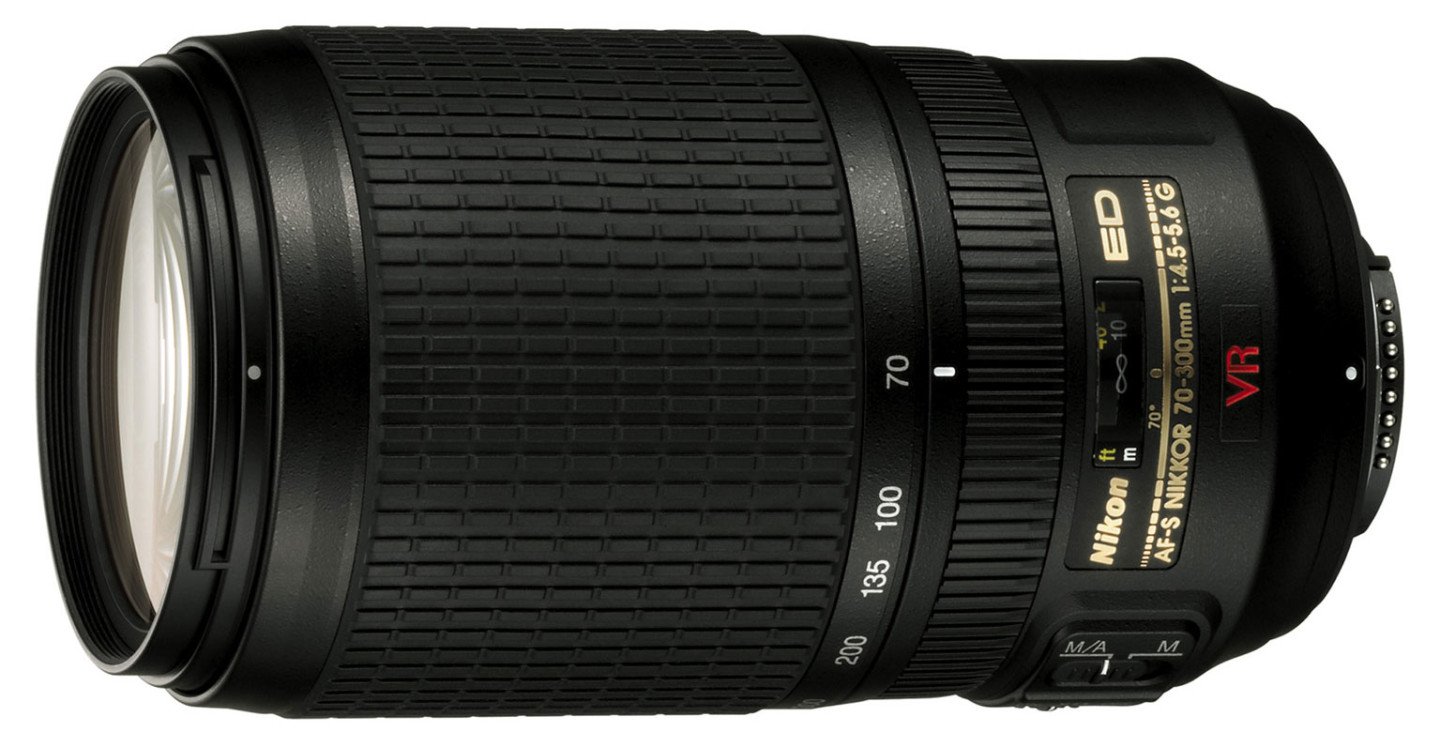 As such it's an affordable solution for anyone wanting a more powerful lens to complement an existing general-purpose model like the DX 18-70mm, while coming in at a more affordable price point than Nikkor's super-zoom – and while you won't have the convenience of a single lens solution, you do get a longer total range to play with, which makes all the difference when pulling-in distant or small subjects. Unlike the DX-format lenses, it'll also work just fine should you upgrade to full-frame digital in the future, or simply have a film SLR you'd like to try it on.
Of course with Nikkor's DX 55-200mm VR available at almost half the price though, the big question is whether the 70-300mm VR is worth spending the extra? Sure it has a longer reach, superior build quality and full-frame compatibility, but does it justify the cost?
In our Nikkor 70-300mm VR full review we'll answer that question with direct comparisons against the DX 55-200mm VR, including a new set of real-life results. We'll also be comparing both telephoto zooms against the DX 18-200mm VR and DX 18-135mm to see how Nikkor's eternally popular super-zoom and the D80's standard kit lens measure-up. We'll also put its Vibration Reduction to the test and see what kind of shutter speeds you really can get away with.
So if you're after a telephoto zoom for your Nikon body, is it worth spending the extra on the 70-300mm VR, or should you save some cash and go for the DX 55-200mm VR instead? Find out in our full review, and check out its headline features in our Nikkor 70-300mm VR video tour.
Testing notes
We tested the Nikkor 70-300mm VR with a Nikon D80 body. Unless otherwise stated, the D80 was set to Large Fine JPEG mode, with Auto White Balance, 3D Matrix metering and the Optimise Image parameter set to the default Normal for sharpening, tone, colour, saturation and hue; High ISO Noise Reduction was set to Normal. The serial numbers for the 70-300mm VR and DX 55-200mm lenses on test were 2043311 and 331788 respectively.