Manfrotto's range of M-Y tripods is designed for first-time photographers using budget DSLRs or larger point-and-shoot cameras, such as super-zoom models. Compared to higher-end professional tripods, the M-Y models are relatively small, light and affordable, while delivering a big step-up in stability and performance over budget options. In this review we've tested the best-selling Manfrotto M-Y 7301YB model, but will compare the features and capabilities of the entire range, not to mention the next step-up, allowing you to make the right choice.
At the time of writing, the M-Y range consisted of seven models which we'll briefly describe before going into detail later. All seven employ four leg sections which can be adjusted to one of two angles. The original six models are constructed from aluminium and include built-in heads allowing you to mount your camera without any additional cost or accessories; the seventh is constructed from carbon fiber and doesn't include a head.
The original six models are split into two groups. The first three are the 7301YB, 7302YB and 7303YB, which all share the same legs, which mean they also share roughly the same dimensions when fully extended or folded away; all three also share the same maximum load-handling of 3.5Kg.
The difference between these three models lies with their heads: the 7301YB employs a three-way head with a quick-release plate, while the 7302YB and 7303YB both use ball and socket heads, the former with a quick-release plate and the latter requiring you to screw your camera directly onto the head itself. The different heads also have an impact on overall weight, with the 7301YB, 7302YB and 7303YB weighing 1.67, 1.47 and 1.34Kg respectively. So if you're considering an M-Y tripod, you'd go for one of these three models if you needed their heavier 3.5Kg load-handling, leaving the final choice to which head system you preferred.
Moving on, the second three models are the 7321YB, 7322YB and 7322SHYB. All three again employ four aluminium leg sections (with the first two models sharing similar maximum heights and folded lengths as those above), but the actual legs on all three models are thinner, allowing a reduction in overall weight, albeit at the cost of lower weight-handling. They're cheaper too.
Again there are differences in head types. The 'top' model is the 7321YB which employs a three-way head with a quick-release plate and a maximum load handling of 2.5Kg. Next comes the 7322YB which uses a ball and socket head with a maximum load handling of 2Kg. Finally there's the 7322SHYB model which uses a smaller ball and socket head with a maximum load of 2Kg, but also employs shorter leg sections for a more compact size when folded-down – albeit at the cost of a shorter maximum height.
Neither of the ball and socket models here offer a quick-release plate – instead you need to screw your camera directly onto the head itself. The 7321YB, 7322YB and 7322SHYB weigh 1.27, 1.09 and 1.02Kg respectively. So if you've narrowed your choice to these three models due to their lower price and load-handling requirements, the choice between them again boils down to head-type, along with overall size and weight.
The original six tripods described above were later joined by the 732CY, which broke from M-Y tradition by being the first to employ lighter carbon-fiber legs and a standard thread for interchangeable heads; indeed like pro tripods, you'll need to choose and supply your own head separately. In these respects it could be considered as a budget version of the professional carbon fiber 190 models, although again with the four legs and basic two-angle design of the other M-Y models. The maximum load handling is 3.5Kg, but the carbon fiber legs reduce the overall weight to just 0.95Kg – although remember you'll need to add a head to that.
Manfrotto M-Y 7301YB design and build quality
The Manfrotto M-Y 7301YB may be relatively compact and aimed at beginners, but it's heavier than it looks. Indeed at 1.67Kg, it's the heaviest model in the M-Y range and you certainly know you're carrying it around. It's revealing to note the weight is only a tad below the 1.8Kg of the 190XPROB, and actually a few grams heavier than the top-end carbon fiber 055CXPRO3, although to be fair, neither of these tripods includes a head in that figure.
If weight is an issue but you still need the 3.5Kg load-handling, you could alternatively go for one of the lighter ball and socket versions, or if your pockets are deeper, opt for the carbon fiber 732CY, although as explained above, you'll need to add your own head to that one. If you're after something more sophisticated, albeit larger and at a much higher price, there's also the carbon fiber 190CXPRO3 which weighs just 1.29Kg (without head).
But the weight of the 7301YB lends a degree of solidity and confidence you wouldn't normally associate with an entry-level tripod. The construction and stability is certainly to a decent standard, which is reflected in the respectable results we measured in our tests below.
Like all M-Y tripods to date, the 7301YB employs four leg sections, which on this model (along with the 7302YB and 7303YB) measure 26, 22, 18 and 14mm in diameter. The thinner legs of the lighter 732x models measure 22, 18, 14 and 10.5mm, while for contrast, those on the three-section 190XPROB measure 25, 20 and 16mm.
Each leg section is held in place by a push-lever system, which in our tests stood firm under higher pressure than they're likely to encounter in day-to-day use. The aluminium legs are sufficiently heavy to extend or retract under their own weight when unlocked, allowing fairly quick extension and packing away. Interestingly the lightness of carbon fiber legs on pricier models normally means you have to pull them out and push them back by hand.
With the legs fully extended and angled-out for normal use, the 7301YB positions its quick-release plate 126cm from the ground, which can be extended to 143cm by raising the centre column. Folded down, it measures 51cm in length, including the head. This maximum height actually compares quite favourably with the higher-end 190XPROB, which with its three legs extended reaches 122cm or 146cm with its centre column raised, and 57cm when folded down. For a fair comparison, you'd also need to add a head to the 190XPROB, which would raise its maximum height by around 10cm, but equally add the same to its length for transportation. If you want anything significantly taller, you'll need to go for an 055 model.
So the 7301YB only comes-up a few centimetres shy of the 190XPROB when both are fully extended (and the latter fitted with a typical head), but manages to be around 15cm shorter when both are folded down. So while it may not be much lighter, it's certainly much smaller to transport.
Like other M-Y tripods, each leg is hinged to the main frame on one side only. This may initially cause concern over stability compared to the forks which hold the legs on both sides on the pro models, but in use it feels reassuringly stiff and sturdy – certainly sufficient for the maximum load rating.
Again like all M-Y tripods, a small circular wedge on top of each leg can be rotated to control how far the leg can be angled-out. These wedges don't actually lock the legs at specific angles, but simply prevent them from angling-out any further, almost like a door stop. There are just two angles available, with the wider offering greater stability, but nowhere near the low heights possible with higher-end models. With the 7301YB's legs retracted and angled-out to their widest position, the lowest height you can position its quick-release plate from the ground is a modest 36cm.
In contrast, the 190 and 055 ranges each offer four leg angles, with the widest being almost perpendicular to their centre columns. This allows models like the 190XPROB to position their head plates just 8.5cm from the ground. Obviously there's still a head to add to that, but by rotating the centre column of the PRO models into a horizontal configuration (or even upside-down), they can simply hold a camera much closer to the ground than a budget tripod. If this is important to you, skip the M-Y range and head straight to the 190 and 055 models.
The aluminium centre column of the 7301YB is held in place by another push lever, which like those on the legs feels sufficiently confident to hold the maximum load in place. Like most lower-priced tripods, this centre column can only be raised or lowered. It can't be removed, reversed or angled like the higher-end 190PRO and 055PRO models.
On top of the centre column is a three-way head, allowing separate pan and tilt movements – as such it's ideal for anyone filming video or who prefers to set each axis separately. With the locks loosened, the friction allows the head to be adjusted quite smoothly; it's not in the same league as a dedicated fluid head, but it's sufficiently smooth for panning video at wider focal lengths. As discussed above, Manfrotto offers alternative versions of this tripod with ball and socket heads for those who prefer quicker setups.
The panning and camera orientation are held in place by generously-sized locking levers with rubber grips, while the tilt is controlled by a relatively short but comfortably ergonomic arm, which twists to lock its position.
The 7301YB's head features a quick-release mechanism and comes with a (200PL-14) plate for mounting the camera. Like other quick-release systems, the plate is screwed into the bottom of the camera and then clipped into the head. A small lever can then be turned to release the plate for quick access to the camera. Once you've used a quick-release plate system, you won't want to go back to manually screwing your camera straight into the top of a tripod head. As such we'd recommend the 7301YB and 7302YB models which both offer quick-release plates over those which don't. Most would justify the small premium in price and weight for this convenience.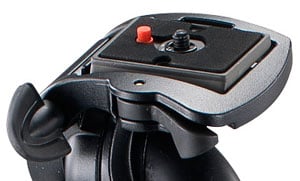 The 7301YB, along with the 7302YB and 7303YB, are all rated as handling maximum loads of 3.5Kg. To put this into perspective, a typical super-zoom compact weighs between 400 and 700g. An average entry-level to mid-range DSLR equipped with a basic 18-55mm kit lens would weigh around 700-900g. Swap that kit lens for an average 70-300mm telephoto zoom, and the total weight would typically be between 1 and 1.5Kg. All are clearly well within the 3.5Kg limit of the 730x range, so why not save some money and go for the cheaper 732x models rated between 2 and 2.5Kg?
It all boils down to whether you want to operate close to or well within the limits of your equipment. For example, a car with a maximum speed of, say, 150Mph, should operate very happily at half that speed, but will become stressed and increasingly inefficient as the top speed is approached. The same applies to tripods. A model with a maximum load of 2Kg may support a 1.5Kg camera and lens, but won't do it as confidently or stably as one rated at 3.5Kg.
If your camera and lens weigh less than 1Kg, then the lower load-handling of the 7321YB, 7322YB and 7322SHYB should be more than sufficient, but if your total weight is between 1 and 2Kg, then the greater handling of the 7301YB, 7302YB and 7303YB will be more appropriate. Similarly if your camera and lens exceed 2Kg or you're operating at very high magnification, then you'll quickly outgrow the entire M-Y range and find the 190 and 055 series far more suitable.
Real-life tests
Support this site by
shopping below

One of the most revealing tests for a tripod is how quickly it can dampen vibrations. Even a gentle press of a button on a tripod-mounted camera can set it wobbling more than you'd think, especially with high magnification lenses. The time taken to dampen these vibrations is critical to avoid shake on self-timer shots activated by hand rather than cable-release, not to mention for your own sanity as you make adjustments to a composition.
Without building a dedicated rig to wobble or tap a tripod by the same amount every time, there's no way to scientifically measure its exact damping capabilities, but we devised a simple manual process which proved to be both revealing and sufficiently consistent for fair comparisons to be made. This involves simply giving the grip-side of a tripod-mounted camera a sharp tap by hand and timing how long it takes for the vibrations to dissipate and become imperceptible on-screen at high magnification. This process is repeated five times and the average calculated to reduce variations in the taps. The test is also performed with the centre column down then fully extended for comparison.
For the tests here we used a Canon EOS 550D / Rebel T2i, which represents the size and weight of the majority of DSLRs in common use. Onto this we mounted a Canon EF 70-300mm DO lens, fully zoomed-in to 300mm; thanks to the cropped APS-C sensor of the DSLR, this delivered an effective focal length of 480mm. The total weight of this load measured 1.25Kg, or just over one third the maximum capability of the M-Y 7301YB.
To place further stress on the tripod, we used the camera's Movie Crop mode which only records the central 640×480 pixels in the middle of the frame. This effectively magnifies the image by 7.2x, giving a final equivalent focal length of 3456mm; in binocular or telescopic terms, that's about 70x 'normal' (50mm) magnification, allowing any wobbles to be easily measured.
The target was an indoor flower arrangement at a distance of approximately 15m; with an equivalent of 3456mm, little more than one flower head was visible in the frame. The location was inside the Queenstown Church we use for our standard low light camera tests; no-one else was in the building at the time and the tiled floor was absolutely steady. We timed the vibration dissipation on-location using the screen, but also recorded the results for presentation here.
We'll be the first to admit it's not the perfect tripod test, but as you'll see, it still revealed some interesting and useful results.
Manfrotto M-Y 7301YB Vibration results
We tested the M-Y 7301YB alongside several higher-end Manfrotto tripods for direct comparison, and you can see the effect of a single tap on each configuration in our video here; the 7301YB comes at the end of the video. Note the times quoted below and in the video are an average of five consecutive taps judged on-screen while performing the tests. The examples seen in the video may take more or less time to dissipate than the average time quoted, but still reveal the major differences between each model.
Starting with the M-Y 7301YB with its centre column down, the vibrations from a sharp tap were dampened in an average of 4.3 seconds. With the column raised, the vibrations took 6.5 seconds to dissipate.
To put this into perspective, the higher-end 190XPROB dampened vibrations from the same load in 4.9 seconds with the centre column down and 7.4 seconds with it raised. These figures were improved by the larger 055XPROB version, with times of 3.2 seconds and 7.1 seconds with the centre column down and up respectively. We also tested the carbon fiber versions of each pro tripod. The 190CXPRO3 dissipated vibrations in just 1.7 and 3.8 seconds with its centre column down and raised, which the larger 055CXPRO3 managed in 1.5 and 4 seconds.
A number of conclusions can be drawn from these results. Looking across the board, all tripods suffered from quite a performance hit with their centre columns raised, which should be noted by anyone who regularly uses (or intends to use) their tripod in this configuration; the moral is to buy a taller tripod if you always raise the column and demand maximum stability. Secondly, tripods built from carbon fiber can dissipate vibrations much faster than those made from aluminium.
But perhaps the biggest surprise is finding the entry-level M-Y 7301YB actually out-performing the higher-end 190XPROB in these tests. This is undoubtedly an impressive result for the 7301YB, but it's important to look beyond the figures and consider the bigger picture. The 190XPROB can handle loads up to 5Kg, extends slightly higher and crouches much lower, while also sporting the flexibility of interchangeable heads; its construction is also better-equipped to handle knocks and rough operation. So with heavier loads or when under more demanding conditions, the 190XPROB is by far the preferred option, but it is revealing to discover the 'lower-end' 7301YB performing better in terms of vibration dissipation with our basic test load.
Manfrotto M-Y 7301YB verdict
The Manfrotto M-Y 7301YB is a decent entry-level tripod and a big step-up from bargain-basement models. It's not cheap by any means, but is the sort of money you'll need to spend if you want a respectable tripod that's stable and effective for an entry-level DSLR kit.
It extends to a reasonable height given its relatively compact size for transportation. The three-way head allows you to adjust and lock each axis in turn and is sufficiently smooth for video panning at wider focal lengths, while the quick-release plate means you can access your camera for handheld operation in seconds.
The 3.5Kg maximum load handling will easily accommodate consumer DSLRs fitted with popular lenses, and in our tests it actually dissipated vibrations from a typical combination slightly faster than Manfrotto's entry-level pro tripod.
So far so good, but it's not for everyone. If the build and load-handling are right for you, but you prefer a ball and socket head, go for the 7302YB version instead; we'd avoid the 7303YB version though as it doesn't offer the convenience of a quick release plate. Alternatively if your camera weighs less than 1Kg, such as a super-zoom compact, you could save yourself some money – and weight – by going for one of the 732x series, as they'll be more than sufficient.
There are however limitations across the entire M-Y range which might be deal breakers, or become issues over time. Having two basic leg angles will be fine for general-use, but if you're into macro photography, or wrangling your camera into unusual angles, you'll find it quickly becomes restrictive. The single-sided leg hinges may also be cause for concern for anyone who treats their tripod roughly.
The fixed heads may be beneficial to those who don't want the hassle of choosing their own, but equally lack the flexibility of interchangeable models. The aluminium construction also makes for a tripod that's heavier than it looks.
Revealingly these last two points have been addressed by the most recent M-Y 732CY model which is built from carbon fiber and requires a separate head like a pro tripod. As such this delivers the light-weight, superior damping and interchangeable head flexibility of a carbon fiber pro model, but at around half the price. But like other M-Y tripods, it's still limited to two leg angles and a maximum load of 3.5Kg. That said, if you don't need a tripod to crouch down low and are working with loads of less than 2Kg, it represents great value compared to a 190CXPRO3.
So before wrapping-up, let's compare the 7301YB to three alternatives in Manfrotto's range.
Compared to Manfrotto M-Y 7321YB
Manfrotto's M-Y 7321YB is essentially a scaled-down version of the 7301YB in terms of weight, load-handling and price. Thanks to thinner legs and a smaller head, the weight is reduced from 1.67Kg to 1.27Kg, which could make all the difference if you're travelling light. As a result, the maximum load handling has also been reduced from 3.5 to 2.5Kg, but that's still sufficient for most basic DSLR kits or any compact you care to mention.
The maximum height and transport size are roughly the same though, and while the head size is smaller, it still features three axis control and a quick-release plate. Crucially it costs around one third less than the 7301YB.
So if your camera isn't particularly heavy and you don't think you'll be using big telephoto zooms in the future, then the 7321YB could be a good choice. It's noticeably lighter and cheaper than the 7301YB without compromising on height – and like its bigger brother, if you prefer a ball-and-socket head, there's the otherwise identical 7322YB version (albeit without a quick-release plate). The 732x models are arguably the cheapest tripods that are worth having.
Compared to Manfrotto M-Y 732CY
If you're happy with the twin leg angles, modest minimum height and 3.5Kg load-handling of the M-Y 7301YB, but wished it was lighter and had the flexibility of interchangeable heads, then the 732CY could be for you. This latest model in the M-Y range is the first to offer carbon fiber construction and a standard mounting for optional heads.
It's a little shorter at a maximum height of 117.5cm, or 134.5cm with the centre column raised, but thanks to carbon fiber construction weighs just 0.95Kg. Obviously you'll need to add a head to that, but with ball and socket options available from as little as 90g, you could still have yourself a very light combination. Then when you fancy something more sophisticated or stronger, you could swap the head for a different model – something the other M-Y tripods can only dream of.
The downside is price, with the 732CY costing roughly one third more than the 7301YB, and again that's not including a head. But it's still relatively cheap for a carbon fiber model, coming-in one third less than the 190CXPRO3. So if you're after a lightweight tripod that doesn't compromise stability or cost as much as pro options, it's an interesting choice.
Compared to Manfrotto 190XPROB
If you're after something more sophisticated than the M-Y tripods, the next step-up is to go for one of the company's 190 models. There's six to choose from, with one of the most popular being the 190XPROB. Interestingly despite being classed by Manfrotto as professional tripod, the 190XPROB actually costs roughly the same as the M-Y 7301YB while extending to roughly the same height, so what can you expect from the higher-end model?
Most obviously, the 190XPROB, like all pro tripods, does not come with a head, so the operational price (not to mention weight) becomes greater than the 7301YB. But unless you really don't want the hassle of choosing a head, this is a significant benefit as you can choose one to suit your exact needs, or swap it for another as required.
Secondly the load-handling is higher at 5Kg to the 7301YB's 3.5Kg, making it more suitable for heavier camera and lens combinations. Third, the legs can be positioned at four, not two angles, including one which is almost perpendicular to the central column – this in turn allows the 190XPROB to crouch just 8.5cm from the ground compared to 36cm for the 7301YB, which is a crucial advantage for macro-photographers. And if your tripod is likely to receive a few knocks, the fork which hinges each leg at both sides will be preferred to the single-sided mounting on the M-Y models.
Manfrotto tripods with the letters PRO in their title also sport a neat trick where their centre columns can be quickly adjusted into a horizontal configuration, allowing easy shooting of documents or again anything at low heights. Unlike the M-Y range, the columns can also be reversed, allowing the camera to hang underneath. In short, the shooting angles and positions are considerably more varied.
On the downside, the 190XPROB (with three leg sections) doesn't fold-down anywhere near as small as the 7301YB for transportation, and as mentioned above, there's no significant difference in maximum height. Interestingly the 7301YB also performed a little better in our vibration damping tests, at least with the 1.25Kg load anyway. But if you want the flexibility of interchangeable heads and considerably more varied camera positions, not to mention more breathing space for heavier equipment, it's well worth spending more on the 190XPROB. It's one of the most affordable serious tripods out there. See our Manfrotto 190XPROB review for full details.
Manfrotto M-Y 7301YB final verdict
The Manfrotto M-Y 7301YB is a good, solid tripod, which may be classed as entry-level for Manfrotto, but out-classes typical budget models. It's ideal for anyone with an entry-level DSLR or super-zoom compact who wants an easy-to-use sturdy support without going for the complexity of higher-end models.
The build quality is very good for its class with sturdy construction and firm locks. The three-way head feels well-built with relatively smooth motion for video panning, and again secure locking on the three axes and quick-release plate. Overall it feels more confident in use than you'd imagine for an 'entry-level' tripod.
But as discussed in detail above, there are limitations to be aware of. The 3.5Kg maximum load may be sufficient for an entry-level DSLR with a typical telephoto zoom, but if you have anything heftier, the 190 range will be more appropriate.
Similarly the basic twin leg angles may be fine for general-use, but will frustrate anyone who wants to get close to the ground or employ unusual angles – so if that sounds like you, once again head for the 190 range. And don't be fooled by the 7301YB's relatively compact transportation size either, as it's heavier than it looks. If you want a light tripod without compromising stability and load-handling, you'll simply need to spend more on a carbon fiber model.
Support this site by
shopping below
In short there are more sophisticated tripods out there, and lighter ones too which match or exceed its stability if your budget will stretch. But the bottom line is the 7301YB was designed to meet the requirements of a first-time photographer who doesn't need the flexibility of a pro tripod, but equally doesn't want to compromise on stability. Maybe they've been let down by an existing flimsy tripod, or want to get it right first-time.
To those photographers we'd say think carefully about how you'll want to use your tripod both now and in the future. If you foresee very big lenses or unusually low angles, we'd advise going straight for a model in the 190 series, such as the 190XPROB, and if you also need something significantly taller, you'll have to go for the 055 range.
But if you understand the limitations of the M-Y range and are happy with them, then they represent a great choice for their target market. The 7301YB tested here is a good solid option which will serve most owners of compact and budget DSLRs very well. Owners of smaller cameras can also get away with the lighter and cheaper 732x series, but if you're serious about your support, we'd advise against anything much smaller or lower-priced unless it's a Gorillapod.