Foreword: this is a story of passion, obsession even: one man's journey to acquire one of the world's most respected and coveted luxury items, a Leica M9-P. Owning a high-end Leica camera is the dream of many photographers but the financial reality keeps it that way for most. This is exactly why I admire the man in this story as he's not a wealthy adult at a stage in his life where he might justify such a significant purchase. He's a University student who's simply made it his mission to work hard and keep saving until his ambitious dream becomes a reality.
I've known Bjorn van Sinttruije for several years through the Camera Labs forum, first as a member, and later as a colleague when he accepted my invitation to become one of our moderators. Over that time I've come to respect his decisions and drive as much as his style of street photography, so when he expressed a desire to own a Leica, I knew it would happen one day.
As I write at the beginning of December 2011, that day is just around the corner. Bjorn is finally nearing the position to purchase the camera of his – and many other's – dreams and has arranged to collect it at none other than the Leica factory and headquarters in Solms, Germany, just two days before Christmas. It doesn't get better than that. This was too good a story not to publish, so I've asked Bjorn to tell his story, starting with the first time he held an M9-P and his reasoning behind the purchase. He'll then follow-up with his pilgrimage to Leica HQ, followed by a review of the camera itself. If you've experienced any kind of consumer desire you'll appreciate this story and like everyone here I look forward to seeing what Bjorn achieves with what could arguably be the best Christmas present ever.
Gordon Laing, December 2011.
NEW

: Leica factory tour and my first shots with the M9-P!
How it all started

About Bjorn van Sinttruije
Bjorn van Sinttruije is an aspiring street photographer from Holland. He's a Moderator on the Camera Labs forum and produced our guide to Sigma lenses. Besides shooting street, Bjorn is a student at RSM Erasmus University. He's always dreamt of owning a Leica camera, so his mission here should make it his best Christmas yet!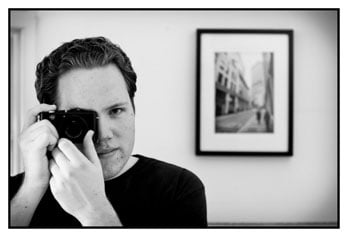 Recently, Gordon Laing (Editor of Camera Labs) approached me to write up my 'Leica story'. If you have ever browsed around on our forum, you will inevitably know I am in the process of saving up for a Leica M9-P and a 50mm f/1.4, or 50mm Summilux as it is normally referred to within the Leica community. Many people know of Leicas, of the brand, of the old-fashioned-looking bodies, of the high quality lenses, and, in particular, most know of the high price tags attached to anything with a red dot. So what motivates me, a student, without rich parents I might add, to aspire to own one of these cameras? Let me tell you.
Over the years, I have shot many different types of images, from landscapes to portraits and from architecture to macros. It was only about two years ago when I first learned of street photography. My first attempts at it led to little: pictures of people's backs or interesting 'characters' portrayed from tens of meters away with my favorite lens (at the time), the 70-200mm. But I was hooked, right from those early attempts onwards. It took a long time to feel more comfortable taking pictures of strangers, and still I find myself trying to be as discrete, dare I say invisible, as possible. Quite a challenging feat being nearly 2m/6'4″ tall.
A milestone I would point out in developing my photography was the arrival of the Leica D-Lux 5. The little Leica as I like to call it, allowed for so much more discreteness in my street photography. This past year, basically all my photographs that I share online were shot with the compact. All the photos you see on this page until the 'Visiting Leica' section were also shot with the D-Lux 5, excluding the picture of myself opposite, and the colour photo of the trash bag below.
Visiting London

In 2010, before the D-Lux 5 had arrived, my family and I went on a three-day vacation to London. Per my mother's request, I had prepared a travel schedule that detailed our day-to-day activities. Among the many tourist attractions and must-see places, I had scheduled some time to visit the Leica boutique in Mayfair. All over the world, Leica has been setting up special stores that carry all their products, where the enthusiast can simply walk in and try out an M9 with, say, a 50mm Noctilux (f/0.95 if you are not familiar).
On the second day of our trip, after a stroll on Oxford and Regent Street, we headed for an alley-like street called Bruton Place in the midst of Mayfair. I was excited to say the least; getting my hands on a Leica M after thinking about what it would be like for a couple of months. The two sales clerks kindly welcomed me into the store, and after admiring all the camera bodies and exclusive lenses for a minute or two, I was approached and asked: 'Could I help you sir?' I said I was interested in a Leica M9, and wanted to see whether or not it would work for me. Cabinets were opened and the camera, along with that 50mm Summilux I mentioned at the beginning of this story, were handed to me.
Wow! I would describe the feeling of handling one of these pieces of engineering excellence, but that is not easy. It felt like holding a solid block of metal, minus the weight. I remembered a video I saw on YouTube of an American sales representative standing on top of one of these cameras, and I could imagine that being no problem. The lens' manual focus and aperture ring felt smooth as – well, probably even smoother than butter. I had brought an SD-card so that I could take some pictures and bring them home. Since I did not want to mess up the camera (holding many years worth of student job income here) I didn't change the ISO and most of the images turned out blurry. Here's one shot I took out the shop window.
| | | |
| --- | --- | --- |
| | | |
| | | |
| | | |
This first encounter with the M was short, as I did not want to keep my family waiting too long. After reluctantly handing the camera back and saying goodbye, we sat down in a nice little park at the end of Bruton Place for a pit stop. I took my DSLR out of its bag. Plastic, first word that popped up. There was simply no comparison. It was right there, on a park bench in Mayfair, that I decided I would get a Leica.
Just like most hobbyists out there, I had previously only thought of Leicas as pricy. But now, having had some experience shooting street, having been introduced to the camera, and knowing what I needed in a camera, I knew a Leica would be perfect. With the short encounter in mind, I started collecting photo books, studying the works of Henri Cartier-Bresson, Robert Doisneau and my personal favorite, Elliott Erwitt.
| | | |
| --- | --- | --- |
| | | |
| | | |
| | | |
I fell in love with their way of taking images, their styles, their involvement in other people's lives through street photography. I started to dream of a minimalist camera, going back to the days when these three photographers shot all those images. Quality, first and foremost, and ease of use: being able to adjust aperture, shutter speed and ISO without digging into menus. And more specifically, I needed my camera to go unnoticed when I used it, so that I could take my street photographs. I needed a camera similar to my compact, but one that was faster, more intuitive in terms of adjusting settings, and one with interchangeable lenses. An M fits that bill.
So, I had decided. And then starts the wait. After some financial planning, taking in mind I could sell some zoom lenses, I estimated Christmas 2011 could be my goal. Sixteen months to save nearly all the money I made. I have made a reservation to pick up the camera on December 23rd. And what a day that will be!
Visiting Leica HQ

Normally, buying a camera is a pretty exciting event, certainly a day you could look forward to. However, in this case it is different. Not only will I go buy a dream camera, I will buy it in a dream store, probably the best of them all. Leica's boutiques are pretty special, and a definite must-see for anyone reading this, but there is one that is set apart from all the others: the store in Solms. Sure, Solms is not a capital city like London, Paris, or Washington (all three have a Leica store now), but it is the town home to Leica. Leica produces its M and S cameras and their lenses in Solms, and it just so happens that the factory has a build-in store. Since Solms is only a four hour drive from home, I thought I would buy the camera there.
I have called it 'experience shopping': buying a great product in a great location, an experience in itself. The store is, as are all Leica boutiques, full of the most exotic lenses with the longest waiting lists, all sitting there waiting to be tried out. The best part of it though, is the fact that you can get a tour of the production facility: a two-hour in-depth excursion through the heart of Leica. I will see the cameras being hand-made, lenses being polished and assembled, the endless amount of inspection all products are subjected to before being boxed. I do not think I can imagine what it will be like, but I know it will be amazing! And the timing is perfect, the day before Christmas!
Besides visiting the Leica factory and buying the M9-P, I will hopefully get to shoot my brand new camera on the streets of Solms and surrounding area. A nearby town called Braunfels has an old castle in it, which is probably a great location to take some first shots.
For now…

Until the end of December I will have to simply continue saving and count down the days till the 23rd. After that, I will write up a report about my 'experience shopping' adventure, about the tour of Leica's factory, and my initial impressions of the M9-P. This year's Christmas is going to be great!
About the images

Apart from the M9 image of the trash bag and the picture of myself at the top of the page, all the photos above – and the one just below – were shot in London with the D-Lux 5. I ended up going back to the city in February 2011 to attend a presentation by Elliott Erwitt, and, of course, to revisit the Leica store in Mayfair. I went in there to see which type of the M9 I preferred: the steel grey or black paint version. Only a couple months later Leica announced the M9-P and I decided to get a black version of that. The ultimate street photographer's camera.
After the photograph below, you will see pictures shot with my M9-P and the 50mm Summilux, starting with some first look shots I took on the day I bought it.
23rd December 2011: Visiting Leica HQ and my first shots!

It has arrived! After months of waiting and saving, I finally visited the Leica factory in Solms today. A full report of the trip, the tour and my initial impressions of the M9-P should be up soon, so check back soon!
For now though, as requested by many, here are some first look shots. Please keep in mind this is my first rangefinder (it took me about 6 seconds to focus for the first photograph you see down below). The camera feels very intuitive so far, but it does have a learning curve I still have to climb up on.
File L1000001, the first shot | Solms, Germany, 2011

As I said, this is the very first photograph I took with the M. It's not tack sharp, its composition is not great, and in all my excitement I forgot to take a photo of the M-system family, rather than this R-side of the tree.
Glass in glass | Solms, Germany, 2011

An impression of the store. Please note the 1600mm f/5.6 in the background.
Dog behind a curtain | Braunfels, Germany, 2011

My cousin noticed this little dog looking out the window, could not pass it up.
Caught by the man with the scarf | Culemborg, Netherlands, 2011

The camera feels very inconspicuous, but this man noticed me anyway.
Walking bicycle | Culemborg, Netherlands, 2011

This is back in the Netherlands. The weather in Germany was not all that great, so I went out to snap some pictures in Culemborg.
| | | |
| --- | --- | --- |
| | | |
| | | |
| | | |
| | On the phone | Culemborg, Netherlands, 2011 | |
Visiting Leica HQ – a full report!

Rise and shine

At 4AM my alarm rang. I switched my lights on, though not the Christmas tree, as I didn't need that for getting dressed. The day had arrived, December 23rd, the day I'd drive to the Leica HQ and personally collect the M9-P I'd been saving so long for. Though I am not typically much of a morning person, it was surprisingly easy to get up. Since the day was scheduled full of activities, and the ride to Germany quite long, my Dad and I rose well before the sun and drove to Culemborg, from where I would continue my journey with my cousin. As a fellow photography enthusiast, he had closed his dental practice for the day and had agreed to accompany me to the Leica HQ in Solms. It was just as well that he drove: his BMW is right at home on the German Autobahn, and though it was new to me, doing 180km/h (112 MPH) is really quite fun.
Leaving early in the day, this close to Christmas, meant that for the majority of the trip, we did not get to admire the scenery. I remembered from earlier trips to Germany how the flat Dutch landscape slowly turned to hills, then valleys and mountains, but all I saw this time around were the lights of cars and trucks ahead of us. Both still a little drowsy, we stayed awake with some Sinatra tunes, many of which made me think of my Leica: "Nothing but the best", "Too marvelous for words". We sat there for well over three hours, talking about cameras and photography, music, work, family, gazing into the darkness and longing for the first signs that said Solms.
By the time those first signs appeared, the Sun's alarm had rung and we were in the midst of a densely forested Germany. The SAT-NAV showed the remaining distance and time to our destination as we exited the Autobahn and turned onto narrow country roads. From there on, it was not a long trip anymore. Though I had previously only been excited, coming this close to the factory and my Leica started to make me feel a little nervous. It was a good kind of nervous, the kind that energized me after the long drive. Solms was smaller than I imagined, a quaint town set in the hills with old houses built along winding streets. Besides the occasional housewife walking the dog, the town was quiet this Friday morning. A series of roadside adverts drew my attention: Leica – My point of view. Large prints displayed images shot with the S2, and following the banners led us to a wide-open gate, behind which stood a modest, industrial looking facility. It had a red dot on the side of it. We were there.
'Red' dot face

After those hours of driving, getting out of the car, breathing some fresh winter air and stretching your legs is quite delightful indeed. I put on my suit jacket – of course I had dressed up for the occasion – grabbed my brand new Billingham bag I had ordered a couple days before, especially for the M9-P, and together with my cousin walked towards the entrance. Though the building looks aged from the outside, the reception area indoors is finished to a standard similar to Leica's cameras. The front desk, and the store's cabinets near it, like any other Leica boutique, radiated modern quality and pride for its products.
I was approached in German, and while I have had German classes in high school, I quickly switched to English and said I had an appointment. Waiting for Marc, whom I had been in extensive contact with prior to my visit, I strolled around the world's most special Leica store, admiring all the items on my wish list. I will admit that, despite the fact that I am not much of a gear fanatic, looking around the store would have made me drool had I allowed my facial muscles to relax. Basically every product produced by Leica is on display, separated from its admirers by a plane of glass. The family tree, showing Leica camera bodies since the Ur-Leica, fascinated my cousin and I, and we must have spent quite some time studying all the models, the evolvement between the many generations.
During that first look-around, I was greeted, in English this time. Marc, who had come in carrying a Leica shopping bag, shook my hand and welcomed me to the Leica headquarters. Excited as I was, we quickly sat down on a luxurious sofa and Marc emptied out the bag box by box. That magic moment was upon me, the culmination of sixteen months of waiting. I have not yet had the experience of witnessing child birth, but I imagine the anticipation might be similar. Of course I could dream the course of the next few minutes; I had watched unboxing videos countless times, but no video makes your heart beat faster, only the real thing does. There it stood, a glossy, silver box with a schematic drawing of the M9-P on it. Opening it up revealed the literature that accompanies the camera, a set of documents I have yet to read, and beneath that was the presentation box. My face, at this point, must have been about as red as Leica's famous logo, but yet I felt calm. I was in no rush to take the camera out of the box, remove the plastic, and hold my M. After such a wait, I wanted to enjoy the moment and have it last. The box slid open as if it contained an Apple product, only the Leica was held in place more firmly by foam. Removing the plastic wrapped around the camera revealed the instrument to me once again. It felt just like I remembered from my London visits. Strong, precise, durable. Only this time, it was in my hands to stay.
| | | |
| --- | --- | --- |
| | | |
| | | |
| | | |
| | (D-Lux 5) My first Leica | Solms, Germany, 2011 Hans Goudriaan, processed by me | Larger version | |
| | | |
More boxes

Following the M9-P box, I was handed a second item packaged in glossy silver: the lens. I lined up the indicators and snapped it onto the camera. The battery was next, followed by a protection filter. As later explained, Leica does not recommend the usage of filters on its lenses, even those it manufactures itself. However, given the price of a 50mm Summilux, and the limited protection the lens hood offers, I had decided to get one anyway. Leica was kind enough to give me a complimentary microfiber cloth and an SD-card. The last item to come out of the Leica bag was a leather neck strap. I like my shoes and belts to be cognac leather, so when I found out Leica offered straps in that color, I could not resist. With all accessories fitted, I turned on the camera. No sounds, no lights flashing, no autofocus motors buzzing. Nothing. It was on though, I could tell by the indicator lights in the viewfinder. It was that pure camera that I had wanted, simple and elegant.
Ever since I planned the trip, I had wanted my first shot be meaningful, and so I stood up and walked towards the Leica family tree. Still excited, I mistakenly took pictures of the R-side of the family, not the M-system cameras. As I sat back down after taking some first pictures, JJ, my tour guide for the day, walked in and said hello. It was time for me to leave the camera behind the counter, and enjoy that other part of the day I had been looking forward to so eagerly.
Touring the factory

The tour started in a small gallery displaying images shot with Leica cameras. It was a first indication of why December 23rd was a far from ideal date to schedule a trip to Solms: the lights meant to illuminate each picture were turned off. During my stroll through the store I had not seen other customers, and I had assumed that would be due to the fact that Solms is not exactly a place to go shopping, and Leicas are not exactly groceries. Passing through the doors that led to the production floor, however, revealed something other than a deserted shop. The machines that would normally polish glass continuously were enjoying an early Christmas break. I felt a moment of disappointment, which, luckily, did not last long. In a most intriguing French accent, JJ walked us round the factory, explaining each step of the production of lenses and cameras in great detail. I got to see the variety of manufacturing methods, from the most technologically advanced, truck-sized machines, to the workstations were lens elements are given a black coating on their edges. Work that is done only by a select group of women, as they are the only ones with hands steady enough to deliver the quality Leica is known for. That quality is unimaginably precise, with error margins only one to three microns depending on the part, two to four times finer than the margins of another manufacturer known for its high-end lenses. The sheer number of checks and adjustments made it clear to me why production capacity at Leica cannot keep up with demand, and why their prices are well above average.
Leica Lenses video, courtesy of Leica
The tour led us past all the manufacturing departments for both lenses and cameras. Incoming goods, lens assembly stations, offices for technical staff, where engineers were hard at work designing new lenses. In fact, we even passed a room with largely shielded windows, and, being tall, I tried to peek over. JJ told me this room was used for testing lenses under development, and I felt guilty for trying to cheat. Later on though, in one of the many cabinets set up in the hallway, three prototype lenses for the S-system were openly displayed, and I was told there were products under development that I might be interested in, too. No specifics, but it sparked my interest.
| | | |
| --- | --- | --- |
| | | |
| | | |
| | | |
| | Explaining the game | Paddy Murphy's, Rotterdam, 2012 | Larger version | |
| | | |
The last stop of the tour was, coincidentally perhaps, the most enjoyable as well. While most production staff had gone home for the holidays, camera assembly workers were fully concentrated on putting together M9(-P)s at the very end of our route. I could see them adjusting rangefinders, assembling top plates and dials, testing meticulously and endlessly. There was lady over on the right side of the room checking for dust on the sensor, and cleaning it off in a seemingly vigorous but highly effective manner. The room was sealed. All workers wore white suits and hair nets. Though I only got to observe them through a window, it was fascinating to see the attention to detail each camera is treated with. Right behind the window was a man checking the rangefinder's alignment, sat behind an apparatus that marked distances from 0.7 to 10 meters. He took a shot, studied graphs and charts on his screen, and moved on to the next distance marker. It occurred to me how stark a contrast exists between the users and the makers of these cameras. Leica photographers, or many of them at least, do not normally care much about MTF charts and the like, they care about taking pictures and practical performance. The workers here, sitting behind the window, were all about perfection. They were concentrated on their work, and it was a privilege to be able to watch them do it. I stood there, watching, occasionally asking JJ a question, admiring the dedication of these people, wishing I would be able to thank them for their hard work on my Leica.
Noctilux, Summilux and spending money

The assembly workers marked the end of the tour, and through a labyrinth of hallways we returned to the store. Since we had arrived early, I had time to play around with lenses I was interested in. Marc opened up some cabinets and set out three items for me on the counter: a 24mm Elmarit, 35mm Summilux, and – not to anyone's surprise – the magical 50mm Noctilux. The first two I wanted to test because I had wondered whether or not the 50mm Summilux I was buying would be too long. Not that there was any way of buying another lens instead, after all, I was not on a waiting list for any of those, but giving each a go would certainly inspire a next saving project.
The 24mm, first of all, while really cool and wide, is not ideal on the Leica, as there are no frame lines for it in the rangefinder. One would have to rely on an external viewfinder for composition, and the camera's rangefinder for focus, or, alternatively, use zone focusing. I decided none of the alternatives could work for me, and thus a 28mm is as wide as I will ever go.
The 35mm Summilux was more my cup of tea. It felt so much wider than the fifty, so much more practical for my street photography. Immediately I thought: I should have chosen this as my first lens. Its extra costs over the 50mm Summilux, though, would have ruled out a pre-Christmas deadline, so I was happy to be buying the fifty instead. Shooting around the store with the 35mm was greatly inspiring, and I felt I had made the right decision in having my name put on the waiting list for one at the Paris boutique earlier in the year.
Of course, I saved the best for last, the Noctilux. It is big, and heavy, and obstructs the viewfinder quite badly, but my oh my, what a lens. The depth of field at f/0.95 is razor thin, the aperture ring is even smoother than the Summilux's. It is a special lens no doubt, one I would not mind having, but one I will not buy for quite some time, simply because it is so exclusive. It was a lot of fun to shoot with, and if I can ever afford one, I will certainly add it to my collection.
Back at the counter, I attached my own 50mm Summilux again, and handed the other three lenses back to Marc. I say 'own', but I had not even done that one, rather important and somewhat less enjoyable part of the day just yet: pay. That moment had arrived. I dug up my wallet from deep inside my bag, hidden in case we got mugged on the long drive to the factory. In it, over two years worth of student income, ready to be exchanged for a camera and a single lens. I had requested €500 bills at the bank, thinking that the fewer I had to surrender, the easier it would be. It was not difficult though. I counted out the money, got my receipt, and was now the proud owner of a Leica M.
On to quiet streets and our return

Having said goodbye to Marc, JJ and the kind ladies at the reception, my cousin and I left Leica HQ and headed back to the car. As you may have read in earlier parts of this story, I had made plans to visit a nearby Christmas market and Schloß Braunfels, a castle that was close by. We decided to visit the castle first. Arriving in Braunfels, however, the weather changed. I was confident the M9-P could handle a bit of rain, but I was not quite ready to test my luck on this first day. Shielding the camera as best as I could, taking a couple pictures along the way, we walked from a supermarket parking to the castle, which was situated high upon a hill. The streets we walked through were quiet. Parts of the town reminded me of wild Western movie ghost towns, where we were the only ones there. Decorations for Christmas were all put up, trees were set up besides doors and store entrances, but nobody aside from a mailman was there to liven up the scene. As soon as we got to a square by the castle, more people turned up. I had subjects for my street photos now, a camera to take pictures with, the rain had nearly stopped, but there was one problem: I could not focus properly yet, or least, it took a long time to do so. Rangefinder focusing is radically different from the autofocus I was used to on my D-Lux 5, and, while I love it now, that afternoon in Braunfels, it made me open up my photographic interests and shoot buildings, which do not typically move as much as people do.
| | | |
| --- | --- | --- |
| | | |
| | | |
| | | |
| | A street photographer's nightmare | Braunfels, Germany, 2011 | Larger version | |
| | | |
Despite having to get used to focusing with a rangefinder, the camera felt intuitive from the start. There was nothing complicated about it. I felt so confident in using it that I quickly switched to manual exposure, something I had rarely done with any of my previous cameras. The pictures that I took were far from special, or most of them were anyway. Importantly though, I had fun taking them. I felt connected to the camera, it did just what I needed it to, nothing more. My expectations met on the first day: the Leica is a photographic instrument that does not get in my way of taking pictures. It does not distract. It does not obstruct your view. It takes pictures, which is all a camera should do.
We went back to the car after exploring the castle, keeping an eye out for a Bratwurst sandwich stall, which we did not come across. Though only early in the afternoon, neither I nor my cousin felt like looking for a Christmas market in the area, and so we started our return journey. I sat in the passenger seat, my Leica on my lap, the lens cap – which I had dropped – stuck somewhere underneath the chair. This was it, that moment I had been looking forward to for so long: owning a Leica. I was happy.
What is still to come

About a month later, I sit here writing at my computer, soft music playing from my speakers, and once again, Frank Sinatra sings songs that make me think of my Leica. "I've got you under my skin", "Love is here to stay", and, with the camera's intuitive handling, "You're getting to be a habit with me".
So far I have shared my first encounter with the M9, my reasons for getting it, and my trip to the Leica headquarters in Solms. There is more to come though. Once I have had enough experience taking pictures with the M9-P, I will expand this article with a short review, accompanied, of course, by lots of pictures. This March, I have scheduled yet another trip to London, and I will share many images I take there on my Google+ profile. Also, I hope to combine those pictures into an eBook some time during the summer.
For now, I can let you know I am thrilled to be able to take pictures with the M9-P every day. It truly is everything I had hoped for. A good friend recently asked whether I thought it was worth the money, and knowing now what I can do with it, I can only say:
"Yes, it absolutely is."
Special thanks to

Gordon Laing, Jenny Hodge, Marc Schermuly, Jean-Jaques Viau, Hans Goudriaan, My parents.
Coming soon…

Bjorn's review of his M9-P!
In the meantime, feel free to comment or ask Bjorn any questions in the Cameralabs forum!