Fujifilm FinePix S9500 Zoom / FinePix S9000 Zoom review
On paper the Fujifilm S9500 promises a great deal: it features higher resolution than current budget digital SLRs and a much longer optical zoom than their typical 3x bundles. Fujifilm's marketing material additionally lists the many reasons why you'd want the S9500 over a digital SLR, including composition with a live, tiltable screen and a movie mode. The big question then is whether it's really a viable alternative to an SLR.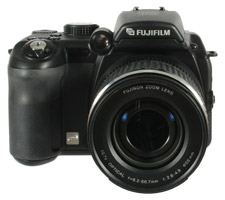 Starting with resolution, the S9500's sensor and lens combination certainly out-resolved the current crop of budget 6 and 8 megapixel digital SLRs in our studio tests, although in real life you'd be hard pushed to spot much difference between it and the Canon 350D / Digital Rebel XT or Panasonic's DMC-FZ30. That's still a good result though.
As far as the lens is concerned, there's softness in the corners at wide angle, but no more than you'd get with most 3x lenses bundled with digital SLRs. In terms of geometry and vignetting the S9500's lens, like the Panasonic FZ30 and Sony R1, out-performs most digital SLR bundles.
As you'd expect, the S9500's long optical range and macro facility was also far more flexible than the bundled lenses of digital SLRs, and while it didn't zoom-in as far as, say, Panasonic's FZ30, we ultimately preferred it's wider angle option. Shame it didn't have the Panasonic's image stabilisation though.
Of course Fujifilm's answer to image stabilisation is high sensitivity, and this was one area where we expected to find compromised noise levels. In practice though noise levels on the S9500 were surprisingly low, delivering good results up to 400 ISO and respectable performance at 800 ISO. At 1600 ISO, artefacts had become clearly visible – see last image on Gallery page – but all-in-all it's a useful facility to have and an impressive result for a camera with a physically small sensor and high resolution.
In terms of actual handling the S9500 certainly feels quite responsive, but was not as quick as most budget digital SLRs for startup or continuous shooting. Manual focusing also remains easier with a proper SLR, although there are of course compositional benefits to a tilting screen with a live view, not to mention having a movie mode. It's a pity the S9500's screen wasn't fully-twistable like several of its rivals though.
Ultimately there are several key things you have to weigh-up when choosing between an all-in-one like the S9500 and a budget digital SLR. A good budget digital SLR should deliver lower noise at high sensitivities, easy manual focusing, superior continuous shooting and of course the ability to swap lenses.
In contrast the S9500 offers a much broader zoom range as standard, a tilting screen with live composition, a movie mode and no concerns of dust getting on the sensor. Only you can personally decide if these outweigh the benefits of a true SLR.
Compared to other all-in-ones the S9500 holds its own, delivering similar quality in real-life conditions to Panasonic's DMC-FZ30 and Sony's Cyber-shot DSC-R1. While there are differences in their designs and overall feature-sets, the choice between the three ultimately boils down to which optical zoom range best suits your requirements – see Features page.
One thing's for certain though: should you decide an all-in-on 'bridge' camera is better suited to your personal preferences and style of photography than a digital SLR, the Fujifilm S9500 Zoom is an excellent choice. It delivers great quality images with a highly versatile lens range at a decent price, and as such comes Highly Recommended.