Fujifilm FinePix F30 sensor and files
Fujifilm FinePix F30 features
Lens / Screen and menus / Sensor and processing
The Fujifilm FinePix F30 is equipped with a 6.3 Megapixel SuperCCD sensor measuring 1/1.7in and delivering 4:3 aspect ratio images with a maximum resolution of 2848×2136 pixels; unlike some earlier Fujifilm compacts which employed interpolation on their maximum resolutions, this is the native resolution of the F30's sensor.
The F30 offers six different quality settings from the F menu, which adjust both resolution and compression ratio. The top resolution is available with the choice of two compression settings (6M F and 6M N), followed by a 3:2 aspect ratio option with modest interpolation to deliver 3024×2016 pixel images, then 3M, 2M and 03M modes which steadily lower the resolution; there's no RAW mode.
Best quality 6M F images typically measure between 2.8 and 3.2MB each. There's 10MB of internal memory to get you started, but it won't last long especially in the better quality modes, so budget for a decent-sized xD memory card straightaway.
Exposure and Creative options

While many compacts raise your hopes with Aperture and Shutter priority modes only to disappoint with a handful of settings, the F30 boasts fine control over both. In Aperture Priority mode, the F30 offers ten settings from f2.8 to f8 at wide angle, or five from f5.0 to f8 at telephoto. In Shutter Priority mode you can adjust the exposure from three seconds to 1/1000, although the F30 has access to a broader range down to 15 seconds in its Night preset, or up to 1/2000 in the Auto modes.

It's good to find decent control over both aperture and shutter on a compact, although as mentioned in our Design page, it's a shame Aperture and Shutter priority share the same position on the F30's mode dial, requiring you to enter a menu to choose between them. That said, most people tend to use one of the modes much more than the other, and switching them is the first option you'll find when you press the Menu button.
| | |
| --- | --- |
| | |
| | |
| | |

Like all compacts there's a selection of scene presets. Turn the main mode dial to the N/SP position and you can choose from 15 different presets using the main menu: Natural Light (no flash), Natural flash (takes two consecutive images, one with and one without a flash), Portrait, Landscape, Sport, Night (up to 15 seconds but limited to three by default), Fireworks, Sunset, Snow, Beach, Underwater (with the optional housing), Museum (no flash nor any sounds), Party, Flower, Text and Anti Blur (which has its own position on the dial and selects higher shutters with increased ISO if necessary).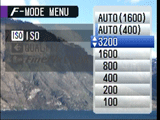 Speaking of ISO, sensitivity is of course one of the F30's strong points with a range from 100 to a whopping 3200 ISO – that's not bad for a DSLR, let alone a compact. You can manually set the ISO from a menu by pressing the F button, or go for one of three Auto options which can restrict the maximum ISO if desired to 1600 or 400 ISO to avoid reduced quality. To see how the F30 performed at high sensitivities, check our Outdoor Noise Results and Gallery pages.
Along with ISO and image quality, the F menu also lets you choose from three different colour modes which set the saturation and contrast: F-Standard, F-Chrome and F B&W. We used the default F-Standard mode for all our test and gallery shots, although the F-Chrome option increases both the saturation and contrast for punchier results.
White Balance can be adjusted from the main menu screen with settings for Auto, Custom, Fine (daylight), Shade, three Fluorescent options and Incandescent. In terms of metering, the F30 offers 256-zone Multi, Spot and Average options.
Video mode

With the main mode dial set to the movie camera icon, the F30 can record video clips with sound in Motion JPEG AVI format. There's two quality options to record at either 640×480 (VGA) or 320×240 (QVGA) with both at a smooth 30fps, although the optical zoom can't be used during filming. Voice memos up to 30 seconds can also be recorded with still images.
VGA movies at 30fps are smooth and detailed, looking great whether played back on the camera's own screen, a computer monitor or a TV set; the sound like most compacts is pretty basic though. You're looking at about 1.1MB per second in the best quality 640 mode, giving you up to about 15 minutes on a 1GB xD card.
Handling

The Fujifilm F30 handles well for a compact which extends its lens, starting-up or shutting down in just over a second. Auto focus was also quick and accurate in tests with little searching. Additionally the F30 offers a High Speed Shooting option which reduces the time required for focusing when the shutter button's half-pressed. This employs the F30's 60fps screen refresh mode which drains the batteries quicker, but is a nice option to increase the camera's AF performance.
The F30 has three continuous shooting options: Top 3, Final 3 and Long Period. Top 3 fires off up to three frames at the F30's top speed of around 2.2fps, while the Long Period mode keeps firing while you have memory remaining, but at a much reduced speed of around 0.6fps. Final 3 mode keeps shooting at 2.2fps as you keep the shutter release button held, but only actually records the last three images once you let go of the button.
With the F30 set to its best quality 6M F mode we fired-off three frames in the 'Top 3' mode in 1.3 seconds, corresponding to a rate of around 2.3fps. We then tried the 'Long period' mode, and took ten images in 20 seconds, which corresponded to 0.5fps. The Long Period mode may have been little to get excited about, but the faster 2.2fps rates of the other modes were relatively quick compared to many other compacts.