Fujifilm F30 vs Canon A640 vs Sony N2 real-life noise
Support this site by shopping via these links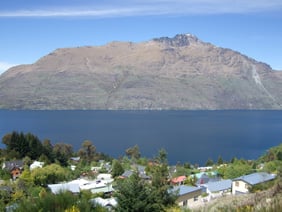 To compare noise levels under real-life conditions we shot the same scene with the Fujifilm F30, Canon A640 and Sony N2 within a few moments of each other using their best quality JPEG modes and each ISO setting. Each camera was set to Auto for this test to also compare how the same scene would be evaluated; this was also necessary in some cases to access the fastest shutter speeds. A neutral density filter was used due to the brightness of the scene and the requirement for high ISOs.

Each lens was adjusted to deliver as close a field of view as possible, although coarse positions on their zooms resulted in variations. The Fujifilm result also shows a larger area due to its lower resolution sensor.
The image above was taken with the Fujifilm F30 at 10.4mm f5.6, with a sensitivity of 100 ISO; the original JPEG measured 2.99MB. The crops are taken from an area just below and to the left of the centre.
The FinePix F30 delivers very sharp and detailed results at 100 and 200 ISO, with only a slight loss in quality at 400 ISO. Increase the sensitivity to 800 ISO and some of the finest detail is lost to noise reduction, but the overall quality remains good for a compact.
At 1600 ISO there's a noticeable drop in quality with fine detail smeared-out and the all-too familiar impressionistic posterisation effect becoming apparent. At 3200 ISO, the effects of high noise reduction result in significant smudging of detail when viewed at almost any magnification.
While 3200 ISO is really only for emergency use only, it's crucial to remember we're talking about a compact here – many DSLRs don't even offer a 3200 ISO option, so the fact Fujifilm can deliver it on a compact is nothing short of remarkable.
What's really impressive though are the results at 800 and 1600 ISO, which while admittedly showing a considerable reduction in quality, are good enough for modest print sizes. You can print postcard size at 1600 ISO from the F30 and have to look closely to spot any noise artefacts. This is very impressive performance for a compact, and allows the F30 to shoot either in dim light, or without a flash in situations where other compacts would struggle to deliver a usable result. See our Gallery for more high ISO examples.
It's also interesting to note most of the artefacts seen around the finest details at lower sensitivities are actually due to slight over-compression. We'd like to see a super-fine option from Fujifilm in the future, or even a RAW mode to see what its sensors are really capable of, but in the meantime if you want decent results from a compact at high sensitivities, the F30 should be top of your list.
| | | | | |
| --- | --- | --- | --- | --- |
| Fujifilm FinePix F30 | | Canon PowerShot A640 | | Sony Cybershot DSC-N2 |
| | | | | |
| 80 ISO unavailable | | 80 ISO, 1/125, f4 | | 80 ISO unavailable |
| | | | | |
| | | | | |
| 100 ISO, 1/340, f2.9 | | 100 ISO, 1/200, f4 | | 100 ISO, 1/160, f4.5 |
| | | | | |
| | | | | |
| 200 ISO, 1/340, f4 | | 200 ISO, 1/400, f4 | | 200 ISO, 1/320, f4.5 |
| | | | | |
| | | | | |
| 400 ISO, 1/450, f5 | | 400 ISO, 1/800, f4 | | 400 ISO, 1/640, f4.5 |
| | | | | |
| | | | | |
| 800 ISO, 1/600, f6.4 | | 800 ISO, 1/1250, f4.5 | | 800 ISO, 1/320, f9 |
| | | | | |
| | | | | |
| 1600 ISO, 1/800, f8 | | 1600 ISO unavailable | | 1600 ISO, 1/800, f9 |
3200 ISO, 1/1500, f8

3200 ISO unavailable

3200 ISO unavailable