Fujinon XF 56mm f1.2 R review - Verdict
Verdict
The Fujifilm 56mm f1.2 is an easy lens to recommend, most obviously because it's the only game in town if you're after a short and very bright telephoto with AF for the X-system. But that's not to say Fujifilm has rested on its laurels and exploited a captive audience. The 56mm delivers the same great quality Fuji X owners have come to enjoy and expect from the company's prime lenses and is sure to become an essential part of many kits. Indeed it could drive many photographers to the X system who may have previously been on the fence – certainly it makes the X system much more appealing to portrait and wedding photographers than before.
With an effective focal length of 84mm, the lens delivers classic portrait coverage, but is also useful for taking a closer look at details. The f1.2 focal ratio may 'only' be equivalent to about f1.8 in terms of depth of field on a full-frame system, but can still easily isolate a subject against a creamy out-of-focus background. And in terms of exposure, f1.2 is f1.2 on any system, allowing the lens to be used in dim conditions without forcing the use of higher ISOs. But it's not just about shooting close subjects with a shallow depth of field – point the 56mm at a distant landscape, natural or urban, and you'll enjoy crisp details across the frame even at large apertures. It'll also play well with the XT1's superb continuous autofocusing, allowing you to successfully capture shots of subjects moving towards or away from you – so long as you're using the nine central AF areas.
The 56mm has also been optically profiled to support Fujifilm's Lens Modulation Optimiser (LMO), which means on the XT1 and XE2 you'll enjoy very sharp details into the corners across the entire aperture range. I've already mentioned it's very usable at f1.2, but at the other end of the scale, LMO allows you to avoid softening due to diffraction at f16. I know many photographers are very focused on shooting RAW, but technologies like LMO are allowing cameras like the XT1 and XE2 to deliver superb-looking JPEGs which are unparalleled on any system I've tested.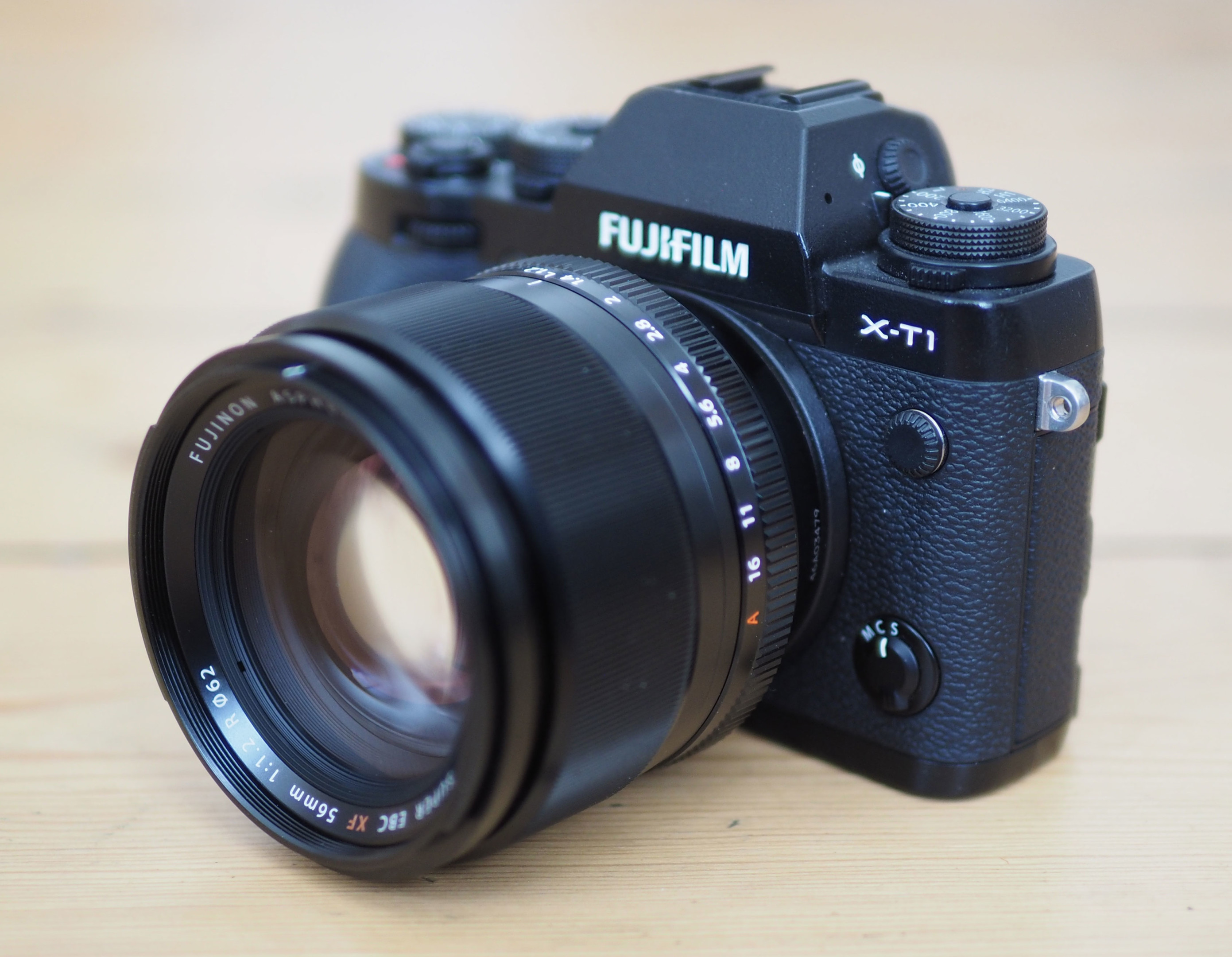 With no other bright telephoto primes in the X-system catalogue at the time of writing, it's hard to criticise the 56mm as there's little to compare it against. If you have the 18-55mm f2.8-4 zoom and set it to 55mm, you'll find the 56mm f1.2 focuses more slowly and less confidently, and you'll also notice it generates a little more sound and vibration while it focuses too. Obviously the 56mm also lacks optical stabilisation, so you'll have to be aware of the slowest shutter speeds you can holdhold it at. But unsurprisingly the 56mm delivers a considerably shallower depth of field and crisper details too. Again if you have an X-series body and want a short telephoto prime with AF, it's the lens for you.
Indeed viewed within the X system there's little to complain about. Sure the lens hood is plastic, but it's light, strong and effective. The closest focusing distance of 0.7m makes it less flexible than it could have been but it's still perfect for portraits. The AF may be slower and noisier than the 18-55mm kit zoom, but it's on par with the other primes in the range. And it's not weather-sealed, but then neither are any of the other primes. In fact probably my biggest complaint concerns its practicality on the current X-series bodies. Their fastest shutter speed of 1/4000 coupled with a minimum sensitivity of 200 ISO if you want to record RAW means you'll frequently be unable to shoot at f1.2 in bright conditions without fitting an ND filter. If the bodies had RAW at the extended low 100 ISO sensitivity and a top shutter of 1/8000, you'd be able to shoot at f1.2 in a broader range of conditions.
But when shooting with the 56mm it's a delight to find how flexible it is, from capturing shallow depth of field portraits to detailed landscapes to close-range sports or highly corrected night scenes. Here's three quick examples, all available as high res downloads from my sample images page.
As a reviewer of multiple systems I'd also like to make a quick comparison against the Leica Nocticron 42.5mm f1.2 for Micro Four Thirds. Sure Fuji owners aren't going to use this lens and MFT owners aren't going to be using the 56mm either, but as both are recently announced high-end 85mm equivalent lenses for mirrorless cameras with f1.2 focal ratios, I think it's worth seeing how they measure-up against each other. Besides some may be weighing-up both systems or even own a body from each.
Both were incredibly sharp and very usable wide-open at f1.2. Both could also produce very shallow depth of field effects, and even though the slightly longer (actual) focal length and bigger sensor of the Fuji meant it was technically delivering a shallower depth of field, I could hardly see any difference in my tests – and I urge you to compare the shots in my respective galleries to see if you can too before you write me off as a crazy.
Optically I felt the biggest difference was their rendering of out-of-focus areas. To my eyes the Nocticron was smoother – creamier – and suffered from less outlining on blurred specular highlights, but conversely while both lenses rendered the same highlights as oval / cats-eye shapes towards the edges, this effect was less pronounced on the 56mm. Close their apertures a little and the 56mm renders blurred points of light as seven-sided shapes, while the nine-blades of the Nocticron maintain a more circular shape. But focus each lens on points of light (like a city skyline at night) then close the aperture and I'd rate the starburst effect as nicer-looking on the 56mm than the Nocticron. There's pros and cons to both.
The biggest difference though was their handling and this is more down to their respective systems and bodies: the Nocticron was noticeably faster for Single AF acquisitions mounted on any recent Micro Four Thirds body and also enjoyed the benefit of stabilisation (optical in the lens or the option of body-based on an Olympus), while the 56mm on the XT1 was far better at tracking a moving subject and enjoyed the superior image quality of the X-Trans sensor. Once again there's pros and cons for both combinations, but I wouldn't rate one as being superior overall in quality and handling. That said the Fuji enjoys the key advantage of a comfortably lower price, costing around one third less than the Nocticron. That's a big difference and makes the 56mm look like great value considering it's also designed for a slightly larger format.
Fujifilm 56mm f1.2 final verdict
Bottom line? The Fujifilm 56mm f1.2 is another great quality lens for the X-series. It's a confidently-built, optically superb, well-priced for a lens of its class and exploits the latest body technologies to deliver crisp details into the corners and effective tracking of moving subjects. Bokeh obsessives may prefer the rendering of some higher-end options, but there's few who wouldn't look at the images from the 56mm on a modern X-series body and be anything other than delighted. If you're an X-series owner who needs a short, bright telephoto with AF, it may be your only choice, but thankfully it's also a great one. There's no optical stabilisation or weather-sealing, but I always make room for it in my bag.
Summary
Good points
Superb quality. Sharp right into the corners at f1.2.
f1.2 focal ratio delivers very shallow depth of field with nice bokeh.
f1.2 focal ratio great in low light: gathers twice as much light as f1.8 lens.
Very well-corrected optics with minimal vignetting, coma or CA.
Great build quality and lens hood supplied.
Works well for continuous focusing with bodies equipped with PDAF.
Bad points
Current X-series bodies limit use at f1.2 with 1/4000 maximum shutter.
Modest closest focusing distance of 0.7m means it's no macro lens.
Blurred specular highlights rendered as heptagons as aperture closes.
No optical stabilisation, so hold steady.
No weather-sealing.