Fujifilm XF 16-55mm f2.8 review - Verdict
Verdict
Fujifilm's XF 16-55mm f2.8 becomes the best quality general-purpose zoom for the X-mount system. It's hardly a controversial statement given the specification (not to mention the size and cost), but always reassuring to confirm it in practical tests.
In my optical tests with a distant subject, I found the XF 16-55mm delivered very good sharpness in the middle of the frame at all focal lengths even using the maximum f2.8 aperture. There's some softness in the very extreme corners, most visibly at 16mm and a little less so at 55mm, but move into the frame even just a little and it improves greatly. If you are shooting highly detailed scenes and can close the aperture to f5.6 or f8, the degree of detail and sharpness becomes very impressive.
The peak performance in my tests was around the 35mm (roughly 50mm equivalent) focal length where the results were sharp even in the extreme corners at f2.8. The weakest point was at 16mm where the corners were softest compared to other focal lengths and some coloured fringing was also visible. Luckily the fringing was easy to correct in RAW files, and again once the aperture was closed to f5.6 there was a high degree of detail across the entire frame.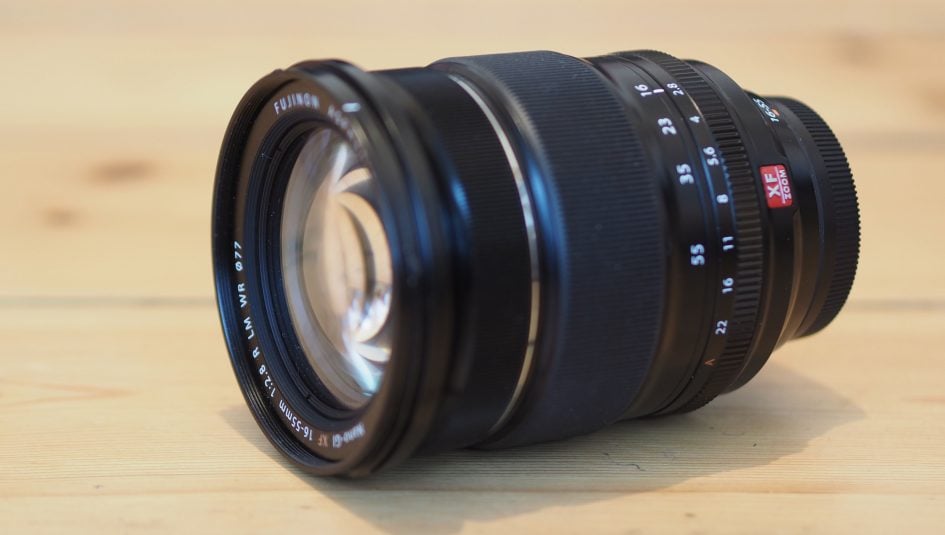 If you're shooting portraits, the XF 16-55mm does a fair job zoomed to 55mm, delivering sharp details in the middle at f2.8, although understandably the depth of field isn't hugely shallow compared to brighter primes. If you really want to throw the background out-of-focus you'll need something longer, or ideally brighter. That said, the rendering of out-of-focus regions is above average for a zoom with aspherical elements. There's inevitably some onion-ringing on specular highlights, but on the whole the bokeh is well-behaved.
I've no complaints over focusing or the physical construction. The lens focuses quickly and quietly, it's very well-built, tough where it needs to be, while the various rings turn smoothly. The weather-proofing is also very welcome, making it an ideal companion for the XT1 body.
So far so good, but the lens isn't without its faults. Most obviously it's rather hefty and becomes unwieldy on all but the largest X-series bodies. Even mounted on the XT1 it feels best when coupled with an additional grip, such as those from PhotoMadd.
What may have started as a compact system when using, say, the XF 18-55mm, is transformed into something you certainly know you're carrying around. Indeed I had to reconfigure my f-stop ICU to accommodate it after housing more typical mirrorless kits.
It's certainly revealing how much larger it is than, say, the Olympus 12-40mm f2.8 when mounted even on the EM1. To be fair the Olympus lens won't deliver as shallow a depth of field at the same equivalent coverage, but it is interesting to see how Olympus is still embracing the concept of mirrorless as a compact system even at their pro end, while Fujifilm is happy to go larger and approach traditional DSLR solutions.
I'm also going to call Fujifilm out when they compare the XF 16-55mm to full-frame 'alternatives' like Canon's EF 24-70mm f2.8. Yes, the XF 16-55mm is smaller and lighter, while also zooming a little longer, but it's not delivering an imaging circle that's corrected for a larger full-frame sensor, and neither will it match the depth of field of the EF 24-70mm f2.8 when both are set to f2.8 and the same equivalent coverage. For me the fairer comparison is against models like Canon's EF-S 17-55mm f2.8, which is similar in size and weight, not to mention potential depth-of-field. Of course the Fuji boasts wider coverage and weather sealing, but the Canon has Image Stabilisation.
Ah yes, Image Stabilisation. For me, the absence of which is the real Achilles' Heel of the XF 16-55mm. Fujifilm told me they chose not to implement it on grounds of optical quality and the ability to attain a 24mm equivalent field of view at the wide end, but personally speaking I really missed it when shooting with the lens. I've become so used to having stabilisation on a general-purpose zoom that I really had to think when shooting in lower light or blustery conditions to ensure my shutter speed was going to be fast enough to avoid camera shake. I also find accurate composing even at 55mm much easier with stabilisation keeping the view nice and steady. Of course to put it in perspective, I'm not the World's steadiest photographer, so your mileage may vary. But for me personally, not having stabilisation is an issue.
That said, it's not like this is the only general-purpose zoom for the X-series. There's a number of alternatives, all stabilised. Fujifilm's XF 18-55mm and XF 18-135mm are both optically stabilised, and the latter is even weather-sealed too. If you prefer to shoot at the wider end of the range, the XF 10-24mm is also optically stabilised. So shaky shooters aren't short of options.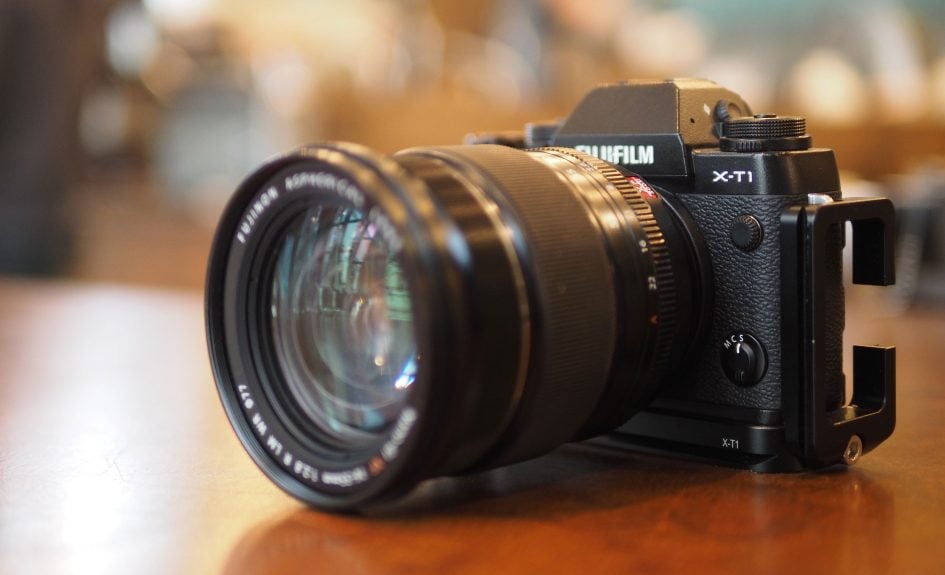 So which to choose? If you already own the XF 18-55mm or XF 18-135mm, it's a tough one as you'll be giving up size and portability or range respectively, and in both cases, losing stabilisation. Yes the XF 16-55mm zooms a bit wider and the image quality is better at large apertures, but if you're happy to stop-down to, say, f8, then there's not a lot in it. Lest we forget, the XF 18-55mm already delivers very respectable quality and has a brighter than average aperture for a kit zoom. For owners of these zooms looking for a significant step-up in quality and depth of field control, I'd aim for a prime lens instead at their most used focal length. Or if they desire something much wider, they should go for the XF 10-24mm which out-performs the XF 16-55mm at 16mm, has stabilisation and won't consume as much space in your bag.Ultimately the XF 16-55mm is unashamedly aimed at pros, particularly event shooters who'll want to pair it with the XF 40-150mm and know they'll have a bright f2.8 aperture throughout a broad range and not need to worry about inclement weather. Suffice it to say wedding and street photographers will love it. If you already own the XF 18-55mm or XF 18-135mm there's several trade-offs to weigh-up, but if you're buying a new body without a lens it becomes a tempting option. So all-in-all, while the XF 16-55mm is best-suited for higher-end shooters with the larger bodies, it remains another decent-performing and highly recommended addition to the XF catalogue.
Good points
Useful general-purpose range and bright, constant f2.8 focal ratio.
Sharp details across the frame and throughout the range.
Tough build quality with weather-sealing. Supplied with hood.
Bad points
No optical stabilisation.
Fairly hefty. Best-suited to larger bodies with optional grips.
Coloured fringing in corners at 16mm (but easily corrected in RAW).
Softness in extreme corners at 16mm and 55mm between f2.8 and f4.

[geot country="US"]Buy the Fujifilm XF 16-55mm f2.8 from amazon.com[/geot][geot region="UK"]Buy the Fujifilm XF 16-55mm f2.8 from amazon.co.uk[/geot][geot region="Germany"]Buy the Fujifilm XF 16-55mm f2.8 from amazon.de[/geot][geot region="France"]Buy the Fujifilm XF 16-55mm f2.8 from amazon.fr[/geot][geot region="Spain"]Buy the Fujifilm XF 16-55mm f2.8 from amazon.es[/geot][geot country="Italy"]Buy the Fujifilm XF 16-55mm f2.8 from amazon.it[/geot][geot country="Canada"]Buy the Fujifilm XF 16-55mm f2.8 from amazon.ca[/geot][geot exclude_region="UK,Germany, France,Spain" exclude_country="Italy,Canada,US"]Buy the Fujifilm XF 16-55mm f2.8 from eBay[/geot], B&H, or Adorama. Alternatively you could treat me to a coffee!