Fujifilm FinePix HS20 EXR
Intro
The Fujifilm HS20 EXR is a 16 Megapixel super-zoom with a 30x stabilised lens and a 3in articulated flip-up LCD screen. Launched in January 2011, the FinePix HS20 EXR replaces the HS10. A brand new back-illuminated CMOS EXR sensor increases the resolution from 10 to 16 Megapixels and the resolution of the screen is also doubled from 230k to 460k pixels. The HS20 EXR retains the 1080p30 best quality video mode of its predecessor, but the new sensor and EXR processing engine add a variety of new scene and composite modes, faster autofocussing, a wider range of burst shooting options and expanded scene recognition.
The FinePix HS20 EXR has a number of features that differentiate it from the super-zoom competition. Fujifilm has a long history of sensor innovation and the EXR sensor in the FinePix HS20 has an unconventional 45 degree photosite orientation which it's claimed improves the sensor's light-gathering capabilities. More conventionally, its a CMOS sensor with a back-illuminated structure – the wiring is on the back of the chip which means more light reaches the photosites resulting in improved noise performance.
In a more obvious departure from the norm the FinePix HS20 EXR has a manually operated zoom, that's right, the motor is replaced by an SLR-style zoom barrel which you twist by hand. Fujifilm has stuck with AA batteries to power the FinePix HS20 EXR with a separate compartment for the SD card. Even for a 30x super-zoom it's quite large and weighty and it has more than the usual array of physical controls. Though it doesn't lack consumer friendly features like scene detection, face detect AF and face recognition, the HS20 EXR will likely appeal to hobbyist photographers. The question is, does it have what it takes to divert traffic from the likes of Canon, Sony and Panasonic. Read our full review to find out.
Fujifilm FinePix HS20 EXR Design and controls

When you pick up a camera for the first time, the natural thing to do is compare with other models you've seen and handled, but with the Fujifilm FinePix HS20 EXR in your hand nothing similar comes to mind. Not the Canon PowerShot SX30 IS, nor the Sony Cyber-shot HX100V nor even the Panasonic Lumix FZ100. The FinePix HS20 EXR is bigger and heavier than all of those models and it has a lot more buttons, all of which make it look and feel more like a DSLR than a fixed lens super-zoom. The dimensions are 131x91x126mm and the weight is 730 grams complete with a set of 4 AA batteries and an SD card, that's just 10g shy of the Canon EOS 1100D DSLR with the 18-55mm IS II kit lens.
Support this site by
shopping below
While the bulk and heft of the FinePix HS20 EXR might begin to wear on your neck after a full day's shooting, it feels reassuringly solid in your hand. The rubberised surfaces and big lens barrel provide a secure grip that feels very DSLR-like. One immediate problem handling-wise, which you can see from the photo on the left, is that the flash housing extends over the top of the lens zoom ring which means having to hold it near the front. Even then, your thumb tends to knock up against the flash housing whenever you zoom in.
The on/off switch is located on a collar around the shutter release – you quickly remember not to try and zoom using this – behind which are buttons for exposure compensation and continuous shooting. Slightly further back on an angled panel are the mode dial and a second unmarked Command dial for changing exposure, sensitivity and other menu selections. A panel on the right opens to reveal the SD card slot, separate from the AA battery compartment in the base. Behind a cover on the opposite side of the body you'll find USB, HDMI and A/V out ports.
The back of the camera has a row of 5 dedicated buttons for ISO sensitivity, metering mode, AF mode, focus mode and white balance. Then on the right side of the screen there's a conventional four-way controller and more buttons including a dedicated movie record button, AE/AF lock, display/Back and a playback button. If you like physical controls you'll love the FinePix HS20 EXR. One touch I particularly liked was the designation of the top button on the four-way controller to toggle RAW shooting modes.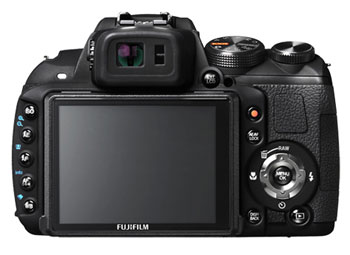 The 3 inch LCD screen is clear, bright and contrasty enough to see well in all but bright outdoor light. Like the Sony Cyber-shot HX100V screen, it flips out and up so you can shoot from the waist, it can also be turned downwards, for some reason only by 45 degrees, though you can still get a clear view when shooting overhead. The FinePix HS20 EXR also has an electronic viewfinder with 200k pixel resolution providing 97 percent coverage. Like all EVF's the view looks pixellated and shimmers, so I prefer to use the screen when I can, but the EVF provides a useful alternative in bright sunlight.
Fujifilm FinePix HS20 EXR lens and stabilisation

The FinePix HS20 EXR has a 24 – 720mm optical zoom which is manually operated via a zoom ring on the lens barrel. The f2.8 – 5.6 maximum aperture is the same as the Cyber-shot HX100V and only marginally smaller than the PowerShot SX30's f2.7. The 24mm super-wide angle view is as wide as it gets on just about any fixed-lens camera, the same as on the PowerShot SX30 and significantly wider than the 27mm of the Cyber-shot HX100V, making it great for landscape, indoors and group shots. It's always worth putting the numbers to the test though, and from our standard shooting position we noticed the HS20 actually captured a broader field of view than the Canon SX30 IS, making it comfortably the widest in its class.
At the other end of the range 720mm is the shorter than both the Canon and Sony super-zooms, but longer than the Lumix FZ100 and FZ45/40. An extra 50-100mm on the maximum zoom range is certainly worth considering, particuarly for sports, wildlife and other distant subjects, but you'll want to look at it in the light of other factors like image stabilisation, low light performance and overall image quality. It's certainly the case that for most subjects a 720mm telephoto should get you easily close enough to the action, and again the HS20's actual wide coverage is wider than most rivals.
| | | |
| --- | --- | --- |
| Fujifilm FinePix HS20 EXR coverage wide | | Fujifilm FinePix HS20 EXR coverage tele |
| | | |
| 4.2 – 126 mm at 4.2mm (24mm equivalent) | | 4.2 – 126mm at 126mm (720mm equivalent) |
The FinePix HS20 EXR uses sensor-shift stabilisation to eliminate blur caused by camera shake at slow shutter speeds. There are two modes, Continuous and Shooting only. There's no separate setting for movie stabilisation but, when activated, Continuous mode operates while recording movies.
The two crops below are from hand-held shots taken at the maximum telephoto setting of 720mm at a shutter speed of 1/20th of a second with the image stabilisation set to off (on the left) and Continuous (on the right). I took several shots at this shutter speed and though not every one was a sharp as this it's a pretty impressive performance.
Fujifilm finePix HS20 EXR, Image Stabiliser off/Continuous

100% crop, 4.2 – 126mm at 126mm, 200 ISO, 1/20th, IS off.

100% crop, 4.2 – 126mm at 126mm, 200 ISO, 1/20th, IS Continuous
Fujifilm FinePix HS20 EXR shooting modes

The FinePix HS20 EXR has a full range of auto and manual shooting modes including PASM mode dial settings. There's a old school Auto mode that does everything for you from ISO sensitivity and white balance to exposure settings and a Program mode which provides a little more control. But it's the eponymous EXR position on the mode dial that sets the HS20 EXR apart from the crowd. Set to the default EXR Auto, the HS20 differentiates 27 scene types broadly categorized into those with and without people, landscapes, backlit, night shots, and those containing sky, greenery and sunsets.
In Auto EXR, the HS20 also applies one of three unique EXR modes: Resolution Priority, High ISO and Low Noise, and D-Range Priority. Alternatively you can manually select the EXR mode yourself. The three EXR modes exploit the unique arrangement of the HS20's sensor array, which is rotated by 45 degrees compared to traditional sensors. Pairs of diagonally-aligned pixels on the sensor can then be reconfigured to enhance the resolution or dynamic range, or reduce noise.
The EXR Resolution Priority mode, also known as HR, maintains the full 16 Megapixel resolution and applied processing to bring out fine details. The EXR High ISO and Low Noise mode, also known as SN, groups all the coloured pixels into pairs, reducing the overall resolution to 8 Megapixels, but improving sensitivity and reducing noise. Finally, the EXR D-Range Priority mode, or DR for short, again rearranges the pixel groups to drop the resolution to 8 Megapixels, but this time to capture two images simultaneously, thereby improving the tonal dynamic range of the final image.
It is of course possible to reduce the resolution on other cameras, but doing so rarely improves noise levels or dynamic range due to the way their pixels are grouped or 'binned'. The HS20's EXR sensor is however designed for this purpose, and while effectively losing half the total Megapixels is quite a hit, the process could be justified by many photographers if it can improve noise or dynamic range for certain shots.
Fujifilm FinePix HS20 EXR
Program Mode, 16 Mpixels

Fujifilm FinePix HS20 EXR
EXR D-Range Priority, 8 Mpixels

1/40, f2.8, 100 ISO

1/30, f2.8, 125 ISO

So does it work? To find out I shot my standard low light scene using the EXR Resolution Priority HR and High ISO and Low Noise SN modes in addition to the standard Program mode, and you can see the results in my HS20 EXR noise page.

To test the third EXR D-Range Priority DR mode, I shot the scene on the left, which includes a brightly backlit stained glass window and dark shadow areas. On the left is the normal 16 Megapixel Program version, while on the right is the 8 Megapixel D-Range Priority version.

Below the full-sized images are 100% crops taken from the centre of the window, where it's clear the EXR version has retained greater tonal detail which has become saturated and lost forever on the standard version. There's greater retrieval of highlight detail across the image too. Meanwhile, the dark shadow areas have been boosted a little.

Technically, the EXIF data for the final D-Range Priority image reveals a slightly longer exposure and slightly higher sensitivity – about one third EV in each case, resulting in an overall exposure effectively +2/3 EV brighter.

This is what's allowed retrieval of highlight detail, while the second unreported exposure presumably used a shorter exposure to retain highlight details.

We don't have the full explanation behind the technology, but the bottom line, as seen in the histograms and the crops, is that the D-Range Priority mode is genuinely recording more bright highlight and dark shadowy detail, and will be a preferred choice for those shooting in demanding lighting environments like these.
Support this site by
shopping below
I'd say the Dynamic and Low Noise EXR modes are worth their Megapixel sacrifice for conditions which exploit them, but remember they're optional so you can always shoot at the full resolution if you absolutely need 16 Megapixels for big prints or tight crops. It's a degree of flexibility that's unique to the HS20 EXR over rivals.
Note some owners have also reported the HS20 will implement EXR on the 'normal' PASM modes if they are also set to shoot at 8 Megapixels.
The mode dial has two additional positions for scene modes allowing you to quickly switch between two of the 17 available. As I've mentioned, there are two composite modes, on the Adv mode dial position, Pro Low-light and a reduced depth of field Pro Focus mode. There's also a Custom position on the dial to which you can allocate your own favourite settings.
The FinePix HS20 EXR has a panorama mode that's remarkably similar to that on the Cyber-shot HX100V. You can shoot horizontally or vertically, which effectively means you shoot horizontally with the camera in portrait orientation to produce a taller aspect ratio panorama. Shooting in this fashion produces a full 360 degree panorama with dimensions of 11,520 x 1,624 pixels and you can also opt for 180 and 120 degree sweeps. The FinePix HS20's panorama mode is as easy to use as the Cyber-shot HX100V's, but the results aren't quite as good with a higher proportion of stitching errors. The HS20 EXR has other features aimed at novice users including face detect AF and face recognition with space to register up to eight faces.
Fujifilm FinePix HS20 EXR panorama

Click image to access original at Flickr
Fujifilm FinePix HS20 EXR movie modes

The FinePix HS20 EXR's best quality video mode is 1080p30. Other options include 720p, VGA (640×480) and three high speed movie modes at 80, 160 and 320fps at resolutions of 640×480, 320×240 and 320×112 respectively. There's a dedicated movie recording button on the back panel and you can shoot 3264×1840 pixel 16:9 stills while recording.
At 1080p the average bitrate is around 14Mbps, so you'll get around 35 minutes of footage on a 4GB card, the limit for single clips at this resolution is 29 minutes and Fujifilm recommends a Class 4 speed card or faster. You can of course use the manual barrel zoom during movie recording, but if you take a look at the hand-held example below, you'll understand why that's a bad idea, more about that and the general handling characteristics of the FinePix HS20 EXR below.
Fujifilm FinePix HS20 EXR sample video 1: outdoors, sunny, handheld pan with optical zoom
The FinePix HS20 EXR's best quality 1080p30 video produces pleasant enough results, but it's impossible to zoom smoothly or hold the camera steady whilst doing so – to be fair this is no different from trying to zoom with a DSLR lens, but it's worth remembering its super-zoom rivals from Canon, Sony and Panasonic can all smoothly adjust their focal length while filming with their motorised zooms. So there's definitely pros and cons to having a manual zoom ring.
Fujifilm FinePix HS20 EXR sample video 2: outdoors, sunny, tripod pan with optical zoom
Even with the camera on a tripod vdeo zooming is a challenge best avoided. Apart from the jerking around, the Finepix HS20 EXR's autofocus loses track and takes a fair while to pull things back, though it does eventually.
Fujifilm FinePix HS20 EXR sample video 3: indoors, low-light, handheld pan
The FinePix HS20 EXR does alter exposure during shooting, though it hasn't taken much acount of the exterior lighting in the middle of this panning shot. And once again the continuous AF struggles to keep things in focus.
Fujifilm FinePix HS20 EXR

handling

The FinePix HS20 EXR takes a little over three seconds to ready itself for action once the on/off switch is activated which, considering there's no zoom motor to actuate, is on the slow side. In handling terms, the biggest difference between this and other super-zooms is the manual barrel zoom. If you're used to shooting with an SLR then this set up may well appeal, but the zoom action is nowhere near a smooth as on a good quality SLR lens. This isn't so much of a problem if you're framing up for a stills shot, though it is difficult to make fine adjustments, but it completely rules out using the zoom during movie recording. Take a look at the hand-held panning shot of the ferry above and you'll see why. It's impossible to zoom smoothly and in the attempt you jerk the camera around so much that no amount of stabilization will smooth things over.
There were other niggles that slightly soured my relationship with the FinePix HS20 EXR. The Auto focus is a little tardy and has a tendency to hunt at long focal lengths, Auto power off (after 2 or 5 minutes) requires you to flip the switch to the off position, then back to on again to restart, and in manual exposure modes you have to hold down the exposure compensation button while turning the command dial to change the aperture setting. Aside from the zoom, these are minor points that others may not find as irritating and, as always, I'd recommend you give the FinePix HS20 EXR a hands-on try before committing to a purchase.
The FinePix HS20 EXR can shoot a burst of up to 32 images at speeds of 3, 5, 8 and 11fps, though not all at full resolution. The maximum resolution depends both on the frame rate and the burst size, with the 11fps rate restricted to 8 Megapixel images and a burst of 8 frames at 8fps at full resolution, which is exactly what the FinePix HS20 EXR managed in testing.
The FinePix HS20 EXR's 16 Megapixel CMOS sensor records still images with a maximum size of 4608 x 3456 pixels at one of two JPEG compression settings. On the Fine setting images are on average around 5MB to 6MB in size. The shutter speed range is 30 seconds to 1/4000th and the ISO range at full resolution is 100 to 3200 ISO with 6400 and 12800 available at lower resolutions.
To see how the quality of the Fujifilm FinePix HS20 EXR measures-up in practice, take a look at our real-life resolution and high ISO noise results pages, browse the sample images gallery, or skip to the chase and head straight for our verdict.