Verdict
The Fujifilm X-T3 is a compact but powerful mirrorless camera that effortlessly delivers great quality photos and video, and handles more confidently than any X-series body to date. It may look a lot like the earlier X-T2 from the outside – no bad thing, inheriting its undeniable charm – but in your hands it represents a significant upgrade in a number of key respects.
The new 26 Megapixel X-Trans IV (APSC-sized) sensor may only offer two extra Megapixels over earlier X-Trans III models, but boasts hugely enhanced autofocusing and movie capabilities with confident phase-detection AF across the entire frame and 4k video at up to 60p and 10 bit internally – seriously impressive features for a system which was not known for AF or video in earlier generations. Burst shooting has also improved with 11fps mechanical or up to 20fps using the electronic shutter, boostable to 30fps with a minor crop, and all work well with continuous AF. There's also a pre-burst mode to capture moments before and after pushing the shutter.
The X-T3 isn't just about improving autofocus, burst shooting and video capabilities either. The viewfinder, inherited from the X-H1, is now more detailed than the X-T2 and considerately features a lockable diopter adjustment. The screen gains touch-sensitivity and you no longer need the optional grip for a headphone jack or 11fps mechanical shooting – all the performance boosts are built-in as standard. You now get Bluetooth and finally the smartphone app can successfully exploit it to location-tag as you shoot. Fujifilm's also added the Colour Chrome mode of GFX bodies as well as a new Monochrome Adjustment option that subtly warms or cools black and white images with attractive results.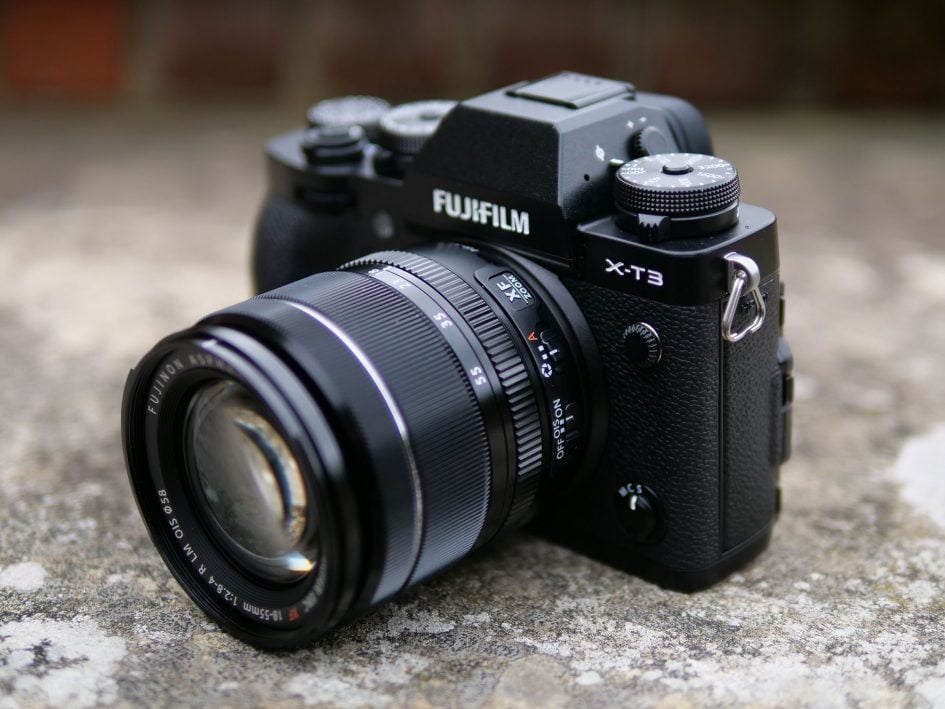 On the downside, Fujifilm's not managed to squeeze-in sensor-shift stabilisation, leaving the X-H1 as the only body to offer it in the X-series. This is frustrating for owners of non-stabilised lenses, such as the many lovely primes in the system. I know you can always boost the ISO and shutter speed to avoid camera shake, but that doesn't help when composing stills or filming video.
The small battery, despite gradual enhancements over several generations, is also now showing its age compared to the competition, especially Sony. Shoot heavily with the X-T3, especially video, and you'll find the battery depleting quickly. For intensive days you'll definitely want to have spares on hand, or deploy the optional grip which lets you use an additional pair to effectively triple the total life.
Anyone who regularly films pieces to camera will also wish the X-T3 had a screen that could flip to face-forward, although I appreciate this is a specialist request of vloggers that doesn't affect many others. As it stands, the X-T3's dual screen articulation already accommodates most shooting angles and situations quickly and discreetly.
In my tests I also found the electronic shutter modes were quite susceptible to rolling shutter / skewing artefacts if the subject moved quickly across the frame or when you panned rapidly. Unfortunately this limits their usefulness which is a shame as the camera otherwise does a great job at focusing in all the burst modes. Of course your mileage may vary depending on the subject and circumstances, but either way, there's still a very respectable 11fps available with the mechanical shutter which avoids skewing artefacts and is more than fast enough for most.
I should also note that while Fujifilm claims to have improved image quality, in my tests I found the earlier X-Trans III sensor retained a small amount of extra detail at very high ISOs. If you look at my Quality page you'll see a minor difference begin at around 6400 ISO onwards, but it remains a minor difference at very high ISOs only, and to me not a deal-breaker at all. Indeed I should say I was very satisfied with the image quality from the X-T3 which, like earlier models, delivers great-looking files straight out-of-camera; I also enjoyed the new Monochrome Adjustment mode which shows Fujifilm is thinking a lot about how to improve its output from a photographer's perspective.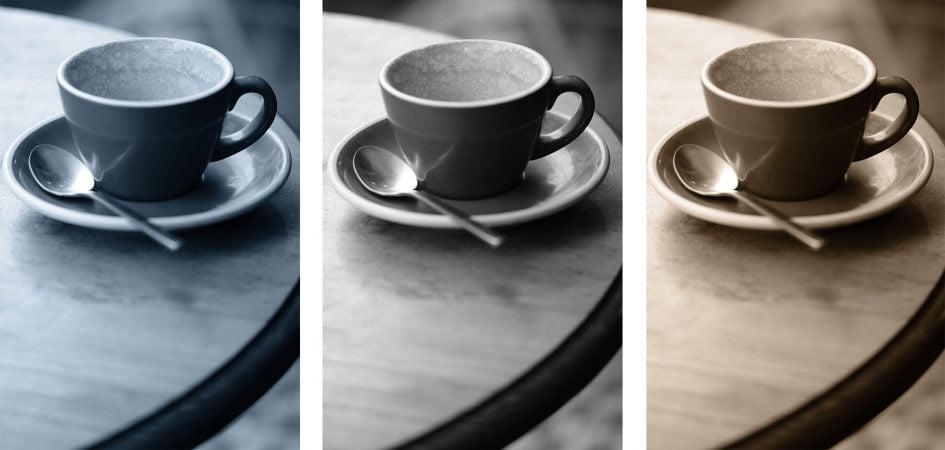 So the two biggest downsides are the lack of built-in stabilisation and a fairly average battery life. Only you can decide if these rule-out the X-T3 for you, but it's important to remember much of the charm of the X-T series is its size and – for me anyway – when Fujifilm deployed IBIS on the X-H1, it resulted in a larger and arguably less attractive camera. In the absence of more advanced battery technology, a longer life would also mean a bigger pack, which in turn could result in an even larger body still. So the question you need to ask is whether you're willing for the X-T series to become larger in order to accommodate these features?
I feel Fujifilm has already answered that by releasing the X-H1 for those who want stabilisation, while keeping the X-T series physically unchanged for those who value compactness.
Despite finding built-in stabilisation very useful, I actually fall into the latter camp. I personally feel the X-T series is pretty much perfect in size, weight and design. Like many, I fell for the style with the first generation, a feeling that's only been cemented with the X-T2 and now the X-T3. I don't want it to become any larger, so I'm personally willing to work around the limitations. Again it's all very personal, but I find the X-T series one of the most satisfying cameras to shoot with: it's attractively-styled, offers a tactile control experience, is small enough to never leave at home, and crucially delivers images that look fantastic out-of-camera, requiring little or no post-processing and never making me yearn for full-frame. The X-T3 inherits all of this from earlier generations, but super-charges the autofocus, bursts and video to make it one of the best APSC cameras for shooting action or filming movies. Of course the question is whether you actually need those enhancements or if the previous X-T2 is actually sufficient, so before my final verdict, a quick comparison.
Fujifilm X-T3 vs Fujifilm X-T2
The X-T3 brings many enhancements over the X-T2, but most of the headlines are based around autofocus, burst shooting and video, so if these aren't that important to you, could the previous model be a better bet? Here's how they compare.
Both cameras have embedded phase-detect autofocus which can focus confidently on action, but the X-T2's array is limited to a large square region in the middle whereas the X-T3 extends across the entire frame. Both cameras can shoot fast bursts but the X-T2's top mechanical speed is 8fps (boostable to 11fps with the optional booster grip), while the X-T3 can shoot at 11fps as standard. Both also offer faster bursts with an electronic shutter, the X-T2 at up to 14fps versus 20fps on the X-T3, or 30fps with a small crop, although as noted earlier, both can suffer from skewing artefacts, so the mechanical shutter is the important figure.
Both cameras can film 4k video, up to 30p on the X-T2 or 60p on the X-T3, while the latter also boasts 10 bit recording (4:2:0 internal or 3:2:2 over the HDMI to an external recorder). The X-T3 also has a built-in headphone jack, whereas the X-T2 requires you to fit the optional booster grip. 4k up to 30p has a mild crop on the X-T2, but uses the full width of the X-T3 sensor.
If you're already satisfied by the video capabilities, autofocus coverage and burst speed of the X-T2, the benefits of the X-T3 become smaller. The X-T3 has a higher resolution viewfinder, a screen that's now touch-sensitive, Bluetooth for easier wireless connections and easy location-tagging, a lockable diopter adjustment, Colour Chrome and Monochrome adjustment modes, minor tweaks around the controls (making them more tactile), and a magnesium alloy plate at the bottom. All are very nice to have, but if you really won't exploit the improved video, faster bursts or broader autofocus, then you may be able to save money by going for the older X-T2 and putting the difference towards a lens. If however you would exploit the video, autofocus or burst improvements, then it's well worth spending the extra on the X-T3. Do also compare prices carefully as if the difference is minimal, it's worth going for the X-T3 even if just for the smaller upgrades it has over its predecessor.
See my Fujifilm X-T2 review for more details.
Fujifilm X-T3 final verdict
Fujifilm's X-T3 is a highly satisfying mirrorless camera and my favourite model in the X-series. It may look a lot like the earlier X-T2, but Fujifilm's latest 26 Megapixel X-Trans IV sensor brings big improvements to autofocus (now across the entire frame), burst speed (up to 11fps mechanical or 30fps electronic), and especially to video (4k up to 60p with 10-bit internal recording). Indeed the X-T3 becomes the best APSC camera for video to date and will confidently take on the Sony A6300 / A6500 for action shooting too. On the downside there's no built-in stabilisation, fairly average battery life, and skewing restricts the usefulness of the electronic shutter modes; vloggers will also wish it had a screen that flipped forward.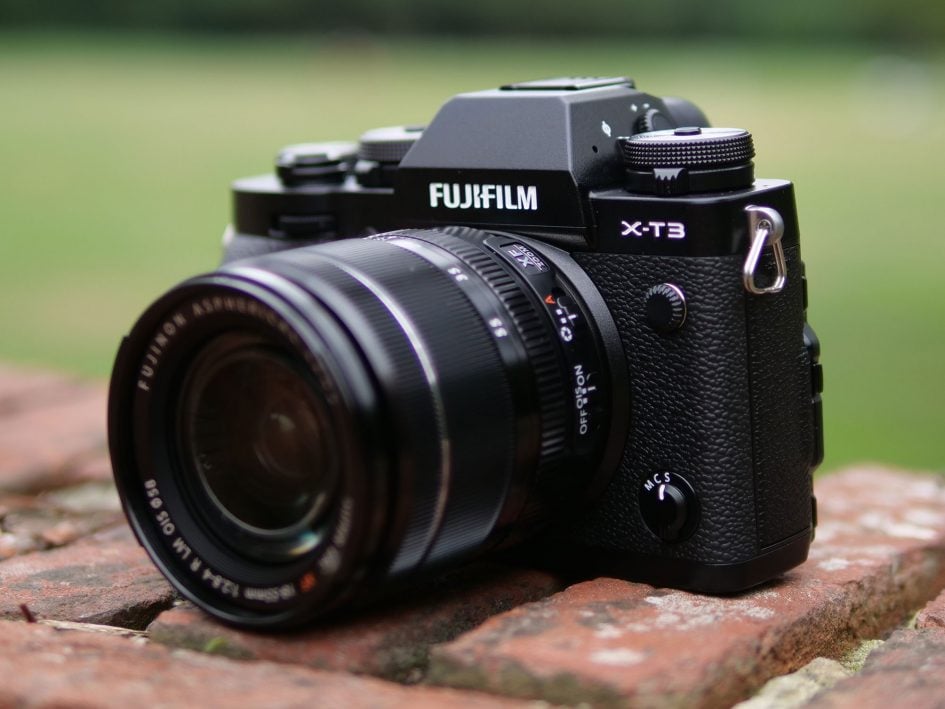 That said I still personally feel the X-T series strikes the perfect balance of size, style and usability, and while I miss IBIS and would prefer a bigger battery, I wouldn't want them if they made the body any larger. Again it's all very personal, but I find the X-T series one of the most satisfying to shoot with: attractively-styled, tactile controls, small enough to never leave at home, and crucially delivering images (and now also video files) that look great out-of-camera, requiring little or no post-processing. If you won't exploit the improvements to autofocus, burst speed or video, then the previous X-T2 remains a tempting option if you can find one at a lower price, but for me the X-T3 becomes one of my favourite all-round cameras and one that easily takes-on full-frame rivals; Highly Recommended.

Check prices on the Fujifilm X-T3 at Amazon, B&H, Adorama, or Wex. Alternatively get yourself a copy of my In Camera book or treat me to a coffee! Thanks!