Fujifilm XT200 review – preview
The Fujifilm X-T200 is an entry-level mirrorless camera aimed at beginners, social photographers and vloggers looking for a step-up in quality and creativity over a smartphone. It features a 24 Megapixel APSC sensor, built-in viewfinder, fully-articulated 3.5in touchscreen that can face-forward, a 3.5mm mic input and uncropped 4k video with autofocus at 24-30p. Announced in January 2020, it's the successor to the X-T100 launched roughly a year and half earlier. In a similar vein to its predecessor, the X-T200 slots between the budget X-A7 and the higher-end X-T30, essentially equipping the former with a viewfinder.
The X-T200 shares the same 24 Megapixel APSC sensor as the X-A7 which features embedded phase-detect autofocus across the frame and a traditional Bater colour filter array, as opposed to the X-Trans design reserved for higher-end models from the X-T30 upwards. Fujifilm's respected image processing still takes place though with the choice of 11 Film Simulations, albeit not including the ACROS, Eterna or Classic Negative options of the latest top-end models. Burst shooting is improved over the X-T100, with the camera now shooting at up to 8fps. Thankfully you can now also film 4k at smooth frame rates between 24 and 30p for clips up to 15 minutes, as well as High Speed 1080 video for up to a five times slowdown; the X-T200 also offers 1:1 square video in 1080p or 720p designed for networks like Instagram. The X-T200 also inherits the large 3.5in 16:9-shaped fully-articulated touchscreen of the X-A7 which, coupled with a 3.5mm microphone input, makes it ideal for vlogging. It also has the X-A7's neat touch slider which lets you preview the effect of two different Film Simulations on a live scene.
Like its predecessor, the X-T200's main selling point over the XA model is a built-in viewfinder – in this case employing the same 2360k dot OLED panel with 0.62x magnification – not huge but par for the course at this price, and a key benefit over models which rely on a screen alone. In terms of connectivity, there's USB C (which can double as a headphone jack with an adapter), Type-D HDMI, Wifi and Bluetooth, while the NP-W126S battery should be good for 270 frames or 450 in economy mode, or roughly an hour of video. The X-T200 will be available in a kit with the XC 15-45mm f3.5-5.6 OIS PZ lens in the choice of silver, dark silver, and champagne from the end of February 2020 at a price of 749 GBP. PS – Fujifilm also launched a new budget prime lens, the XC 35mm f2, providing a standard field of view and bright aperture at a price of 169 GBP. Check back soon for my hands-on previews!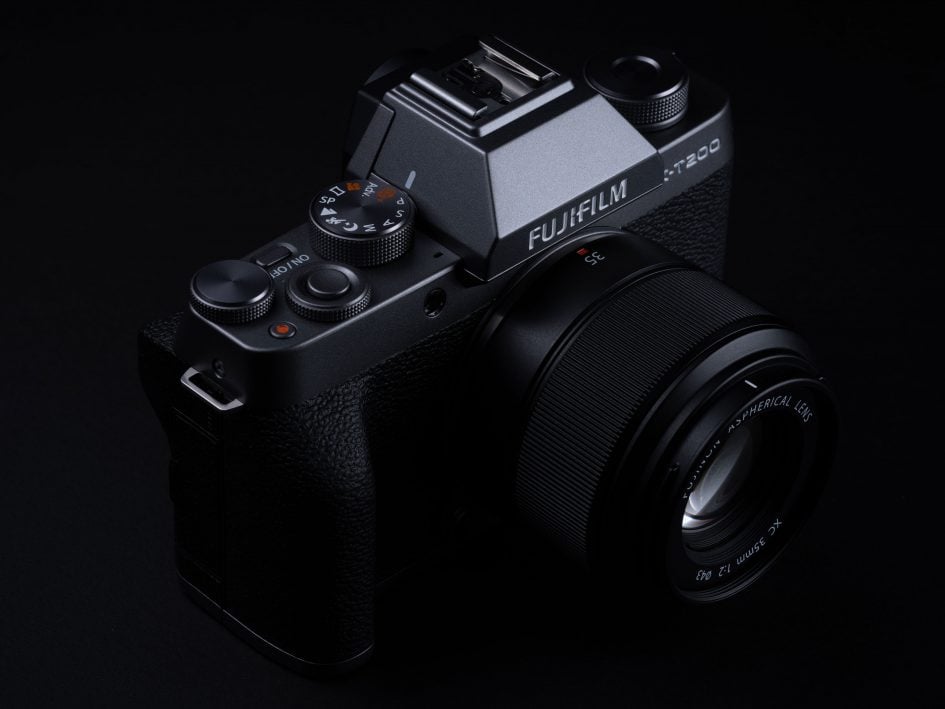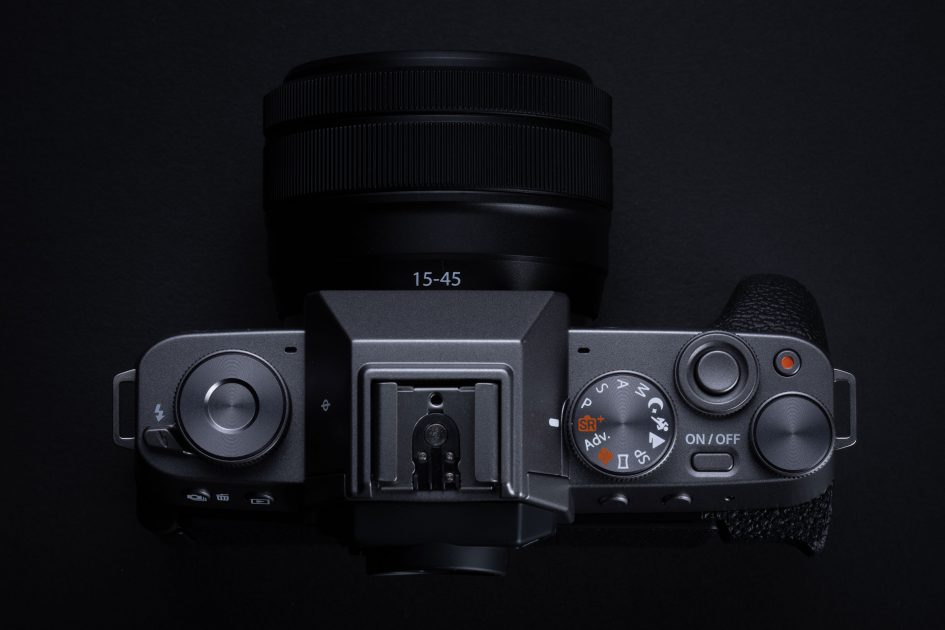 Check prices at Amazon, B&H, Adorama, eBay or Wex. Alternatively get yourself a copy of my In Camera book, an official Cameralabs T-shirt or mug, or treat me to a coffee! Thanks!