Verdict
Fujifilm's XT20 is a highly satisfying camera which packs the quality and autofocus of the flagship XT2 into a smaller, lighter and more affordable body. By sharing the same X-Trans III APSC sensor and image processor, the photo quality is identical – given the same lens of course – and since the AF system is embedded in the sensor, you'll also enjoy quick and confident focusing across a large portion of the frame.
The XT20 also inherits 4k movies from the XT2 and while the overall video quality falls short of the flagship (and the best of its rivals) due to inferior scaling, it remains a visible step up from 1080p footage and a significant improvement over the video quality of its predecessor – not to mention other models which used the older X-Trans II processor.
All this is packed into a compact but attractive retro-styled body with lots of manual control dials, a tilting touchscreen, crisp OLED viewfinder and built-in Wifi for wireless remote control and image transfer with iOS and Android smartphones. And while the XT20 can be seen as a cut-down version of the XT2, it actually features a number of capabilities lacking from the flagship, including a touchscreen and built-in flash. These coupled with the smaller and more affordable body might even make it more attractive than the XT2 for some photographers.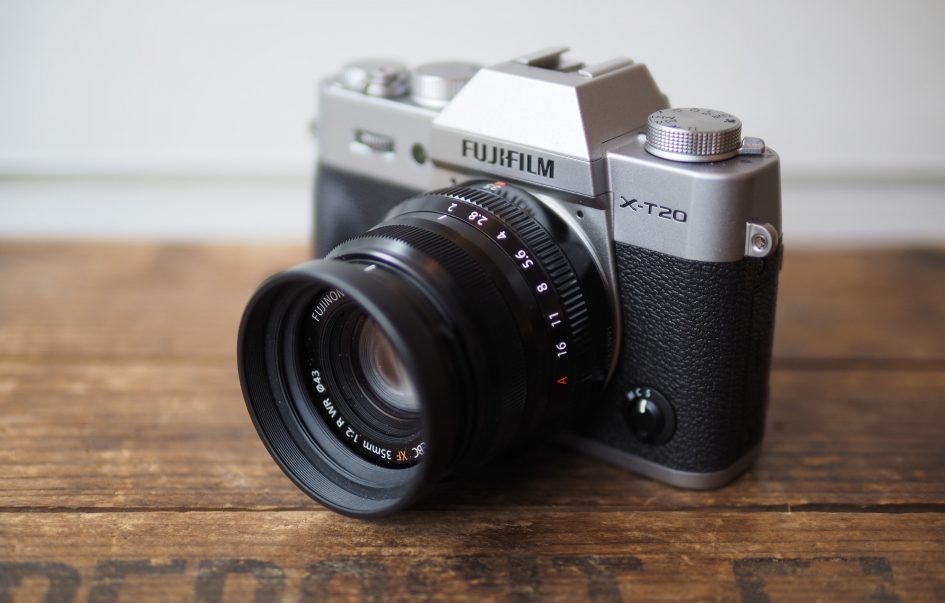 The XT20 continues the premise introduced with its predecessor, the XT10: namely to offer the image quality of the flagship body in a smaller and cheaper body. It also resolves some issues with the XT10 by including far superior video quality and a touchscreen. By inheriting the latest X-Trans III sensor and image processor, the XT20 also gains considerably better autofocus coverage and tracking, support for the latest ACROS black and white film simulation, Fujifilm's grain simulations and the ability to record RAW files in the extended sensitivities – such as at 100 ISO which will delight long exposure photographers.

It all adds up to a body that's much improved over the XT10 and one which will have many potential XT2 owners wondering if they could save some cash and go for this one instead. With that in mind, here are the key differences between the XT20 and XT2.

Fujifilm XT20 vs XT2

Fujifilm's XT20 cherry-picks a number of key features from the flagship XT2 to deliver the same image and movie quality, not to mention the same continuous shooting speeds, while actually including some features absent from the top-end model. As such, like the XT10 before it, it'll be an attractive option for anyone who wants the quality of the XT2 but in a smaller, lighter and more affordable body. But there are of course a number of key differences between them.

In its favour, the flagship XT2 features a tougher, weatherproof body, and while it is larger and heavier, this allows it to sport a more substantial grip. The viewfinder may share the same OLED panel and resolution, but delivers a much larger and immersive image with 0.77x magnification versus 0.62x. The screen is the same size and resolution, but as well as tilting up and down, it'll also angle out sideways on the XT2 for more comfortable framing in the portrait orientation. The XT2 may lack the touch-screen of the XT20, but it does feature an AF joystick for easy positioning of the AF area, and while both bodies share the five AFC presets, the XT2 offers a sixth completely customisable option. The XT2 boasts a fastest mechanical shutter of 1/8000 compared to 1/4000 on the XT20, and a faster flash sync too of 1/250 vs 1/180. In terms of connectivity, the XT2 wins with dual SD card slots (one of which supports the extra speed of UHS-II cards), a full-sized USB-3 port vs USB-2 on the XT20 and a 3.5mm microphone jack vs 2.5mm on the XT20. While both offer 4k video, the XT2 boasts superior scaling and offers a flat F-Log output, albeit currently only through the HDMI to external recorders. Finally, the XT2 enjoys the benefit of an optional battery grip that not only provides portrait controls and a headphone jack, but potentially triples battery life, extends the longest 4k and 1080p clips to 30 minutes, accelerates the top mechanical burst speed to 11fps, and extends the performance boost mode (absent entirely on the XT20) to sport faster AF, shortened blackout times and smoother viewfinder refresh rates. Meanwhile firmware 2.0 for the XT2 updates it with deeper bracketing and bulb timers amongst many other improvements.

See my Fujifilm XT2 review for more details.

Understandably the XT2 out-features the XT20, but it's not all one-sided. In its favour, the XT20 features a touch-screen, a switch to easily enter fully Automatic regardless of your previous settings, a dedicated drive mode dial (albeit swapped from the dedicated ISO dial of the XT2) and a built-in popup flash. The target audience may also prefer the smaller and lighter body that certainly makes it more discreet in street shooting environments.

I think Fujifilm has made sensible choices to differentiate the products and while the XT20 may inherit a great deal from the XT2 only a few months after the flagship model was released, there's more than enough to justify one over the other. Anyone who bought the XT2 purely on the sensor may be miffed to find it deployed soon afterwards in a cheaper body, but the sheer number of additional benefits of the XT2 make it a much more sophisticated proposition that'll continue to be preferred by enthusiasts and pros. Meanwhile for those who just desire the XT2's quality, AF and burst shooting in a smaller, lighter and cheaper body will love the XT20.

Fujifilm XT20 cons

While the XT20 is a highly compelling body, it's not without its faults and limitations. The body is almost entirely shared with the earlier XT10, which means it inherits some features that are now looking dated compared to the competition. The body isn't weather-proof, the SD slot won't exploit the speed of UHS-II cards, the viewfinder magnification is fairly modest, and the microphone input is a fairly non-standard 2.5mm meaning anyone with a 3.5mm accessory will need an inconvenient adapter.

The XT20 may be the first X-body with interchangeable lenses to feature a touchscreen, but it's underused and limited to mostly just repositioning the AF area or swiping through images in playback. None of the menus or settings can be navigated by touch, despite the Q Menu's chunky icons being ripe for tapping; there's also no silent touch controls while filming.

The video, AF and Wifi capabilities may be mostly shared with the flagship XT2 but this doesn't necessarily make them best in class. 4k and 1080p movie clips can be no longer than 10 and 15 minutes respectively to avoid overheating, when most rivals easily offer half an hour of either; note the XT2 resolves this with its optional battery grip, but this isn't compatible with the XT20. There's also no flat profile, which limits the grading options for pro videographers, no frame rates above 60p for slow motion, and the 4k quality itself falls behind the XT2 and the best of its rivals due to more basic scaling.

The AF is an upgrade over the earlier X-Trans II bodies, but still lacks the coverage across the frame, not to mention the ultimate confidence of rival systems from Canon and Sony, especially when it comes to pulling-focus during movies. For the best results when shooting subjects in motion, you'll also need to choose your lenses carefully – the high-end LM zooms work the best.

The Wifi and smartphone app work well for remote control and image transfer, but the geo-tagging remains very basic, successfully transferring the co-ordinates when you start the process, but unforgiveably not updating them as you move away and take more photos. Confusingly the app offers to continue tagging photos for up to 60 minutes, but they'll all be given the same position as the first shot. It's confusing and basic compared to the logging or always-on Bluetooth connectivity offered on several rival bodies.

And like every body in the Fujifilm X-series to date, the XT20 lacks built-in stabilisation which means to counteract the wobbles, you'll need to fit a lens with optical stabilisation. In contrast, rival bodies from Olympus, Panasonic and now Sony too, all feature built-in stabilisation that works with any lens you attach. For me, this is a key problem with the X-series and one that I believe can't be fixed due to the strict size of the imaging circle. Of course it may not be an issue for you, or you may be fine with the optically-stabilised lenses in the collection, but as someone who mostly shoots with the unstabilised primes, I can't help but look at rival systems with envy.

Fujifilm XT20 vs Lumix G80 vs G85

Panasonic's Lumix G80 / G85 is a key rival for the XT20. In its favour, the XT20 has a larger APSC sensor with 50% higher resolution images and lower noise at high ISOs (most noticeable above 6400 ISO), embedded phase-detect AF which in some situations provides better continuous autofocus, faster burst shooting with or without AF, USB charging, retro controls which some photographers may prefer and arguably the best out-of-camera JPEGs of any system. In its favour, the G80 / G85 features built-in stabilisation that works with any lens you attach, 4k and 1080p clips up to half an hour long, higher quality 4k footage with the option of a flat profile, a larger viewfinder magnification, a fully-articulated flip-out screen, GPS location logging, a more standard 3.5mm microphone input and Panasonic's innovative 4k Photo modes which effectively let you shoot 8 Megapixel images at 30fps or refocus them after the event. I'd say these all make the G80 / G85 one of the best general-purpose cameras around and one you should closely compare, especially as in my tests there wasn't as much difference in resolution and noise as you'd expect in common situations. See my Lumix G80 / G85 review for more details.

Fujifilm XT20 vs Sony A6300

Sony's A6300 is another key rival for the XT20. Both have 24 Megapixel APSC sensors without built-in stabilisation, and while I prefer the JPEG style of the XT20, both deliver good-looking images with essentially the same resolution and noise levels. Both bodies employ embedded phase-detect autofocus, but the Sony's is broader, covering most of its frame, and in my tests proved more confident too when shooting fast action or pulling focus in movies. Sony's burst shooting with the mechanical shutter is also faster: 11fps vs 8fps, or 8fps vs 5fps with live feedback. The Sony can also record half hour clips in 4k or 1080p, offers 1080 at higher frame rates for slow motion, as well as a flat S-Log profile and a more standard 3.5mm microphone input. The A6300's body is also smaller due to its flat-topped design, but this may not be an advantage depending on your preferences.

The XT20 fights back with a different screen shape that better fits photos, touchscreen capabilities, and what for most photographers I speak to, superior controls – and better looks too. Indeed the superior ergonomics and better out-of-camera JPEGs could nail it for most stills photographers, but anyone who shoots action or video will find the A6300 a superior choice – and lest we forget, if your budget can stretch a little higher, the A6500 takes the A6300 and fits it with a touchscreen, built-in stabilisation and Bluetooth for seamless location tagging. See my Sony A6300 review and Sony A6500 review for more details.

Fujifilm XT20 vs Olympus OMD EM10 Mark II

The earlier Fujifilm XT10 had a key rival in the form of the Olympus OMD EM10 Mark II, but without an update at the time of writing, the XT20 sails ahead to become a far better-featured camera. Of course this also means the EM10 Mark II, as an older camera, currently enjoys significant discounting, so if you don't need the latest features or highest resolutions, or are on a tighter budget, it's still worth checking out. After all you're getting a compact retro-styled body with a good viewfinder, tilting touchscreen and excellent built-in stabilisation at a low price, making it a great low-cost interchangeable lens camera. See my Olympus OMD EM10 Mark II review for more details. PS – I'd be surprised if Olympus doesn't update this body in 2017.

Fujifilm XT20 vs XT1

Another interesting comparison is with the older XT1, whether for existing owners looking to upgrade, or new buyers wondering whether an older flagship would be a better bet than a brand new mid-range model. In its favour, the new XT20 has the next generation sensor with 50% more Megapixels, a much broader embedded phase-detect AF system, support for the ACROS monochrome mode, grain simulations and 4k video, as well as RAW at 100 ISO. It also has a touch-sensitive screen, built-in flash and USB charging. Some may also prefer the XT20's smaller and lighter body.

In its favour, the older XT1 has a larger weather-proof body with a chunkier grip, a PC sync port for connecting studio lighting, a dedicated ISO dial, and a larger viewfinder image. If you need the most affordable Fuji body with weather-proofing and a PC Sync port, then it could be worth a look, and there's no doubt the larger grip is more comfortable and the bigger viewfinder magnification nicer to compose with. But for me the multiple benefits of the new sensor make the XT20 preferable overall. Indeed I can think of many XT1 owners who may opt for the XT20 over the XT2, saving some money while achieving the same image quality. See my Fujifilm XT1 review for more details.

Fujifilm XT20 final verdict

The Fujifilm XT20 is a highly compelling mid-range body, delivering the fabulous out-of-camera image quality, not to mention much of the autofocus, burst shooting and video capabilities of the flagship XT2 in a smaller, lighter and much more affordable body. It may lack the XT2's weather-proofing, twin card slots, AF joystick, larger viewfinder and screen that angles sideways as well as vertically, but it boasts features absent from the flagship including a popup flash and touchscreen. Compared to rivals, it lacks built-in stabilisation, 4k movie clips longer than ten minutes, video above 60fps, a decent geo-tagging solution, and a card slot that can exploit UHS-II card speeds, while the focus-pulling in movies isn't as confident as the best. But as a general-purpose body, the XT20 remains a great choice, not just against new rivals but also as an upgrade for the earlier XT10 and XT1. An easy camera to recommend and one that manages to edge into my Highly Recommended category.

Good points
Best out-of-camera quality in its peer group.
Good quality viewfinder and tilting touch-screen.
Good continuous AF in the middle of the frame.
Built-in Wifi with smartphone remote control.
Silent shutter option. E-Shutter up to 1/32000.

Bad points
Short movie clips: Ten or 15 minutes in 4k or 1080p.
Basic three-frame AE bracketing. No Bulb timer.
Touchscreen underused compared to rivals.
Microphone input uses 2.5mm jack.
SD slot doesn't exploit UHS-II speed.
No built-in stabilisation.
Geo-tagging in app limited to one location per session.

Check prices on the Fujifilm X-T20 at Amazon, B&H, Adorama, or Wex. Alternatively get yourself a copy of my In Camera book or treat me to a coffee! Thanks!