Verdict
Fujifilm's XT10 brings the superb image quality of the flagship XT1 to a smaller, lighter and much more affordable body. The combination of Fujifilm's unique sensor, faithful image processing and superb lenses makes it easy to capture great-looking images straight-out-of-camera without modification. Quite simply, the XT10 is the mid-range mirrorless camera for those who prioritise photo quality over movies and other frills.
That's not to say the XT10 is bereft of modern features. It boasts an excellent OLED viewfinder, a 3in tilting screen, built-in Wifi, a silent electronic shutter option and embedded phase-detect AF for surprisingly respectable continuous AF (at least in the middle of the frame). But look amongst its key rivals and you'll find superior movie quality, smaller (albeit sometimes lower quality) kit zooms, in-camera timelapse videos, deeper bracketing, and on specific models, touch-screens, built-in stabilisation or better continuous shooting.
I'm also in two minds over Fujifilm's retro-inspired controls which may be enjoyable for the higher-end XT1's target audience, but are arguably less intuitive to photographers shopping in the XT10's lower price bracket. That said, Fujifilm has been considerate enough to fit a lever that switches the camera into full Auto if desired and I haven't found anyone who hasn't loved the look of the camera.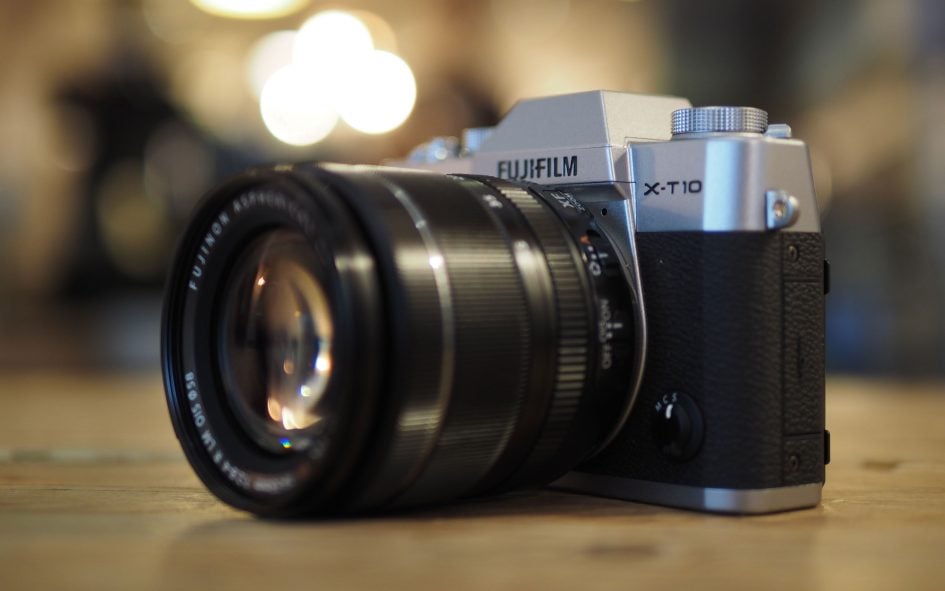 If you're considering the XT10, you should also be looking at its three main rivals: the Panasonic Lumix G7, Olympus OMD EM10 II and the Sony Alpha A6000. All four are great mid-range mirrorless cameras that can handle almost any situation, but each stands-out in different ways.
If video is a priority, Panasonic currently leads the pack in this category with its Lumix G7. This offers a 3.5mm microphone input, higher resolution 4k video (along with the chance to grab stills from footage in-camera), gradeable profiles, in-camera timelapse videos, and also boasts a side-hinged fully articulated screen which you may prefer for composition. Still photographers will also benefit from the fully-articulated screen which is also touch-sensitive, low-light autofocus, and the largest viewfinder magnification of the group here. This all makes it a very strong camera for the money. See my Panasonic Lumix G7 review for more details.
If shooting action is your thing, the best camera in this category remains Sony's Alpha A6000 which offers the killer combination of an effective embedded phase-detect AF system across most of the frame, 11fps continuous shooting and long bursts. Forget leisurely cyclists – I've used the A6000 at two Tour de Frances with a high degree of success. But I personally dislike the controls on the A6000 and its viewfinder specification is showing its age compared to its latest rivals. See my Sony A6000 review for more details.
If you're after a great all-rounder, take a look at the Olympus OMD EM10 Mark II. Compact with its collapsing kit zoom, easy to use, fast focusing (for single AF), great face detection, a tilting touch-screen and best of all, very effective built-in stabilisation that works with any lens you attach. These all make the EM10 II very appealing to beginners but it's also packed with advanced shooting modes including a number of innovative long exposure options and a new focus bracketing mode that will delight high-end macro and product photographers. See my Olympus OMD EM10 II review for more details.
As for the Fujifilm XT10, its forte once again is image quality, delivering the best-looking photos of its peer group, not to mention better than many higher-end cameras. I'd say the general handling, focusing and controls are better-suited to more considered rather than spontaneous subjects – such as landscapes, architecture and posed portraits – although in the right conditions it can handle a bit of action and I also know many who successfully use it for street photography. Long exposure photographers will also love the fact it records very clean images without having to wait around for a dark frame to be captured, and in my own tests I didn't find any light leak issues which plagued the initial batches of XT1s.
The more I used the XT10, the more I liked it, but I'd definitely say it's more for the aspirational photographer than the beginner. Someone who aspires to an XT1, but can't afford it or would prefer to spend the difference investing in lenses. So before my final verdict, here's a look at how the XT10 differs from the flagship model.
Fujifilm XT10 vs XT1
The XT10 may at first glance come across as a budget version of the XT1, but actually shares a great deal with the flagship model. The sensor, processor and lens mount are the same, so the image quality is also the same. The AF system is also identical to the XT1, at least when the XT1 is running its mid-2015 firmware update. It also shares the electronic shutter and multiple 1080p frame rates, introduced on an earlier XT1 update. The screen's the same too, a 3in panel with a 3:2 shape and 920k resolution, with the ability to tilt up by 90 degrees or down by about 45 degrees. They both share built-in Wifi, the same battery, the same battery life and even the maximum continuous shooting speed is the same at 8fps.
So what's different? Most obviously there's the body itself, now smaller and lighter, albeit less tough and with fewer controls. The grip is smaller on the XT10 and while there's still a dedicated shutter speed and exposure compensation dial, the ISO dial of the XT1 is now delegated to adjusting the drive mode on the XT10.
The weatherproofing of the XT1 is understandably absent on the cheaper XT10, as is the all magnesium body, but the upper and lower plates are die-cast magnesium and the dials milled from aluminium. So the XT10 is still a classy camera, and if you fancy more to hold onto, there's an optional handgrip which, like the XT1, features a dove-tailed base for sliding straight onto Arca-Swiss compatible heads.
The XT10 loses the PC-Sync port of the XT1, but keeps the hotshoe and importantly for this end of the market, gains a new popup flash. I'm also pleased to report the return of a shutter release button that's threaded for cheap cable release accessories – something that featured on some earlier Fujifilm models. It's also worth mentioning the rear buttons are more raised on the XT10 which makes them easier to press than the XT1.
Both cameras feature OLED viewfinder panels with 2360k dot / 1024×768 resolution, but with different magnifications: 0.62x versus 0.77x on the XT1. Use them side-by-side and you'll notice the XT1's viewfinder image is comfortably larger, as are the viewfinders on most other higher-end models. But compared to other cameras at its mid-range price point, the XT10's viewfinder image size is normal. There's also an eye sensor to switch off the screen.
The continuous shooting speed may be the same 8fps on the XT10 and XT1, but the cheaper model can only muster a one-second burst of eight frames at this speed, whereas I managed to capture 34 frames on the XT1 at 8fps. Switch it to the slower 3fps speed though and the XT10 should shoot until you run out of memory.
In terms of other ports, the XT10 employs a smaller HDMI socket, and while the microphone input remains, annoyingly it's still the non-standard 2.5mm size. I realize Fujifilm may want to retain compatibility with some 2.5mm remote cables, but now there's a threaded cable release I'd sooner have had them swap the mic port to a 3.5mm size that would work with more external microphones.
So the main benefits of the XT1 are the weatherproof body, larger viewfinder image, PC Sync port, larger shooting buffer and the dedicated ISO dial. See my Fujifilm XT1 review for more details.
Fujifilm XT10 final verdict
The Fujifilm XT10 is a prime example of technology filtering down into a more affordable model. Roughly 15 months after the XT1 was launched, the XT10 brings you most of its capabilities and all of its quality in a smaller, lighter and comfortably cheaper body. Sure it's lacking the toughness and larger viewfinder image of the XT1, but otherwise it shares a very similar feature set, not to mention the same image quality, AF system and maximum continuous shooting speed.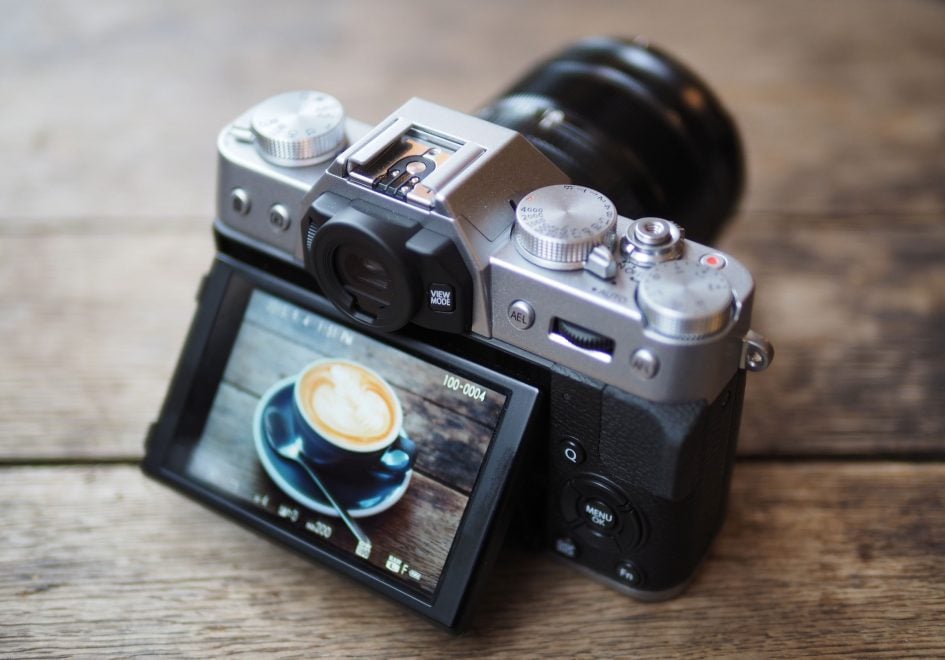 As such the XT10 looks like a bargain, although the retro controls may not appeal to everyone at this end of the market. I personally feel many people shopping for a mid-range mirrorless camera may prefer a more modern control system with a mode dial and touchscreen, rather than having a dedicated shutter speed dial and a non touch-sensitive screen. As such I feel the XT10 will appeal more to aspirational photographers rather than beginners; those who desire an XT1 but can't stretch to its higher price. Equally, if you don't need the weather-sealing of the XT1, you could save yourself some money here that could go towards one of Fuji's rather tasty lenses.
If you are shopping for your first mirrorless camera, or stepping-up from an entry-level model though, I'd still urge you to consider the XT10 as it delivers the superb quality of the X-system in a compact, attractive and affordable body, and until you master the retro controls there's always the lever that switches it to full Auto. Fujifilm's cleverly balanced the feature-set so the XT10 never feels cut-down or compromised compared to higher-end models. It all adds up to a very satisfying camera for those who prioritise image quality over video and you never know, you may end loving the retro controls.
Good points
Best image quality in its peer group.
Great quality viewfinder and tilting screen.
Good continuous AF in the middle of the frame.
Built-in Wifi with smartphone remote control.
Silent shutter option. E-Shutter up to 1/32000.
Bad points
Basic movie quality and capabilities.
No touchscreen.
No RAW at 100 ISO. RAW starts at 200 ISO.
Basic three-frame AE bracketing.
Microphone input uses 2.5mm jack.