Verdict
The X-H2S is Fujifilm's most assured camera for action, sports and wildlife photography to date, inheriting the photo quality of the previous generation but crucially delivering it in a much faster and more confident body.
While I miss the vintage aesthetic of earlier models, I have no complaints with the controls from a functional perspective, and the camera feels great in your hands. The viewfinder delivers a large and detailed image with fast refresh rates for smoothly following the action, and the fully-articulated screen allows you to comfortably shoot high or low in landscape or portrait orientations.
The photo quality may be essentially the same as X-Trans IV models, but the stacked sensor reduces the skewing effect from rolling shutter. This in turn makes the high speed burst models more practical than previous models. The CF Express slot also reduces a bottleneck, allowing longer bursts and much faster flushing of the buffer to shoot again, although if you're recording to both card slots simultaneously, the SD could potentially slow you down.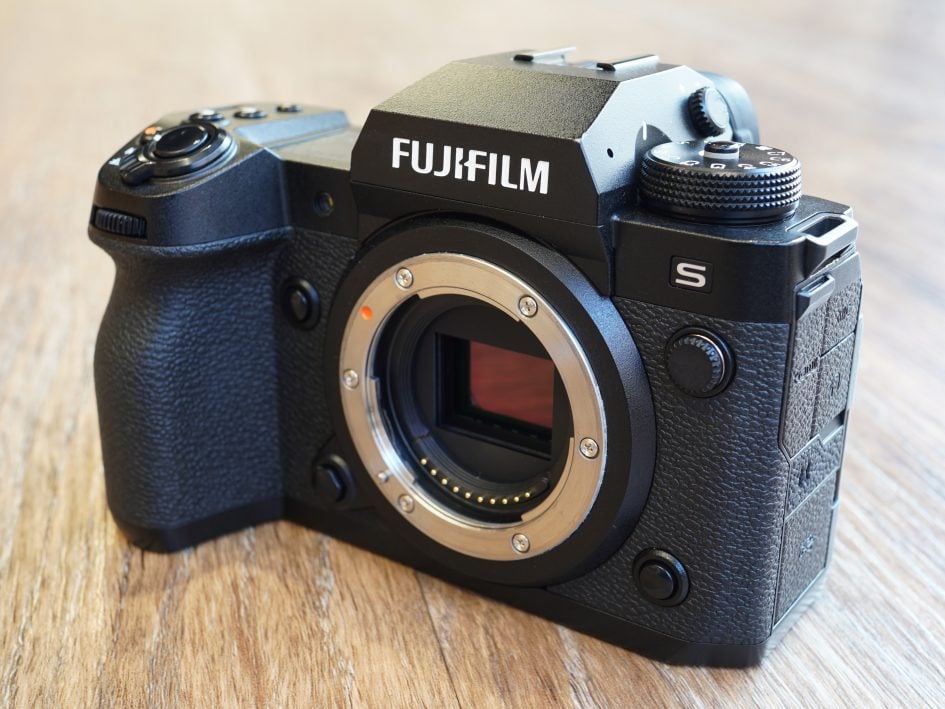 The autofocus system also represents a big upgrade over previous generations with effective recognition and tracking for a variety of subjects, although I'd have preferred for human face and eye detection to be integrated in the same menu. In my tests with birds, I found Canon and Sony's tracking to be stickier, but the X-H2S still comfortably out-performed its predecessors and delivered a large number of keepers at high burst speeds.
The stacked sensor, high res viewfinder and CF Express slot all add to the cost though, making the X-H2S one of the priciest APSC cameras to date. To be fair, other stacked sensor cameras aren't exactly cheap either. The Olympus OM-1 undercuts it slightly, albeit employing a smaller Four Thirds sensor, while stacked full-framers like Sony's A9 II costs almost double.
So you have to ask yourself honestly if you'll exploit the benefits, and a lot of it boils down to how much you need the top speed and silence of an electronic burst, coupled with minimal skewing even with quick action. Maybe your subject wouldn't trigger skewing on a camera with a slower sensor. Or maybe a mechanical shutter would be fast enough for your needs.
Like many flagship bodies, the X-H2S is an unapologetically specialist camera that will only be justified by a small number of photographers. Don't buy it unless you're one of them. If you love Fujifilm's images and lenses but won't exploit the stacked sensor, consider an X-T4 or the upcoming X-H2 version instead.
That said, it is important to compare the cost of a simple wildlife setup with a single big lens. Canon's EOS R7 may significantly undercut the body price of the X-H2S, but if you're thinking of equipping it with a new RF 100-500 zoom, you could alternatively buy an X-H2S with the XF 150-600 for much the same money and enjoy the benefits of the stacked sensor, a higher res viewfinder and CF Express slot. Sure the RF lens is corrected for full-frame bodies, but plenty of birders will be fitting it on the R7 in the absence of an L-class tele-zoom designed for APSC – something, lest we forget, Canon never made for EF-S DSLRs.
The moral of course being to not only think carefully about which body features you really need, but the system cost as a whole when you factor in the lenses you desire. I look forward to making some direct comparisons between the X-H2S and R7 in a future video.
Fujifilm X-H2S verdict for videographers
The X-H2S represents a big upgrade for videographers over previous generations to become Fujifilm's most confident and capable movie camera to date.

The video quality is excellent in both 1080 and 4k resolutions up to 120p, there's a useful 6.2k open-gate mode for handy reframing, unlimited recording times with no overheating issues in my indoor tests, while the stacked sensor reduces skewing from rolling shutter.

There's also the option to record internal ProRes or external RAW, the latter to Atomos or Blackmagic recorders and benefiting from the full-size HDMI port on the body.

The autofocus is also greatly improved, now more confident and supporting a wealth of subject tracking options, although in my tests there were still occasional hesitations or moments that felt less sticky than the best models from Canon and Sony. And if you're manually focusing, the enlarged assist-view was lacking in detail.

While the video quality looked great up to 120p, the 200 and 240p options for 1080 suffered from a noticeable loss of quality as well as incurring a substantial crop. In my tests, the stabilisation worked great for static compositions, but less well when I moved the camera.

As a high-end video camera, the X-H2S also lacks some of the features included on models like the Lumix GH6, including waveform monitors and specific options for anamorphic filming. Indeed the GH6 is a key alternative that's a little cheaper, and don't forget the wealth of full-framers around this price point if you're willing to live without a stacked sensor or 4k 120.

But there's no arguing with the quality from the X-H2S, whether employing one of the built-in Film Simulations or grading footage, especially with the extended dynamic range of F-Log 2. I enjoyed filming with the X-H2S and it should be shortlisted for anyone looking for a high-end option at this price point. And don't forget that while it is one of the most expensive cameras to date with an APSC sensor, it remains comfortably cheaper than stacked full-framers. So think carefully about what you're filming and crucially, how you film it.

Check prices on the Fujifilm X-H2S at B&H, Adorama, WEX UK or Calumet.de. Alternatively get yourself a copy of my In Camera book, an official Cameralabs T-shirt or mug, or treat me to a coffee! Thanks!