Verdict
The Fujifilm X-H1 is the most capable model in the mirrorless X-series to date, taking the core control, speed and quality of the popular X-T2 and upgrading it with a tougher shell, deeper grip, touchscreen, improved movie features, a more detailed viewfinder, Bluetooth connectivity and most importantly, built-in stabilisation that works with any lens you attach.
Fujifilm has long stated built-in stabilisation wouldn't be possible on the X-series due to the tightness of the lens's imaging circle, but it turns out there's more wriggle-room than we thought which, coupled with software correction for any vignetting, has allowed the X-H1 to debut the capability. Like most version one implementations, it's understandably not as refined or effective as the more established systems from Olympus, Panasonic and Sony. In my tests I typically achieved three to four stops of compensation for still photos, while video footage wasn't as eerily steady as the best of its rivals. But don't get me wrong: the X-H1 still transforms the experience with Fujifilm's lenses that lack optical stabilisation of their own. In particular the XF 16-55mm, XF 56mm and XF 90mm all become so much more usable than before with the X-H1 not only letting you film (mostly) shake-free video or handhold stills at slower shutter speeds, but crucially allowing you to frame precisely with a steady view. I also didn't notice any compromise in corner quality – if there's any corrections taking place, or the sensor drifting beyond an optimal imaging circle, I didn't notice any negative impact on my test shots. It's a fantastic addition to the X-series and one I hope can be miniaturized for the smaller bodies in the future.
The other upgrades further refine the overall experience. The thicker shell and more scratch-resistant surface, coupled with the considerably more substantial grip, give the X-H1 a very confident feel in your hands. It's become fairly large as a result, but feels right at home with the bigger lenses in the system, particularly the sporty zooms. And while Fujifilm's fairly new to touchscreens, it's already passed Sony on the implementation with a new silent movie control option in addition to the tappable function menu and gesture swipes introduced on the X-E3. The boost in viewfinder detail delivers a more natural view, as well as making manual focusing easier without magnifying the image. I also grew very fond of the upper information screen inherited from the GFX-50S that exploits Kindle-style display technology to remain visible under any lighting conditions.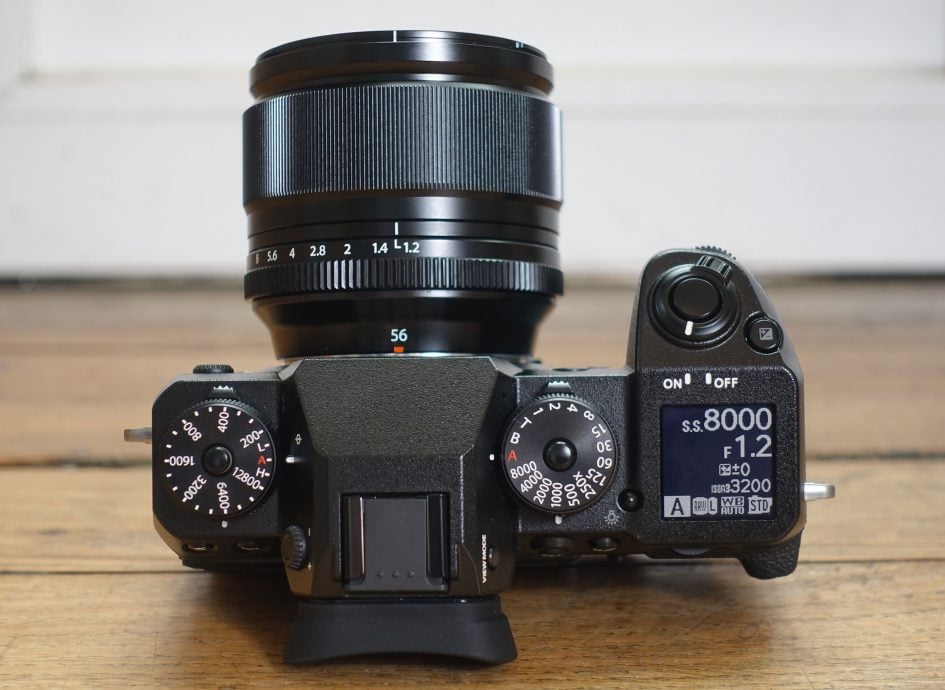 Then there's the core capabilities inherited from the models before it: the retro-style shutter and ISO dials, and the superb out-of-camera quality from the 24 Megapixel APS-C X-Trans III sensor and image processor. I say it in every Fujifilm review, but still believe they have the best colour science in the industry. Their rivals are catching up, but there's still a style and quality to the Fujifilm images that I just adore. I'm also very fond of the new Eterna Film Simulation introduced on the X-H1 that delivers great-looking video footage that's good to go without grading. But if you are a video professional, you'll also appreciate the ability to record F-Log direct to an SD card, as well as being able to capture 4k in the wider Cinema4k format and at rates up to 200Mbit/s.
It all adds up to Fujifilm's most capable and professional X-series body to date. If you're invested in the X system and want a tougher body that's better-balanced with big lenses, desire better video features or a camera that finally stabilizes all your lenses, then the X-H1 will be a very tempting option.
But it's important to also understand what the X-H1 won't do. If you already own a body with an X-Trans III sensor, you won't be enjoying an upgrade in image quality; it also means you can essentially match the X-H1's quality in a body costing less than half the price with models like the X-T20. I also wonder if the X-H1 will be the last new body to use this sensor. This may not be an issue if we were discussing an entry-level or mid-range camera, but investing in a flagship body with a two year old sensor is a harder sell.
The same sensor and image processor means the X-H1's speed is also essentially matched by earlier bodies too. The same 8fps mechanical and 14fps electronic burst speeds that need to be slowed to 5fps for live feedback.
Despite that hefty grip on the X-H1, you won't be enjoying a bigger battery either. The X-H1 employs the same pack as the X-T2, but with the additional hunger of built-in stabilisation meaning you'll need to carry spares for a full day's shooting. At least there's now USB charging for a top-up while you're in the field.
The X-H1 also partly inherits the movie clip length limitations of earlier bodies too, and while it can record a little longer than before, you're still looking at a maximum clip length of 15 minutes for 4k and 20 minutes for 1080p.
Fujifilm does have a solution to battery worries that also resolves the movie clip limitation: like the X-T2 before it, an optional Vertical Power Booster grip accessory allows the camera to exploit three batteries simultaneously, while also extending all movie clips to half an hour. It'll also boost the mechanical burst speed to 11fps and add a headphone jack and AC input.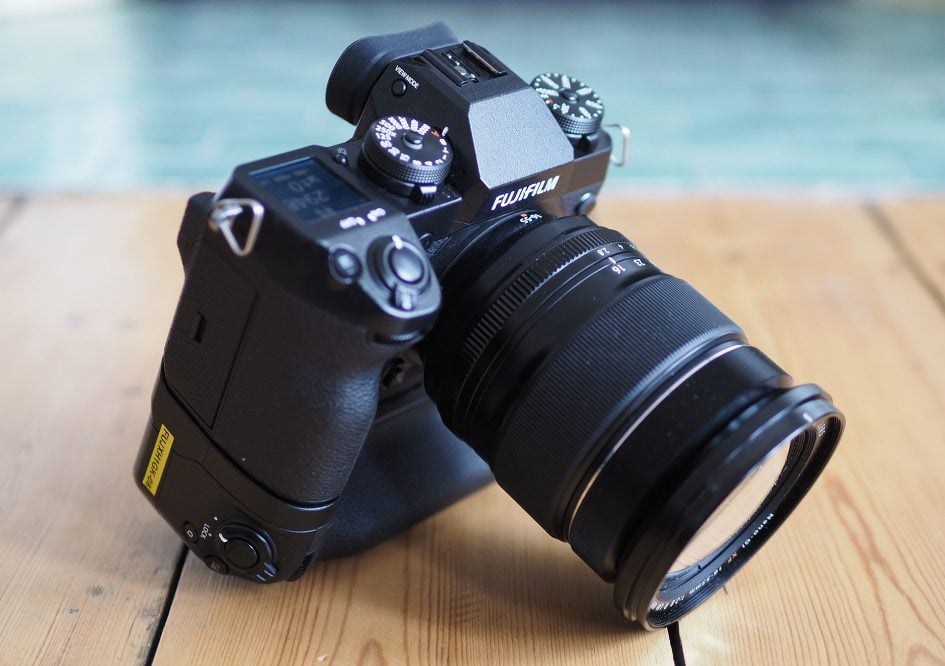 That's all well and good, but I feel less convinced by the booster as a performance-enhancer on the X-H1 than I did on the X-T2. On the X-T2 you started with a more compact body with cut-down performance that could be upgraded by fitting the grip. But with the X-H1 you're starting with a larger, heavier, more expensive and newer body that still suffers from similar restrictions until the grip is fitted.
I should also add that while the X-H1 is equipped with Bluetooth, the GPS tagging implementation didn't work at the time of writing and will require a firmware update.
Revealingly the X-H1's key rivals at similar price points don't suffer from the same limitations in their bare body forms. The Sony A7 III, Panasonic Lumix G9 and Olympus OMD EM1 Mark II all have larger battery packs that last over twice as long. They can all record half hour movie clips and come with headphone jacks. All have more effective stabilisation and faster burst shooting whether you're opting for live feedback or not. Panasonic and Olympus additionally have fully-articulated screens that can face-forward for filming pieces to camera. Panasonic and Sony have far superior Bluetooth implementations that work today. Panasonic and Olympus also have shooting modes that can start buffering frames before you fully depress the shutter, ensuring you never miss a decisive moment. Sony and Olympus both offer broader and more confident phase-detect autofocus coverage, with Sony additionally boasting fantastic eye-detection even with continuous AF, and if you're really into sports, it's still hard to beat the Nikon D500's highly responsive AF system. All of this without the cost or size of adding a battery grip to any of them.
There is of course the question of sensor to consider. The Olympus OMD EM1 Mark II and Panasonic Lumix G9 employ smaller and slightly lower resolution Four Third sensors which are out-performed by Fujifilm's APS-C sensor at high sensitivities – although in my tests this didn't become really noticeable until you were beyond 6400 ISO, so if you mostly shoot at lower ISOs it shouldn't be a major issue. See my Panasonic Lumix G9 review and Olympus OMD EM1 Mark II review for more details.
Conversely, the Sony A7 III has really put the cat among the pigeons by offering a larger full-frame sensor for much the same money. At this point, the informed question would be to ask about the respective lenses, especially the cost and size of full-frame options for the A7 III. It's certainly true Sony's best lenses are fairly large and expensive, but they do have some lower priced options that perform very well. For instance the FE 24-105mm f4G OSS costs in the same ballpark as Fujifilm's XF 16-55mm f2.8 and when mounted on their respective bodies, the overall size, weight, optical quality and potential for depth-of-field is very similar, except the Sony reaches a little further. Oh, and with the A7 III you're getting a larger full-frame sensor, bigger battery, broader phase-detect AF, faster burst shooting, and working Bluetooth; see my Sony A7 III review and Sony FE 24-105mm review for more details.
Ultimately the X-H1 will confidently handle a wide variety of subjects and conditions. It can shoot portraits, landscapes, long exposures, sports, wildlife and movies with great results whether you're into post production or exploiting its quality out-of-camera. I loved my time with it, especially the way the stabilisation transformed the usability of my favourite prime lenses in the catalogue.
But I am troubled by the disappointing battery life especially given the larger and hungrier body, the reliance of the booster grip to match the performance of rivals, and the fact you're paying a flagship price for image quality that's been available for two years and on lower-priced models. I know that sounds slightly contradictory given a moment ago I said how much I liked the quality of X-Trans III, but if I'm paying for the newest, largest and most expensive body in the range, I don't think it's unreasonable to also expect a boost in quality – even if it's using the same sensor with a pixel-shift enhancement. I understand Fujifilm's eagerness to launch their first body with built-in stabilisation, but feel the X-H1's size, price and position would have been more comfortable with a new sensor and battery.
I'm working on a more detailed comparison of the Fujifilm X-H1 and its rivals, so check back soon for that. In the meantime, check out my Sony A7 III review, Sony A6500 review, Panasonic Lumix G9 review and Olympus OMD EM1 Mark II review.
Fujifilm X-H1 final verdict
The Fujifilm X-H1 is the new flagship in the mirrorless X-series. It essentially takes the X-T2 with its 24 Megapixel APSC X-Trans III sensor and adds built-in stabilisation (a first in the X-series), a touch-screen, tougher build, a bigger grip, enhanced movie features, a more detailed viewfinder, and Bluetooth connectivity.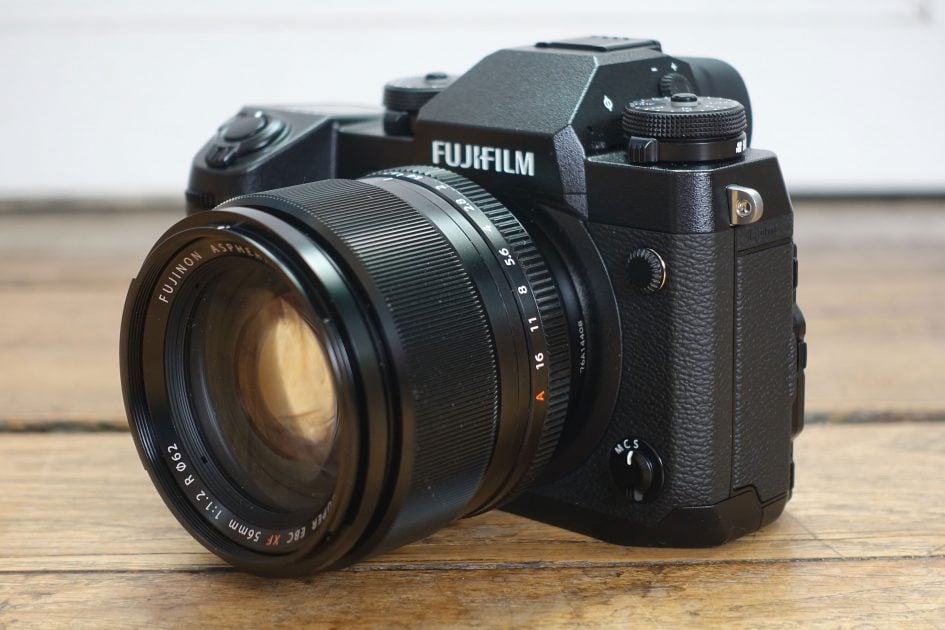 The debut of built-in stabilisation transforms the usefulness of Fujifilm's growing lens catalogue for stills and movies, and the larger body makes the X-H1 feel right at home with the bigger lenses. Despite the heftier body though, the battery remains underpowered and the movies limited to 15 minute clips for 4k or 20 minutes for 1080p; both are resolved by fitting the optional booster grip, but it's revealing the X-H1 needs it to match many of the standard features on its rivals. And while I'm personally very satisfied by the photo – and video – quality of the X-H1, the fact remains the sensor is two years old and now available on bodies half the price. A large flagship camera in 2018 really shouldn't have a disappointing battery and deserves to debut a boost in photo quality too.

Ultimately the X-H1 is a confident all-rounder, but one that's beaten in many respects by rivals, most notably the full-frame Sony A7 III. If however you're wedded to the X-system, the X-H1 becomes the most capable body to date and one that's a joy to shoot with, delivering excellent photo and video quality out-of-camera with the benefit of built-in stabilisation.

Check prices on the Fujifilm XH1 at Amazon, B&H, Adorama, or Wex. Alternatively get yourself a copy of my In Camera book or treat me to a coffee! Thanks!