In depth
The Fujifilm XH1 is a high-end mirrorless camera aimed at pro photographers and demanding enthusiasts. Announced in February 2018, it claims the flagship position in the current X-series, above the earlier X-Pro2 and XT2. The XH2 employs the same 24 Megapixel APSC X-Trans III sensor as most of the bodies in the current X-series line-up, but is the first to stabilize it within the body; Fuji claims this new 5-axis system delivers up to five stops of compensation. The X-Trans III sensor also equips the XH1 with embedded phase-detect autofocus, although Fuji has improved its low-light sensitivity from 0.5 to -1 EV and now supports focusing at f11 (handy if you're using teleconverters).

The weather-sealed body is Fuji's toughest yet in the series with a shell employing magnesium that's 25% thicker than the XT2, and a harder, more scratch-resistant surface coating. The chunky grip is also the largest in the X series to date, and swaps the exposure compensation dial for the customizable LCD panel of the GFX medium format body. The XH1 inherits the dual card slots and AF joystick of the XT2, but adds a new AF-ON button as well as enlarging some of the buttons on the rear. The XH1 also inherits the 3in screen of the XT2 which supports vertical and horizontal tilting, albeit still unable to face forward to the subject for selfies or filming pieces to camera; on the plus side it's now touch-sensitive, allowing you to tap to reposition the AF area, pull-focus while filming, as well as swiping through various options. Meanwhile the electronic viewfinder now employs a higher resolution 3.69 million dot OLED panel with 0.75x magnification. As you'd expect, the XH1 also now complements its Wifi with Bluetooth, and thanks to a recent update to the smartphone app, it should now be possible to receive and embed updated GPS positions as you change locations.

The XH1 can film 4k video in UHD and now also the wider Cinema 4k formats, although like the XT2, is limited to ten minute clips when using the body alone; 1080p clips are also still limited to 15 minutes. 1080p is however now available up to 120p for slow motion and there's a new Eterna Film Simulation designed for a cinematic look out-of-camera, although you can alternatively record in 8-bit F-Log direct to the SD card. Like the XT2, burst shooting with continuous autofocus is available at 8fps with the mechanical shutter or 14 with the electronic shutter, and thanks to new shock absorbers, the mechanical shutter is quieter than before. Again like the XT2, an optional booster grip (the VPB-XH1) allows you to accommodate two extra batteries, boost mechanical burst shooting to 11fps and extend all movie clips lengths to half an hour, while also sporting an AC input and headphone jack.

B&H, or Adorama. Alternatively get yourself a copy of mytreat me to a coffee! Thanks!

The XH2 certainly inherits a great deal of the XT2 – indeed it could be described as an XT2 with built-in stabilisation, a touch-screen, bigger grip, enhanced video and Bluetooth. Considering these resolve essentially my only complaints about the XT2, it looks set to be one of the most satisfying cameras this year, although possibly the last to use the X-Trans III sensor.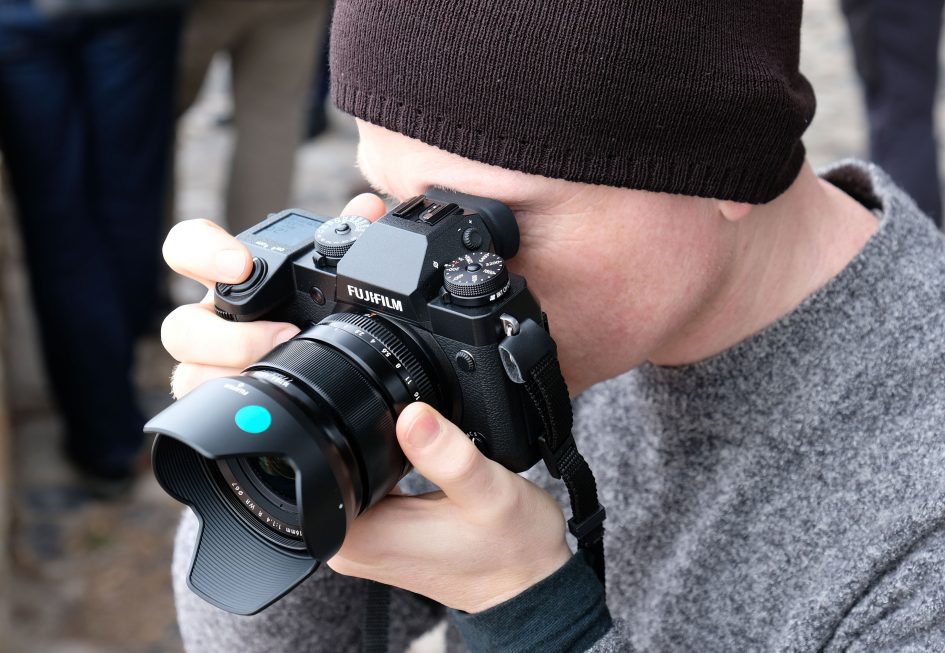 I've already been shooting with the XH1 and have greatly enjoyed it so far. I'll update this page very soon with my experiences and sample images, along with a first-looks video review of the highlights, so check back soon for updates! In the meantime, expect the XH1 body in March for $1899 USD / 1699 GBP or $2199 USD / 1999 GBP with the VPB-XH1 booster grip.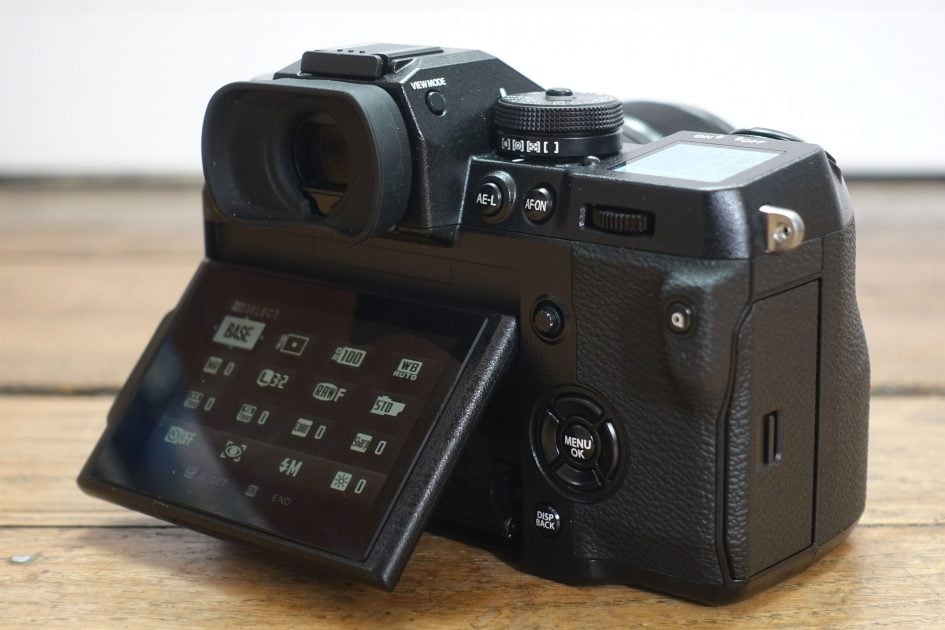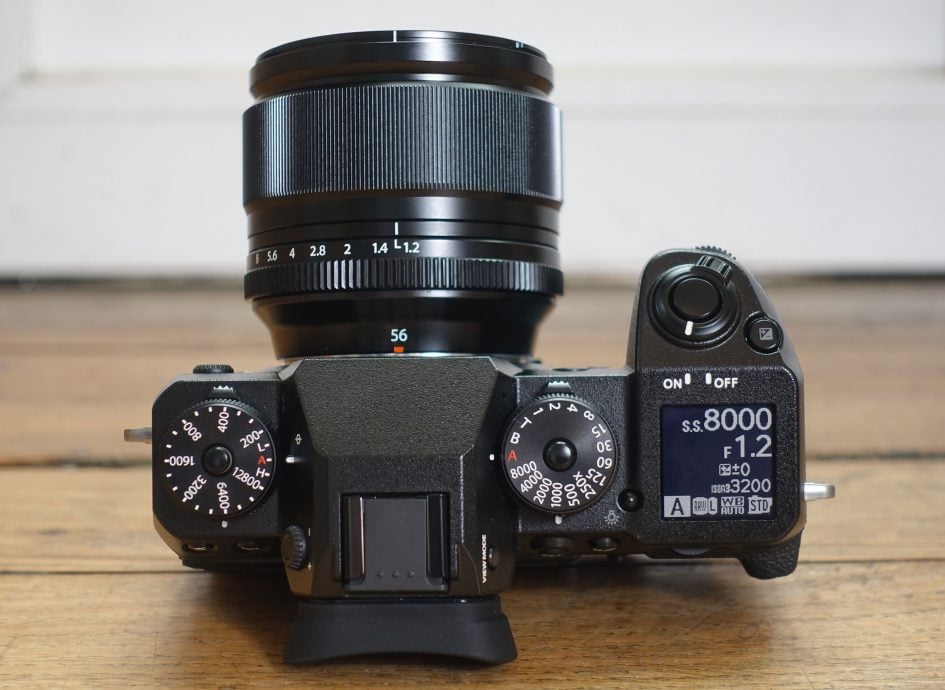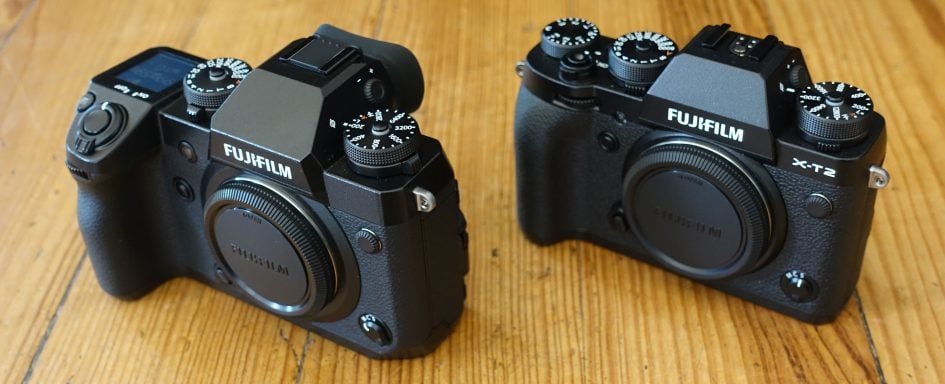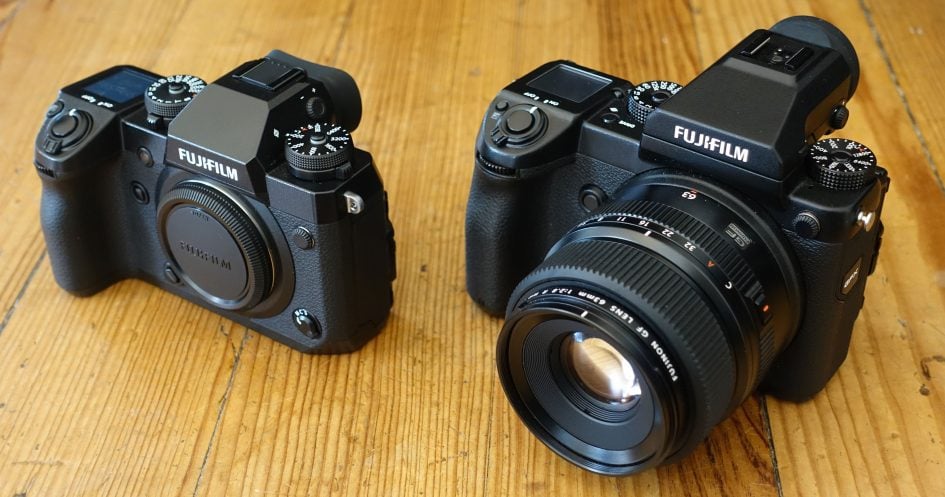 Fujifilm X-H1 lenses and stabilisation
The X-H1 is fitted with Fujifilm's X-Mount which, with the APS-C sensor behind it, applies a 1.5x field reduction factor to lenses – so the XF 16-55mm f2.8 zoom will deliver a field-of-view equivalent to 24-83mm.
If you're using Fujifilm's own lenses, the X-H1 offers an enhancement first seen on the XE2: Lens Modulation Optimiser, or LMO for short, attempts to counteract the blurring introduced by diffraction when shooting at smaller apertures, and also corrects softening towards the edges and corners of the image.
Fujifilm has extensively profiled all of its X-Mount lenses, and by default LMO is enabled on the X-H1 when you fit one of them. In previous comparisons with small apertures around f16, I found the versions with LMO enabled were crisper, especially towards the edges, but equally never felt over-sharpened. It's this kind of clever, balanced processing which makes the out-of-camera JPEGs from modern Fujifilm cameras a dream.
Fujifilm's X-series may be younger than Micro Four Thirds and Sony's E mount, but in six years they've launched 25 quality models, and there's several more from third parties, covering most bases. Importantly the majority of the Fujifilm lenses I've tested have been of a very high standard. Check out my Best Fujifilm lenses guide for the models I've tested and can personally recommend.
The X-H1 is typically sold body-alone or in a 'kit' bundled with the XF 16-55mm f2.8 zoom. This is a great quality general-purpose lens with a 24-83mm equivalent range taking you from wide-angle to short telephoto, with a constant and bright f2.8 focal ratio. Here's how the coverage looks when mounted on an X-series body.

The aperture is sufficiently large for some separation from the background, especially when focused at close range. Sure it's nowhere near what you'd achieve with the XF 56mm f1.2, but you'll still enjoy some pleasant effects. Here's some examples, all at 55mm f2.8.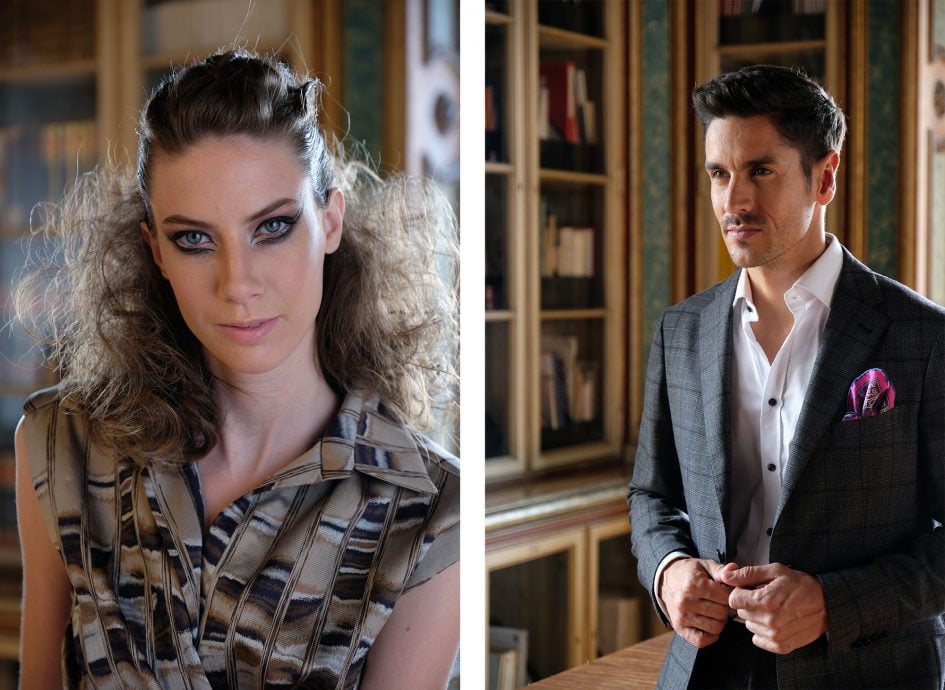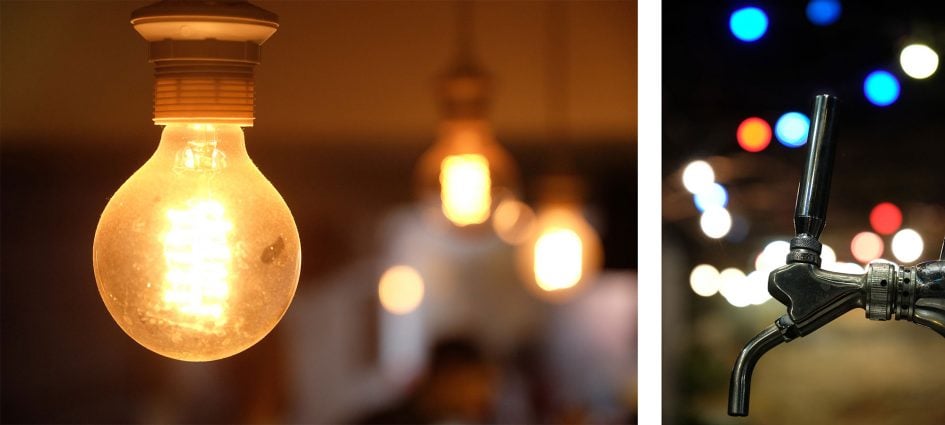 I tested the XF 16-55mm a few years back (see my Fujifilm XF 16-55mm f2.8 review) and was impressed by the quality and flexibility, but was disappointed it didn't include optical image stabilisation. This however no longer matters when paired with the X-H1, as it's the first body in the X-series to feature built-in sensor shift stabilisation.
The X-H1's sensor shift stabilisation operates in five axes and delivers up to 5.5 stops of compensation depending on the lens in use. Lenses without any optical stabilisation employ all five axes of the body-based system. Lenses with OIS use their two optical axes for pitch and yaw, leaving the remaining three (X shift, Y shift and roll) to the body; the exception here is the recent XF 80mm macro which sports four axes of optical stabilisation and only utilities the single roll compensation from the X-H1 body. It makes sense to exploit optical stabilisation where available in a lens, since it's optimised for that particular focal length and proves more effective, especially for telephotos. Meanwhile, Fujifilm's MK-X cinema and Zeiss lenses use the full five axes of the body-based system, while adapted M-mount lenses or those mounted with a macro extension tube utilise three axes.
Within each category, the degree of compensation varies depending on the lens in question, and rather than simply quoting a best-case scenario, Fujifilm's been honest about what you can expect from specific models. All of the non-OIS lenses, a selection consisting mostly of XF primes, should enjoy five stops of compensation under CIPA conditions, with the XF 35mm f1.4 and XF 16-55mm f2.8 boasting the best results approaching 5.5 stops. Of the lenses with OIS, the XF 18-135mm, XF 80mm Macro, XF 50-140mm and XF 100-400mm should all enjoy up to five stops of compensation. The remaining models offer gradually less: the XF 55-200mm delivers 4.5 stops, the XF 18-55mm 3.5 stops, the XC 16-50mm and XC 50-230mm both three stops, leaving the XF 10-24mm with 2.5 stops, implying its design mostly uses the optical stabilisation alone. I suspect some of the differences in performance are due to a combination of the focal length and the actual imaging circle delivered by that particular optical design.
Regular readers of Cameralabs may remember Fujifilm previously stated sensor-shift stabilisation wouldn't be possible due to the tight constraints of the X-series' imaging circle. I quizzed the Japanese engineers about this and was told in-camera processing can now correct for any vignetting caused by the sensor protruding slightly outside the imaging circle into an optical region of lower quality. This in turn could explain the differences in compensation between lenses – perhaps the system deliberately reigns itself in when the imaging circle on a certain model is tight with little breathing space beyond. I can certainly live with vignetting or software correction for it, but am more concerned with softening in the corners.
So far I've had limited time with the X-H1 and intend to perform many more tests with it in the near future, but for now I can only tell you what I've experienced so far. Most of my initial tests were made with the XF 16-55mm which, with over five stops of potential stabilisation, presumably has one of the more forgiving imaging circles. I shot almost exclusively with stabilisation enabled and didn't notice any issues with softening or vignetting in the corners across the focal range, although again this is something I'm going to test more thoroughly against non-stabilised bodies soon.
More importantly what I did notice was a very welcome absence of shake while composing. As noted earlier, this was one of my major bugbears with the XF 16-55mm, especially zoomed to 55mm, where I found I couldn't hold it sufficiently steady to frame as precisely as I'd like on earlier X bodies. But now on the X-H1, the view was satisfyingly steady, allowing me to easily fine-tune and nail the composition. For me this is a major benefit of stabilisation when it comes to stills photography, as it's possible to avoid camera shake by simply using a fast enough shutter speed. But an unstabilised system can be hard to compose with, especially when you're attempting to get it right in-camera with no cropping or rotating later. Now it's no longer an issue on the X-H1 and it really does breath a new lease of life into their unstabilised lenses. It also makes them much more usable for handheld video, more of which in a moment.
To test the effectiveness of the built-in stabilisation for stills with the XF 16-55mm f2.8 lens, I set it to 55mm (83mm equivalent) and shot a sequence of inages with progressively slower shutter speeds, first without stabilisation enabled, then with it working in continuous mode; as with all stabilised systems, I allowed it to settle-down for a second or so with a half-press before pressing fully to capture the shot. On the day with stabilisation disabled, I required at least 1/100 to capture an image without wobble, but with stabilisation enabled, I achieved perfect results down to 1/20 and fairly good ones down to 0.4 seconds. I'd say I was getting at least three stops of compensation in this particular example, or a little more if you didn't mind some very minor shake. Below are crops taken at the 1/5 exposures.

The X-H1's built-in stabilisation also works when filming video, allowing you to handhold footage with non-OIS lenses. If you're keeping the camera mostly still or making very small adjustments, I found it proved quite effective at eliminating the wobbles, but once I started to pan, the system would often mistake deliberate motion for shake and correct it – the effect being a shudder as it caught up with itself and reset; I saw this when panning or walking with the camera. Here's two examples using the XF 16-55mm, one panning, the other walking.
The effect above reminds me of earlier stabilised systems on rivals before gradual refinement began to better understand the differences between unwanted wobble and deliberate movement. Certainly in my initial tests with the X-H1 and XF 16-55mm for video, it lacks the eerily smooth, floating experience of the latest Olympus and Panasonic bodies. To be fair, they're not immune to this effect either, but I noticed it a lot less in my tests with them.
Of course it's early days for the X-H1, both in terms of the stabilisation being a version one system, and also my test sample being one of the first out the factory. I'm hoping this performance may be improved with new firmware, but at the time of writing, this is an illustration of what you can expect. I have several other clips demonstrating this effect in my first-looks video at the top of this page.
But while it could benefit from some refinement for video use, I'm delighted with it for stills photography. Not only can I now handhold at much slower shutter speeds than before, I can finally enjoy a nice steady view when composing. Once again it's breathed a new lease of life into Fujifilm's collection of fabulous prime lenses without optical stabilisation. Check back soon for more updates.
Fujifilm X-H1 Advanced Filters
The X-H1's drive collar offers an ADV position with the option to deploy one of eight Advanced Filter effects included on earlier models: Toy Camera, Miniature, Pop Colour, High Key, Low Key, Dynamic Tone, Soft Focus and Partial Colour (with six sub-options to pass red, orange, yellow, green, blue or purple, leaving the rest of the image in monochrome).
The effects deliver the usual results, but sadly you still can't apply them to video, so no chance of capturing a miniature movie with the X-H1. I should however add that in an update over some earlier models, the X-H1 can at least record RAW files when shooting with Advanced Filters, although sadly you won't be able to subsequently apply an alternative filter effect later or indeed remove it altogether – you're stuck with the filter selected at the time of shooting and limited to adjusting the usual things like the white balance and film simulation. Anyway, here's how some of the effects look in practice.


Fujifilm X-H1 Film Simulations
Like previous bodies, the X-H1 applies its main image processing parameters using a set of Film Simulations that emulate classic Fujifilm film stock. The X-H1 inherits the standard nine simulations of earlier X-Trans III bodies, and debuts a tenth: Eterna which is designed to deliver a cinematic style to video without post processing. As with previous bodies, Film Simulations can be applied to photos or videos, and while you can apply Eterna to stills, it's really aimed at video use.
The default Film Simulation remains Provia, and that's what you'll see in all my sample images unless otherwise stated; it delivers a good balance of contrast and colour without being too punchy or saturated. If you fancy something more vivid, then choose Velvia, which coincidentally was always my favourite colour film for shooting landscapes. If you prefer a more subdued look, go for Astia, while portrait photographers may like Pro Neg Hi and Standard. For a classy vintage look, try Classic Chrome or Sepia. And if you're into Black and White, go for the standard Monochrome or the higher-contrast Acros, both of which are available with additional yellow, red and green digital filters. I'm particularly fond of Acros with the Red filter option to darken blue skies and bring out cloud detail. Here's how a few of them look on the same scene.



As for Eterna, here's how it looks applied to the same scene as above, although you may prefer to judge its muted output on video. To put it through its paces, I used Eterna on all the video samples in my first looks review near the start of this page.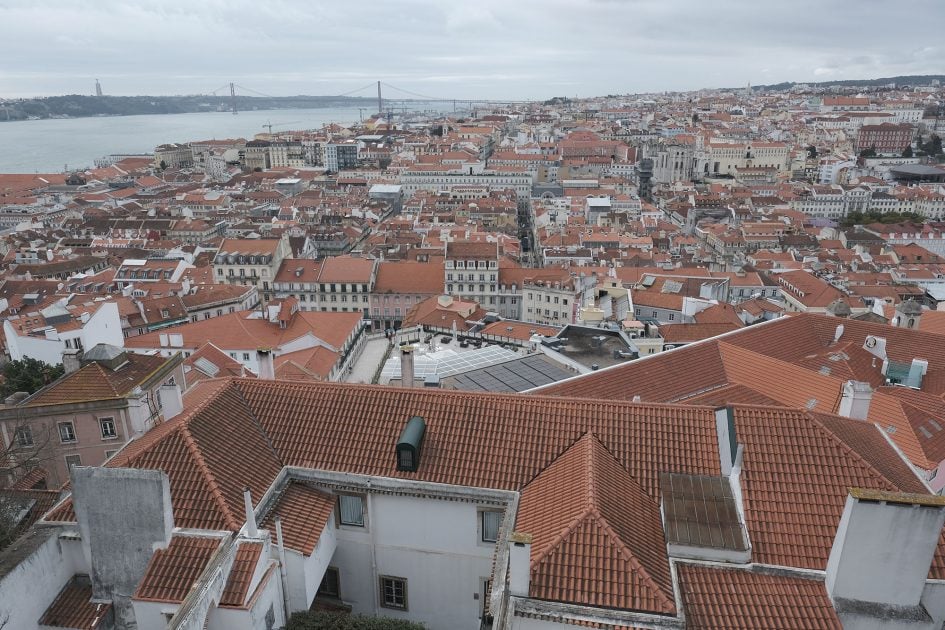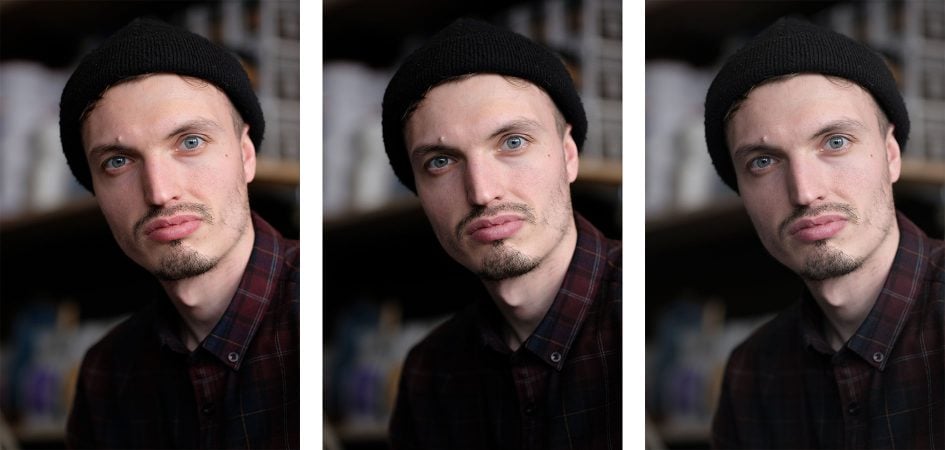 The Film Simulations are another part of the equation behind the lovely output from Fujifilm's cameras. I find I can achieve the mood I want using these subtle but effective processes, rather than resorting to often heavy-handed filters on other systems. I also appreciate being able to apply different simulations after the event on RAW files using the in-camera RAW processing option in playback.

Next check out my sample images!

B&H, or Adorama. Alternatively get yourself a copy of mytreat me to a coffee! Thanks!