Fujifilm XF10 review – preview
The Fujifilm XF10 is a high-end compact camera aimed at enthusiasts and sporting a 24 Megapixel APSC sensor, fixed 28mm f2.8 equivalent lens, touchscreen, Wifi and Bluetooth. Announced in July 2018, it officially represents a new product line from Fujifilm, although it's hard not to compare it with the earlier X70 compact with which it shares a number of features including the lens; there are however a few key differences.
The XF10 joins a fairly exclusive group of fixed lens compacts with a large APSC sensor – indeed it's the exact same CMOS sensor deployed on Fujifilm's recent XA5 and XT100 mirrorless cameras which means it sports 24 Megapixels with embedded phase-detect autofocus. This gives it a resolution boost over the 16 Megapixel X70, albeit not with the company's proprietary X-Trans sensor technology. Despite equipping the earlier X70 with an X-Trans II sensor, Fujifilm has resisted deploying the more recent X-Trans III on a new compact, perhaps due to power or heat issues. Revealingly the new XF10 employs the same NP-95 battery as the X70, with Fujifilm also quoting the same 330 shot life. We may never know why X-Trans III wasn't deployed on the XF10, but at least we now have 24 Megapixels in a small Fujifilm camera and the files from the XA5 and XT100, which share the same sensor, certainly look very respectable; see my Fujifilm XT100 review for samples.
In terms of video, the XF10 unsurprisingly shares similar specifications to the XA5 and XT100, with a best quality option of 1080 up to 60p; like the XA5 and XT100, there is a 4k mode but only at 15fps which is insufficient for smooth motion, although it does allow Fujifilm to offer some 4k photo options. Burst shooting is also the same at up to 6fps.The optical quality is already known from the X70 (see my Fujifilm X70 review for an indication of flexibility) and while 28mm is fairly wide for a lens you can't swap, I found the X70 surprisingly practical for general use. Like the X70, composition is with a 3in touchscreen, although unlike the X70 it doesn't tilt and there's no hotshoe for connecting an optional viewfinder either. That said, the body is 61g lighter and a little thinner than before at 113x64x41mm and 279g including battery, and it also sports an AF joystick that was lacking on the X70. The Fujifilm XF10 will be available from August 2018, in Champagne Gold and Black, with an RRP of $499 USD / £449 GBP.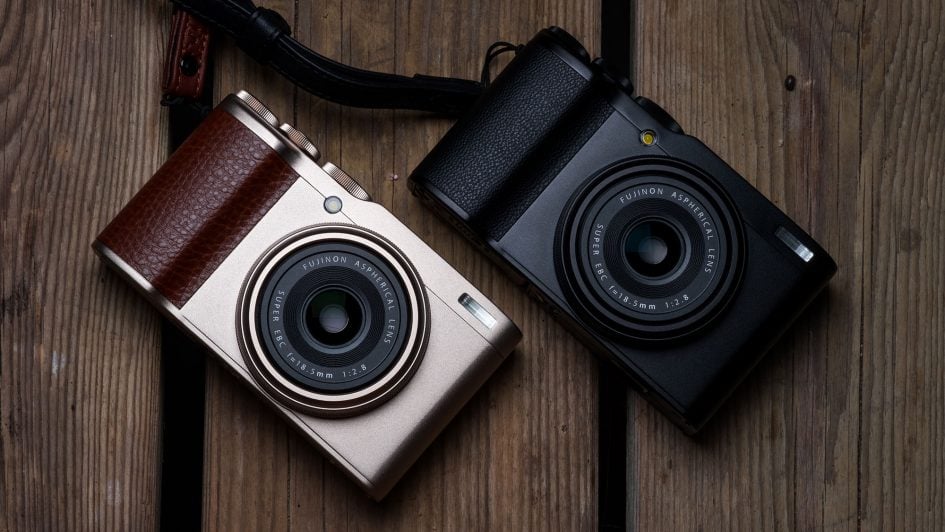 Check prices on the Fujifilm X-F10 at Amazon, B&H, or Adorama,, or Wex. Alternatively get yourself a copy of my In Camera book or treat me to a coffee! Thanks!