Fujifilm XE3 review - Verdict
Verdict
The Fujifilm XE3 is a mid-range mirrorless camera, aimed at those who want the quality and lenses of the X-system in a compact body. It shares the rangefinder styling of its four year-old predecessor, with the same electronic viewfinder in the corner, but updates the sensor to the latest 24 Megapixel X-Trans III with 4k movies and greatly improved autofocus. The screen remains fixed in position but is now touch-sensitive and complemented by an AF joystick. There's also Bluetooth in addition to Wifi and the XE3's body is also slightly smaller and lighter than its predecessor, making it the most compact model with an X-mount, viewfinder and X-Trans III sensor.
In use, the XE3 feels responsive, handles well, and like all X-series bodies, delivers very satisfying images with minimal effort. In terms of control, the improved touch interface is the headline feature with key menus and functions finally gaining the ability to be tapped. The new gesture controls, where you swipe to access settings like the ISO and Film Simulation, are innovative and become second nature before long. But if you prefer more traditional controls, it's possible to use the AF joystick to navigate and select your way around; I was surprised to find the joystick on the XE3, given its lower-end position in the range, but it provides a very tactile and welcome alternative to controlling the camera.
Fujifilm's also made a number of tweaks over earlier bodies that greatly enhance the capabilities for some photographers. Auto exposure bracketing is greatly improved with up to nine frames, RAW files can now be recorded in addition to JPEGs in some modes where they were previously greyed-out, and best of all for me as a long exposure fanatic, you can now keep turning the rear dial in T mode to directly access shutter speeds longer than 30 seconds, all the way to 15 minutes without accessories or dedicated menus. Note Fujifilm has additionally updated the flagship XT2 and X-Pro2 to also offer the long exposure options, but it's unknown whether they'll extend it or the nine-frame AEB to all models with future updates.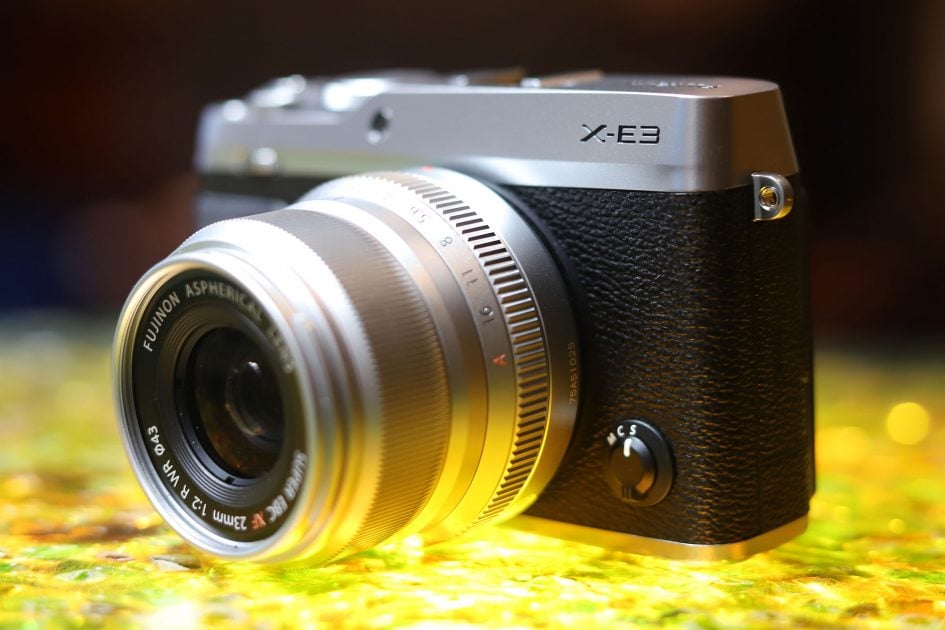 Image quality remains a highlight, with the XE3 producing great-looking JPEGs out-of-camera with its selection of Film Simulations. Like earlier models, I rarely feel the need to do anything to improve them, and you can see lots of examples in my In Camera book. The movie mode, previously an Achilles' Heel of early X-series bodies, has also been resolved with X-Trans III, and the XE3 can produce good-looking 1080p or 4k footage. The only limitation, in-line with other X-series bodies (apart from the XT2 fitted with its optional grip), is a maximum clip-length of 10 minutes for 4k and 15 minutes for 1080p. If you want 30 minute movie clips, I'd suggest a Panasonic Lumix G body like the GX80 / GX85 or G80 / G85, or the Sony A6300.
The AF system is well-known from previous X-Trans III bodies and works very well in Single Autofocus modes. Set the camera to continuous autofocus and it'll track moving subjects when fitted with a fast lens, but struggled in my tests with the typical kit zooms and compact primes its more likely to be coupled with. If you want a more confident action or sports camera when using a kit zoom, I'd head to the Sony A6300.
The addition of Bluetooth had me excited at first – and it certainly paired to my phone with ease – but I failed to get the remote control to work in my tests. I was also annoyed to discover the app still hasn't fixed the dreadful GPS implementation that doesn't update your position once triggered, potentially tagging the next hour's worth of photos with the same location as the first. To be fair, I have had remote control working fine on all other X-series bodies I've tested and Fujifilm is aware of the GPS issues, so I'm hoping everything will be fixed with an update to the app soon. That said, I experienced no problems connecting the XE3 to the latest Instax Share SP-3 printer for instant wireless photo printing.
Size-wise, the XE3 can certainly claim the crown of the most compact body with an X-mount, X-Trans III sensor and viewfinder, but it's actually very close to the XT20. Indeed both bodies share a great deal in common: the same sensor, autofocus, viewfinder, screen panel, and very similar body size and price. Sadly both also share that annoying 2.5mm microphone jack too.
Which to choose? Well, the XT20 boasts a screen that tilts and also has a popup flash, while some may additionally prefer its centrally-located viewfinder and the traditional joypad buttons. In contrast, the XE3 gives you Bluetooth, greater touch functionality, longer selectable shutter speeds, deeper bracketing and an AF joystick; note Fujifilm has however promised the XT20 will gain additional touch functionality with a future firmware update (exactly what though is unknown), and it's worth noting the longer shutter speeds have already been added to the flagship XT2 and X-Pro2 with an update so they too may be rolled-out across the range. Ultimately though for most people, the choice between the XE3 and XT20 will boil down to your preferences on body styling, screen articulation and viewfinder position. It's certainly nice to have the choice. See my Fujifilm XT20 review for more details.
One feature that continues to be lacking on all X-series bodies to date is built-in stabilisation. What was once a unique feature of Olympus bodies is now boasted on all new Panasonic and Sony bodies too. If you want to combat the wobbles on a Fuji-X body you'll need a lens with optical stabilisation, which frustratingly rules out most prime lenses. For me this is an issue since I shake a bit and like shooting with primes, but your mileage may vary. I should say the XF 18-55mm f2.8-4 kit zoom features optical stabilisation and in my tests with the XE3 I fell back in love with its size, quality and ability to deliver a shallower depth-of-field than most rival kit zooms. For me, this is the lens to go for with the XE3. If however you want stabilisation with all lenses, you may want to consider a different system, such as the Panasonic and Sonys above, or the Olympus OMD EM10 Mark III.
Fujifilm XE3 final verdict
The Fujifilm XE3 is a very satisfying mid-range mirrorless camera for anyone entering the World of interchangeable lens photography. It feels responsive, handles well, and delivers great-looking 24 Megapixel photos and 4k video with minimal effort. It features a built-in viewfinder, touchscreen with clever gesture controls, an AF joystick for those who prefer a more conventional touch, and Bluetooth to aid with Wifi connections to your phone.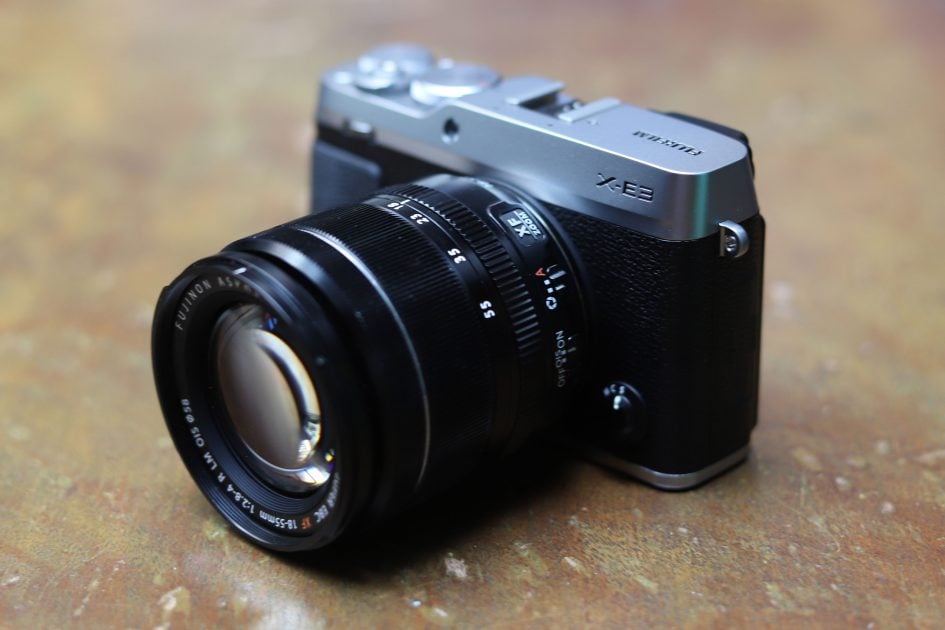 Downsides? The screen doesn't tilt, there's no built-in stabilisation, no built-in flash (although a slide-on accessory is supplied), the microphone input is a non-standard 2.5mm, and the phone app could do with some bug fixes. But even with these frustrations, the XE3 remains a highly compelling camera to shoot with and it's revealing one of its biggest rivals is Fujifilm's own XT20. Compare these closely, along with Sony's A6300 (for better continuous autofocus), Panasonic's Lumix GX80 / GX85 (for better video), and the Olympus OMD EM10 Mark III (for built-in stabilisation). All are great choices at this price point.

Check prices on the Fujifilm X-E3 at Amazon, B&H, Adorama, or Wex. Alternatively get yourself a copy of my In Camera book or treat me to a coffee! Thanks!