Verdict
The Fujifilm X-A5 is a capable entry-level camera at a competitive price, which delivers good-looking images with a feature-set that'll suit beginners and satisfy more advanced photographers alike. You're getting a camera with a 24 Megapixel APS C sensor, a screen that can tilt up and face forwards for self-shooting, Wifi, Bluetooth and a microphone input too. As such it'll appeal to vloggers as much as it will traditional photographers.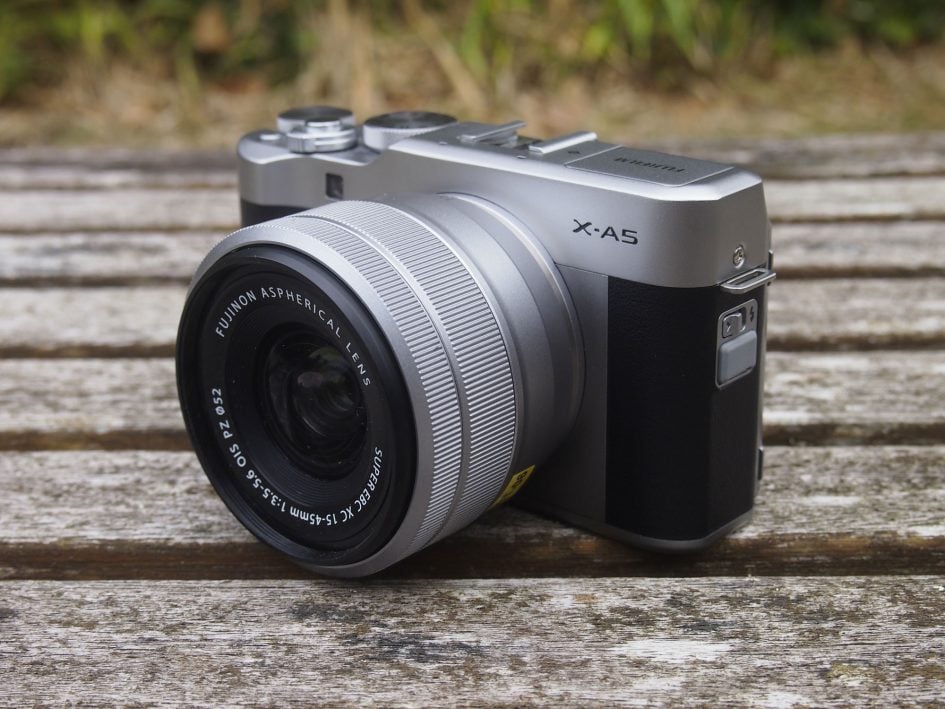 At this price though you can't expect everything. As with the Fujifilm XT100, you'll need to take the 4k video capability with a pinch of salt as its frame rate of 15fps isn't sufficiently quick to capture smooth motion for video, and on the X-A5 the 4k clips are limited to short times too. As such it's best to think of the X-A5 as a 1080p camera. And while it's unusual to find a mic input on any camera at this level, Fujifilm has annoyingly stuck with a 2.5mm jack for compatibility with wired remotes, so you'll need to use an adapter to connect third party microphones with more common 3.5mm plugs. Worse for anyone thinking of using the mic input for vlogging, the hotshoe on the X-A5 becomes blocked when you have the screen angled-up to face the subject. At least this is where the X-T100 takes the lead as its screen flips sideways to face-forward, thereby leaving the hotshoe and tripod threads unblocked.

The 4k capability isn't completely useless though, as it's exploited for photo capture in a couple of fun modes inspired by Panasonic's 4k Photo features. These let you capture a 15 frame burst in a second or refocus a shot during playback, before selecting your favourite frames and exporting them as 8 Megapixel JPEGs. The user interface can feel sluggish, but once you get used to its response, it can be fun and useful.

The presence of a hybrid autofocus system allows the X-A5 to focus more quickly and confidently for stills than its predecessor – and indeed the Olympus E-PL9 at times – but I found it less confident for movies where it appears to revert to a contrast-based system with more hunting. Indeed if you'd like decent autofocus while filming, I'd recommend going for a Sony A5100 or Canon EOS M100. Indeed both of these are key rivals to consider, and right now the EOS M100 is arguably the most tempting of all thanks to its discounted pricing in some regions – see my Canon EOS M100 review and Sony A5100 review for more details.

The Olympus PEN E-PL9 is generally a little bit more expensive than the X-A5, though I suspect that gap may diminish over time. These two cameras have quite a lot in common, including the option of a powered zoom kit lens, a 3inch, 1040k dot touch screen that flips forward for selfies, and built-in Wifi and Bluetooth.

They also have significant differences. Most importantly, the X-A5's 24 Megapixel APS C sensor is physically bigger and packs more pixels than the 16 Megapixel Four Thirds sensor in the E-PL9. In my tests the Fujifilm X-A5 outperformed the E-PL9 both for noise at higher ISO sensitivity settings and overall picture quality. But then the sensor in the E-PL9 is stabilised within the body and like all of Olympus's bodies, it works really well, but if you're the kind of person who's likely to stick to a handful of lenses, you may be equally well-served by the optically-stabilised Fujifilm kit zooms.

The E-PL9 offers faster continuous shooting – 8.6fps compared with 6fps on the X-A5, but the X-A5 has 4K burst shooting that produces one second's worth of 8 megapixel frames. Against that, the X-A5's 4K video mode is not good for much else, whereas the E-PL9 offers genuine 4k video recording at usable frame rates.

As always, which of these two models is the best option depends on what kind of photography you plan on doing. For vlogging, there's not much in it. Both have forward facing screens and though the E-PL9's wins out on compactness and the ability to use the hot shoe when the screen is flipped, the X-A5 has that all-important external mic socket, but again it's harder to use being 2.5mm in size and with the hotshoe blocked by the screen when vlogging. Overall though, the X-A5's superior picture quality and the fact that it undercuts the Olympus on price will, I think, sway a lot of first time system camera buyers in favour of the X-A5.

PS – if you love the X-A5 but wish its screen didn't block the hotshoe when vlogging and also fancy having a built-in viewfinder, then look no further than the Fujifilm X-T100. It's basically an X-A5 with a viewfinder and a screen that flips to the side and well worth paying the extra in our view, unless you're on a tight budget. See Gordon's Fujifilm X-T100 review for more details.

Final Verdict

The Fujifilm X-A5 is an entry-level mirrorless system camera aimed at beginners, social photographers and vloggers. It has a 24 Megapixel APSC sensor and typically sold with a powered kit zoom. The sensor sports a hybrid AF system which works well for stills shooting, albeit less confidently for video. The touch screen flips up to face forward for selfies and it also sports an external microphone input, although annoyingly it's a non-standard 2.5mm jack and the hotshoe becomes blocked when the screen's facing forward which makes it less convenient for vloggers. You should also take the 4k capability with a pinch of salt as it only operates at 15fps which isn't fast enough for smooth motion, but it remains useful for some burst modes. The highlight of the X-A5 though is Fujifilm's image processing which – even without one of its X-Trans sensors – inside remains as good as the best models in its class. Recommended, but compare closely with the Sony A5100, Canon EOS M100 and Olympus E-PL9, not to mention Fujifilm's own slightly higher-end X-T100.

Check prices on the Fujifilm X-A5 at Amazon, B&H, Adorama, or Wex. Alternatively get yourself a copy of my In Camera book or treat me to a coffee! Thanks!