Fujifilm X70 review - Verdict
Verdict
Fujifilm's X70 is a high-end compact which packs the quality and control of the company's mirrorless cameras into a body that'll just about squeeze into your pocket. The highlight is of course the X-Trans II sensor, the same 16 Megapixel APS-C sensor found in models like the XT1 and XT10, which coupled with the same image processing unsurprisingly allows the X70 to deliver photos which look a lot like its higher-end siblings. Indeed this may be all the Fuji faithful need to hear: want the XT1's image quality in your pocket? Buy the X70.
Of course unlike the XE and XT series though, the X70 has a fixed lens, so there's no opportunity to swap it for anything else, although a wide adapter and cropped digital tele-converter options are available. The 28mm f2.8 of the X70 may sound a little less practical than the 35mm f2 of the X100 series, but Fuji fans requested something wider and you know what, it's actually a lot more useful than you might first think. Initially I was sceptical about having fixed wide coverage and concerned the f2.8 focal ratio wasn't particularly interesting either, but the lens proved ideal not just for landscapes, buildings and interiors, but also group shots, close-ups and selfies. Check out the first page of this review and the sample images page to see how I used it in a variety of situations and conditions.
Ah yes, self-portraits, something the X70 is actually very good at. Indeed it becomes the first Fuji X camera to sport a screen that will tilt up by 180 degrees to face you which, coupled with wide-ish coverage and effective face and eye detection, makes it easy to grab portraits of you and your friends at arm's length. The screen is also touch-sensitive – another first for a Fuji X camera – allowing you to tap to easily reposition the AF area, tap to take the photo or swipe through images in playback.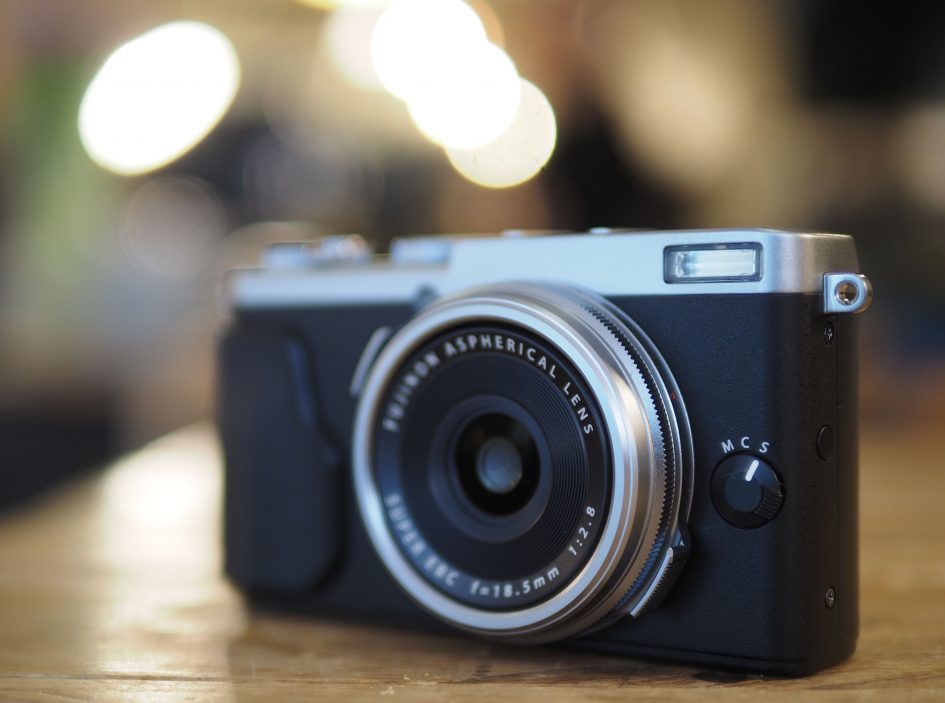 Hallelujah! I've been waiting for a touch-screen on a Fuji X camera for ages and dearly hope it makes it onto future XE and XT models (I've given up on it going on an X-Pro). In fact I've waited so long I feel a little bad mentioning its limitations – despite having touch-friendly chunky icons in the Q menu, Fujifilm resists allowing you to tap through it nor indeed any other menu. You're also unable to use it to tap to pull-focus while filming a video. But again it feels almost churlish to complain and at least the most important capability of tapping to reposition the AF area is present and correct – while street shooters will also enjoy being able to tap to take a photo too, thereby being very discreet, especially coupled with the angled screen silent shutter option.
It's a good job the screen is a highlight of the X70 as it's the primary means of composition. There's no built-in viewfinder and while there is an optional viewfinder accessory, it's an optical rangefinder with basic markings for the standard and wide converter frames only. I tried the viewfinder accessory on the X70, but when shooting close you'll have to watch out for parallax and I missed not having guides to line things up. I'll come clean and admit I'm not a fan of basic rangefinders though, so your mileage may vary. But put it this way, it's a world apart from the active overlays of Fujifilm's X100 and X-Pro series, and not cheap either at $199 USD.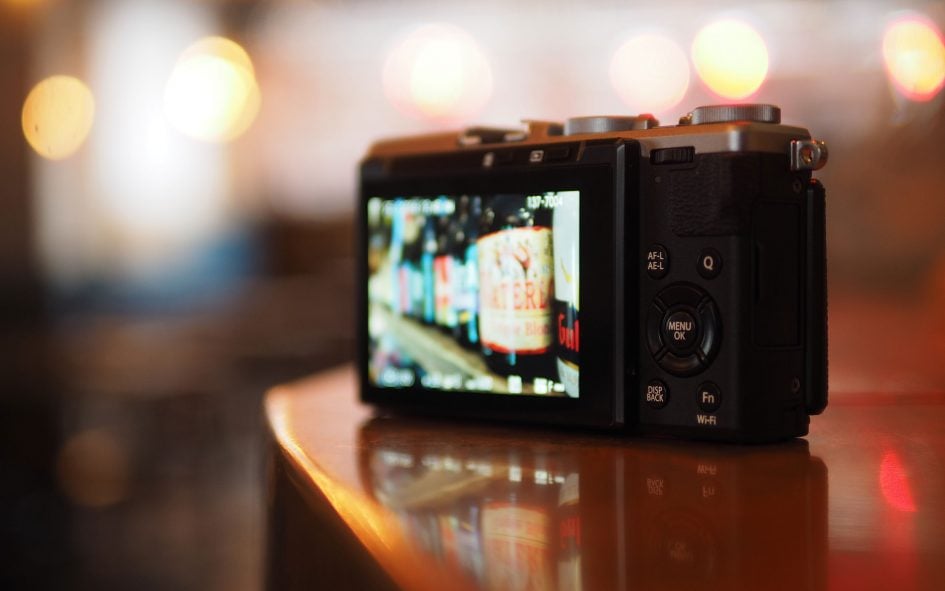 Despite its compact size, the X70 sports the dedicated shutter speed and exposure compensation dials of the XT10, while the lens features a manual aperture ring. So like other Fuji X bodies, you can effectively shoot in program, aperture priority, shutter priority or full manual depending on the position of the aperture and shutter dials. All very retro, but also intuitive and fun. Fuji's also learnt from past mistakes and allows the T position on the shutter dial to let you dial-in the speed via a rear dial and screen menu if preferred, and like the XT10 there's also a switch which sets it to full Auto immediately – kind of like a Don't Panic button.
Long exposure fans will be pleased to know the X70 performs just like its bigger brothers, capturing up to 60 minutes in Bulb and delivering similarly clean images even with long exposure NR disabled. I shot several images with two to four minute exposures, using the same Triggertrap USB cable as my XT1, and found the quality to be essentially the same. It's also possible to mount 49mm filters via an accessory ring, or screw those with internal threads straight on. Here's a two minute exposure I made with the X70.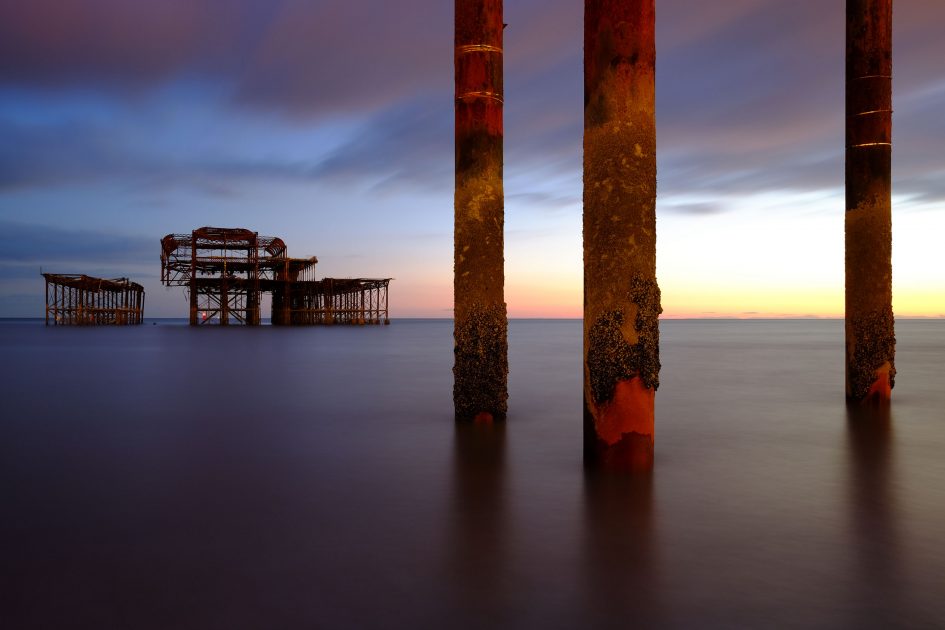 As mentioned above, the X70 also has a silent shutter option which employs an electronic shutter to operate in complete silence, while also offering extended shutter speeds up to 1/32000. Like other e-shutters there can be rolling shutter / skewing artefacts with subjects in motion, but it remains a useful option when you want to shoot in silence or need speeds faster than the 1/4000 maximum of the mechanical shutter.
With the same image processor and sensor as the XT series, you also get the same selection of Film Simulations and Advanced Effects. Once again, the X70 really feels like a mini XT with no viewfinder and a fixed lens.
The AF system is also inherited from the XT1 and XT10, which means the X70 enjoys fairly swift contrast-based autofocus in fair light with a cluster of phase-detect points in the centre which do a fair job at continuous autofocusing – although obviously with a fixed 28mm lens, you're not going to be doing a lot of focus tracking with the X70. But importantly in most situations the X70's focus was fairly quick and only slowed in very poor light. You also get 8fps for 10 frames or 3fps while memory remains.
So far so good and there are definitely a few specific groups of photographers who'll love the X70. Most obviously existing owners of X-mirrorless bodies who fancy something pocketable while maintaining the quality and control they've come to love. Street shooters will also love the potential for discretion with the X70: you can compose with the screen angled and trigger the shutter with a tap if desired and make it silent with the e-Shutter too.
As a general-purpose compact though, I feel it's less successful than some of its rivals and most of this is down to the fixed lens. It's not the coverage that bothers me personally – although many will undoubtedly find a zoom more flexible – but rather the modest focal ratio and lack of optical stabilisation. Both in turn mean you'll often find yourself shooting at relatively high ISOs and while these are within the comfort zone of a 16 Megapixel APSC sensor, it does somewhat diminish some of the benefit of having a big sensor.
For example, you may assume the X70 would deliver better quality than a rival compact with a smaller 1in sensor, but if the subject is static, the 1in model could exploit a typically brighter lens and optical stabilisation to shoot at much lower ISOs and end up with a similar or even superior result. If however you need a higher ISO to deliver a motion-freezing shutter, say for street, then the X70 will of course beat a smaller sensor when both are operating at the same sensitivity. The fatter pixels on the X70 also give it a higher dynamic range and greater latitude for wrangling tones regardless of the sensitivity – again something long exposure and fine art photographers will appreciate.
I should also add that while the X70 will film 1080 video at 24 to 60p, the quality like other bodies with X-Trans II sensors, isn't always great. There are certainly better compacts for video available.
So before wrapping-up a quick look at some alternatives.
Alternative models
The closest rival to the X70 is arguably the X100T. Both share the same sensor and deliver the quality and control of larger X-bodies in a smaller form factor. The X100T sports a slightly less wide and brighter 35mm f2 lens that's more flexible and better quality too. The X100T also boasts a built-in viewfinder with optical, electronic and hybrid views. But the X70 is smaller and lighter, features an articulated touch-screen and some may prefer its slightly wider lens. Personally speaking I see the X70 more as a companion camera, while the X100T is something you might use exclusively. See my Fujifilm X100T review for more details.
A compact with an APSC sensor and fixed 28mm equivalent f2.8 lens may sound quite specific, but there are in fact two others available: Ricoh's GR II and Nikon's COOLPIX A. I've not tested the Ricoh so can't comment on it, but the older COOLPIX A was a good performer and a possible contender if you don't need Wifi or movies, and can find it at a good price. See my Nikon COOLPIX A review for more details.
Most of the high-end compacts these days though are based on the smaller 1in sensor from Sony with 20 Megapixels. All have zoom lenses with typically brighter focal ratios and optical stabilisation which, as discussed above, compensate for their smaller sensors with some subjects. I should also add these zooms include built-in mechanical lens covers which makes them quicker for action than the X70 or X100T which employ traditional lens caps which need to be removed and stored somewhere – it sounds trivial, but in fact makes them slower to action. All the 1in class cameras I've tested also feature better quality video, some even with 4k, and some models also sport built-in viewfinders.
My favourite 1in compacts include the Sony RX100 IV (24-70mm f1.8-2.8 / 4k video / built-in EVF), Canon G5X (24-100mm f1.8-2.8 / 1080p video / fully-articulated touch-screen / built-in EVF) and Panasonic's Lumix TZ100 / ZS100 (25-250mm f2.8-5.9 / 4k video / built-in EVF / touchscreen). I feel all of these are better-rounded general-purpose compacts than the X70 and the choice depends on the lens range, video quality and means of composition you desire.
Fujifilm X70 final verdict
Fujifilm's X70 is the smallest and lightest way to enjoy the company's renowned image quality, and for many photographers, that's all they need to know. It packs the same sensor and image processor as the XT series into a body that'll fit in your pocket and while the 28mm equivalent lens isn't removable, nor as sharp in the corners as the best XF lenses, it's sufficiently good that for many photos you'd be hard pushed to tell the difference.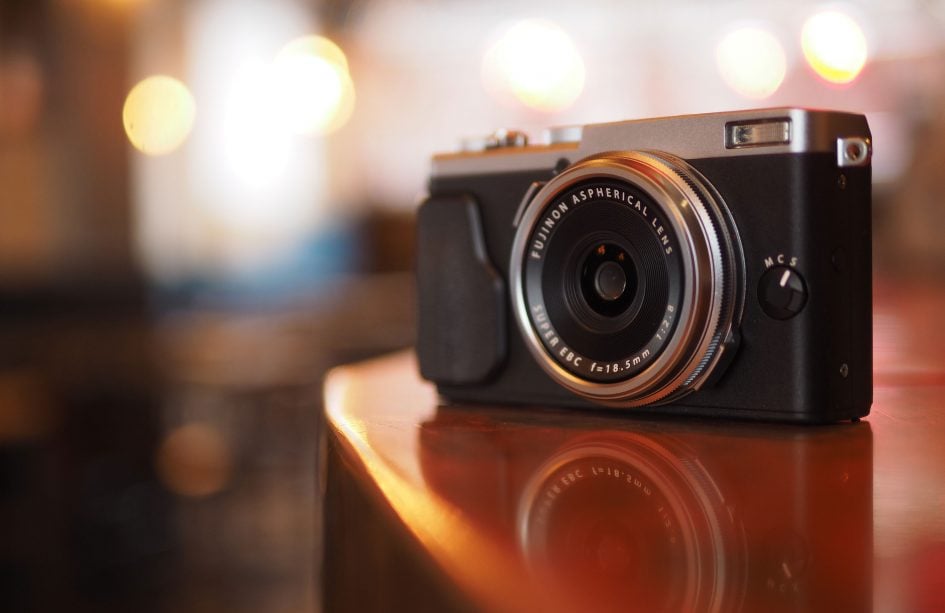 Likewise for the menus and controls – it's immediately familiar to anyone who's used an X-series body, allowing them to get to work without delay or confusion. As such the X70 will greatly appeal as a second body for existing owners of X-series bodies.
If you're not an existing Fuji owner, the X70 is still well worth considering as a high-end compact, and it undoubtedly delivers some of the best-looking images you'll find in a camera this size – but it's important to weigh-up the pros and cons against other options. On the plus side you're getting a large APS-C sensor and a high quality fixed lens, along with the benefit of a tilting touchscreen and a decent Wifi implementation. On the downside the lens doesn't zoom, doesn't have optical stabilisation, operates at a modest maximum aperture of f2.8, there's no built-in viewfinder and the video quality isn't the best around either.
For me this makes the X70 more of a specialist compact rather than an all-rounder. If you're after a compact that does it all, then I think you'll be better-off with one of the many 1in options out there, like Sony's RX100 series, Canon's GxX series and Panasonic's Lumix TZ100 / ZS100. They'll all give you bright zoom lenses, decent quality video and in some cases built-in viewfinders and 4k.
But if you can work with the fixed and unstabilised 28mm lens, don't mind the absence of a built-in viewfinder and aren't too bothered about video, then the X70 is a genuine contender. Sure it has its limitations, but remember you're still getting one of the best APSC sensors around, a quality prime lens, tilting touchscreen and loads of (retro-styled) controls in a body that'll just about squeeze in your pocket. It's definitely a specialist compact, but one I loved shooting with none-the-less.
Good points
Great quality from X-Trans II sensor and prime lens.
Touch-sensitive screen that can flip up to face the subject.
Retro dials give quick access to exposure controls.
Fairly swift autofocus with embedded PDAF points in the middle.
Effective face and eye detection.
Silent shutter option with speed up to 1/32000.
Built-in Wifi with good remote control capabilities.
USB charging in-camera.
Bad points
Fixed lens coverage of 28mm may not suit everyone.
Relatively slow f2.8 focal ratio and no image stabilisation.
No built-in viewfinder (although there is a rangefinder accessory)
Video quality not as good as peers.