In depth
Fujifilm's X-Pro2 is the new flagship body in the mirrorless X-series, featuring a hybrid optical and electronic viewfinder, dual SD slots, weather-sealing and a new 24 Megapixel X-Trans CMOS sensor with embedded Phase Detect Autofocus. Announced in January 2016, it's the long-awaited successor to the original X-Pro1 which launched the X-mount exactly four years ago. During those years, Fujifilm has refined the X-series with numerous bodies from entry-level to high-end, not to mention built a respectable collection of lenses, but has kept us wondering whether the X-Pro1 would ever get updated. That question has now been answered with the X-Pro2 inheriting all the latest X-body enhancements and adding a few new ones.
Externally the X-Pro2 looks essentially the same as its predecessor, allowing owners of the original to feel right at home, but there's a number of important enhancements. The body is now weather-sealed and the addition of a magnesium base-plate lends a luxury feel. In a first for any mirrorless camera, the X-Pro2 features twin SD card slots, with the chance to backup, overflow or record RAW to one and JPEG to the other. A new ISO dial is housed within the shutter dial like a number of old film SLRs. On the rear there's a new eight-way joystick for immediate repositioning of the AF area.
Inside there's a new 24 Megapixel X-Trans CMOS III sensor, Fujifilm's highest resolution for the X-series to date, and featuring a broader array of phase-detect AF points than the CMOS II in the XT1. It's coupled with a faster image processor and a new focal plane shutter rated at 150k actuations and supporting 1/8000 top mechanical speed (1/250 flash sync). There's also an electronic shutter option to 1/32000, a higher resolution LCD screen with a new menu system, a new 'ACROS' mono film simulation, built-in Wifi, the choice of uncompressed or lossless compressed RAW files, and most importantly a new hybrid viewfinder which offers the chance to compose optically, electronically, or optically with a small electronic window overlay – similar to the X100T, but with further enhancements. There's a few notable omissions, such as no 4k video and no tilting nor touch-sensitive screen, but from the X-Pro1 owner's perspective it's a dream come true. Find out if it's the mirrorless camera you've been waiting for in my in-depth review!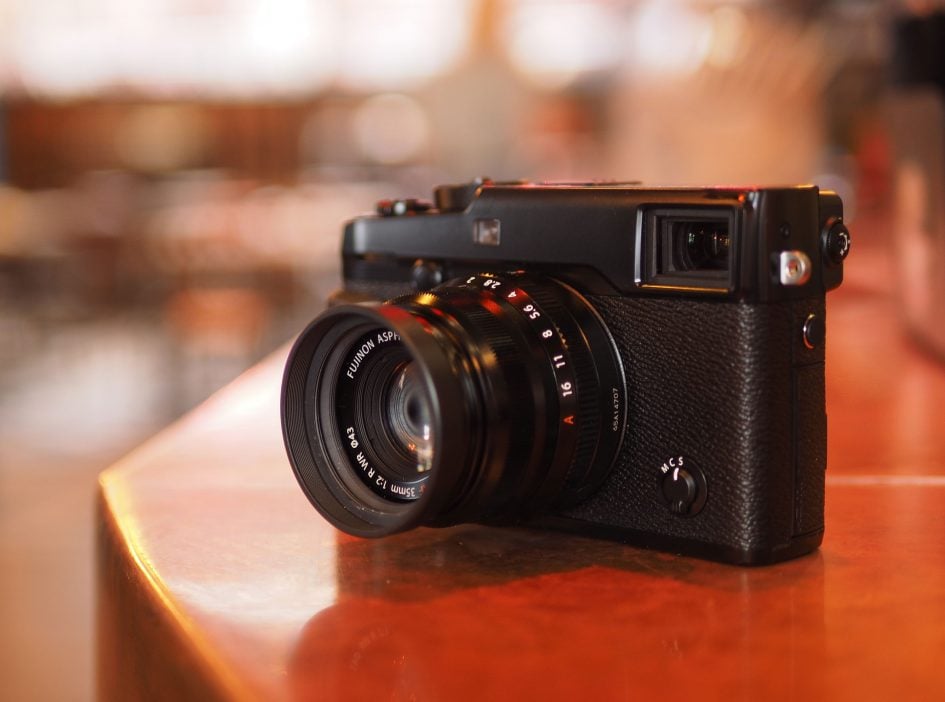 Fujifilm X-Pro2 podcast / video review
In the following video, Doug Kaye and I discuss everything about the X-Pro2! My in-depth review follows below.
Fujifilm X-Pro2 design and controls
The first thing which strikes you about the X-Pro2 is how similar it looks to its predecessor, but while this lets X-Pro1 owners get working straightaway, it doesn't take long to notice the differences, starting with the build.
A new magnesium alloy base plate lends the X-Pro2 more of a luxury feel, and under the hood the X-Pro2 now enjoys weather-sealing, making it the second in the X-series after the XT1 to do so. This is great news especially as Fuji has really got behind weather-sealing on its latest lenses.
Moving onto controls the X-Pro2's dedicated shutter dial now has a position for 1/8000, the new top mechanical speed, double that of the X-Pro1 and any X-body to date; this is thanks to a new focal plane shutter mechanism which also supports flash sync speeds up to 1/250 and is officially rated at 150k actuations. Like other recent Fuji cameras, the X-Pro2 also supports electronic shutter speeds up to 1/32000 for silent operation.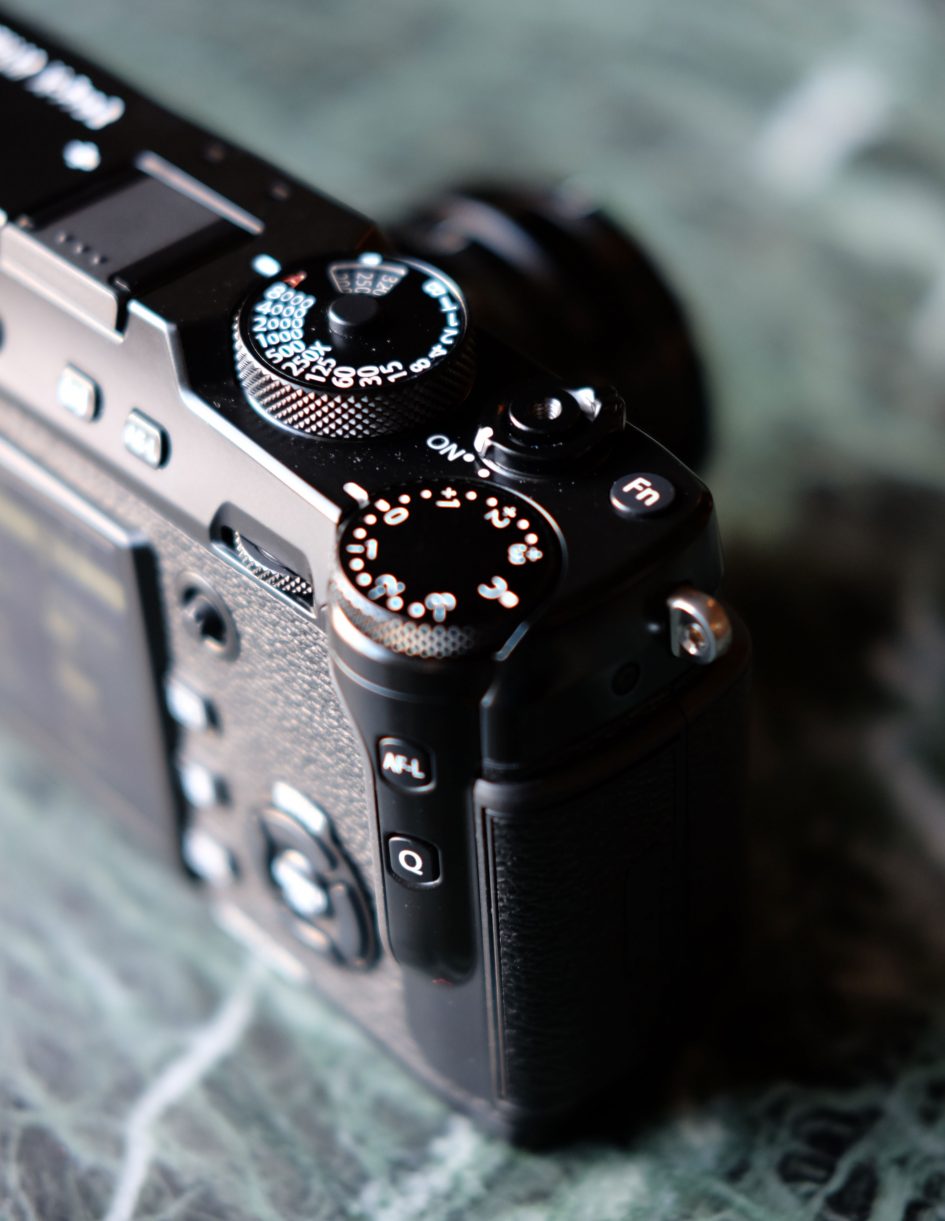 The shutter release is threaded for an old-style cable release, although you can alternatively remote control the camera via a 2.5mm jack, USB port or over Wifi with the smartphone app. I should also mention the sound of the shutter on the X-Pro2 is a very satisfying 'ker-chick' compared to the emotionless click of previous X bodies. It's substantial yet very quiet at the same time and to me sounds great. When I mentioned it to one of the X-Pro2 engineers from Japan he explained how they'd experimented with different materials to produce different mechanical shutter sounds before selecting this one. I'd say it was time well-spent, as every time I press the shutter release on the X-Pro2 I can't help but smile – a small but important detail.
The outer edge of the shutter dial can also now be pulled upwards to adjust an inner dial that sets the ISO sensitivity, with the value seen through a small window – this is not just a nostalgic nod to old film SLRs some of which employed a similar mechanism, but one which offers more tactile and direct access to ISO speeds than the menu system on the X-Pro1.
The ISO dial lets you manually select sensitivities from 200 to 12800 ISO in one-third EV increments, with additional positions for L (equivalent to 100 ISO), H (configurable in the menus between 25600 and 51200 ISO) and A for Auto. It seems a bit odd not to find room for another H position on the dial in order to directly address the top two sensitivities without having to navigate the menus, but I guess most owners will try to stick to the standard range where possible.
Auto ISO can be configured to a default sensitivity (between 200 and 12800 ISO), along with a maximum value (between 400 and 12800 ISO), and a minimum shutter between 1/4 and 1/500. I would be great if a minimum shutter could be driven by automatic recognition of lens focal length and presence of stabilisation or not, but it's still good to be able to configure the Auto ISO and there's now three banks to customize too, so you could always preset them to your three most used lenses.
X-Pro1 owners will notice the exposure compensation dial is still perched on the corner of the body, but with an extended range of +/-3EV and the addition of a C position which further extends the range to +/-5EV and delegates control to a new finger dial on the front of the body. This new front dial is in addition to the existing rear dial and allows you to adjust exposure in the same way as models like the XT1. Both control dials can also be pushed-in to provide an additional function – by default, a push to the rear dial will enlarge the focus point area whether in composition or playback for a closer look.
In use I much prefer the feel of the new front and rear dials to earlier models. They're still smaller than I'd prefer, but the clicks as you turn them feel more positive and of course you also get the benefit of a push function too. The exposure compensation dial is less successful though as I often found it had turned when I removed it from my backpack – so keep an eye on it before shooting to avoid any nasty surprises.
Round the back X-Pro1 owners will notice more changes, most notably the addition of an 8-way joystick to the upper right corner of the screen, dedicated to adjusting the AF area. As someone who regularly repositions the AF area when shooting, I find any means to access it quickly and easily is very much appreciated. Ultimately I find touch-screens do this best of all, but Fujifilm has continued to resist fitting one here. That said, the joystick remains a valuable addition and one I hope is deployed on future X bodies. It's also interesting to note AF point joysticks are growing in popularity beyond Canon who have been employing them for a long time on their higher-end cameras; Nikon's D500 DSLR now has one too.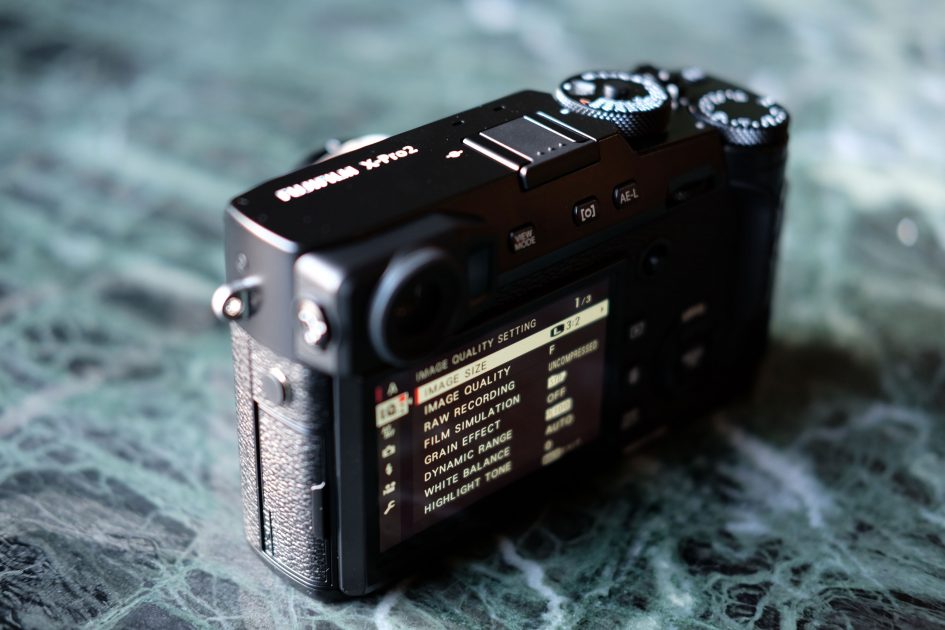 Six of the buttons can be customized, and you'll need them too if you want to exploit every aspect of the X-Pro2. Fans of Wifi or movies will notice there's no controls dedicated to either, nor is there any labeling for them on the body either – presumably as not to upset more traditional customers. The functions are available, but you'll need to assign them to a button and remember which one to press.
Moving onto composition, the X-Pro2 is fitted with a hybrid viewfinder, offering multiple views which enhance the experience of the original model. Like the X100T fixed lens compact, the X-Pro2 offers the choice of an optical rangefinder view with a number of digital overlays, a fully electronic viewfinder (with 2.36 million dots), or a hybrid view which allows a small portion of the EVF panel to be seen in the corner for focusing assistance or previewing colour and white balance. While there's some internal differences with the X100T due to the body design and panel placement, the implementation is essentially the same and provides compositional options that are unique for an interchangeable lens camera.
The choice of viewfinder options are controlled by a lever on the front surface of the body which resembles a self-timer control on an old film SLR. Twist it to the right as you hold the body and you can switch between the optical rangefinder and electronic views, while a push to the left when in the rangefinder view toggles the hybrid electronic window in the corner.

It's seriously clever stuff, especially with all the overlays on the rangefinder view. A white frame shows the coverage of the lens in use, and even adjusts in size when a zoom is adjusted. The widest frame that can be displayed corresponds to an 18mm lens / 27mm equivalent, and as you fit longer lenses the frame reduces in size. By the time you're at a telephoto length, the frame has become quite small and the barrel of the lens become quite obtrusive in the lower right corner, so the rangefinder is most practical for standard to wide focal lengths which is where most street photographers like to operate anyway.
Other overlays include the active focus area, an alignment grid and a wealth of exposure details. They all greatly enhance the traditional rangefinder experience without detracting from the core advantage of a big, bright, real view that lets you see subjects approaching the frame from outside the area of coverage. When you half-press the shutter release, the coverage frame also adjusts its position to compensate for parallax, giving a fair representation of the area you're going to capture. Then a flick of the lever will overlay a small window to the electronic viewfinder in the lower right corner – a considerate choice of corners too considering the barrels of lenses will be visible in this portion of the rangefinder.

The electronic window only works in the single area AF mode, but can show three magnifications of the scene: a complete view of the entire frame, which is very handy for previewing white balance and film simulations, and two close-ups for additionally checking focus. You cycle between the magnifications by pushing-in the rear thumb dial.

There are a couple of caveats to be aware of though. First, while the system is clever enough to compensate for focusing distance by adjusting the overall frame size and position, the closer you get to a subject, the less accurately the AF area will correspond to the magnified view – it's best used for more distant subjects. Secondly as noted earlier, the hybrid window view is only available for Single AF area mode and not Zone or Wide. While this makes sense when several focus areas could be active, it would still be useful to offer the overall frame view for previewing white balance and film simulation. This would certainly enhance shooting in the Zone and Wide AF modes while using the rangefinder and could easily be implemented in a firmware update – finger's crossed.
But remember it's also possible to flick the lever in the other direction and switch to a completely electronic view which not only previews any colour effects, but also shows the lens coverage filling the panel, while also offering a wealth of focusing and compositional aids. Like earlier Fuji bodies, the shooting information in the electronic viewfinder also turns to remain upright when shooting in the tall / portrait orientation, a brilliant feature although one that's still strangely not mirrored on the screen view or rangefinder overlays.
With the investment in creating the complex and highly capable hybrid viewfinder, Fujifilm understandably sees the X-Pro2 as an eye-level camera first, and this tallies with its target audience shooting reportage, documentary and street. You can of course compose with the rear 3in / 3:2 shaped screen if you like, and Fujifilm has upgraded the panel to one with 1.62 million dots and a 60fps refresh option, but like its predecessor it's still firmly fixed in place, refusing to tilt and despite the new X70 compact teasing us with touch-screen capabilities, they continue to elude X-series interchangeable lens bodies.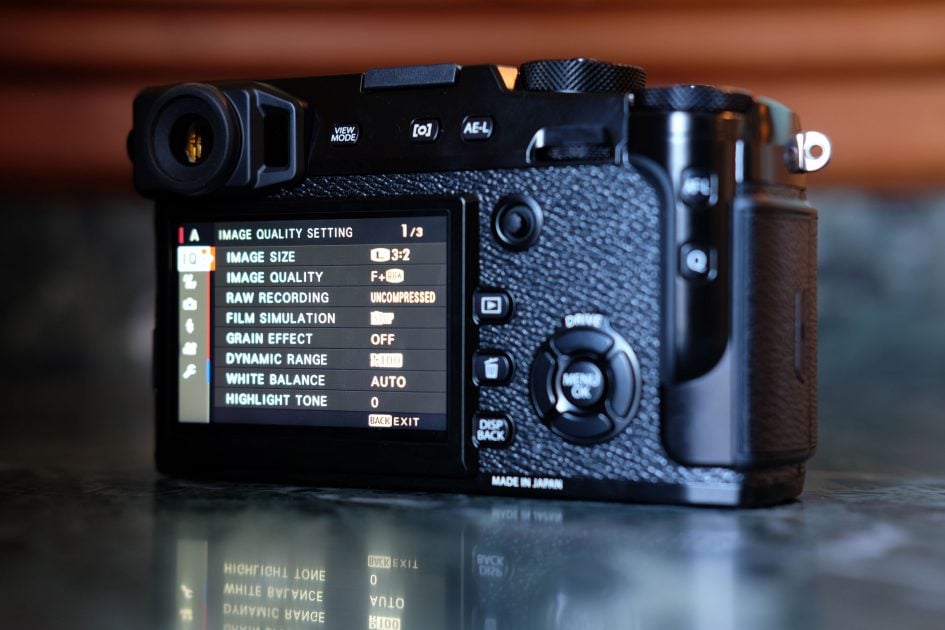 Fujifilm says a tilting screen would have made the body even thicker and bases the absence of a touchscreen on feedback from existing owners, but I personally think they're missed opportunities. I love articulated screens for easy framing at high or low angles, and I also love how quick and easy it is to reposition an AF area by touch, so I'm disappointed not to find either on the X-Pro2. I don't think they're inappropriate on a high-end body (and neither do Canon or Nikon with touch-screens on their latest flagship pro DSLRs), and I feel perhaps Fujifilm should quiz photographers who've used multiple systems. In my experience those who've rarely or never used touch-screens on cameras generally can't see the point, but those who have used them typically find it hard to go back.
Certainly the lack of either makes me the X-Pro2 less desirable to me personally but equally I understand Fujifilm's target audience for the body will mostly shoot at eye-level with the viewfinder, and in terms of moving the AF area, the new joystick definitely makes things much easier – albeit still not as quick as a simple tap. But I did find the lack of a tilting screen very frustrating for my own style of photography.
Moving on, I should mention the on-screen menu system enjoys a new user interface with a tabbed menu system employing a column of icons on the left side drilling-down to image quality, AF, camera, flash, movie, settings and My Menu. A new font also accommodates eight lines per page versus seven previously. The My Menu section is customizable, allowing you to choose up to 16 options that you use most regularly. I was never a fan of the previous Fujifilm menu system, so I appreciate the revamp here which is more intuitive and looks better. I look forward to seeing it deployed on future Fuji bodies.
In a first not just for the X-series but any mirrorless camera, the X-Pro2 boasts twin memory card slots, both supporting the SD format. Like other cameras which offer dual slots, you can configure them to record identical images to both cards for redundancy or backup, record JPEG to one and RAW to the other, or simply use the second slot as overflow when the first fills, allowing you to keep shooting without pausing to swap cards. I tried the sequential and backup options and they work seamlessly as you'd hope, with no degradation on burst shooting performance either.
I think dual card slots are a highly valuable feature and one that should be expected on higher-end cameras designed for professional use. As such it's frustrated me that so far they've been avoided on all mirrorless cameras, even those with ample bodies, high prices and pro buyers. But now with the X-Pro2, Fuji has started the ball rolling and I commend them for doing so. Now Sony, Panasonic and Olympus need to catch up.
Behind a flap on the left side of the body you'll find a Micro HDMI port, Micro USB port and a 2.5mm jack that can be configured as a microphone or remote input; note it's also possible to trigger the X-Pro2 shutter by remote control over Wifi or with a USB cable like a Triggertrap, or with an old style threaded cable on the shutter release, so plenty of options. There's also a PC Sync port for external lighting above the flap, but no headphone jack.
The X-Pro2 is powered by the same NP-W126 Lithium Ion battery as previous X bodies, so if you have any spares they'll work here; Fuji reckons it's good for about 250 to 350 shots per charge, but obviously if you shoot a lot of movies, long exposures or use the Wifi capabilities, it'll drain much faster, so a spare is always recommended. The battery itself is still charged via a separate AC unit, so no internal charging over USB sadly.
Fujifilm X-Pro2 lenses
The X-Pro2 is fitted with Fujifilm's X-Mount which, with the APS-C sensor behind it, applies a 1.5x field reduction factor to lenses – so my favourite three lenses, the XF 10-24mm f4, XF 35mm f2 and XF 56mm f1.2 will deliver coverage equivalent to 15-36mm, 53mm and 84mm respectively.
Fuji's X-series may be younger than Micro Four Thirds and Sony's E mount, but in just under five years they've launched 20 quality models, and there's several others from third parties, covering most bases. Importantly the majority of the Fujifilm lenses I've tested have been of a very high standard.
The X-Pro2 is typically sold body-alone, assuming you'll either have an existing collection of lenses or something specific in mind. A great starting point would be the XF 35mm f2, a light and compact lens with standard coverage, a bright aperture, great quality, fast focusing and weather-sealing. I used it extensively with the X-Pro2 in addition to the XF 10-24mm f4 and XF 56mm f1.2 and you can see a wide variety of shots in my sample images gallery.
If you're using Fujifilm's own lenses, the X-Pro2 offers an enhancement first seen on the XE2: Lens Modulation Optimiser, or LMO for short, attempts to counteract the blurring introduced by diffraction when shooting at smaller apertures, and also corrects softening towards the edges and corners of the image.
Fujifilm has extensively profiled all of its X-Mount lenses, and by default LMO is enabled on the X-Pro when you fit one of them. I did some comparisons with and without LMO enabled at small apertures around f16 and found the versions with LMO enabled were crisper, especially towards the edges, but equally never felt over-sharpened. It's this kind of clever, balanced processing which makes the out-of-camera JPEGs from modern Fujifilm cameras a dream. Fujifilm's clearly behind it as LMO is enabled by default.
Fujifilm X-Pro2 shooting modes
The Fujifilm X-Pro2 doesn't have an exposure mode dial. Instead, like earlier X-mount cameras, it adopts the same technique used by older film SLRs for many years. The body has a shutter speed dial and (most of) the lenses have aperture rings, and both offer an A position. Set both the shutter speed dial and the lens to A and the XT10 enters Program mode. Set the shutter dial to A, but turn the aperture ring and you'll be in Aperture Priority. Set the lens to A, but turn the shutter speed dial and you'll be in Shutter Priority. And finally if you turn both the shutter speed dial and aperture ring away from A, you'll be in full Manual. If you've used this system before it feels natural, but even if you're coming from a system with a PASM mode dial, it's easy to get to grips with.
As a camera aimed at experienced photographers though, the X-Pro2 lacks the full Auto mode switch of recent lower-end models. Video shooters will also notice there's no traditional red button to start recording – instead you'll need to assign it to one of the Function buttons – likewise for Wifi. Again Fujifilm clearly wants this to look like a serious camera for stills only, although the modern tech is there under the surface if you want to access it.
In a welcome upgrade over the XT1 and other X-series bodies, the X-Pro2 now features a new shutter mechanism with a top mechanical speed of 1/8000 – twice as fast as before, and as discussed earlier in the review it also enjoys a very satisfying shutter sound that's more of a 'ker-chick' than the previous 'click'. The flash sync is also faster at 1/250.
The new shutter sounds much better than before, but remains very quiet. If you want even quieter still there's the electronic shutter option which (other than the faintest of sounds for the AF and aperture diaphragm) operates in complete silence while additionally offering faster speeds up to 1/32000 – handy for shooting at large apertures in bright conditions without an ND filter. Like all e-shutters you need to be wary of using it for moving subjects or panning backgrounds to avoid the skewing / rolling shutter effect. Here are two examples where the faster shutter speeds on the X-Pro2 allowed me to shoot in bright daylight conditions using the XF 56mm f1.2 with the aperture wide-open.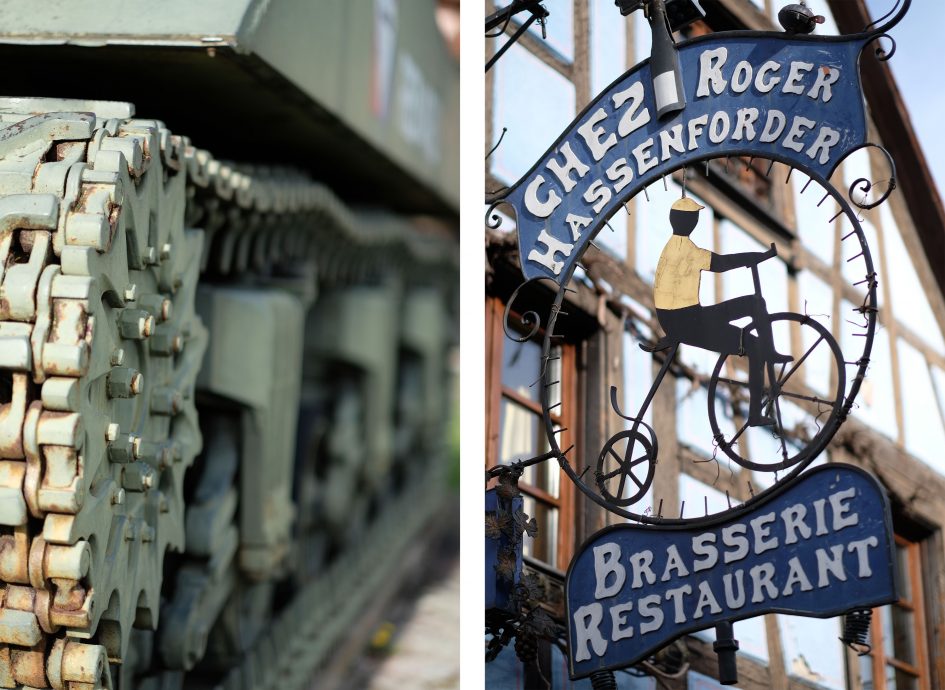 The Shutter dial lets you select speeds from one second to 1/8000 in single EV increments, but if you're in Shutter Priority or Manual mode, it's possible to fine-tune shutter values using the front soft dial by +/-0.6EV in 0.3EV increments. If you set the shutter speed dial to T, you can use the front dial to choose from the entire shutter speed range of 1/8000 to 30 seconds, an enhancement over original X bodies which limited the T position to shutters between two and 30 seconds.
There's also a B option on the shutter dial for Bulb exposures which can last up to 60 minutes so long as the shutter release is kept pressed by hand or using an optional cable release; there's lots of cabled options too with a threaded shutter release, a 2.5mm jack and a USB port. I used the same USB Triggertrap cable as my XT1 for long exposures on the X-Pro2.
I'm very much into long exposure photography and am pleased to report the X-Pro2 behaves just as well as earlier X bodies, delivering clean images even with long exposure noise reduction disabled. I tried exposures during dusk with and without ND filters for up to four minutes without NR and there were no hot pixels nor other undesirable artefacts to speak of. Like earlier models, the X-Pro2 also displays the exposure time so far on-screen, and I used my existing Triggertrap cable connecting to the USB port. In a nice update over earlier models, you can also record RAW files at the L (100 ISO) setting (allowing you to extend exposures with the flexibility of greater post-processing), although the dynamic range may be reduced compared to shooting at the base 200 ISO.
I also wanted to see if there were any light leaks, so took a number of exposures in broad daylight with the lens cap fitted. With the port door open so I could connect my Triggertrap cable to the USB port, I made four and eight minute exposures at 200 ISO and saw no evidence of light leaks, even when the levels were adjusted. Again this was in daylight, albeit without direct sunlight shining on the side of the camera.
I also tried a few tests at higher sensitivities and on a 30 second exposure at 3200 ISO I noticed a faint patch on the side corresponding to the port door, but it certainly wasn't bad, and again this was during daylight. While I didn't get a chance to try the X-Pro2 at astro-photography, I'm confident it won't pose any issue for long exposure landscape photographers – here's a few examples I took with the camera. Note I was using the X-Pro2 running firmware v1.01. The exposures were, from top to bottom, 55, 57 and 240 seconds.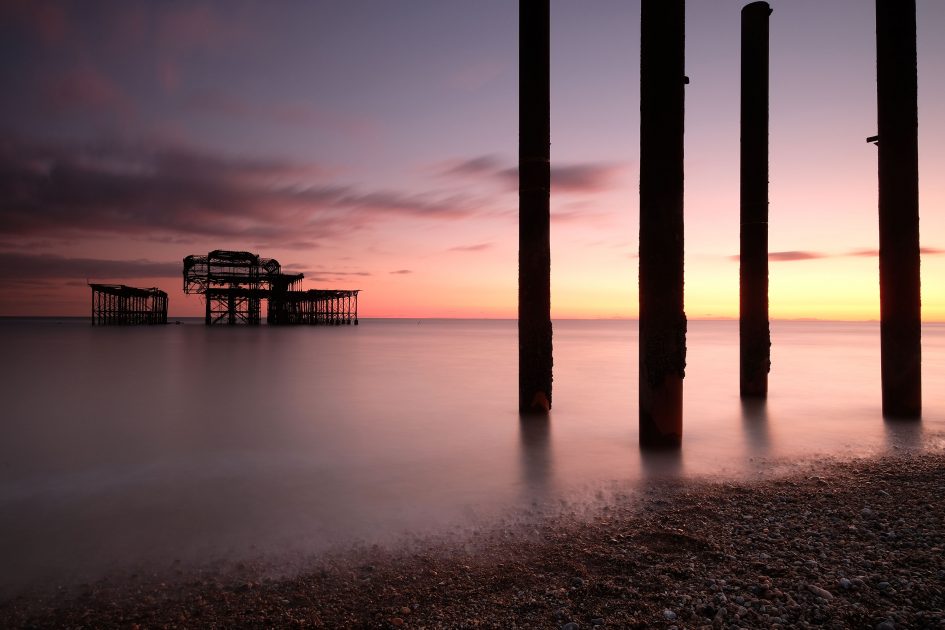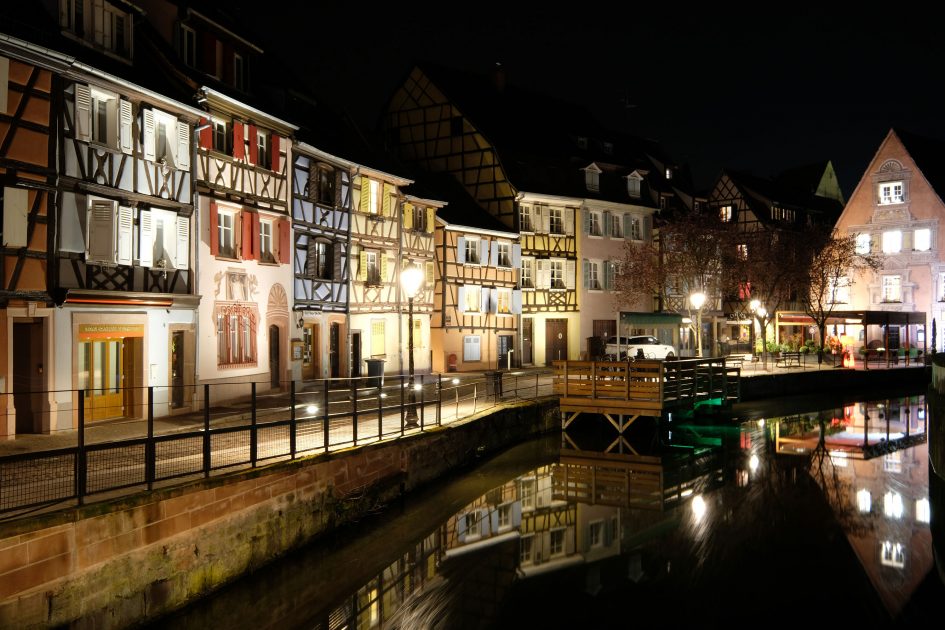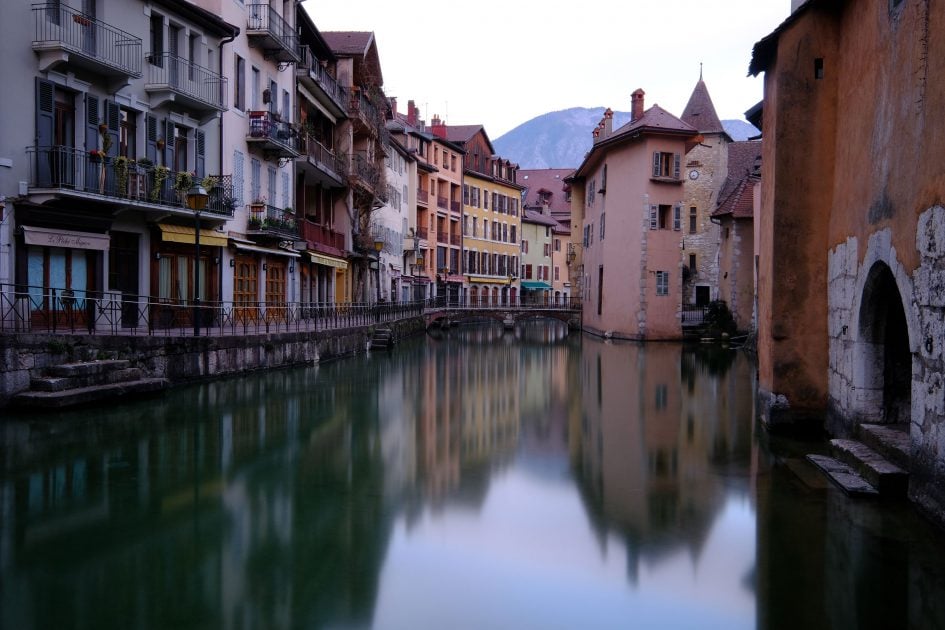 Pushing the Up button on the rear of the camera accesses the Drive options. Here you'll be able to set continuous shooting, a wealth of bracketing (including exposure, ISO, film simulation, white balance and dynamic range), multiple exposure and Advanced Filter effects.
Auto Exposure Bracketing (AEB) inexplicably remains surprisingly modest with just three frames at 0.3 EV increments, making it little more capable than a point-and-shoot for HDR fanatics. There's also no in-camera HDR for those who prefer an automatic life. The only positive aspect is that the entire three frame AEB sequence can be triggered with a single press of the shutter release or the self-timer, allowing the camera to grab all the frames without further presses. This makes it all the more annoying there isn't five or seven frame bracketing, or broader increments available. I'm no fan of HDR myself, but it's an odd omission for a camera of its class.
Meanwhile if you choose ISO, Film Simulation, Dynamic Range or White Balance bracketing, the X-Pro2 switches off any RAW recording and becomes JPEG only. This is odd since you can record all but Dynamic Range in RAW+JPEG quality in non-bracketing modes.
The Multiple Exposure option lets you take two shots and have the camera combine them into one. If you don't like the shots as you take them, you have the chance to retry, but other than that there's no other options.
Choose Advanced Filter and you can deploy one of eight special effects: Toy Camera, Miniature, Pop Colour, High Key, Low Key, Dynamic Tone, Soft Focus and Partial Colour (with six sub-options to pass red, orange, yellow, green, blue or purple, leaving the rest of the image in monochrome). The effects deliver the usual results, but sadly you can't apply them to video – they're just ignored as soon as you press the red record button, so still no chance of capturing a miniature movie with the X-Pro2, but to be honest given the target market I'm surprised to find the effects here at all. Annoyingly the X-Pro2 still won't record a RAW file when using the Advanced filters – I'd have preferred the Olympus approach where in RAW+JPEG mode, the effect is applied to the JPEG, leaving an untouched RAW as a backup to the JPEG with the effect applied.


Fujifilm's allowing some fun with the filter effects, but it's taken out the in-camera Panorama option found on earlier models. I do hope this is an X-Pro2-specific limitation and not one associated with X-Trans III as I felt the X-Trans II models did a fair job with their panoramas and it's a shame not to have them here.
Delve into the menus and you'll find an interval timer, with up to 999 frames captured at intervals between one second and 24 hours. You can also set a delay up to 24 hours before the sequence begins, although the camera still won't assemble them into a timelapse video afterwards, something both Olympus and Panasonic now offer as standard, even at 4k resolutions.
A further set of picture effects are available with the X-Pro2's Film Simulations which emulate classic Fujifilm film stock. The default setting is Provia, and that's what you'll see in all my sample images unless otherwise stated; it delivers a good balance of contrast and colour without being too punchy or saturated. If you fancy something more vivid, then choose Velvia, which coincidentally was always my favourite colour film for shooting landscapes. If you prefer a more subdued look, go for Astia, while portrait photographers may like Pro Neg Hi and Standard. For a classy vintage look, try Classic Chrome or Sepia or one of the four monochrome modes, three of which feature yellow, red and green filters. I enjoyed using the Monochrome Red option which really darkened blue skies and brought out cloud detail.



New to the X-Pro2 is the Acros, a monochrome Film Simulation with optional yellow, red and green digital filters. Fujifilm describes Acros as delivering smoother gradation, deep blacks and beautiful textures and unlike the introduction of Classic Chrome, it's not going to be available on earlier models with a firmware update – it's something that's wired-into the latest image processor so for future bodies only.
Here's a couple of shots taken with the older Monochrome Simulation on the left and the new Acros simulation on the right, both with the red filter applied. Depending on your display they can look quite similar, so I've also included histograms for the second example to show the subtle differences.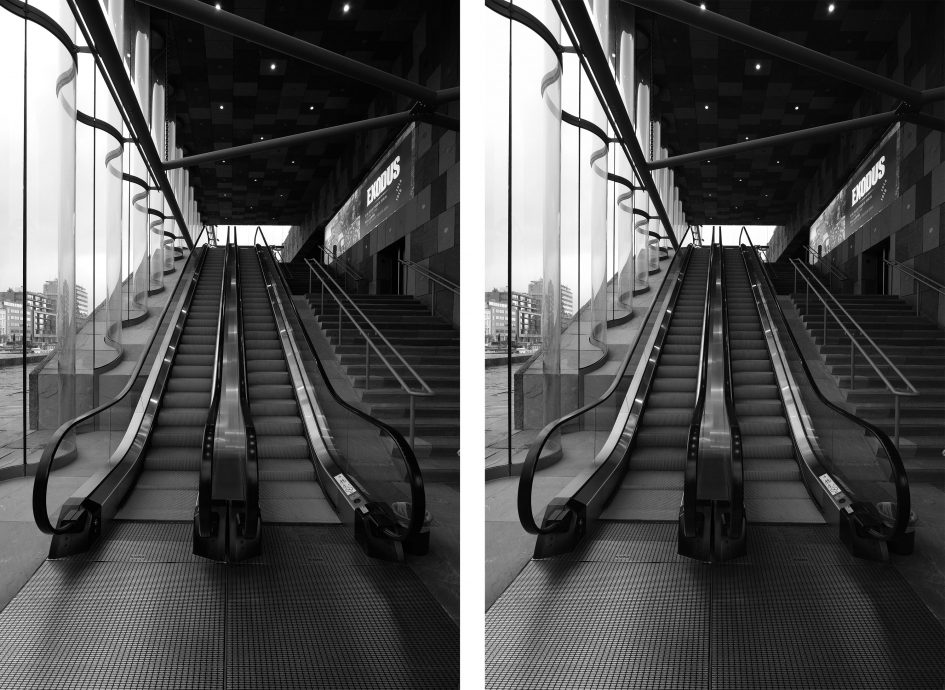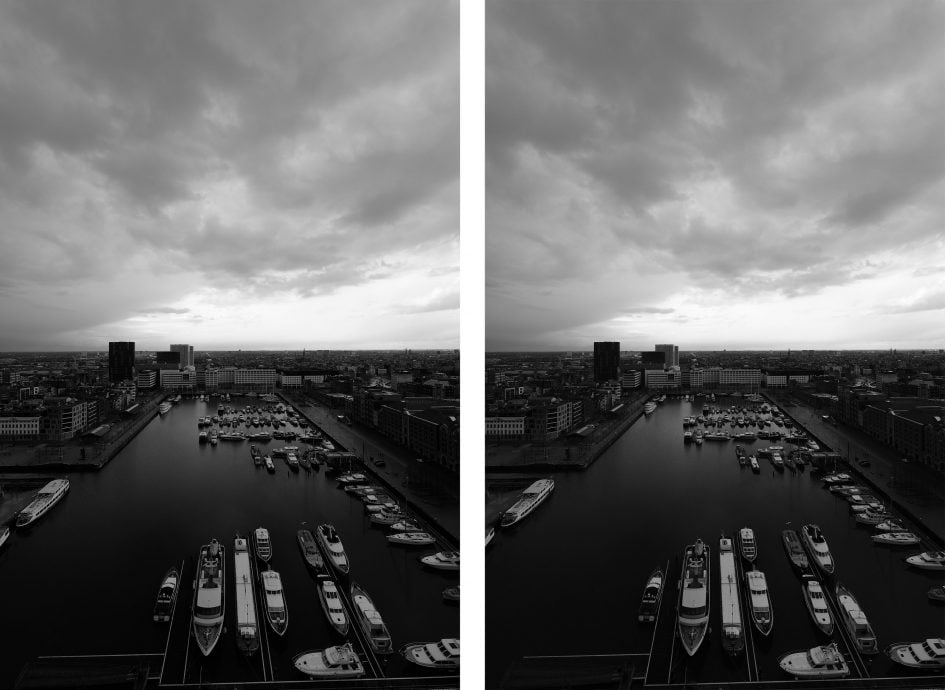 The Film Simulations are another part of the equation behind the lovely output from Fujifilm's cameras. I find I can achieve the mood I want using these subtle but effective processes, rather than resorting to often heavy-handed filters on other systems.
The X-Pro2 also introduced new Grain simulations with a weak and strong option to choose from and, like film simulations, you can apply these to RAW files after the event using the in-camera processing.

Above are 100% crops from an area on the dock photo earlier, showing, from left to right, no grain, weak grain and strong grain. The original image was shot at 200 ISO with the Acros simulation. Below is an image shot with the Velvia simulation at 800 ISO, followed by three more crops presented at 100% to show the grain effect on a colour image.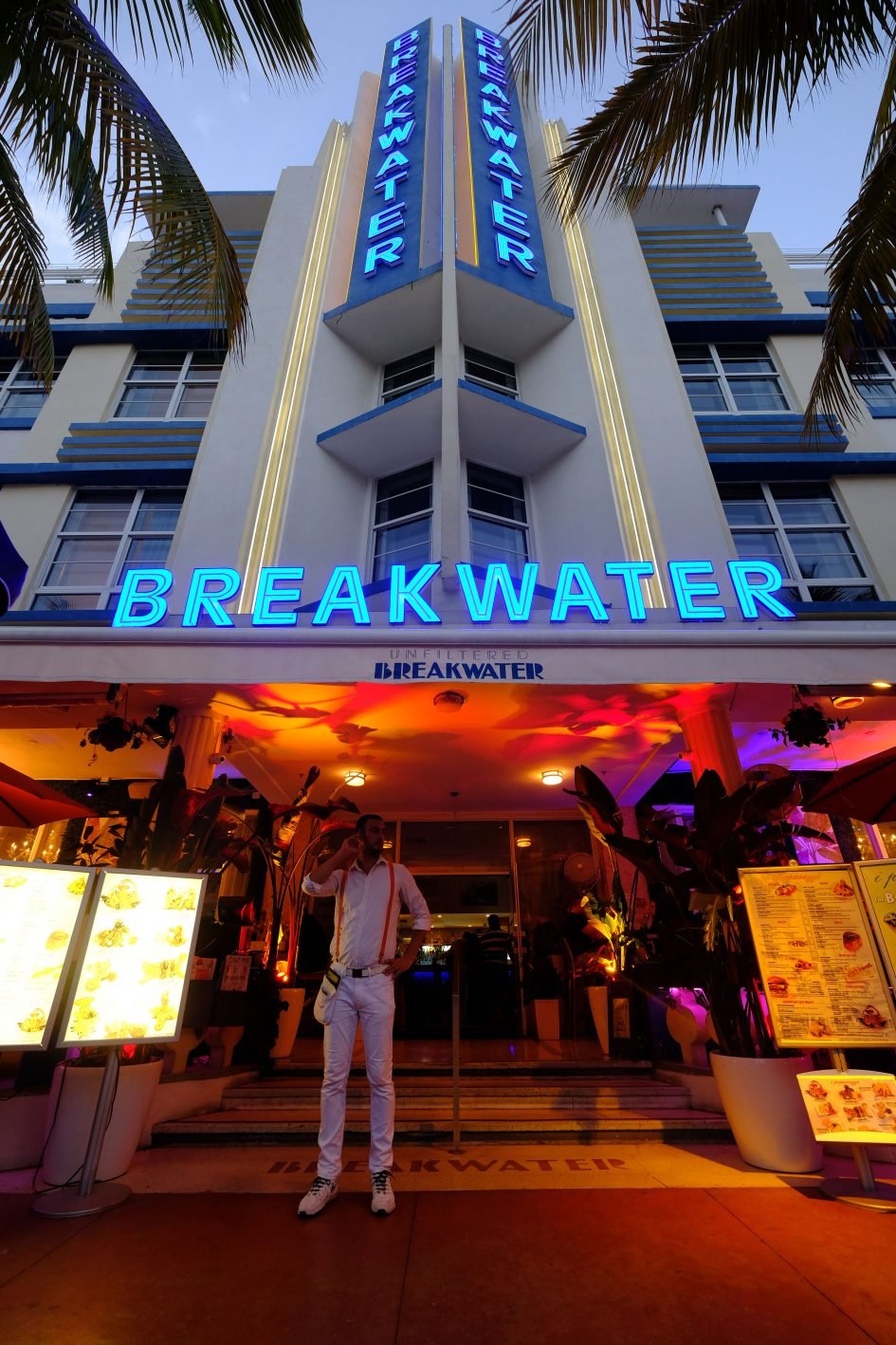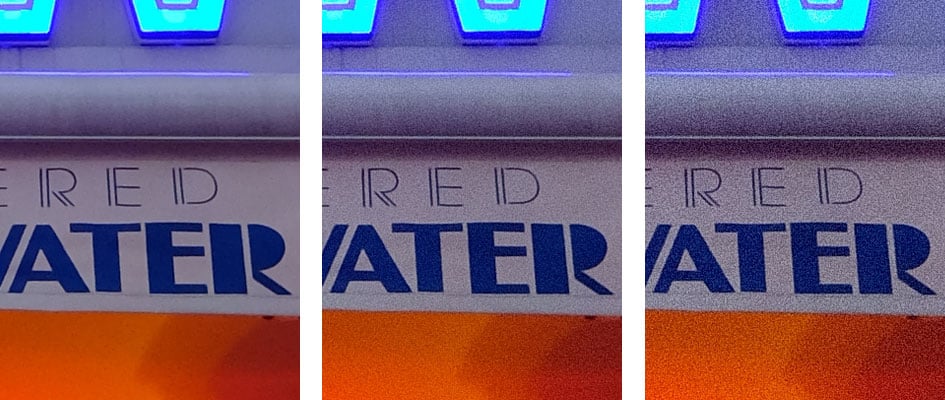 The option to simulate film grain in-camera, whether at the point of capture or during playback, is another useful tool in producing images that are ready to go without external processing. All reasons why I love to shoot with the Fujifilm X system.
Fujifilm X-Pro2 focus and continuous shooting
Arguably the most exciting aspect of the X-Pro2's new sensor is its improved AF capabilities, not just over the original X-Pro1, but even over recent models like the XT1 and XT10. As a reminder, the original X-Pro1 employed a 49-point, contrast-based AF system only which was slow to focus and not great at tracking either. With the second-generation X-Trans II, Fujifilm increased the total number of AF points to 77, but importantly 15 of them in the middle of the frame were embedded phase-detect AF points. These may have only covered a small area, but equipped models including the XT1 (running firmware 4.0) and the XT10 with surprisingly effective continuous AF tracking capabilities.
Interestingly, depending in the AF area mode, different arrays were offered on the X-Trans II models. Set them to Single AF area and you could choose from a 7×7 (49 area) array with the central 3×3 section offering phase-detect capabilities. Set them to Zone or Wide and the array became 11×7 (77 area) with a central 5×3 section supporting phase-detect.
Now with X-Trans III, the X-Pro2 sports a total of 273 AF points, including 169 embedded phase-detect AF points spread over a much larger portion of the imaging area. The total area of the frame which supports AF may be roughly the same as the X-Trans II models – so there's still a thick border around the array – but importantly much more of it supports phase-detect AF. Where the old models only offered a small rectangle in the middle of the frame, the X-Pro2's phase-detect points extend to the full height of the active AF area and out to become a large square. Meanwhile contrast detect AF areas extend the active area width-ways, but with the camera highlighting the PDAF region, it's striking how much larger it is than the X-Trans II models. And while it still falls behind the almost complete frame phase-detect coverage of Sony's A6000 and A6300, the X-Pro2's phase-detect area is still comfortably larger than the diamond arrays of most DSLRs.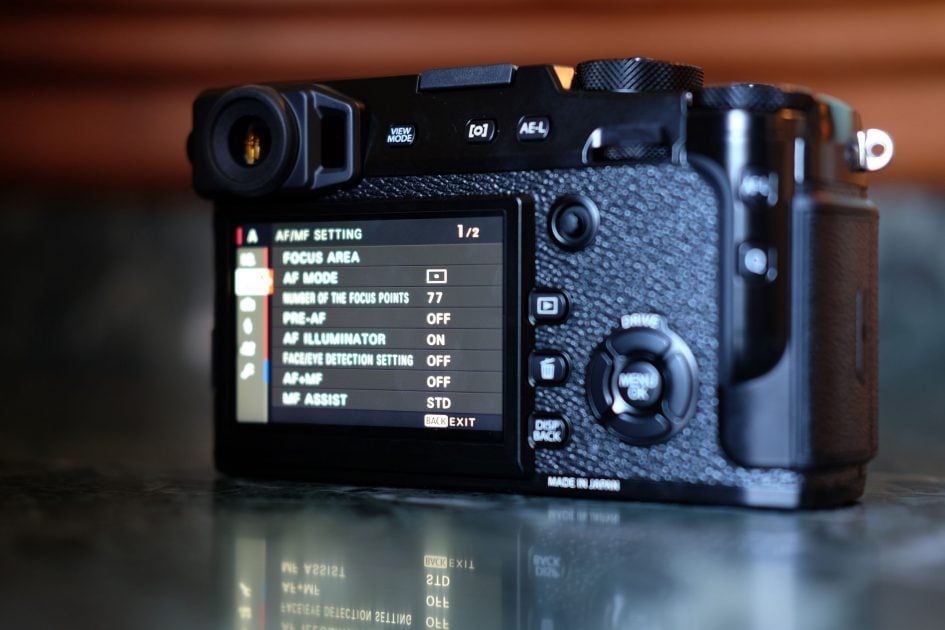 Set the X-Pro2 to single AF area and you can select any of the 273 points from an 21×13 array, where a 13×13 square in the middle represents the phase-detect area. Interestingly though when you set the X-Pro2 to Zone or Wide AF, the array becomes a coarser 11×7 (77 area). This implies some of the software which drives the Zone and Wide AF on the X-Pro2 is inherited from the earlier X-Trans II models, although at least the full area of the new phase-detect region is exploited, albeit with a coarser 7×7 array. If you prefer, you can also configure the single AF area mode to pick from a 77 area array, although with the joystick it's still fairly quick and easy to navigate around the complete 273 areas. Still not as quick as a touch-screen, but hey-ho.
Like the X-Trans II models before it, the X-Pro2 will limit you to the phase-detect area when the camera's set to continuous autofocus and the fastest 8fps burst speed – although again this does at least use a much larger and denser array than before, making it much more practical for action photography. Lower the speed to 3fps though and the full array including contrast-based area become available.
Like the latest X-Trans II models, there's also face detection with option eye detection that does a great job at locking-onto a human subject even with large aperture lenses like the XF 56mm f1.2 or XF 90mm f2. Face detection does however only work with contrast-based AF, so you'll only be able to use with continuous AF at the slower speed of 3fps, although the upside is having the full AF coverage. Note eye detection is disabled when the camera's set to Continuous AF.
In practice the X-Pro2's autofocus is a World apart from its predecessor – as indeed it should be given the X-Pro1's disappointing focusing and the four years of development between them – but I'm also pleased to report it's superior to the latest X-Trans II models in a number of respects.
As with all Fujifilm bodies, the AF experience is greatly dependent on the lens you're using, as some are much faster than others. The LM models are best of all, which means going for zooms or the XF 90mm f2 for the fastest performance – if you're into shooting action with continuous AF, those are the lenses you'll want. If however you're using primes, you'll find the AF speed can vary considerably, especially with older models.
I used the X-Pro2 mostly with the XF 35mm f2, XF 56mm f1.2 and XF 10-24mm f4 lenses. The XF 56mm f1.2 was the slowest of the three, ruling it out for fast action, but it was still swift for portrait work especially with face and eye detection – put it this way I had no problem shooting portraits of my kids at f1.2. While I love the XF 10-24mm f4 for my landscape shooting, it was the XF 35mm f2 I enjoyed using most with the X-Pro2. The small barrel won't obstruct the active frame area when shooting with the rangefinder and the focusing is fast and confident; it's also weather-proof and the quality is great. It's one of my favourite lenses for the X system and I'd strongly recommend it for any X-body owner, even as an upgrade from the original XF 35mm f1.4 which may be brighter, but focuses slowly, employs a larger barrel and lacks weather-sealing.
So if you fit the X-Pro2 with a recent lens, like the XF 35mm f2, you'll enjoy fast single AF performance that typically locks-on in a fraction of a second. I've tested faster, but there's not a lot in it. Set the camera to continuous autofocus and it'll do a good job at tracking subjects in motion at the top speed of 8fps, so long as you keep them within the phase-detect region and also give the camera a chance to lock-on in the first place. I found the X-Pro2's AF system benefitted from the subject getting close enough for it to completely cover a single AF area before attempting to lock-on for the best results. Sony's A6300 was similar in this regard.
Fitted with the XF 35mm f2 with the aperture wide open, the X-Pro2 was certainly capable of tracking subjects like cyclists or runners approaching face-on. If the motion was predictable, a single AF area worked well, but zone gave greater latitude if the subject moved more erratically. I had less success with birds in flight, at least with the seagulls of Brighton beach swooping erratically overhead, but it was fine for shooting my kids running around.
I was curious to try the X-Pro2 in other sporting environments to see how it fared, so jumped at the opportunity to attend a race at Silverstone, one of the UK's iconic motorsports tracks.
Shooting track-side at the World Endurance Championships / Six Hours of Silverstone weekend, I took thousands of frames using the X-Pro2 and the XF 100-400mm telephoto zoom. I experimented with the aperture wide-open at fast shutter speeds and closed-down for slower shutters to deploy the popular panning technique. In all cases I had the X-Pro2 set to Continuous AF, switching between single AF areas and Zone AF, and shooting Fine JPEGs at its fastest 8fps speed.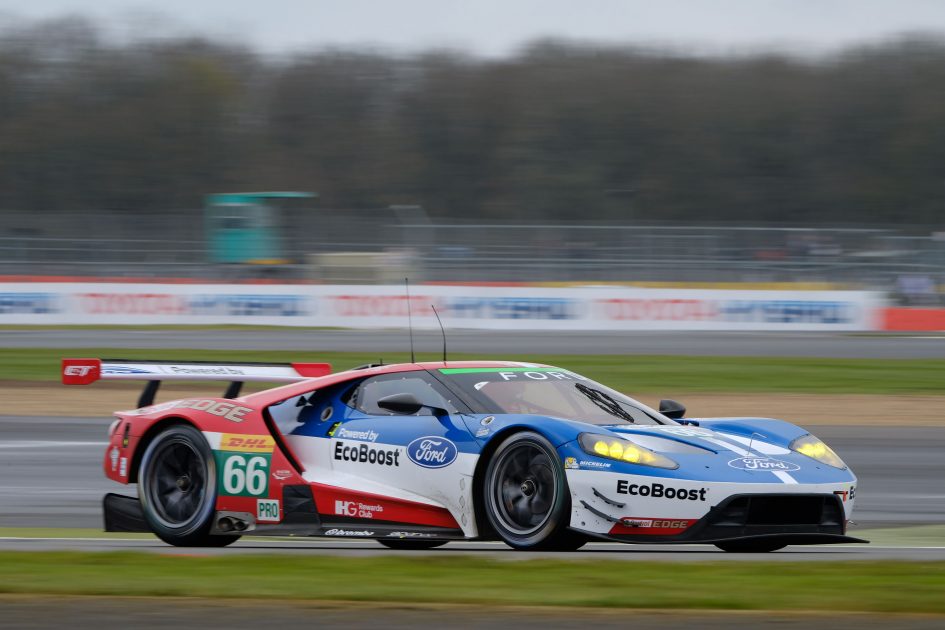 Above is one of my best panning shots of the day. It's an uncropped image from a sequence of around 20 shots using a single AF area positioned just below the centre. I used a shutter speed of 1/125 with the lens at 190mm for an equivalent coverage of 285mm. I panned to keep the car as still as possible on the frame while firing bursts. The idea is panning with the slowish shutter will blur the background and the wheels, but by keeping the subject sufficiently still in the frame during the exposure, it will be sharp.
While I did use continuous AF for this sequence though, the relatively small aperture of f11 (to maintain the 1/125 shutter) meant focusing wasn't as demanding as it could be; nor was the focal length as long as it could have been. So I shot a number of additional sequences with the aperture wide-open and the lens at its longest focal length of 400mm, equivalent to 600mm. To ensure motion blur wouldn't be an issue, I set the shutter to 1/4000 and let the sensitivity look after itself in Auto.
As mentioned earlier, I switched between using a single AF area (mostly positioned just below the centre) and Zone AF (again concentrated on the area just below centre). Both yielded good results with a perfect-focus hit rate of around 66% when viewed at 100%, and the remainder being acceptable at a slight reduction. Below I've pictured a typical sequence shot with Zone AF, where the first rows show the full frame followed by a 100% crop of the active AF area as selected by the camera. Remember viewing a 24 Megapixel image at 100% represents a very tight crop, and if you step back even just one notch, the results were very respectable.










With the right lens and subject, the X-Pro2 can certainly do a respectable job at tracking action, even very fast action. The initial acquisition with LM lenses felt faster and more confident than the X-Trans II models, and the phase-detect area is comfortably broader too making it much more useful. I enjoyed success with subjects from kids to cyclists to motorsports.
The biggest issue for me was the viewfinder / screen lag between frames, where you see the last shot you took rather than a live image of what's actually happening now. This has long been an issue for mirrorless cameras and over time you do adapt and learn to anticipate, but if the subject is erratic and changing speed or direction unexpectedly, it's certainly a challenge. I really noticed this at Silverstone with the racing cars as they braked and accelerated very quickly in and out of bends depending on which other cars were nearby. Sometimes I really struggled to keep them centered on the frame.
At this point you may rightly suggest shooting action with the optical rangefinder which isn't restricted by processing or even blackout. In this respect the rangefinder is perfect for following action, but only at close range with standard lenses. Fit a long telephoto and the coverage frame becomes so small in the rangefinder to become difficult to unusable even for static subjects. But it is an intriguing option when shooting close action with a standard lens.
Viewfinder feedback is something Sony has addressed with the A6300 which, when shooting at 8fps, can process the data sufficiently quickly to present a live image of sorts between frames. It's still not a perfect representation of what's going on right now, but it does make it much easier to follow the action as it moves around. The A6300 also boasts many more phase detect AF points which extend across the entire frame. Then of course there are traditional DSLRs with the immediate feedback of their optical viewfinders and typically very responsive AF points, albeit restricted to a diamond pattern in the middle.
Ultimately I find models like the A6300 or a semi-pro DSLR preferable for serious sports photography, but isn't it amazing we're even having this discussion in the first place? The original X-Pro1 could be a nightmare for focusing, so look how far Fujifilm has come that the X-Pro2 is actually a contender for action photography. Not the best at this price point, but certainly very usable indeed. How many of us would have taken its predecessor to shoot motorsports with a super-telephoto zoom?
The X-Pro2 AF represents a huge improvement over the original X-Pro1 in every respect and I look forward to hopefully seeing the same sensor deployed in future X-series bodies.
Drilling-down to the burst shooting, the X-Pro2 offers a Low speed of 3fps for unlimited bursts limited only by memory, or High Speed at 8fps, where the buffer accommodates 83 JPEGs or 33 / 27 RAW files, using losslessly compressed / uncompressed data).
To put it to the test I inserted a freshly-formatted UHS-I SD card into slot-1, set the shutter to 1/500 and the sensitivity to 400 ISO before timing a series of bursts at the High Speed setting. With the quality set to Fine JPEG, my X-Pro2 captured 104 frames in 12.61 seconds for a rate of 8.25fps, after which the rate fell to around 4fps. With the quality set to RAW with lossless compression, it managed 28 frames in 3.39 seconds for a rate of 8.26fps, after which the speed became erratic between 2 and 4fps.
So in practice the X-Pro2 delivered the quoted speed for roughly the quoted buffer depth. This makes the speed the same as the earlier XT1, but it's possible to capture much deeper bursts of JPEGs which again makes it more practical for sports and action photography.
I also tried continuous shooting with identical SD cards in both slots and found the X-Pro2 seamlessly switched from one to the other when the first became full in Sequential mode. Set to Backup mode, the X-Pro2 also seemed happy to maintain the speeds measured earlier with decent burst lengths. So the camera allows you to exploit dual cards without compromise on burst speed as you would hope.
Fujifilm X-Pro2 Wifi
It's 2016, so the Fujifilm X-Pro2 of course features built-in Wifi, but it's important to remember the original X-Pro1 did not, so this represents an important upgrade. Wifi on the X-Pro2 allows you to wirelessly transfer images and remote control the camera with an iOS or Android smartphone, or transfer images to a Windows or MacOS computer via a mutual router. I tested the free Camera Remote app on my Samsung Galaxy S6 and the experience was identical to the XT models before it. Upon starting the app, you're offered four main options: Remote Control, Receive, Browse Camera and Geotagging. I'll cover each in turn.
The Remote Control option shows a live image from the camera, surrounded by shooting information and a selection of buttons underneath. A slider at the bottom lets you choose between shooting stills or filming video, after which pressing the big red and silver release button above will trigger your choice. Once you're recording a movie, the live image changes to 16:9, but annoyingly it won't do this prior to filming for composition.
Gratifyingly you can tap anywhere on the live image to reposition the AF area, and the X-Pro2 will refocus straightaway. This makes up in some small part for the absence of a touch-screen on the camera itself. Sadly you can't tap to refocus when filming video though, or even when composing prior to filming video – it only works when the app slider is set to take still photos.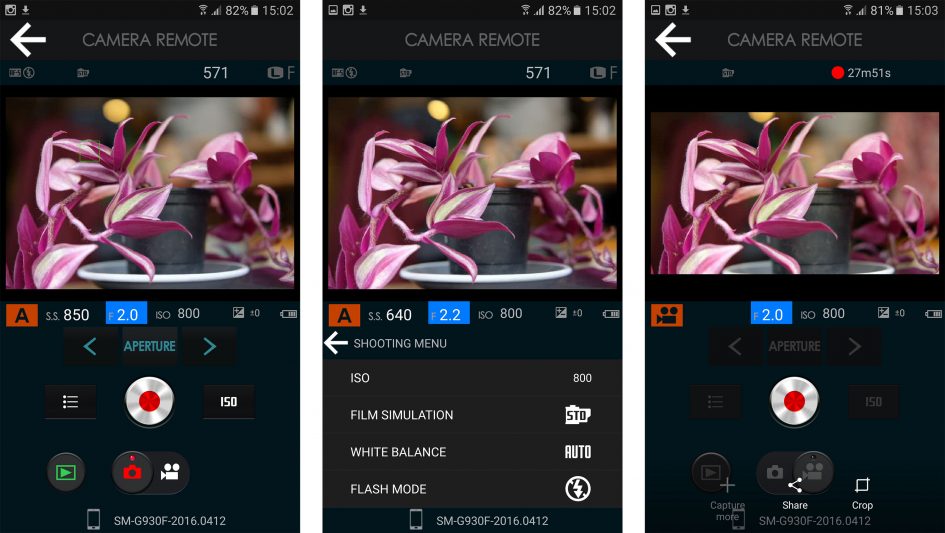 A button to the right of the release lets you choose the ISO, while one on the opposite side lets you change the Film Simulation, White Balance, Flash mode, Self timer, and, er, ISO again. If you're in Aperture Priority you can adjust the aperture on-screen by tapping the value below the live image. Same for the shutter speed in Shutter Priority, or indeed either of them in Manual, but you can't change the actual exposure mode remotely, nor can you effectively hold down the release button for Bulb exposures. You also can't change the image quality or the exposure compensation remotely, although the current setting for each is shown on your device.
The remote control view also has a play button which presents a series of thumbnails with the chance to tick the ones you'd like to import into your handset. Bucking the trend for remote control apps, the choice of quality is actually set within the camera, not the app – you can choose the original image size or a reduced one at 3 Megapixels. Like most rivals, you'll only be transferring JPEGs, not RAW files.
This leads me to the second option of the app, named Receive. This initiates playback on the camera, with the option to send a photo as you browse through them. Received images are graphically shown on your handset's screen like stacked paper photos. An option to Receive may seem redundant when you have various thumbnail views for importing on the app, but it's actually very useful. There's many times I'll have gone through a series of almost identical images on the camera in playback, then got completely lost when viewing them all as thumbnails on a remote control app – which was the one I liked best? Was it third or tenth along from the end of that sequence? But Fujifilm's Receive mode solves this by letting you initiate the transfer from the playback mode of the camera and push them to the handset.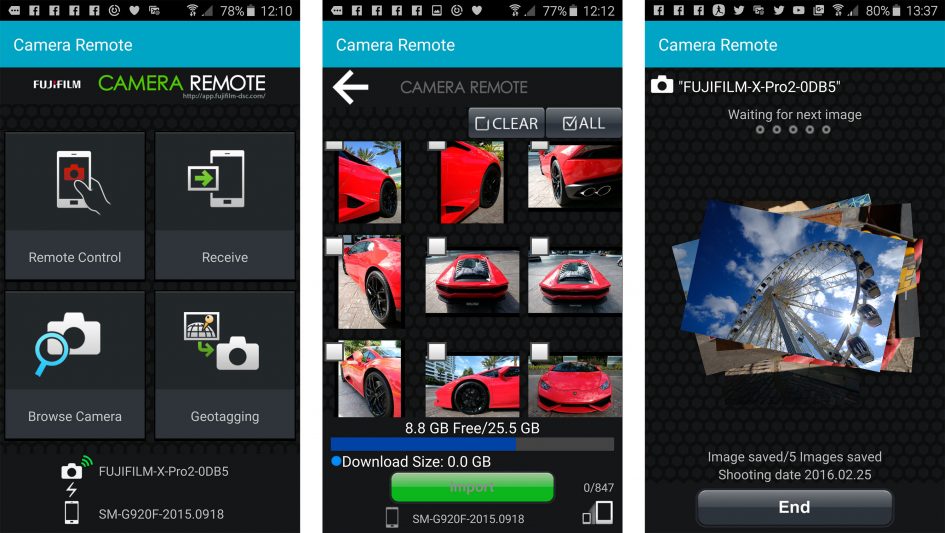 The third option is Browse Camera, which presents exactly the same thumbnail view as tapping play in the Remote Control option described earlier. Like that option, you can view thumbnails in two different sizes, tap to enlarge for a closer look and choose to import if desired. You can import JPEGs at either 3 Megapixels or the original size, but again not RAW files. The app also allowed me to import movies, but I couldn't find them on my phone afterwards.
The fourth and final option on the app is Geotagging which as its name suggests, uses your handset's GPS to deliver co-ordinates which are embedded on your photos. However Fujifilm goes about this in a different way to rivals. Rather than having your handset store a GPS log which is later synced with the images in the camera, the X-Pro2 actually imports the co-ordinates as you compose and take the photo, so there's nothing for you to do afterwards.
Choosing Geotagging on the app presents an almost bare page indicating that it will now make GPS co-ordinates available for the next 60 minutes; returning to it during this time shows how long you have left. If you now initiate Wifi on the X-Pro2 it'll connect to your handset and a few seconds later report that its searched your device and (hopefully) knows where it is in the World. Returning to composition on the camera, you'll now see the actual GPS co-ordinates can be displayed on-screen, while a small icon of the World indicates a successful and active connection. You're now free to put your phone in your pocket and shoot as normal on the X-Pro2; you can even turn the camera off and on again, and it should quickly re-establish the connection with your phone by itself. Meanwhile every image you take is automatically embedded with the GPS co-ordinates delivered by your phone. Here's a photo I took with the tag entered into Google Maps to indicate the position.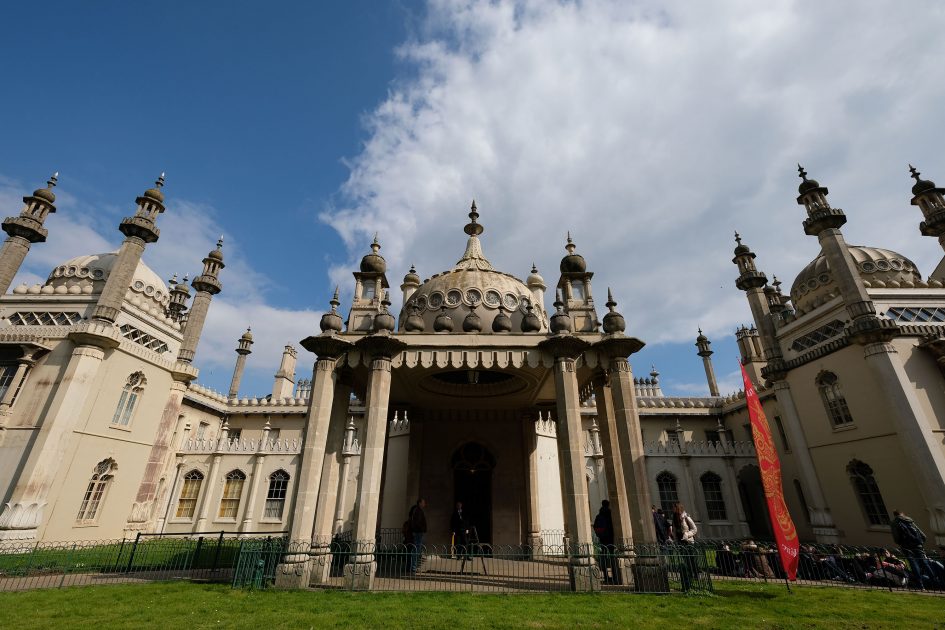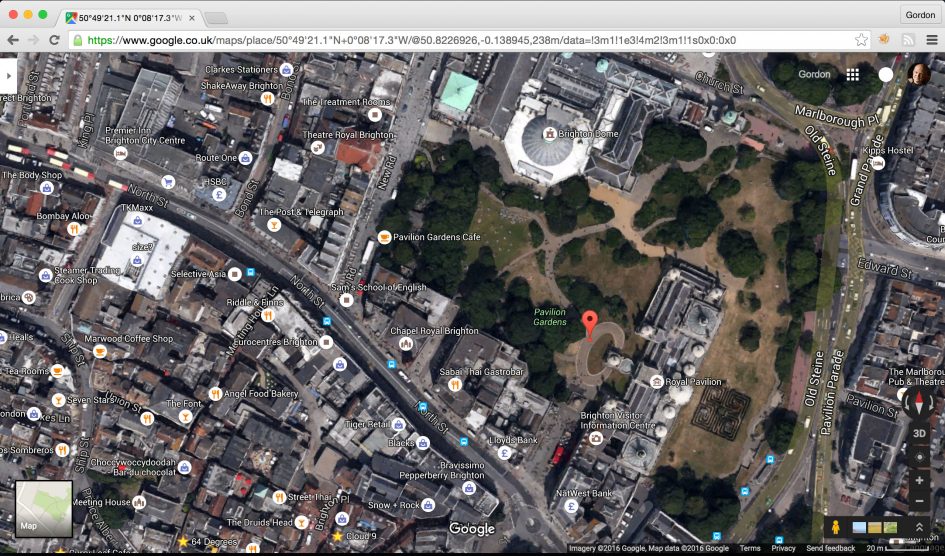 After the 60 minutes are up – or if you cancel the process manually on the app – the World icon turns red and flashes on the camera to indicate it's no longer receiving positional data. If you want to continue shooting with GPS data, just start the Geotagging process again within the app and you're good to go. When you playback geo-tagged images in the camera, their actual co-ordinates are shown in one of the display views.
In practice it works very smoothly, and I loved the fact my images were already tagged the moment I took them, eliminating the syncing process later. As always the accuracy was also good so long as your handset had a decent view of the sky. The downside to Fujifilm's implementation is there's regular Wifi communication between the camera and phone and while I don't know how clever they are about power saving, I can tell you that the batteries on both definitely depleted faster than normal when Geotagging was in operation – so be warned.
Fujifilm also offers PC Autosave software for both PCs and Macs which allows the camera to connect to a computer or laptop and wirelessly transfer images as you take them. Annoyingly though like most camera to computer software I've come across, it requires a wireless router / hub in the middle which limits it to office, home or studio environments and rules out ad-hoc connections in the field. It's also not possible to remote control the camera from a computer or laptop.
In this respect Fujifilm's Wifi implementation is a lot like its rivals, where remote control and ad-hoc image transfer is mostly limited to smartphones and tablets. If transfer to a computer or laptop is available, it's never ad-hoc and instead requires an existing network to connect into.
Fujifilm X-Pro2 movie mode
Fujifilm's X-Pro2 inherits essentially the same movie capabilities of earlier XT bodies running their latest firmware editions. As such you can film 1080p or 720p at 24, 25, 30, 50 or 60p, but there's no higher frame rates for slow motion, nor any 4k. Revealingly Fujifilm's engineers proudly informed me their latest image processor, making its debut on the X-Pro2, was capable of working with 4k video, but as a stills-oriented camera it was decided not to deploy it here. But it does suggest we might see 4k on a future X-body.
Like earlier bodies you can set the aperture and shutter or leave one or both set to A for semi-auto or fully auto exposure; and while Fujifilm recommends setting the exposure before you start recording, it is possible to adjust it during recording, as well as turning the exposure compensation dial, albeit with clicks in abundance.
Audio is recorded by internal stereo mics or via an external mic connected to a 2.5mm jack, and it's possible to adjust the levels using graphical meters. The longest recording time for single clips in 720p and 1080p are 28 minutes and 14 minutes respectively.
You can set the focus to Single or Continuous using the same control as for stills, and set to the latter, the X-Pro2 will rack focus between near and far subjects. But what you can't do is tell it where to focus unless you have face detection enabled and a nearby human for it to recognize.
There's no movie mode button on the X-Pro2, nor any dedicated red record button either. As such it can be a bit of a mystery at first to work out how to start recording movies. The record button needs to be assigned to one of the camera's Function buttons – by default it's the Fn button on the upper right surface, but you can change this to one of the other five programmable function buttons, or indeed treat it with the contempt Fuji seems to assume X-Pro2 owners will have for movies and effectively ignore it completely.
But while the movie quality on previous X-Trans II bodies left a lot to be desired at times, Fujifilm has made great progress with the X-Trans III and processing in the X-Pro2. Footage filmed with the standard Provia Film Simulation may be a little over-sharpened and contrasty, but there's a lot of detail present and far fewer of the undesirable artefacts of earlier models. The still grabs below don't do it justice, so check out the moving samples in a moment.


It's possible to film with any of the X-Pro2's Film Simulations too so while there isn't a flat option for subsequent grading, you could record in, say, Astia, and have fairly soft and muted output to work with.
Ultimately the quality and control may still fall behind the best movie modes out there, but Fujifilm's made significant progress and now the latest X-Trans III sensor and image processor are capable of capturing very usable footage. Here's a few examples.
Fujifilm X-Pro2 sensor and processing
Fujifilm launched the X-mount four years ago with the 16 Megapixel X-Trans sensor behind it and while the X-Trans II sensor later added a bunch of phase-detect AF points in the centre of the frame, the resolution stayed the same.
Now with the X-Pro2, Fujifilm has introduced the third generation X-Trans III which for the first time in X-history boosts the resolution to 24 Megapixels while additionally sporting broader and denser phase-detect AF coverage.
Like previous X-Trans sensors, the latest version III employs an APS-C area with Fujifilm's unique colour filter array that allows the absence of an optical low pass filter for the ultimate crispness without suffering from moire. The difference now is the image resolution has increased from 4896×3264 to 6000×4000 pixels, allowing you to output 2in taller and 3in wider at 300dpi. While higher resolutions allow larger reproductions, their physically smaller pixels also raise concerns over noise and tonal dynamic range. Fujifilm's managers assured me the performance on the pixel level was as good or even better than the previous X-Trans II, so this seems like the right time to move onto my quality pages to find out!
But just before I go, a quick note on RAW files – you can now save RAW files with lossless compression or no compression, and unlike the X-Trans II models, it's possible to also record a RAW file at 100 ISO. Since this is below the base sensitivity of 200 ISO there may be dynamic range compromises, but it does give long exposure photographers a useful extra stop while retaining the chance to make more edits after the event. I know there's been a few occasions when lighting and my choice of filters have forced me to shoot with the XT1 at 100 ISO and when doing so I was reliant on getting the processing right first-time in-camera with JPEG only. Luckily the Fuji system is remarkably good at this, but it's still good to have the option of RAW at 100 ISO. As for file sizes, uncompressed RAW files weigh-in at around 50MB each, while losslessly compressed ones were typically around 25MB each.
Now it's time to check out my quality page, my sample images or tab back to the verdict!