Fujifilm Instax SQ20 review – preview
The Fujifilm Instax SQ20 is an instant camera that uses the Install Square format. Announced in September 2018, it's the third camera to use Instax Square film cartridges, delivering square pictures measuring 2.4×2.4in or 62x62mm, on paper that's 86x72mm in size. Proportionately the Instax Square prints are reminiscent of the original Polaroid instant format, but smaller. Like the Instax Mini format, Instax Square is supplied in cartridges with ten prints.
Like the SQ10 before it, the SQ20 is a digital camera, capturing images with a low resolution sensor and letting you view or edit them on-screen before saving them to SD memory or printing them. This avoids potential wastage of the fully analogue Instax cameras which make a print every time you press the shutter button, and also allow you to make more than one print of the same image for sharing.
What makes the SQ20 different from its predecessor though are the ability to zoom (using a 4x digital zoom with no loss of quality one the prints) and the chance to record short 15 second video clips before grabbing the desired frame(s). There's also a new Time Shift collage which takes four shots in succession then arranges them all on one image. Sequence Filter creates dynamic or dreamlike effects with deliberate motion blur, while Collage lets you arrange multiple shots on a single image. These join the existing vignette, filter effects, double exposure and bulb modes. Available in matt black or beige finishes from October 2018 at 199 USD or 179 GBP, it's a fun upgrade over the earlier SQ10. See my Fujifilm Instax SQ10 review for more details and check back soon for my full review.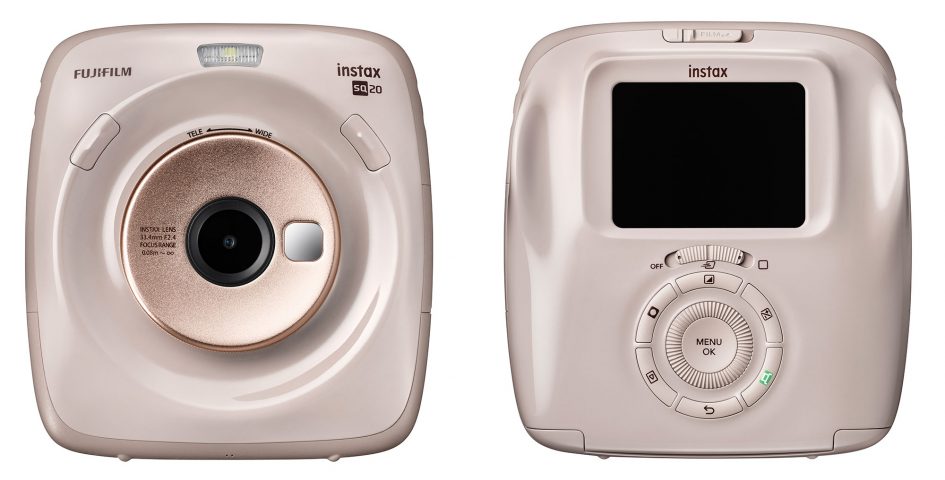 Check prices at Amazon, B&H, Adorama, eBay or Wex. Alternatively get yourself a copy of my In Camera book, an official Cameralabs T-shirt or mug, or treat me to a coffee! Thanks!