The Instax Share SP-3 is a portable instant photo printer that uses Fujifilm's Instax Square film format. Announced in November 2017, it's the third Instax printer, and like earlier models is designed to print wirelessly from smartphones using a free app, or directly from compatible Fujifilm cameras. It is however the first Instax printer to use the most recent Instax Square film format that made its debut on the Instax SQ10 camera earlier in 2017.
Instax Square delivers images measuring 2.4×2.4in or 62x62mm, on paper that's 86x72mm in size, leaving a strip at the bottom for holding or writing on. Proportionately the Instax Square prints are reminiscent of the original Polaroid instant format, but they're smaller. Like the earlier Instax Mini format, Instax Square is supplied in cartridges with ten prints; at the time of writing, the cost per print worked out around $1.30 or 90 pence. The prints emerge dry from the machine after about 14 seconds before slowly reaching maximum density a few minutes later.
Like earlier models, the Instax Share SP-3 is a physically simple device with power and reprint buttons on either side of the output slot, below which ten bright LEDs indicate the number of prints remaining. The printer is entirely self-contained and portable, powered by a small (removeable) Lithium Ion pack that can be charged internally over USB and is good for around 160 shots per charge. Connectivity is entirely wireless and you can only print from Android and iOS devices running Fujifilm's Instax Share app, or direct from compatible Fujifilm cameras. The Share app can print any image stored on your phone or access your photos from a variety of social media services; you can then make minor adjustments to them (such as saturation or cropping) or apply a variety of templates, add text or arrange in collages. If you prefer to print directly from a Fujifilm camera, you can do so straightaway with the XE3 or wait until the end of 2017 for firmware updates to the XT2, XT20, X-Pro2, XT1, X100F and GFX-50S. Check out my video review below to see how it works and compares!
Instax Share SP-3 verdict
The Share SP-3 is a fun addition to the popular Instax portable printer range, allowing you to output square images wirelessly from your iOS or Android phone, or directly from compatible Fujifilm cameras. The app works well, allowing you to browse photos on your device or a variety of social networks, make minor adjustments, add text or arrange as a collage, before effortlessly connecting to the printer over Wifi.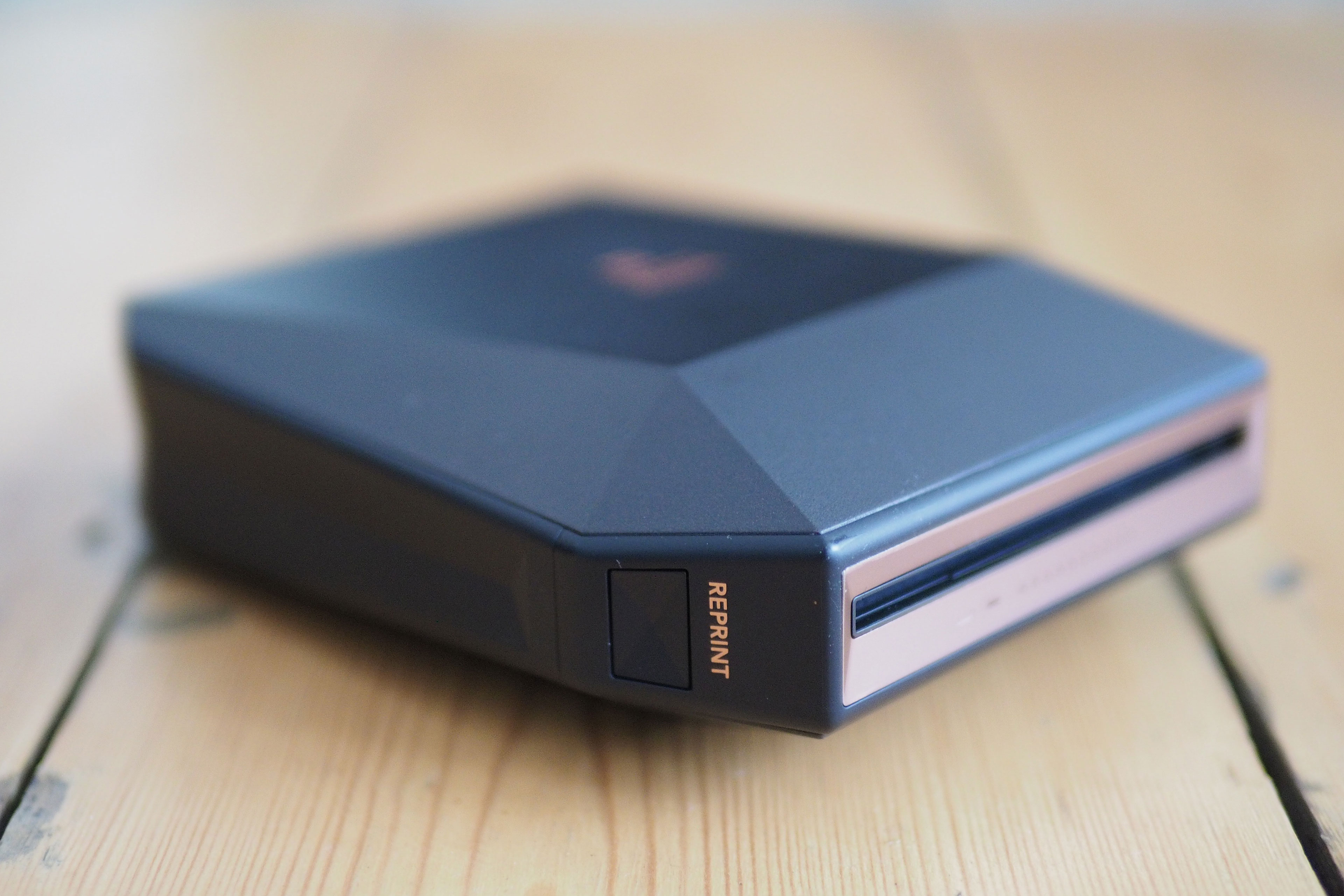 The Real Time template is fun, adding location, time and weather information to prints, as is the social template which can add your profile photo, date and number of likes. While it's not possible to directly access images from other accounts you follow, you can search for images with specific hashtags from the app and print those, or of course save images to your phone and print from your gallery instead. Printing directly from Fujifilm's compatible cameras is effortless and perfect for events: instant prints from a device that could be carried in a holster or large pocket, but taken with a 'proper' camera. And of course you can print from other cameras too if you transfer the images to your phone first.
The only downside is the cost and size of prints: around a dollar or pound per print for an image measuring 2.4×2.4in. If you're after low-cost photo printing at home, the Canon SELPHY CP-1300 will connect to phones, laptops and cameras, output larger 6x4in prints costing a third of the price and which emerge fully-developed in less than a minute; but the device itself is much larger, the battery to make it portable is an optional extra, and the printer itself really needs to be placed on a flat, dust-free surface while printing. In contrast, the Instax SP-3 is much smaller and lighter, truly portable and works anywhere handheld – it's something you really would consider throwing into a bag or pocket and taking out with you, and there's no denying the enjoyment of watching an instant photo gradually appear before you. There's also a style and quality to the look and feel of instant prints that's lacking from standard postcard photos that makes it easier to forgive their size and price. Recommended if you want a truly portable photo printer or love the instant format. Fujifilm camera owners will also enjoy direct wireless printing which again is perfect for events where a basic instant camera isn't delivering the control or quality you desire.

Check prices on the Instax Share SP-3 at Amazon, B&H, or Adorama. Alternatively get yourself a copy of my In Camera book or treat me to a coffee! Thanks!