Fujifilm GFX 100S review so far
The Fujifilm GFX 100S is a medium format mirrorless camera with 100 Megapixels, built-in stabilisation and 4k video. Announced in January 2021, it's the fourth model in Fujifilm's GFX series, inheriting the sensor from the flagship GFX 100 but presenting it in a more compact and much more affordable body. Indeed, at $5999 or 5499 GBP, the GFX 100S is around half the price of the previous GFX 100 while delivering essentially the same photo and video quality. It also marks the end of the GFX 50S which has now become discontinued.
Thanks to a new IBIS and shutter unit, the 100S can relocate its battery into the grip, allowing the body to lose the bulky rear section of earlier GFX models, not to mention reduce the height compared to the GFX 100. The result is a shorter and much slimmer body that's more akin to a full-frame DSLR, measuring 150x104x44mm and weighing 900g with battery and viewfinder. It may lose the portrait grip and dual batteries of the GFX 100, but is smaller all-round and 500g lighter, while still retaining weather-resistance.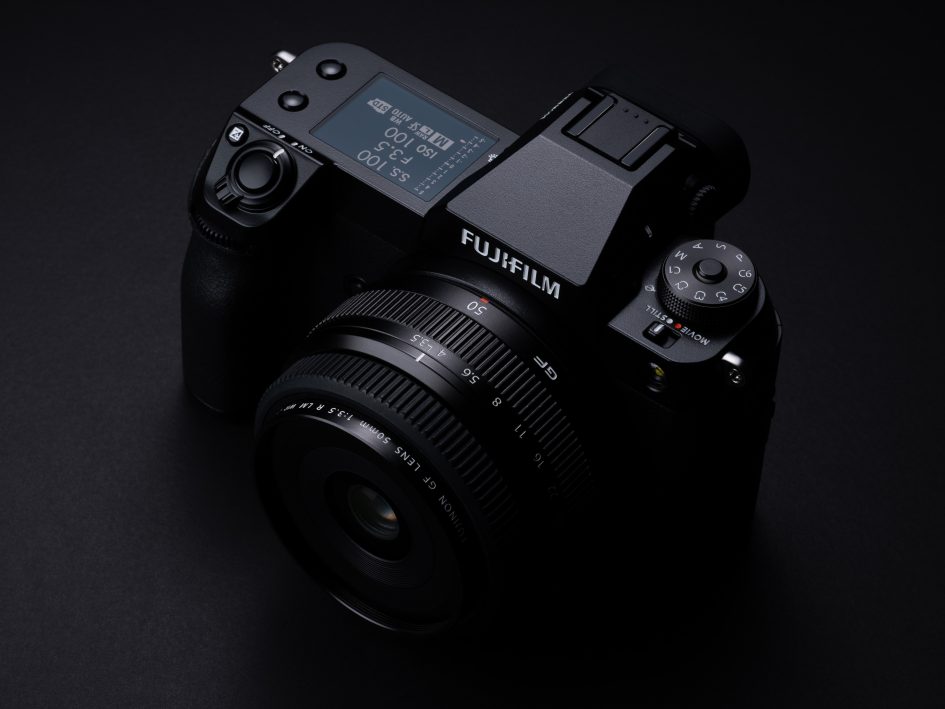 Meanwhile Fujifilm has switched batteries from the NP-T125 packs of earlier GFX models for the NP-W235 introduced on the X-T4, which Fujifilm reckons is good for 460 frames. Some cost and space savings have also been achieved by using a fixed EVF with a 3.69 million dot OLED and 0.77x magnification, both smaller and lower resolution than the GFX 100, although the main monitor remains a 3.2in touchscreen with a tri-axial mount that can angle 90 degrees up, 45 degrees down or 60 degrees to the side. The GFX 100S also employs a large 1.8in 303×230 pixel e-ink display on the upper right surface for exposure and shooting information, and a single PASM mode dial on the upper left. In terms of connectivity there's USB C, Micro HDMI, 3.5mm mic and headphone jacks, a PC Sync port, 2.5mm remote jack and twin UHS-II SD card slots.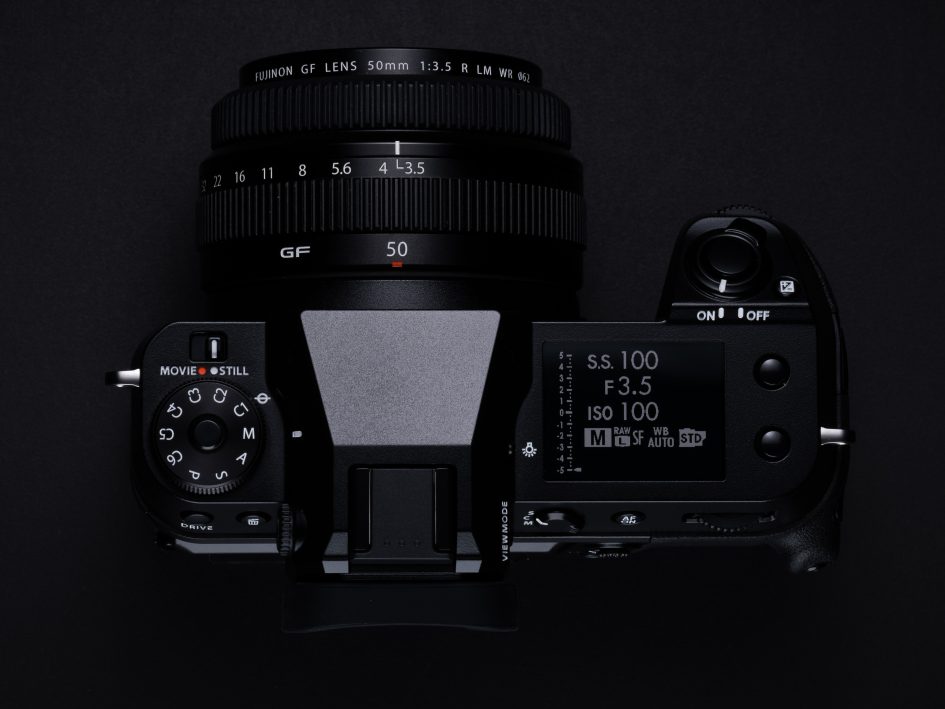 By inheriting the flagship sensor, the GFX 100S can capture 100 Megapixel images with support for the recent pixel-shift mode, delivering up to 400 Megapixels for archival purposes. It'll shoot 100 Megapixels at up to 5fps with phase-detect AF across the entire frame, and is also a capable movie camera, filming 4k up to 30p using the full sensor width and the option of 10 bit 4:2:2 or even 12-bit ProRes RAW over HDMI to an external recorder.

While the earlier GFX 100 still comes out on top with a larger, more detailed and detachable viewfinder, longer battery life, a portrait grip, and rear info screen, I feel most buyers would be more than compensated by the smaller, lighter body of the 100S and its much reduced price. In fact at almost half the price of the GFX 100, I can't imagine anyone going for the older model over the new one. More importantly while the GFX 100S remains more expensive than the best full-frame models, it's become a great deal closer and arguably close enough for many potential full-frame buyers to consider the next step-up. They will of course also have to consider the cost and variety of GFX lenses, but there's absolutely no doubt the GFX 100S has made Fujifilm's medium format system considerably more attractive. I look forward to testing a final production model for my full review.

Check prices on the Fujifilm GFX 100S at B&H, Adorama, WEX or Calumet.de! Alternatively get yourself a copy of my In Camera book or treat me to a coffee! Thanks!