Intro
The Fujifilm GFX 100S is a medium format mirrorless camera with 100 Megapixels, built-in stabilisation and 4k video. Announced in January 2021, it's the fourth model in Fujifilm's GFX series, inheriting the sensor from the flagship GFX 100 but presenting it in a more compact and much more affordable body. Indeed, at $5999 or 5499 GBP, the GFX 100S is around half the price of the previous GFX 100 while delivering essentially the same photo and video quality. It also marks the end of the GFX 50S which has now become discontinued.
In my video review below, I'll show you everything you need to know about the GFX 100S from its design and controls to the handling and quality. If you prefer to read the written highlights, keep scrolling, or skip straight to my verdict or sample images!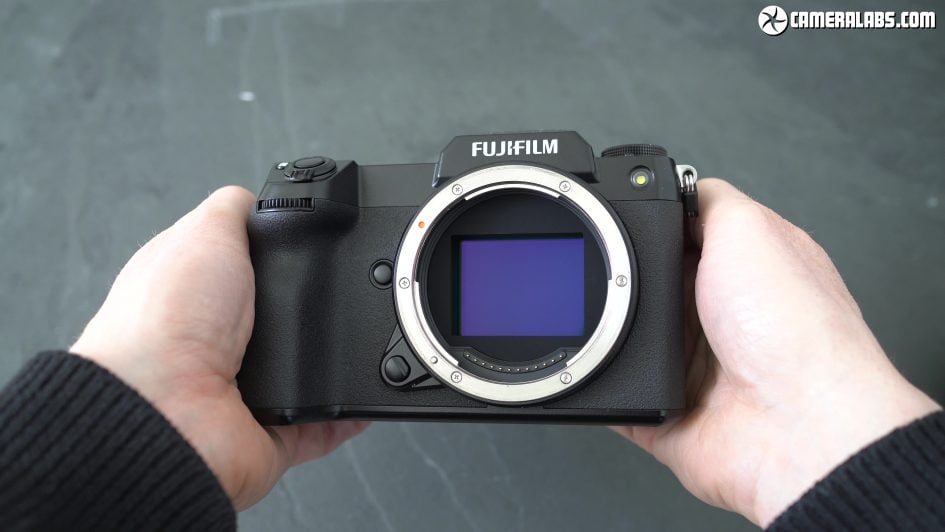 Above: The GFX 100S represents a significant reduction in overall heft compared to previous models, some of which may have looked relatively compact in one direction, only to reveal a surprisingly chunky protrusion from another. In contrast the 100S looks and feels a lot like a chunky enthusiast-class DSLR, not dissimilar in your hands to, say, a Canon 5D or Nikon D800.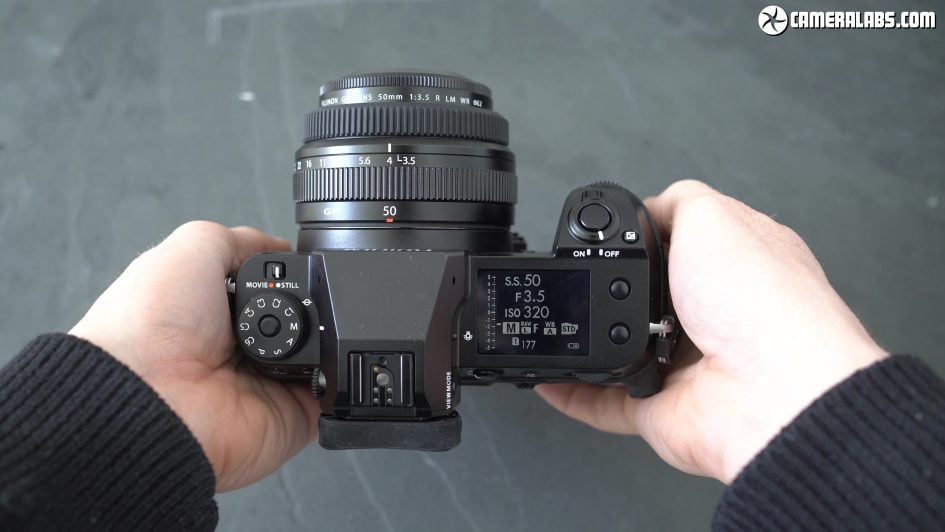 Above: So how has Fujifilm managed the miniaturisation? Thanks to a new IBIS and shutter unit, the 100S can relocate its battery into the grip, allowing the body to lose the bulky rear section of earlier models, not to mention reduce the height compared to the GFX 100. The result is a shorter and much slimmer body, measuring 150x104x44mm and weighing 900g with battery and viewfinder. It may lose the portrait grip and dual batteries of the GFX 100, but is smaller all-round and 500g lighter, while still retaining weather-resistance, built-in stabilisation and that big high res sensor.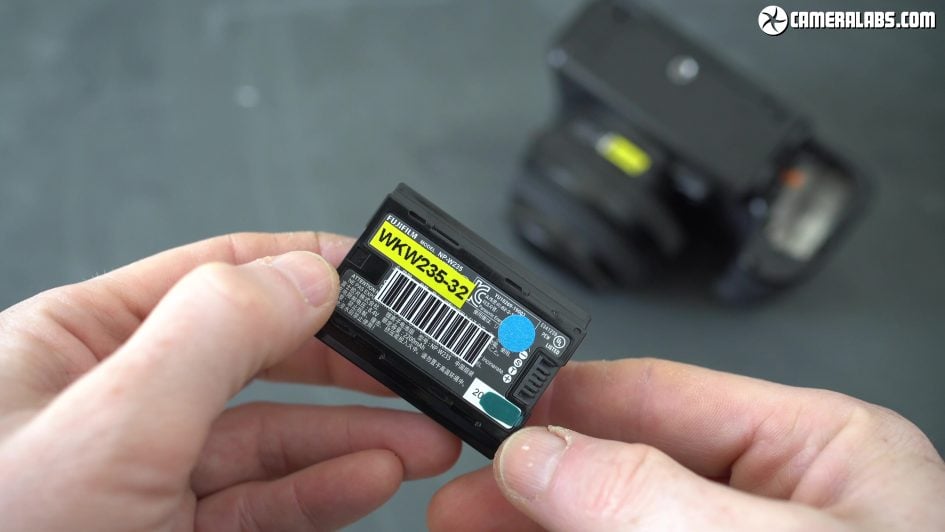 Above: Meanwhile Fujifilm has switched batteries from the twin NP-T125 packs of earlier GFX models to a single NP-W235 introduced on the X-T4, which Fujifilm reckons is good for 460 frames here. That's less than the GFX 100, but still acceptable, although in the absence of an optional battery grip, heavy users should carry spare packs.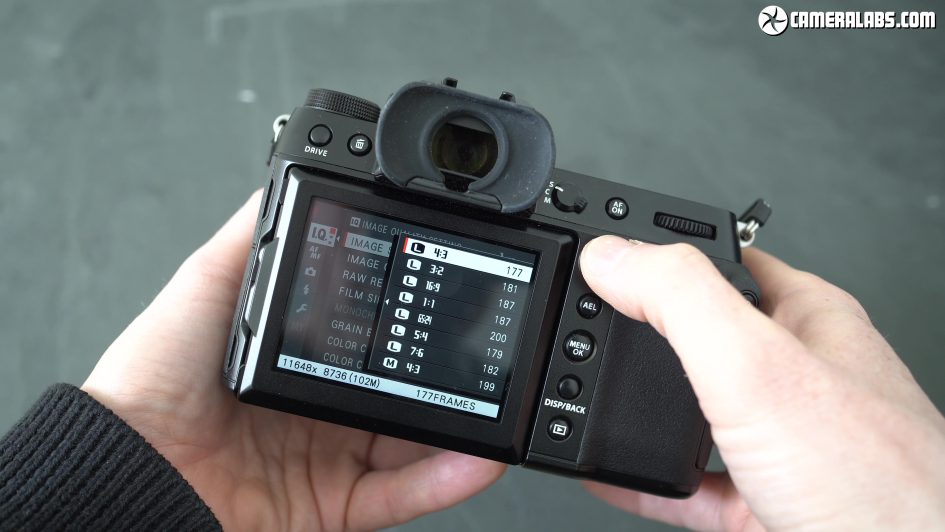 Above: Some cost and space savings have also been achieved by using a fixed electronic viewfinder with a 3.69 million dot OLED and 0.77x magnification. This may be smaller and lower resolution than the GFX 100, although remains large compared to many mirrorless cameras. I tested the 100S alongside the Sony Alpha 1 which has a higher resolution viewfinder that in terms of size looks roughly similar in height to the GFX but wider. Yes, the Sony viewfinder looked more detailed overall, but in use the 100S viewfinder looked better than its specs imply, perhaps because Fujifilm may be driving it in more modes at the full resolution than some rivals do. Put it this way, I never felt it held the camera back, including magnifying the view for precise manual focus or checking in playback.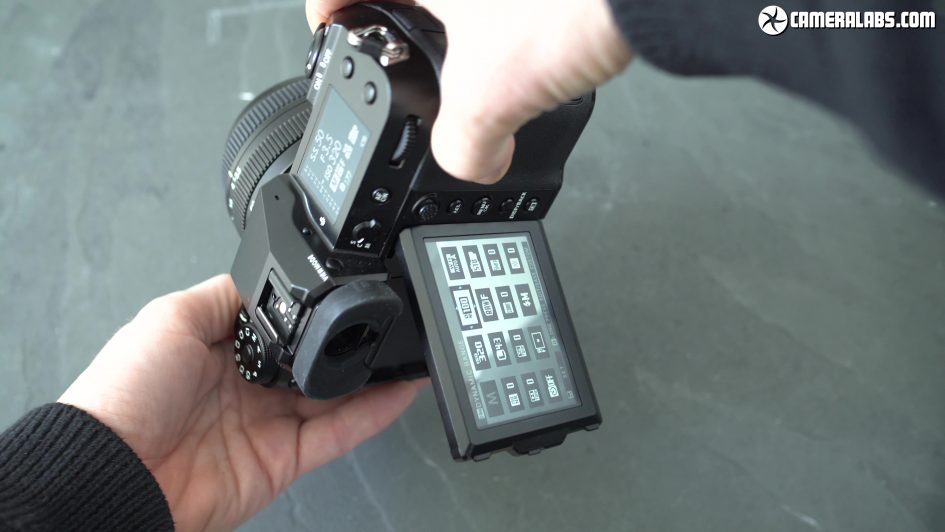 Above: The main monitor remains a 3.2in touchscreen with a tri-axial mount that can angle 90 degrees up, 45 degrees down or 60 degrees to the side. Since most owners will stay behind the camera, I don't feel it misses out on not facing forward.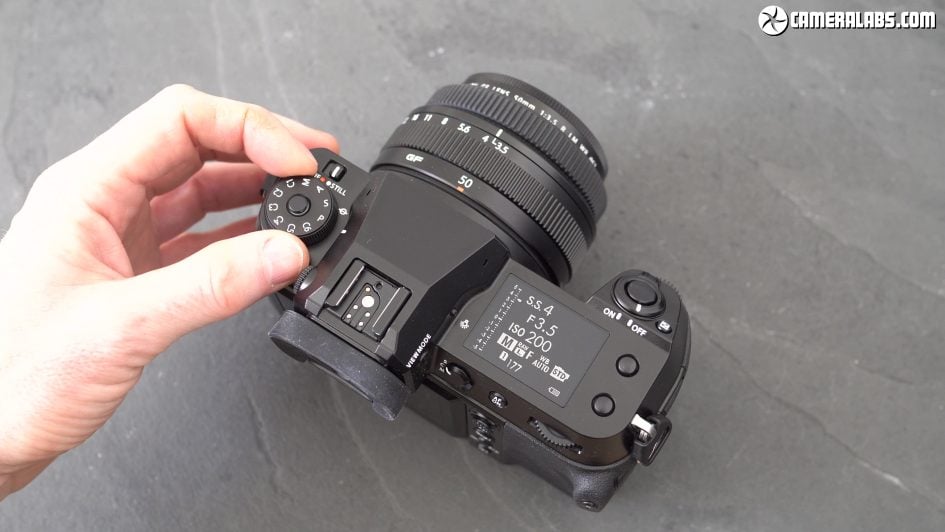 Above: In terms of physical controls, there's a traditional PASM mode dial on the upper left shoulder with a switch to select between stills and movies, and like recent Fujifilm bodies the 100S considerately remembers separate settings for video and photo modes.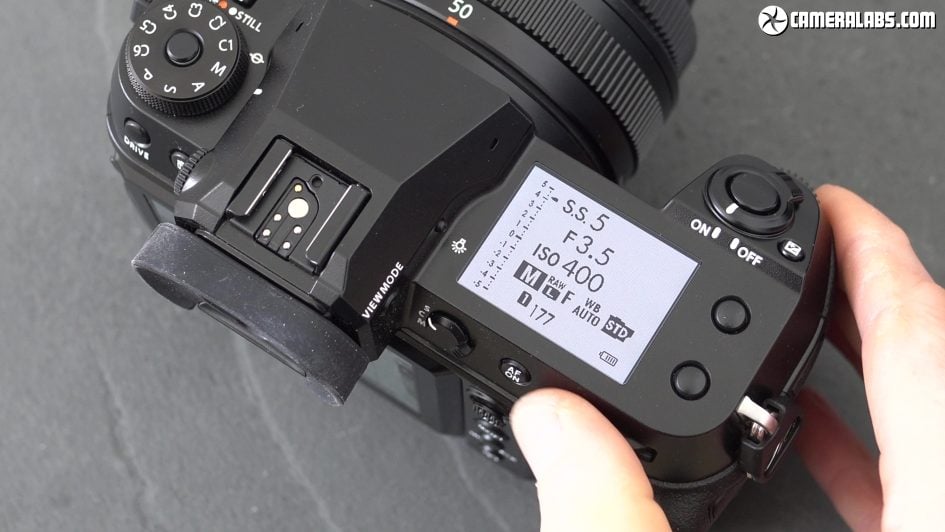 Above: Meanwhile on the upper right shoulder, the GFX 100S inherits the info screen of the 100 which was one of my favourite parts of that model, and as I describe it, check out that shutter speed range, going beyond 30 seconds all the way to 60 minutes without ever having to enter Bulb mode or use a cable release. Take note other camera companies, you all need this capability. Ok back to that screen, a 1.8in e-ink display with 303×230 pixels that's used for shooting information mostly adjusted by the front finger and rear thumb dials. Like the 100 before it can be reversed so you're looking at black characters on a white background or vice versa. It also shares the same three views, cycling between detailed information, virtual dials and, my personal favourite, a nice large live brightness histogram. The 100S may lack the additional thin rear info screen of the 100, but in general use I never missed it.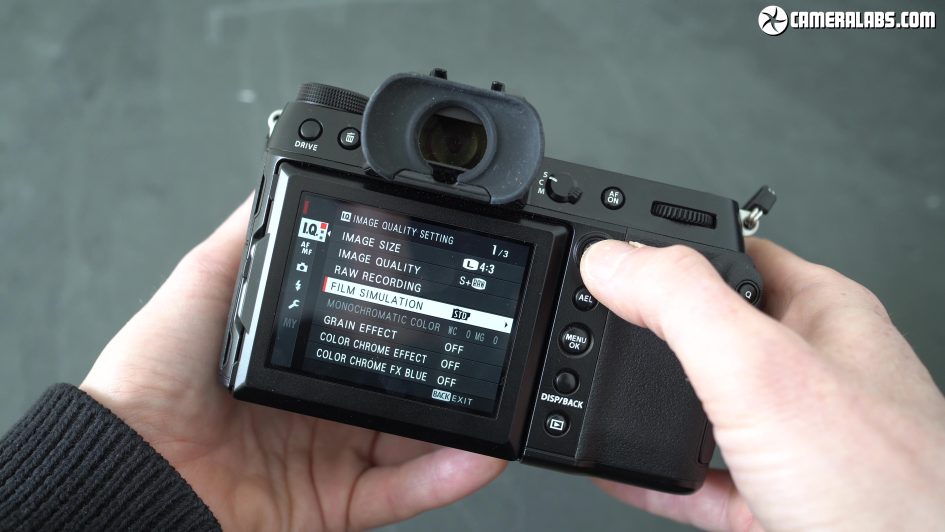 Above: On the rear there's an 8-way joystick and focus mode lever, along with a scattering of buttons. I still feel some of these controls are still unneccessarily small for a body this size, plus none are backlit, but these remain personal complaints that no-one else seems bothered about.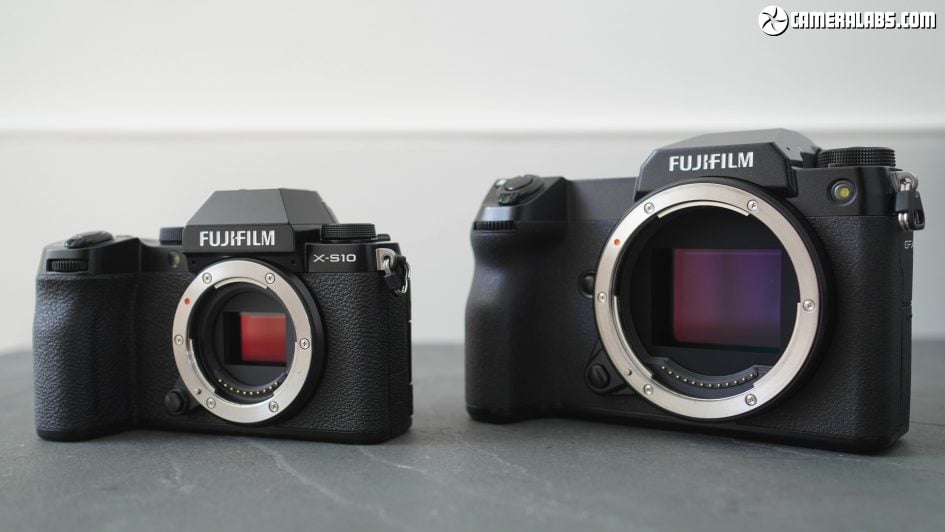 Above: If you're an X-series owner having a sense of deja-vu, this is all part of Fujifilm's plan. The GFX 100S controls, menus and general operation feels very reminiscent of an X-series body, such as the X-S10 on the left here. Fujifilm is literally saying if you love the X-series but wish they had bigger sensors, we've got you covered right here.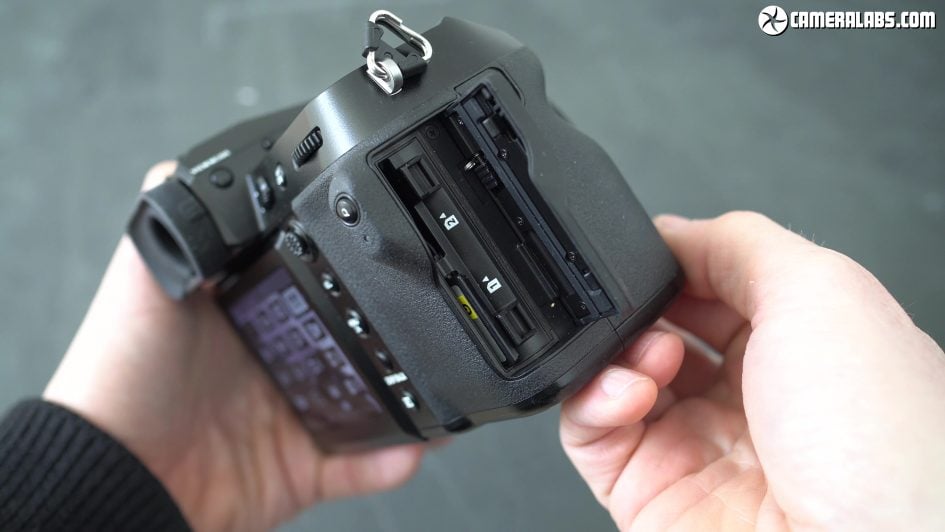 Above: On the right side inside the substantial grip are twin SD card slots, supporting UHS-II speeds. I'm happy with this decision as while the files are massive, the 100S isn't shooting more than five of them a second and is more likely to be used in calmer environments.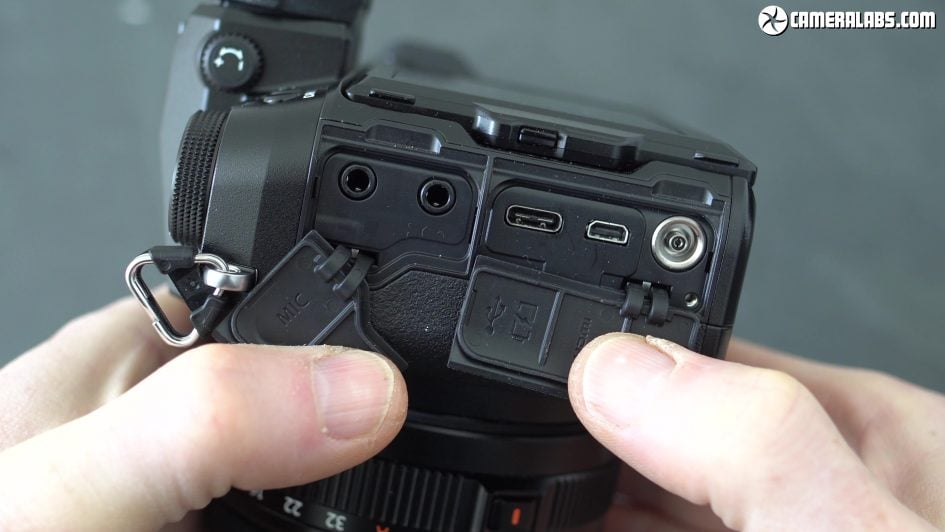 Above: Meanwhile on the left side are the same ports as the GFX 100S, so from top to bottom you have 3.5mm microphone and headphone jacks, USB-C running at 3.2 speeds and usable for charging in-camera, Micro HDMI and a PC Sync port. The HDMI port can output 12 bit ProRes RAW to a compatible recorder, a feature that will delight videographers while they curse whoever chose the tiny Micro port.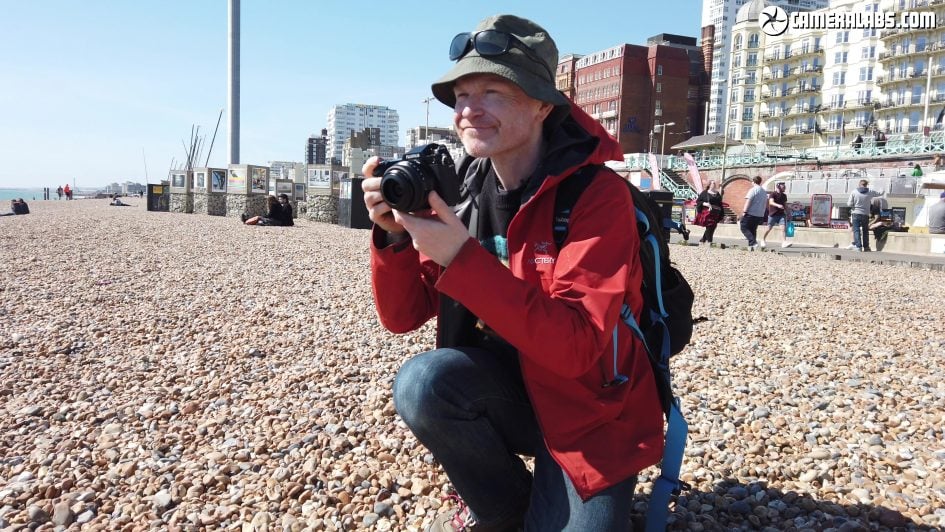 Above: Ok that's the physical tour around the body, now for the actual performance and quality in practice. Fujifilm loaned me a GFX 100S for an extended period so I could get a good feel for the camera under a wide variety of conditions and subjects. I shot landscapes, portraits and long exposures, as well as archive and a mix of interior and exterior locations.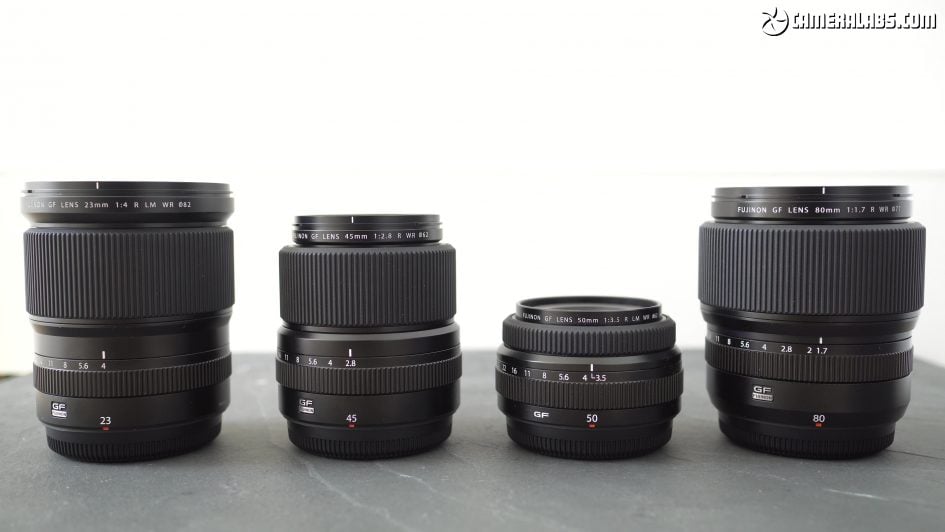 Above: I used four weather-sealed GF prime lenses, starting with the 23mm f4, an ultra-wide angle equivalent to 18mm on full-frame and costing $2599, the 45mm f2.8, a mild wide-angle equivalent to 36mm and costing $1699, the 50mm f3.5, a compact general purpose lens equivalent to 40mm and costing $999, and the most recent 80mm f1.7, a short bright aperture telephoto equivalent to 63mm and costing $2299. As always when building a system you will need to take lenses into consideration, and while the GF lenses are great quality, there's a lot more choice available for full-frame bodies including many cheaper options, albeit obviously none corrected for a bigger sensor.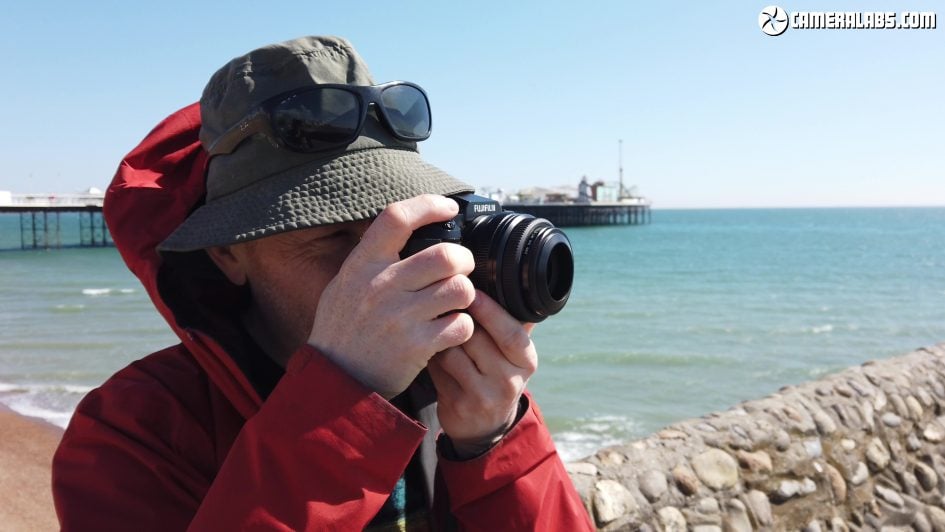 Above: I enjoyed shooting with all four lenses, but particularly the GF 50mm f3.5 which transformed the GFX 100S into a surprisingly compact and light system you can take almost anywhere and use quite casually while still enjoying very high quality results.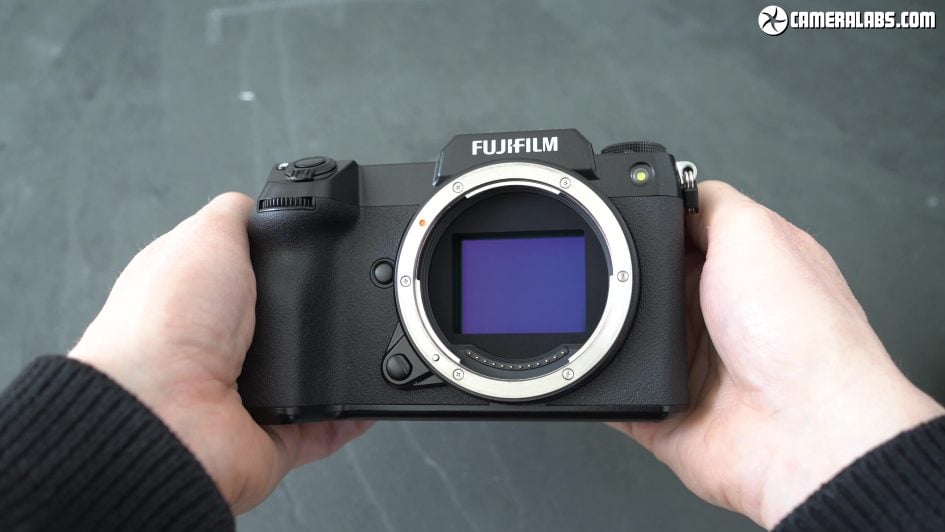 Above: And that's thanks to the literally big selling point of the GFX 100S: the 100 Megapixel sensor inherited from the GFX 100 and allowing both cameras to capture enormously detailed images in a single frame without relying on composite pixel-shift modes – although they have those too. But it's not just about the big high-res sensor. What makes it surprisingly usable for a medium format camera is the fact it's stabilised within the body and employs a respectable phase-detect AF system, both increasing your chances of a sharp result even handheld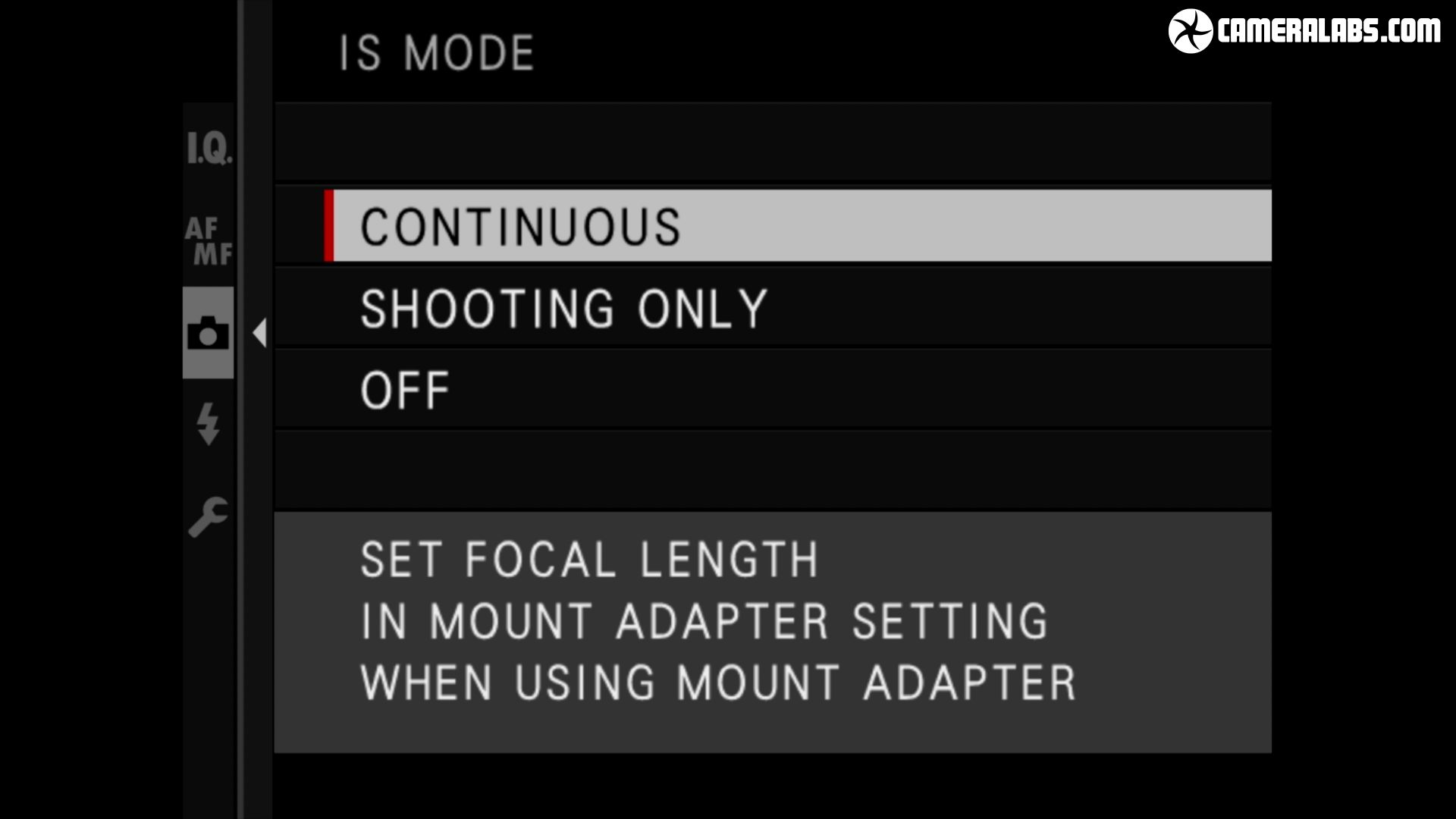 Above: Don't forget even the smallest shakes will impact the potential of a very high resolution sensor. Once IBIS is enabled in the menus, the view becomes much steadier as you compose, again maximising your chances of hand-holding a decent image.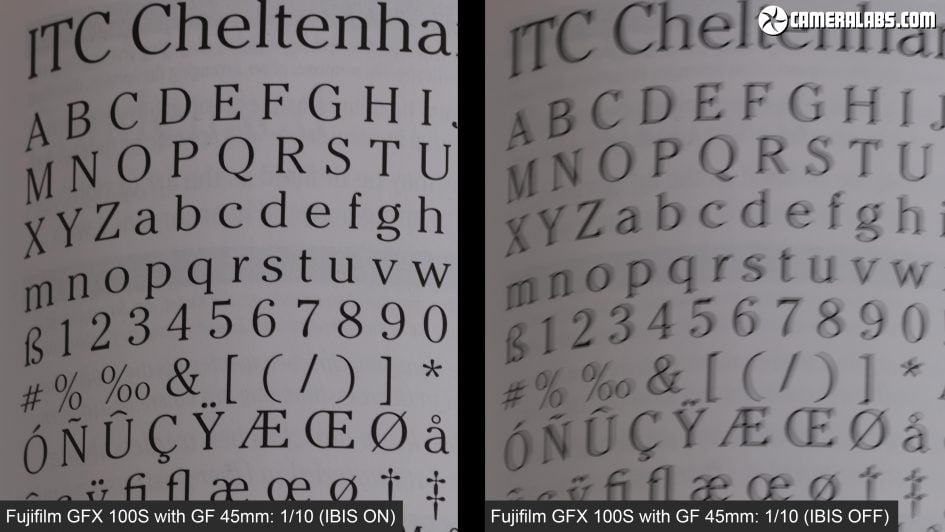 Above: Here's a shot I took with the GFX 100S and GF 45mm at one tenth of a second, the slowest shutter speed I could reliably handhold this combination using IBIS while enjoying a sharp result. And now on the right, the same shot taken at the same shutter speed without IBIS, showing how much shakier it is. On the day, I needed to boost the shutter to an 80th to handhold a sharp result without IBIS, so the built-in stabilisation gave me around three stops of compensation in practice. That's below Fujifilm's quotes, but still transforms the overall usability and hit rate of the camera. It's also great for video as I'll show you later.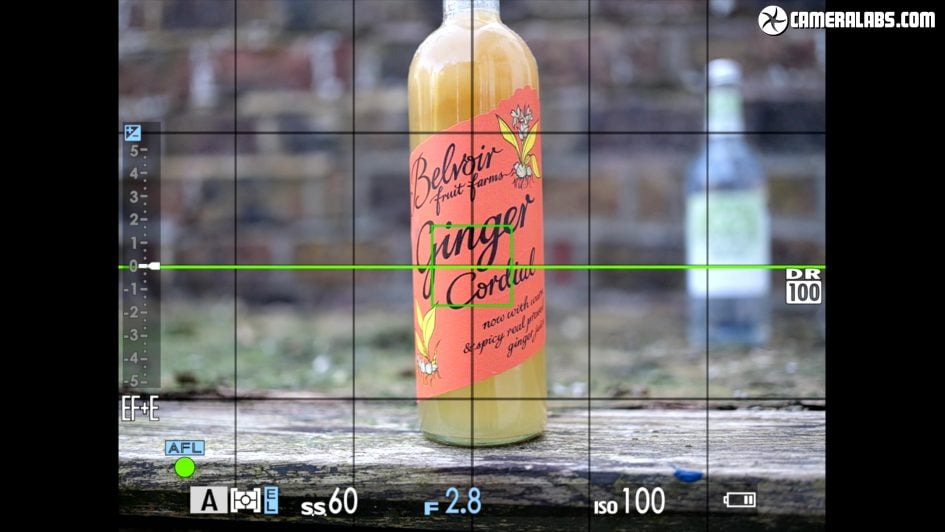 Above: In terms of focus, here's the GFX 100S in single AF mode when fitted with the GF 45mm f2.8 pulling focus between the two bottles, and it's as fast as many mirrorless cameras with smaller lenses.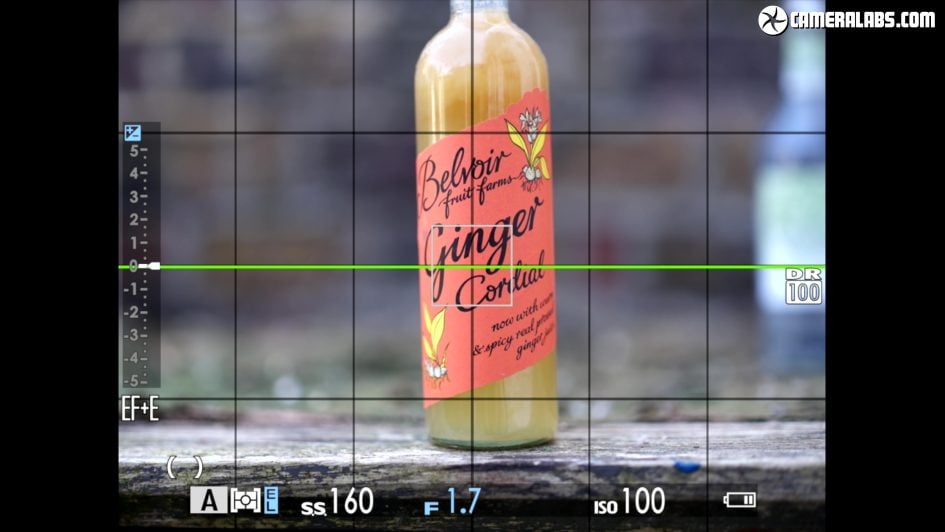 Above: For a tougher test here it is with the recent GF 80mm f1.7, the brightest aperture lens in the system, and the camera still refocuses pretty quickly and confidently. Since most of us are familiar with full-frame and APSC cameras performing similarly, it's easy to dismiss this result as just normal, but for medium format it's anything but normal. Until the GFX 100, most medium format cameras were relatively slow to focus and often limited in areas and tracking options. Now don't get me wrong, if you shoot sports or fast wildlife, you'll still enjoy greater success with a modern Sony or Canon body, and in my tests the eye detection with the largest aperture lenses wasn't as foolproof either, but in medium format terms, the GFX 100 and S are impressively quick – so much so, they often feel like using a smaller format camera, and that's a huge achievement in handling.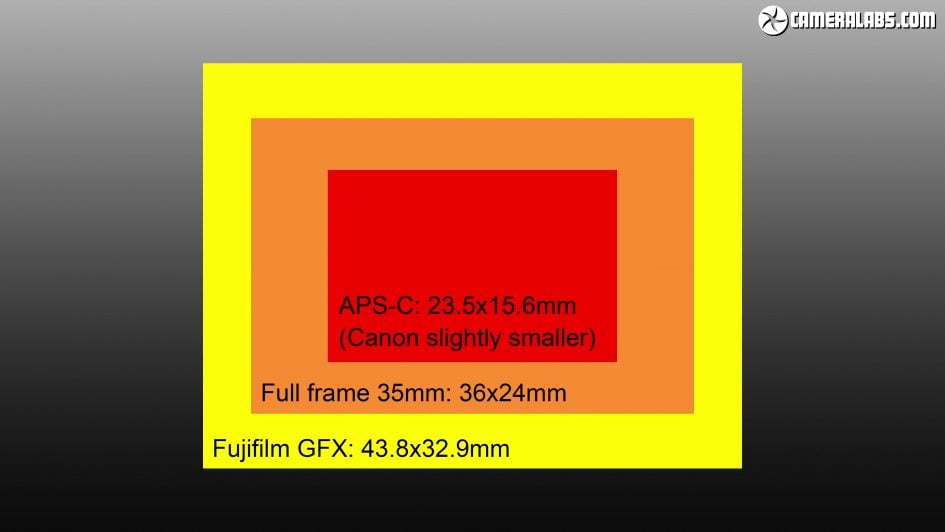 Above: Ok now down to the real business: what kind of image quality can you expect from a sensor that's not only 66% greater in surface area than full-frame, but around double the total Megapixels of even the best models? First off, remember 100 Megapixels does not equate to double the resolution of a 50 Megapixel model in real-life detail. The GFX 100S captures images with 11648×8736 pixels while the 50 Megapixel Sony Alpha 1 – for example – captures 8640×5760 pixels. So in terms of vertical linear resolution, you're looking at about 51% extra from the GFX 100S in theory.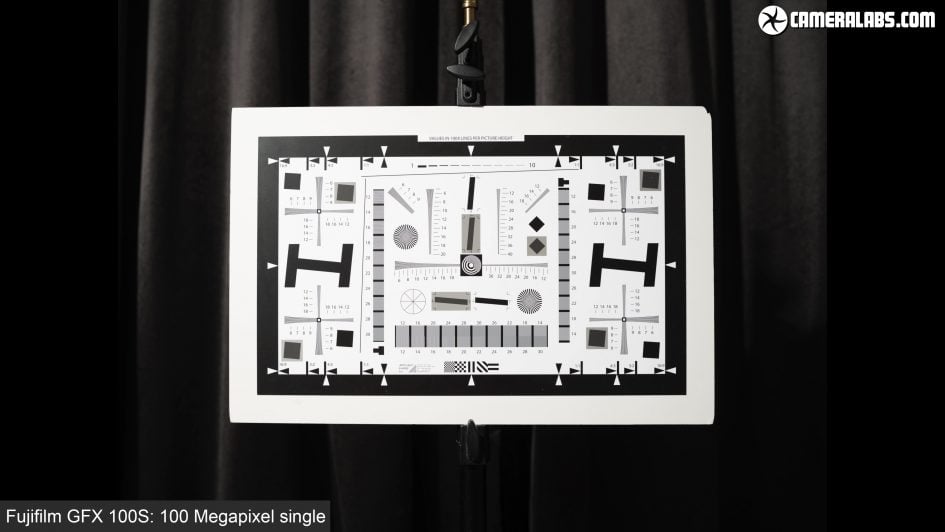 Above: To find out in practice, I photographed a standard test chart with the GFX 100S and GF 45mm f2.8. You're looking at it here from double the normal distance as it easily out-resolved the chart when it filled the frame.
Above: Here's a very close look at the GFX 100S chart at the top compared to the Alpha 1 with the FE 35mm GM at the bottom, both shot in RAW from double the distance at 100 ISO. You can clearly see how easily the GFX 100S out-resolves the Alpha 1.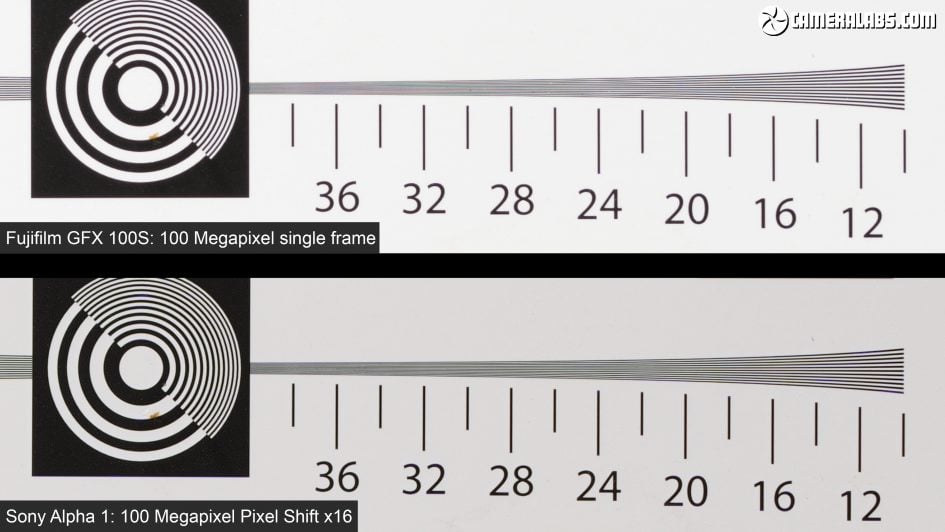 Above: But both can do even better using their pixel shift modes that capture and combine up to 16 frames to increase the resolution and reduce colour artefacts. So first I'll swap out the 50 Megapixel Alpha 1 frame at the bottom for the 16-frame pixel shift version which Sony claims delivers up to 100 Megapixels. You can see it's brought the Alpha 1 arguably a tad beyond thanks to the full colour sampling, but of course required a tripod and a static subject.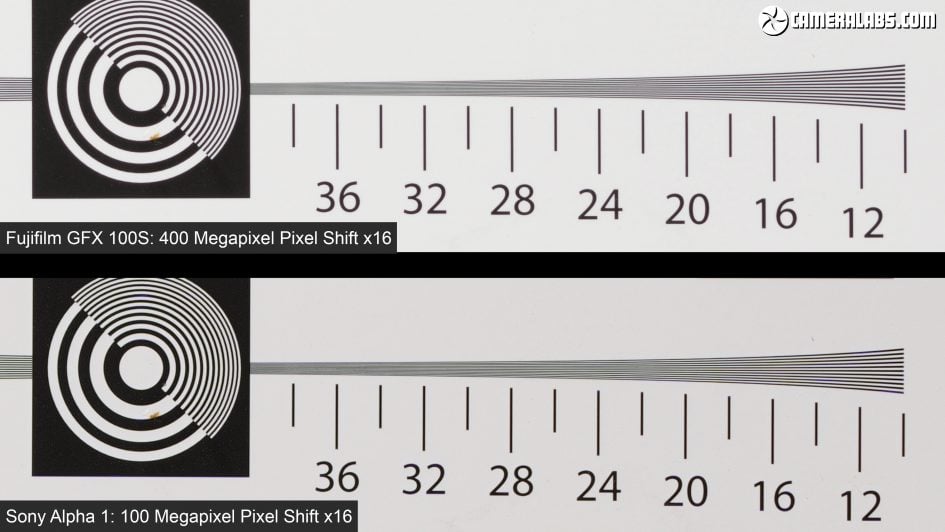 Above: Plus the GFX 100S can do the same trick, so let's now swap its single frame for a 16-frame composite claiming up to 400 Megapixels, where it's clearly out-resolving the Sony pixel-shift file – so much so I've out-resolved the chart again. What these tests prove is pixel shift composites can allow lower resolution camera to match the GFX 100S in resolving power, but only in controlled environments with a static camera and static subject. If your subject or technique requires a single frame, the GFX 100S gives you more resolution than any camera under 10 grand.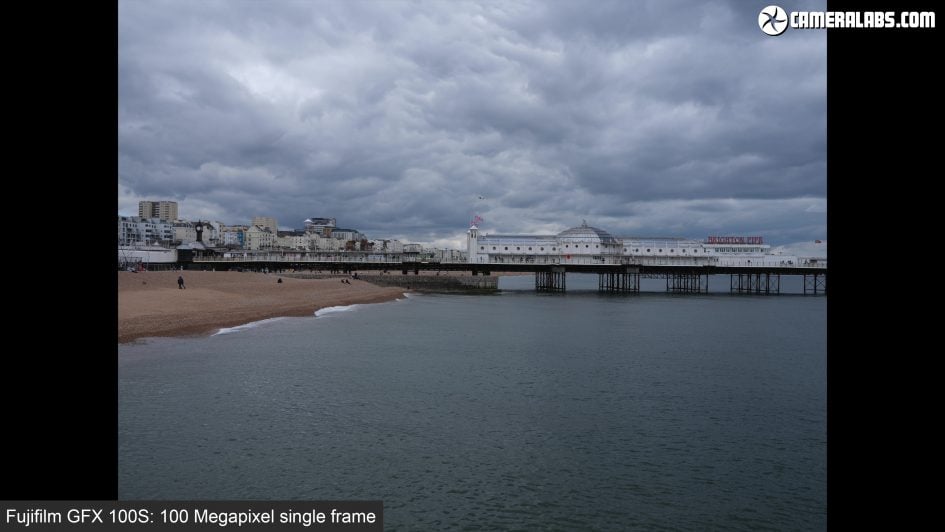 Above: How does that translate into real-life? Here's a test shot of Brighton pier again with the GFX 100S and GF 45 2.8. So let's take a closer look and see the kind of detail that's possible in a 100 Megapixel file.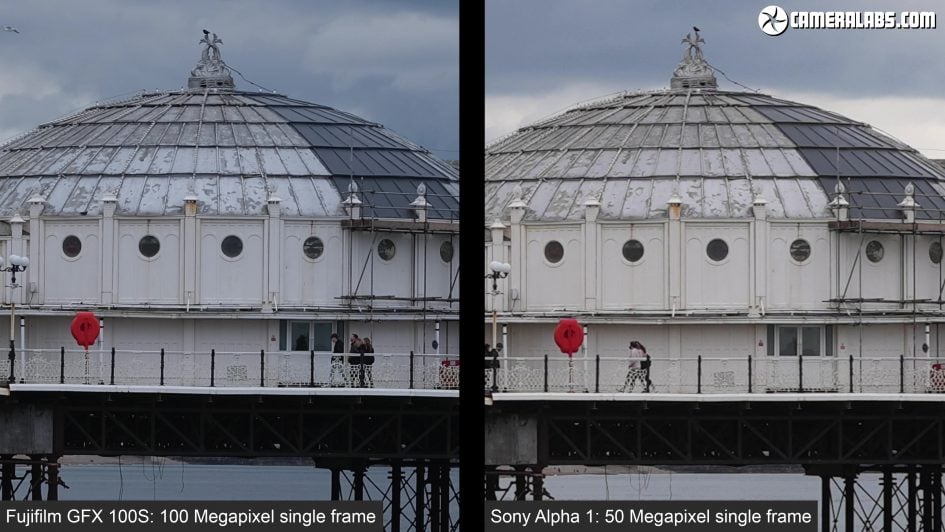 Above: Just briefly here's the GFX 100S crop on the left and the Alpha 1 on the right, both taken with high quality lenses of the same 35mm equivalent focal length. I'll show you loads more results against the Alpha 1 in my separate video comparing the two cameras.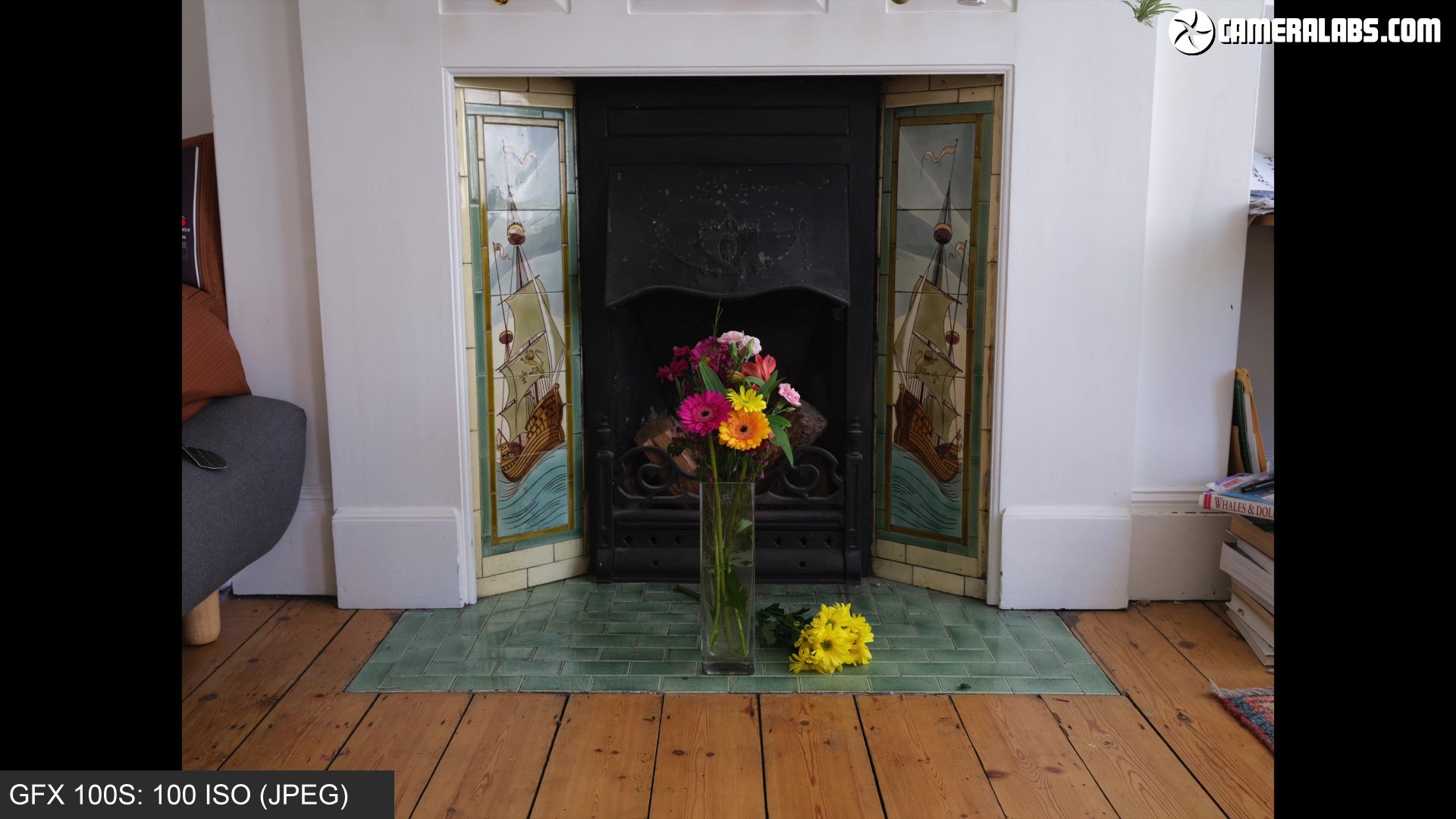 Above: Next for a noise test where I photographed these flowers in JPEG and RAW at every ISO sensitivity from 100 to 12800 ISO.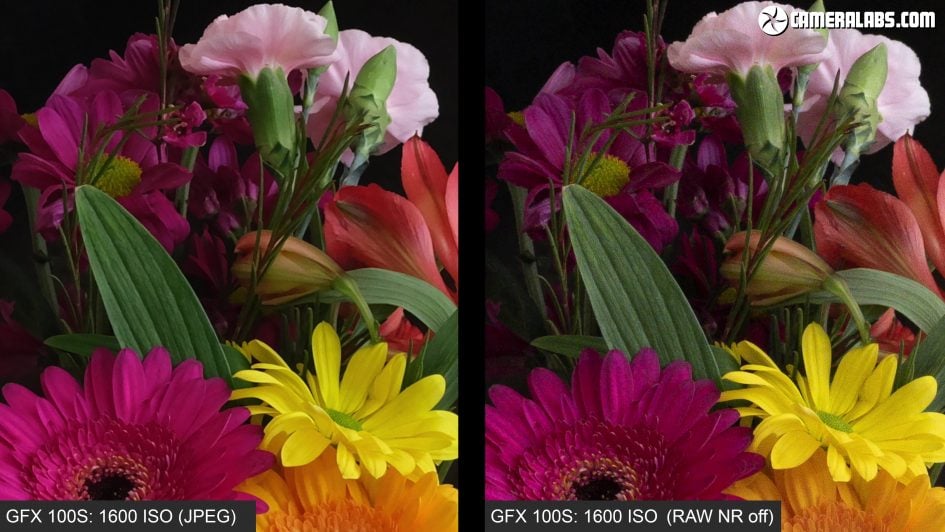 Above: In the main video review I'll show you the full sensitivity range, but as a taster, here's the result at 1600 ISO with enlarged crops from the JPEG out-of-camera on the left and the RAW file on the right processed with high sharpening and noise reduction turned off so we can see what's going on behind the scenes. You wouldn't normally process RAW without noise reduction, especially at higher ISOs, so the crops on the right are just for reference.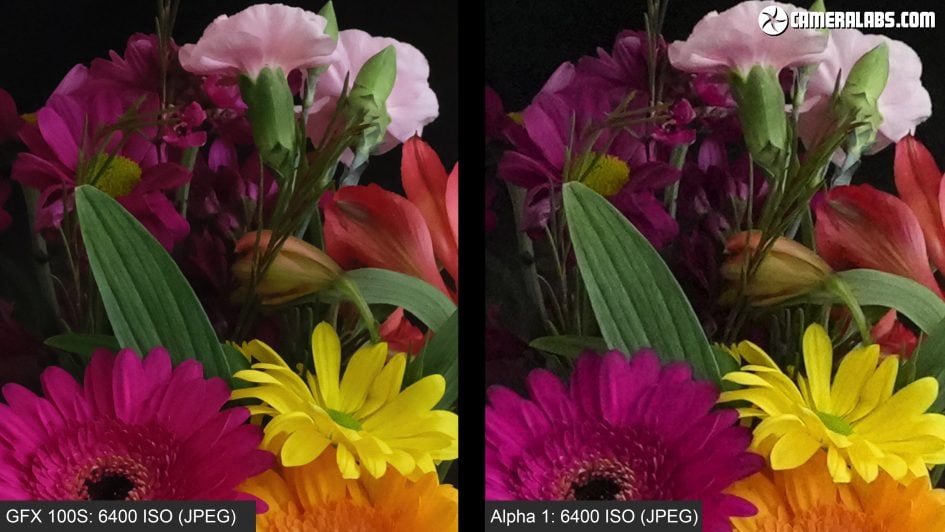 Above: I also shot the same sequence with the Alpha 1 and will show the complete set of results in my second video, but as a brief taster, here's crops from both JPEGs at 6400 ISO with the GFX 100S on the left and the Sony Alpha 1 on the right.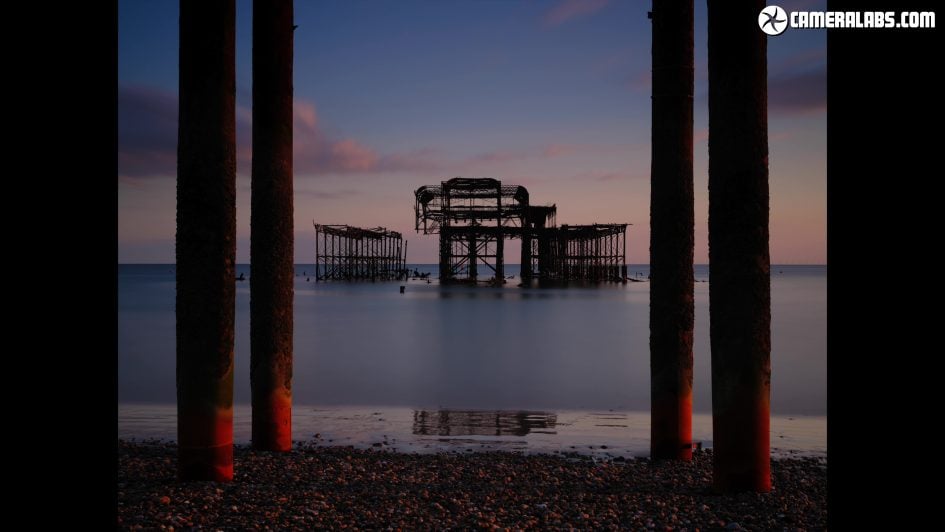 Above: Moving on to dynamic range, I shot this two minute long exposure of Brighton's old West Pier using the GFX 100S and GF 50mm at f16 and 100 ISO with long exposure noise reduction disabled. This is the JPEG straight out of camera using the Velvia Film Simulation, again reinforcing why I love shooting with Fujifilm cameras – their JPEGs can just look great out of camera.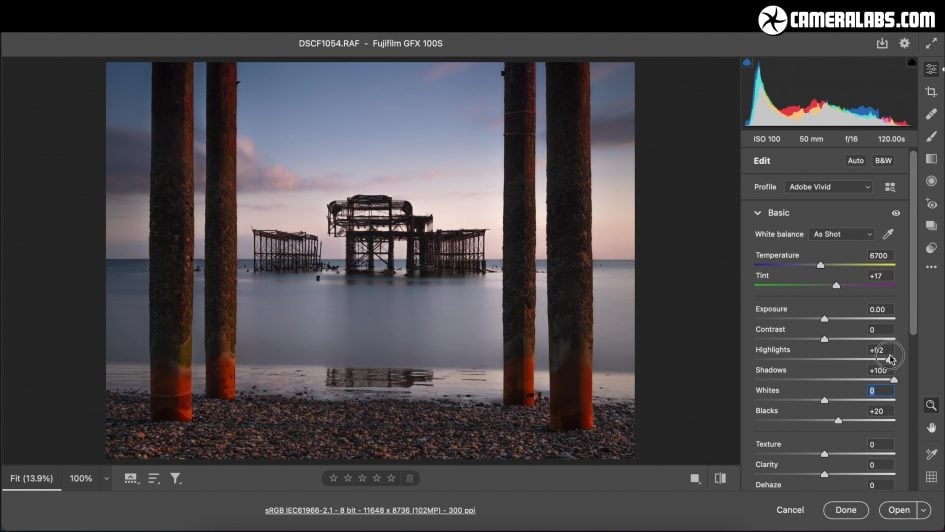 Above: But let's open the 16 bit RAW file and see how much we can lift those shadows. If I drag the slider all the way to the right you can easily reveal colour and texture on the previously dark columns, lit only by distant streetlamps. There's also loads of latitude at the other end to boost the highlights if you like.

Before my final verdict, a quick note on video on the GFX 100S which sports similar options to the X-T4, so you get uncropped 4k up to 30p, although this time using a larger sensor. It's also easy to film casually thanks to the built-in stabilisation, and like the photos, the out-of-camera quality can be very good.

Video autofocus on the GFX 100S looks and feels a lot like the X-series bodies, so the phase detect system gets the job done while mostly avoiding overshooting at either end, but also hesitates from time to time during the process. I've seen similar hesitance on many X-series bodies for video focus, presumably sharing similar AF algorithms and is an area where Fujifilm can improve compared to the best of its rivals.

Similarly while face and eye detection can certainly refocus on me as I change position, it lacks the ultimate confidence of the latest Canon and Sony bodies, especially for maintaining focus on a subject that keeps moving and doesn't pause. So it's fine for filming mostly static pieces to camera, but less effective at tracking motion.

Check prices on the Fujifilm GFX 100S at B&H, Adorama, WEX or Calumet.de! Alternatively get yourself a copy of my In Camera book or treat me to a coffee! Thanks!