Fujifilm XF 90mm f2 review - Quality
Quality
To evaluate the real-life performance of the Fujinon XF 90mm f2 lens, I shot this exterior scene at every aperture setting using a Fujifilm XT1 mounted on a tripod. The XT1 was set to 200 ISO and the lens focused on the center of the composition. The corner and center crops shown below were taken from the areas marked with the red rectangles below and presented at 100%.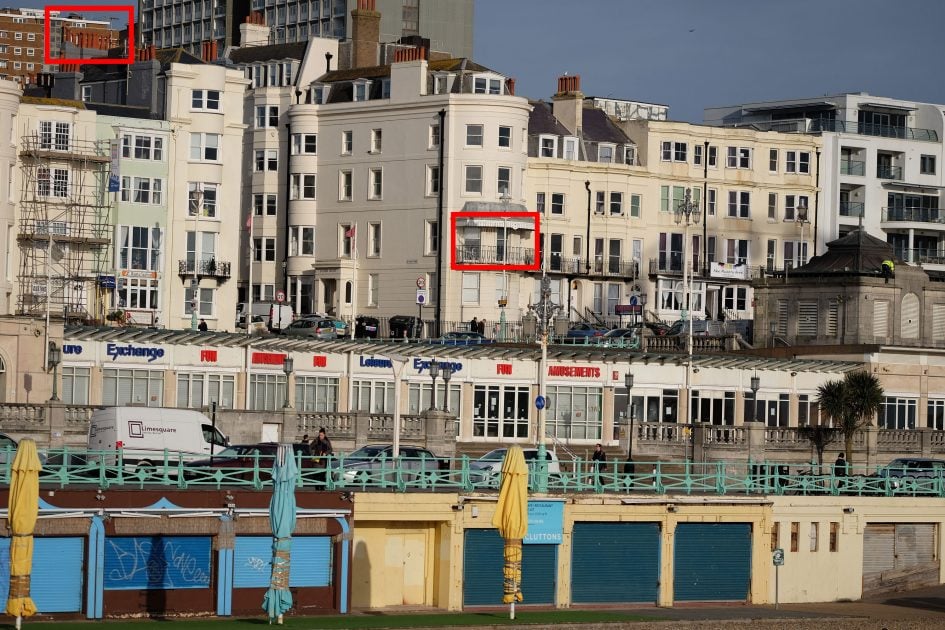 For my lens tests on other systems I normally shoot in RAW and process the files with corrections disabled to see what's happening behind the scenes. But the more I shoot with the Fuji X system, the more I appreciate the out-of-camera JPEG performance, especially when using Lens Modulation Optimisation (LMO) with Fujinon lenses. I've also found few RAW converters which can do justice to the X-Trans sensor. So in line with my other XF lens tests, I'm going to present crops from unaltered out-of-camera JPEGs here (with LMO enabled as default) as I believe they show the lens in the best light. I did of course also shoot the scene in RAW and if I find a workflow which delivers good results in the future I'll update this review with RAW comparisons as well.
I'm also interested in comparing the quality of the 90mm against the XF 50-140mm at the same focal length, but at the time of testing the zoom wasn't available for a comparison – once again I'll update this page if I get a chance to make this head-to-head test.
So the results below show the XF 90mm f2 in isolation with the corner crop on the left side and the centre crop on the right. What's immediately apparent is how well the lens performs even wide-open. There's no softness or aberrations to report in the corner at f2 other than very minor darkening due to vignetting, and even that's very subtle. Close the lens aperture by one stop to f2.8 and the vignetting goes away, and while pixel peepers may argue there's a slight boost in sharpness and contrast overall, it's really only minimal increase.
The simple fact is the XF 90mm performs very well across the frame and at every aperture, including wide-open. Meanwhile at the other end of the aperture scale, Fujifilm's Lens Modulation Optimiser ensures the results still look great at f11 and only suffer from a little reduction in sharpness and contrast at f16. This really is a lens you'd be very happy using at any focal ratio. And it should be apparent from the crops and my samples that's it's not just consistent at different settings, but consistently good.







Next check out my sample images or skip back to my verdict!
[geot][/geot]PS – if you find my work useful don't forget you can support me when you shop for anything at [geot country="US"]Amazon.com[/geot][geot region="UK"]Amazon.co.uk[/geot][geot region="Germany"]Amazon.de[/geot][geot region="France"]Amazon.fr[/geot][geot region="Spain"]Amazon.es[/geot][geot country="Italy"]Amazon.it[/geot][geot country="Canada"]Amazon.ca[/geot][geot exclude_region="UK,Germany, France,Spain" exclude_country="Italy,Canada,US"]eBay[/geot], B&H or Adorama by first clicking through to them using the links here – it works for anything you order at any time, or alternatively you could treat yourself to my [geot country="US"]In Camera book[/geot][geot region="UK"]In Camera book[/geot][geot region="Germany"]In Camera book[/geot][geot region="France"]In Camera book[/geot][geot region="Spain"]In Camera book[/geot][geot country="Italy"]In Camera book[/geot][geot country="Canada"]In Camera book[/geot] or treat me to a coffee! Thanks!