Fujifilm XP140 review - Verdict
Verdict
The Fujifilm FinePix XP140 is a stylish rugged waterproof compact that occupies the middle ground between fully automatic budget models like the Nikon COOLPIX W150 and the more sophisticated but pricier Olympus Tough TG-6. It's an update to the year old FinePix XP130, with improved waterproofing to an impressive 25 meters and some new video modes including a not very useable 4K mode which runs at a jerky 15 frames per second.
The FinePix XP140 retains the 5x 28-140mm zoom of its predecessor. For an underwater compact a 5x range is very generous, and although the wide angle isn't quite as wide as the 25mm TOUGH TG-6, at the telephoto end it will get you a little closer to moderately distant action than most other waterproof compacts.
Also retained from the older model is the 16 Megapixel sensor, but now with a boosted maximum sensitivity of 12800 ISO. In my tests the FinePix XP140's sensor proved to be noisier than the 12 Megapixel sensor in the Olympus TOUGH TG-6 and combined with the XP140's less bright lens (f3.9-4.9 compared with f2-4.9 on the TG-6) means that you'll get cleaner, better quality photos and video from the TG-6.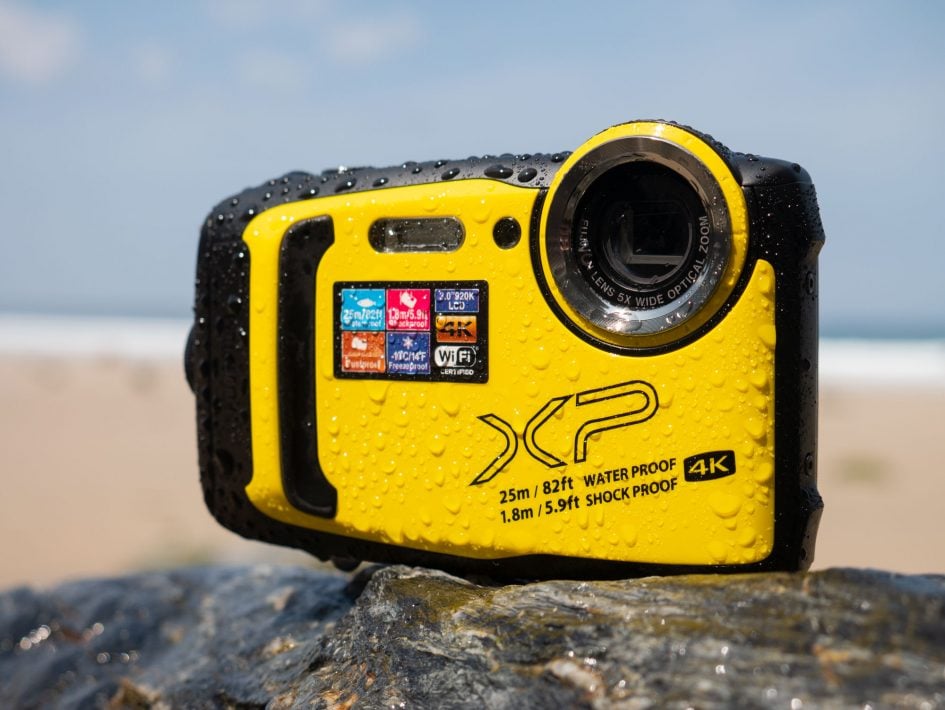 As I've mentioned, Fujifilm has managed to squeeze some new video modes from the sensor including a square format plus improved slow motion modes that now all record at 720p. The 1.6x 2x, 3.3x, and 4x options – all shoot at 100fps and playback at 60, 50, 30 or 25fps. You can also shoot at 24fps in all the normal speed modes for a film look. But the headline 4K mode is, it has to be said, a big disappointment. With a frame rate of 15fps any movement – of either the camera or your subject – is rendered in a very staccato fashion that's more reminiscent of footage from the early 20th, rather than the 21st century.

As before, there's Wifi which allows you transfer images to your phone and shoot remotely, plus a Bluetooth connection that provides image transfer in the background while you shoot. This was introduced on the XP130 and at the time I complained that it was clunky and not nearly as good as the same feature on the Nikon COOLPIX W100 and now the W150. So it's disappointing to see that Fujifilm hasn't taken the opportunity to improve it.

So the big question is has Fujifilm done enough with the FinePix XP140 to entice 2019's adventure bound snappers? And the answer is a qualified yes. The FinePix XP140 is a great choice if you want some of the control and sophistication of the Olympus TOUGH TG-6 without the premium price tag. It lacks the TG-6's image quality and low-light performance, its environmental sensors, its bright screen, fast continuous shooting, and a proper 4K video mode. That said, the XP140 is a nicely designed model which covers the basics and won't disappoint those looking for a solid, reliable waterproof compact at a more reasonable price point.

If you're not that bothered about being able to choose from a variety of shooting modes including program auto, being able to control things such as ISO sensitivity, white balance and exposure compensation and shooting in slow motion, then have a serious think about the COOLPIX W150. Though it lacks those features, it's much better than the FinePix XP140 at sending photos to your phone while you shoot without you having to do anything. And while it can't match the XP140's 25 metre dive credentials, 10 metres (that's 33 feet) is going to be plenty deep enough for most people.

Also bear in mind the older Fujifilm XP130 which may be available at a lower price, and really isn't that much different.

Check prices on the Fujifilm FinePix XP140 at Amazon, B&H, Adorama, or Amazon UK. Alternatively get yourself a copy of my In Camera book or treat me to a coffee! Thanks!