Quality
To test real-life performance, I shot this scene with the Fujifilm XP130 using its best quality Fine JPEG setting at its base 100 ISO sensitivity setting. The XP130 was mounted on a tripod and image stabilisation was disabled. In Program auto mode with the lens at its widest angle 28mm setting the XP130 selected an exposure of 1/350 at f3.9.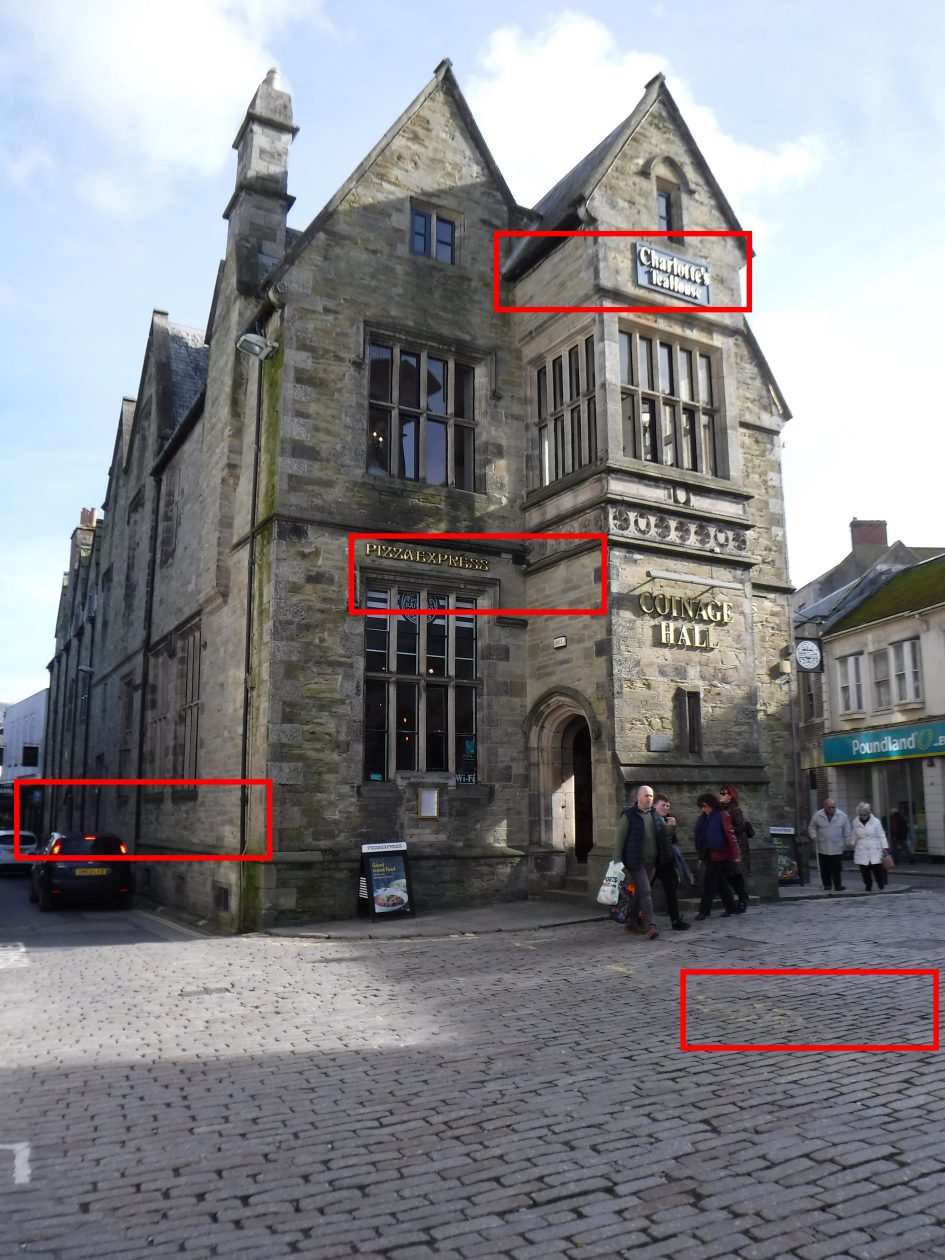 The Fujuifilm XP130's 16.4 Megapixel sensor produces images that are 3456 x4608 pixels in size. The crops below are, as usual, taken from the areas marked in red above. Let's take a look at the second one first, as that's from pretty much the middle of the frame, where you'd expect the quality to be best. looking at the image detail, it's reasonably sharp – the Pizza Express lettering is crisp and well defined and the edges of the striped window blind are nice and clean. But if you look closely at the stonework you'll notice that it has a flat, blocky appearance. It's particularly noticeable on the right of this crop where the brickwork and stone flower decorations look clumpy. This looks to me like noise reduction at work, removing image detail as well as noise, even at the base 100 ISO setting. That said, the level of detail overall is within the range of what you'd expect from a compact sensor and it's worth pointing out that you'd only likely notice this lack of detail at close to 100 percent of the image size – in other words on a big screen or print, or if you cropped the photo aggressively.
Now lets go up and take a look at the first crop, which is from closer to the top of the image area. In this crop the detail is less sharp than in the centre in fact the lettering on the tea house sign is indistinct and blurry. So in addition to the noise processing removing some of the image detail what we're seeing here is the limitations of the XP120's zoom lens at the 28mm wide angle setting and at its widest f3.9 aperture.
The final two crops show a slight improvement on the first two. The detail isn't any better in the third crop, the stonework still looks blocky, but it doesn't look any worse than the second crop despite being closer to frame edge and in shadow. And the final crop from close to the bottom of the frame, though not as detailed as it might be, shows none of the lens shortcomings of the crop from the top of the frame.




Check prices on the Fujifilm FinePix XP130 at Amazon, B&H, Adorama, or Wex. Alternatively get yourself a copy of my In Camera book or treat me to a coffee! Thanks!