Fujifilm Finepix XP120 review
Verdict
The Fujifilm FinePix XP120 is a mid-priced rugged waterproof compact with a 16.4 megapixel sensor and a stabilised 5x optical zoom with an equivalent range of 28-140mm and a maximum aperture of f3.9-4.9. It's nicely styled, available in a range of bright colours and provides a range of auto exposure modes to make taking picturees in and out of the water as simple as possible.
The XP120 is a fairly minor update to the earlier XP90, adding five metres to its diving capability – it's waterproof to a depth of 20 metres, compared with 15 metres on the older XP90. Also new is Cinemagraph mode which produces still images with moving elements.
It retains the sensor, lens, 3 inch 920k dot fixed screen, and built-in Wifi of its predecessor. Exposure modes and features are also unchanged, the highlights being 10fps full resolution continuous shooting, an interval timer with time-lapse movie, and 1080 / 60p video. There's no built-in GPS but you can transfer location data from your phone to photos in the camera using the free Camera Remote app.
Read on to see how it compares to the Olympus TOUGH TG-5, a camera that costs roughly twice the price, but has a lot more to offer.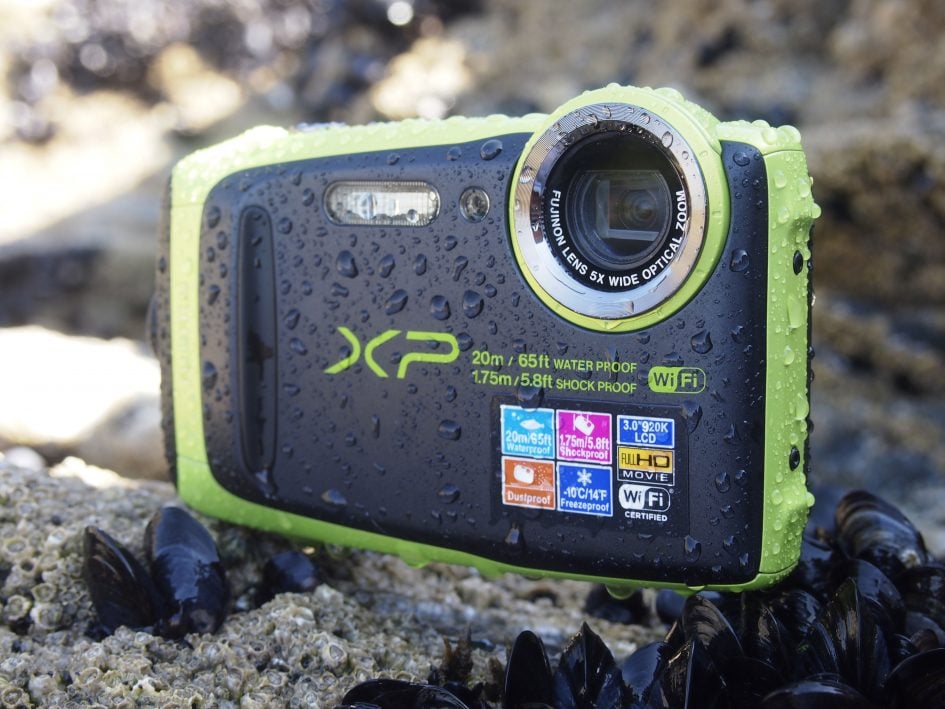 Before we get on to physical features and compare specifications the first thing to say is the the FinePix XP120 is a much simpler model than the TOUGH TG-5. It lacks the TG-5's mode and control dials, it has Wifi, but no built-in GPS, lacks some of the TOUGH TG-5's advanced shooting modes and doesn't support 4k movies. But maybe you don't need all that, and the lack of it makes the FinePix XP120 a much simpler camera to operate.
The FinePix XP120 has a longer 5x optical zoom with a 28-140mm range, though its f3.9-4.9 maximum aperture isn't as bright as the TG-5's, at least not at the wide angle end of the range. And in my tests its picture quality wasn't as good as the TG-5's with its 16.4 Megapixel sensor generating significantly more noise.
It has a bigger, higher resolution screen than the TOUGH TG-5 – both are 3 inch but the XP120's is 4:3 proportioned so still images fill it. It can also dive deeper – 20 metres compared with 15 meters for the TG-5.
While it can't match the TG-5's impressive array of continuous shooting modes it does offer a very respectable 10fps full resolution continuous mode as well as interval and time-lapse shooting.
Finally, the FinePix XP120 is a fraction of the cost of the TOUGH TG-5 – that fraction being around a half, as always, depending on where you shop. It doesn't come close to the TG-5 in terms of specification or sophistication, but it's a good alternative if simplicity and value for money are more of a priority for you. See my Olympus TOUGH TG-5 review for more details.
The older FinePix XP90 is also worth thinking about. The only differences are it's waterproof to 15m, not 20m and it lacks the Cinemagraph mode – not things that will make much difference to most people. There's not much of a price difference between the two models, but it's enough for a small SD card, or a pair of flippers!
If you want better features without the expense of the TOUGH TG-5 the TOUGH TG-870 is worth a look. It has a 5x 21-105mm optical zoom paired with a 16 Megapixel sensor, the same rugged specs as the TG-5 i.e waterproof to 15m, and a flip-up 960k dot screen. You'll have to live without the TG-5's f2 maximum aperture (it's f3.5 – 5.7 on the TG-870), 4K movies, fast continuous shooting, temperature sensor and RAW capability, but, like the FinePix XP120, it's around half the price of the TG-5. See my TOUGH TG-860 review for details. And don't forget the earlier TOUGH TG-4, while still available, shares the same lens as the TG-5, but lacks all the new features including the new sensor and processor, 4K video, Pro Capture, control dial and thermometer. See my TOUGH TG-4 review for details.
But if you want a stylish rugged waterproof compact that's easy to use and has a wide range of feature modes and filters, then the FinePix XP120 fits the bill. It's strong points are its ease of use, 10fps full-resolution shooting and a good, if basic Wifi app. Unfortunately there a fair few downsides including noisy images, a 28mm wide angle that's not quite wide enough, and macro focussing that's not quite close enough.
Good points
Waterproof to 20 metres, dropproof from 1.75m, freezeproof to -10C, and dustproof.
Fast continuous shooting.
Built-in Wifi with good app.
Ease of use.
Bad points
Noisy sensor.
Short burst continuous shooting.
28mm wide-angle not as wide as rivals.
9cm minimum focusing not as close as rivals.
210 shot battery life.

Check prices on the Fujifilm XP 120 at Amazon, B&H, or Adorama. Alternatively get yourself a copy of my In Camera book or treat me to a coffee! Thanks!