f-stop Guru UL backpack review
A good backpack is one of the most important accessories for any photographer and over the last five years I've relied on the f-stop Guru Ultralight to safely carry all my gear, as well as acting as my standard bag for general use. In this long-term test I'll show you why the Guru Ultralight, or Guru UL for short, has become my favourite photography backpack! Everything you need to know is in the video below, but if you prefer to read a written version, keep scrolling for the highlights!
Note I used my second Guru UL for filming in this video which I've had for around six months; it costs around $249 or pounds in a bundle which includes a shallow small ICU – I'll explain what that is in a moment – and a raincover. So it's not exactly cheap, but it is one of the best packs I've owned, so let's see what it can do.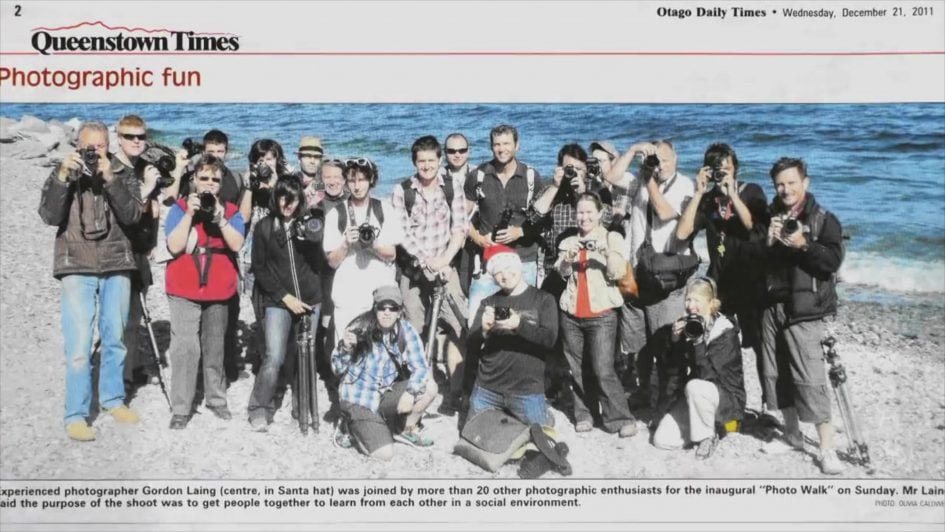 Above: I first came across f-stop bags when I lived in New Zealand ten years ago, where almost all the local adventure photographers I met seemed to be using their Mountain series backpacks. I was initially drawn-in by their rugged nature, but won over by their flexibility and discreet styling. I'm talking about the bags here, not the photographers, although sure, why not, them too.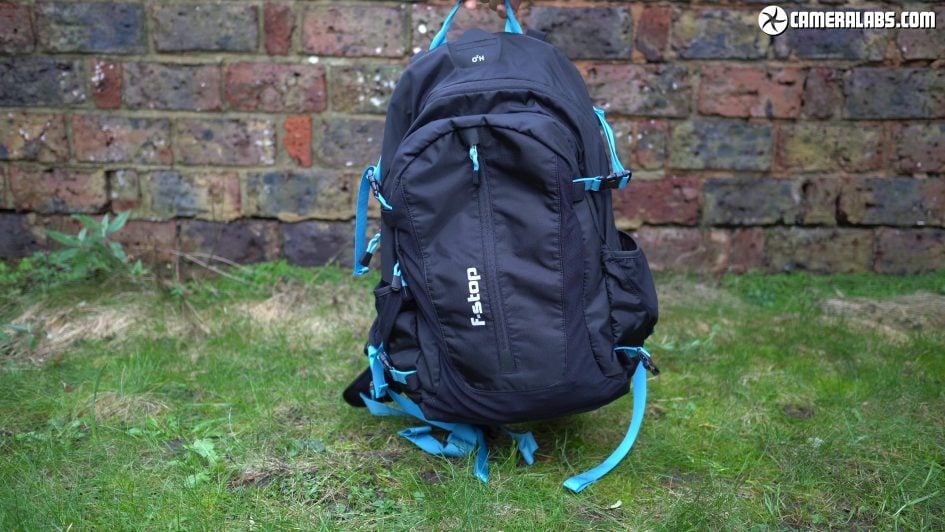 Above: Looks are important for any accessory, but in this instance, I'm referring to a camera bag that doesn't necessarily scream out that it's carrying a load of expensive gear. I've owned a lot of fine camera bags and packs over the years, but most were identifiable for their primary use. This may be ok if you're generally transporting flight-cases between shoots, but if you're shouldering a pack on foot or public transport, I want something that looks like a normal bag and doesn't draw attention.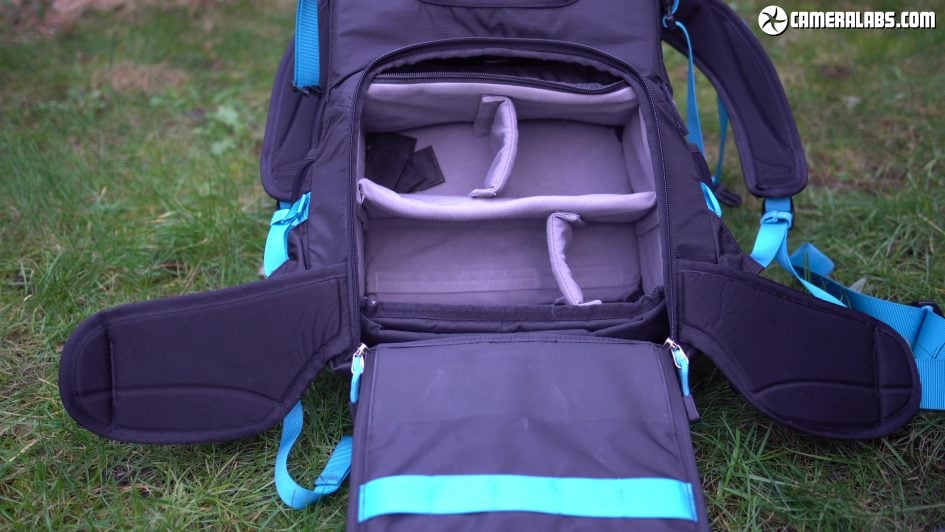 Above: If you're mostly wearing a backpack, you'll also want to minimise the chance of anyone sneakily accessing the valuables inside. I like how f-stop employ rear-access to the main gear section of the pack which prevents unwanted access. Lots of companies now adopt a similar approach, but f-stop was one of the first I'd seen to do it.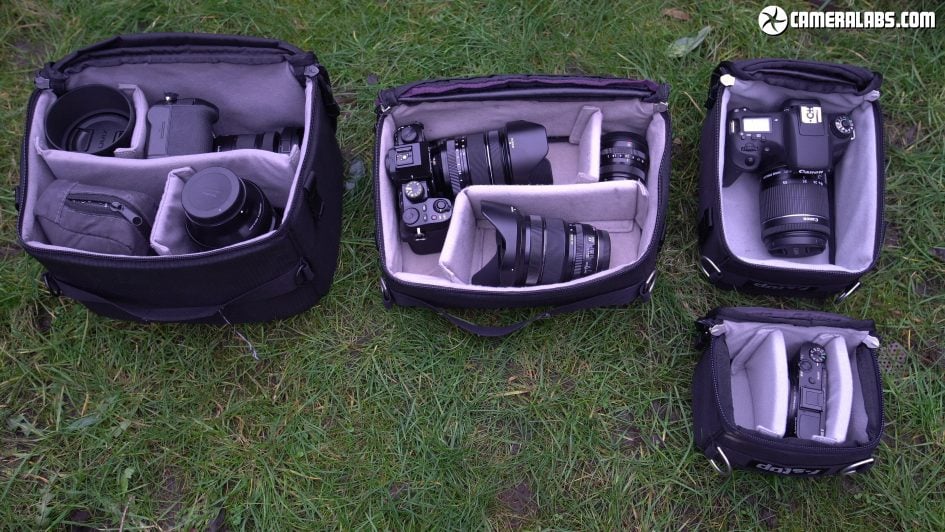 Above: Probably my favourite aspect of f-stop bags though is separating the gear section from the pack itself. Your camera and lenses are stored in padded boxes called Internal Camera Units or ICUs which, like other padded bags can be customised with velcro separators. These are then slotted into the base of the backpack itself. This means you can mix and match different sized ICUs and backpack shells for different occasions and jobs.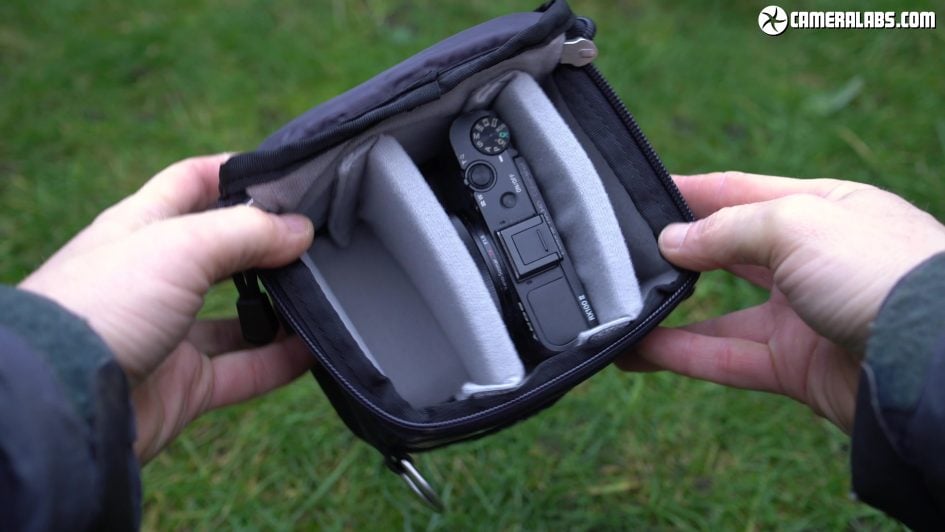 Above: Over the years I've built-up a collection of four ICUs, from the smallest Micro Nano ICU which can squeeze-in a small mirrorless camera or, say, three compacts…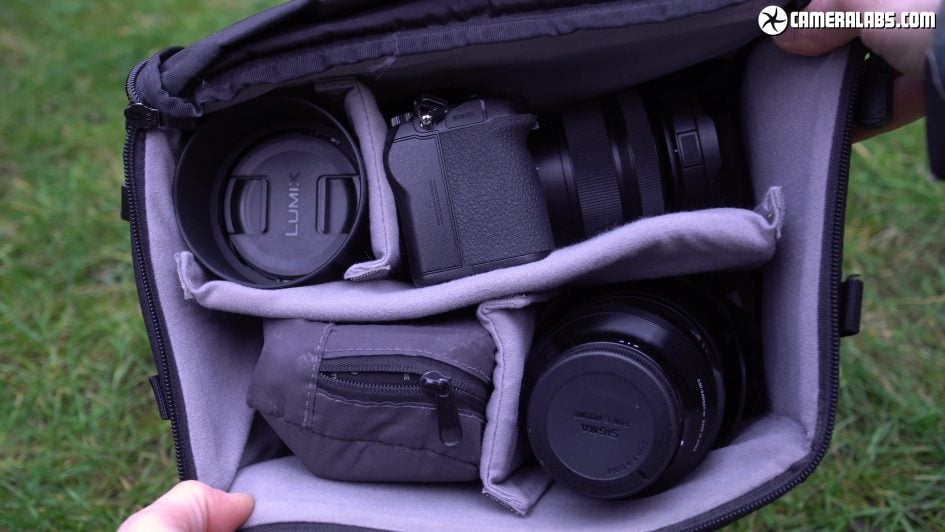 Above: …to my Small Pro ICU which can accommodate a pair of larger bodies and a selection of lenses.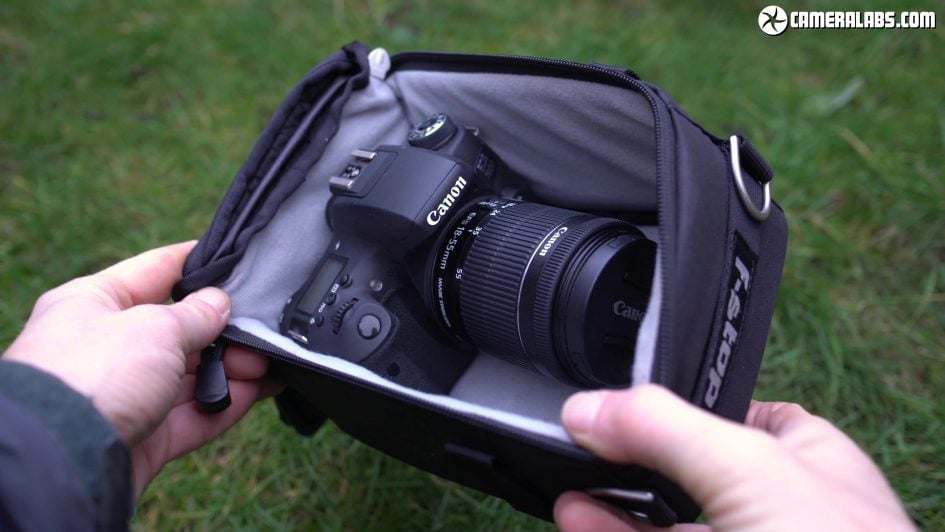 Above: In-between I have the Tiny Micro which is great for a single medium camera or some accessories…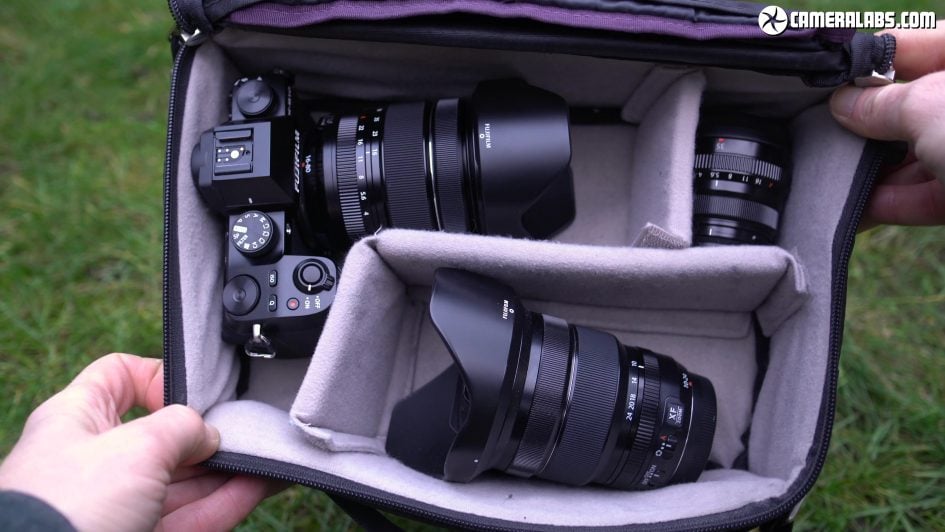 Above: …and the Shallow Small ICU which can carry a shorter mirrorless camera with a selection of compact lenses. I often leave the ICUs packed with certain gear at home so I can just grab one, knowing it will have everything I need for, say, a video shoot. The ICUs start at around $30, with medium-sized ones around $60.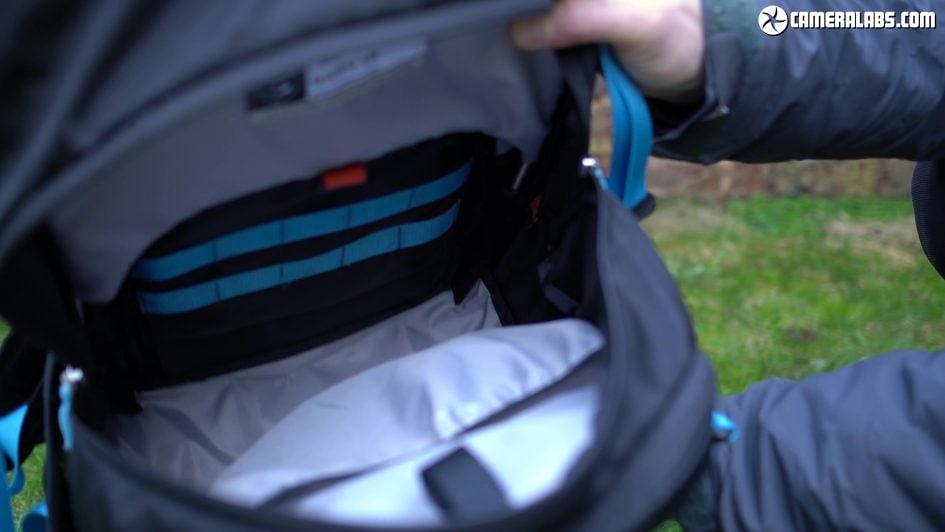 Above: I also have two f-stop backpacks – the Guru UL with 25l capacity is their smallest and lightest traditional backpack, but one that suits me for almost every occasion, whether it's a day out or even a long trip.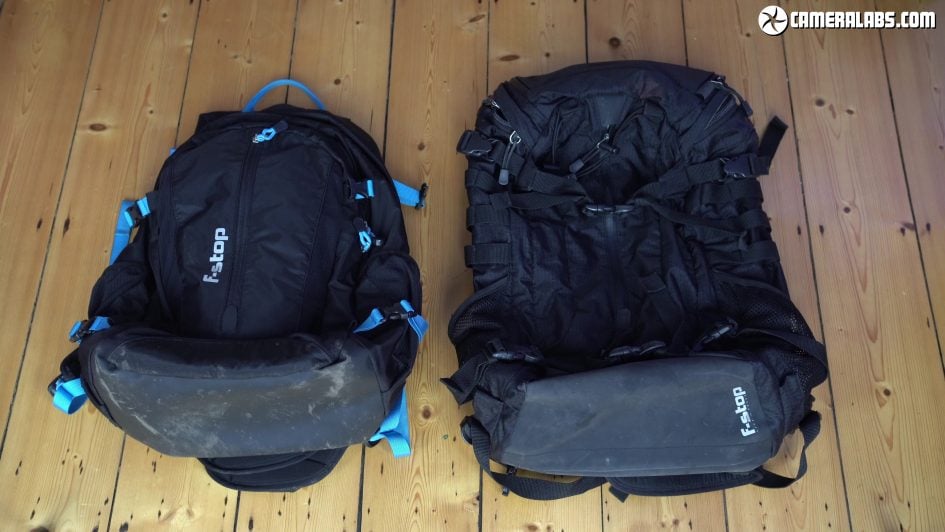 Above: When I need to carry more though, I turn to the Loka, which can accommodate larger or even multiple ICUs at once, or a normal one with loads of room for clothes and other items.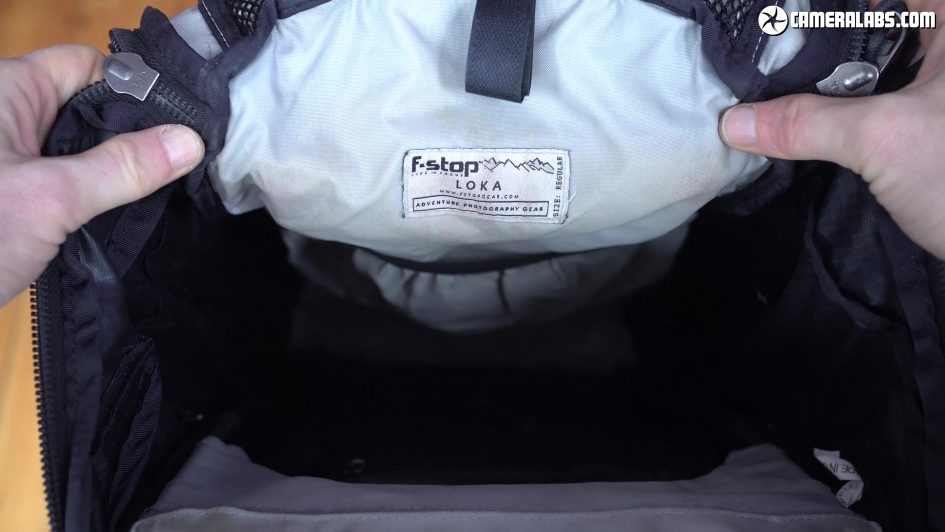 Above: Note my personal Loka comes from an older Mountain series, as it's now only available in the UL range.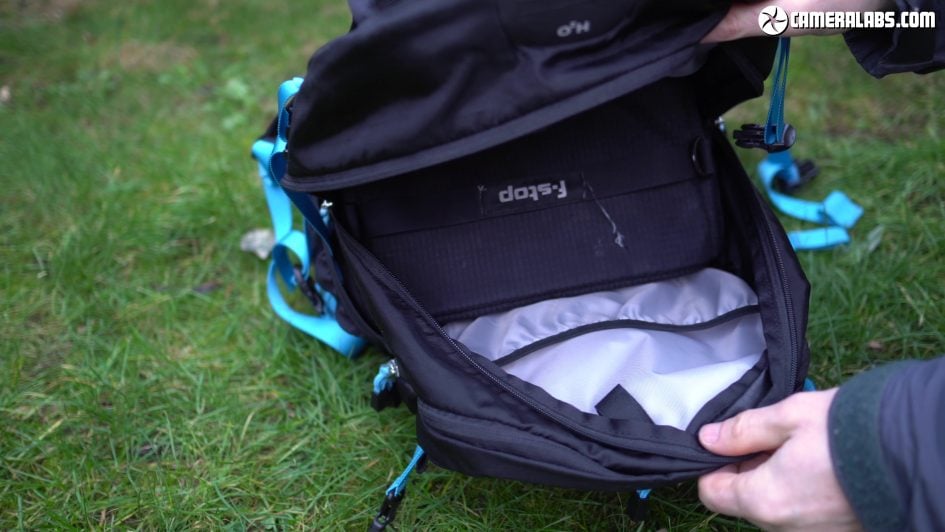 Above: Either way, I love the modular approach where you simply choose the ICU that matches your gear requirements for that day, event or trip, then slot it into the pack that'll have enough room for your other items. Very efficient.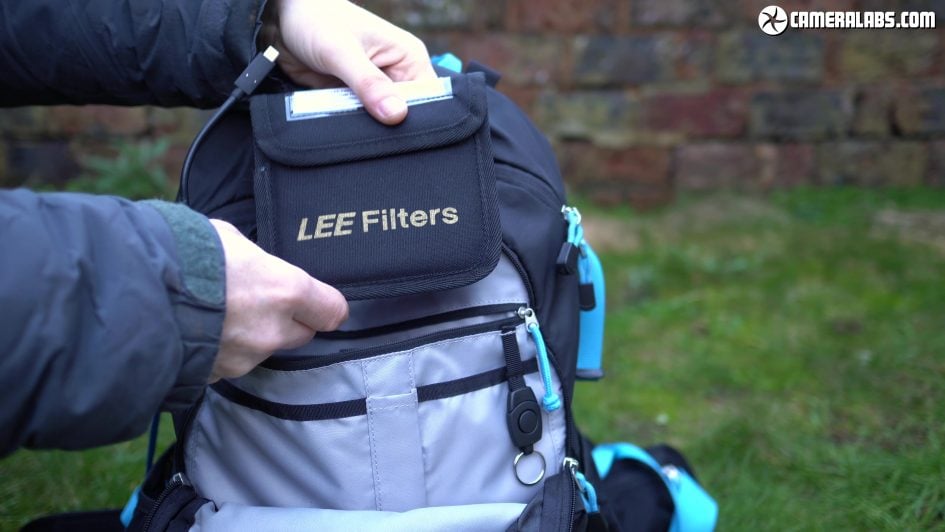 Above: In terms of carrying other stuff, the Guru UL is pretty well-equipped. There's a thin zipped section on the front which itself contains a smaller zipped pouch for simple accessories like microfibre cloths, tripod plates, filters, memory cards or more general items like glasses or notepads.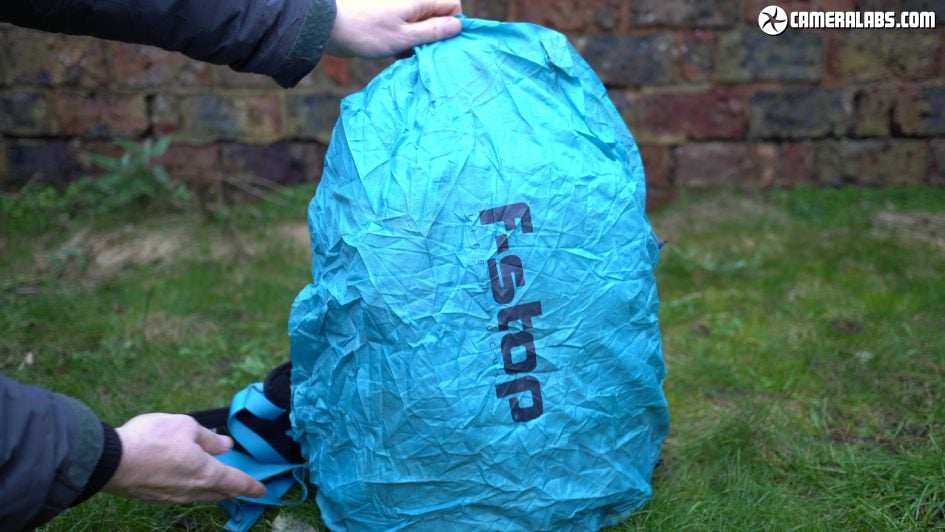 Above: The very front of the backpack has a single zipped pocket which I use to carry the optional rain cover or even a thin raincoat for poor conditions.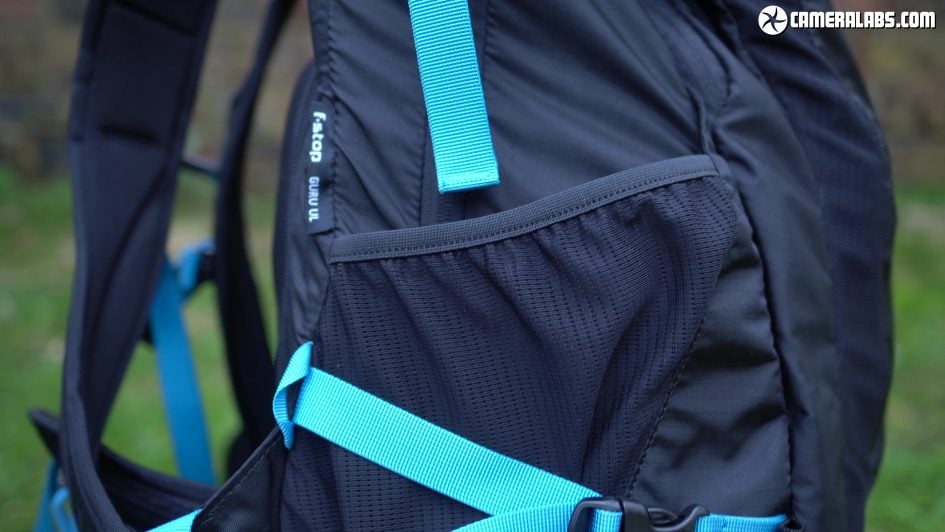 Above: On each side are open stretchy pockets which can hold water bottles, although anything too tall or heavy can fall out if you're not careful.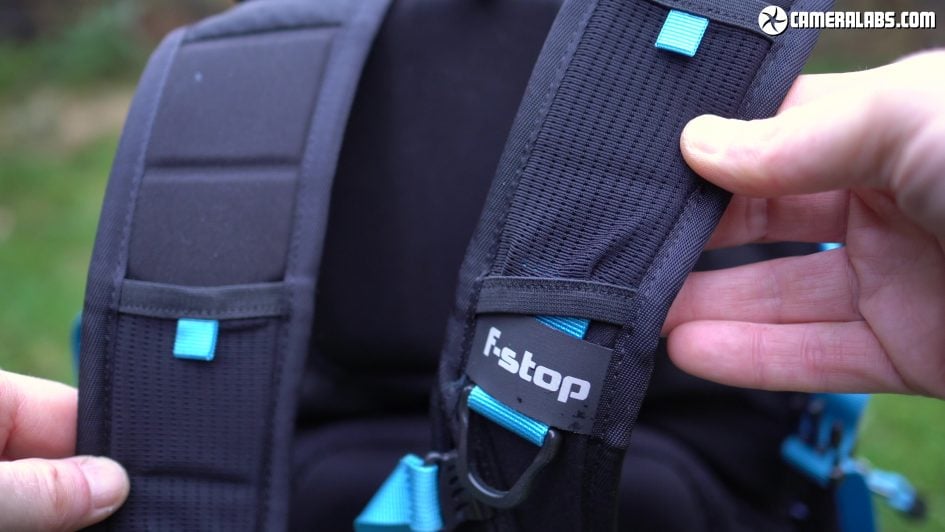 Above: There's also D-rings for hanging clipped items as well as a bunch of material hooks for mounting optional gatekeeper straps for holding onto larger tripods or ski poles.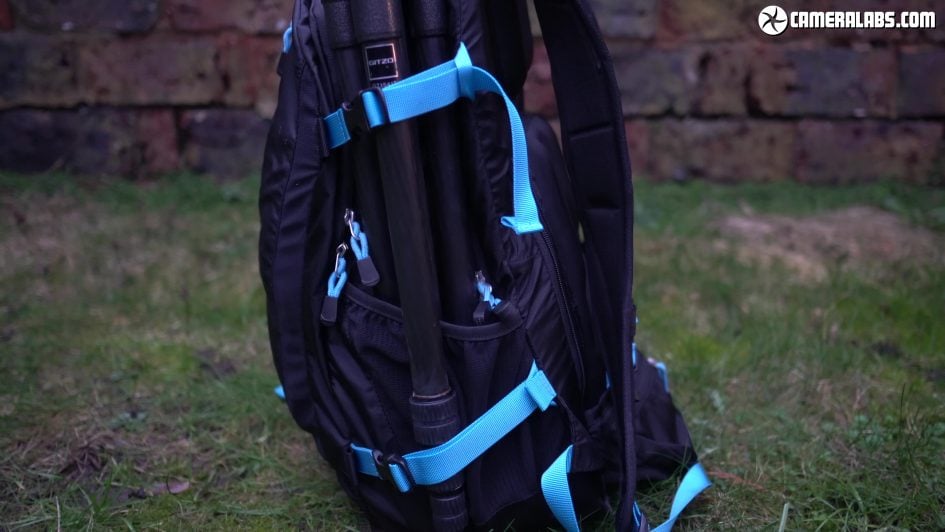 Above: Tripods can also be slotted into the side pockets and held in place by side straps, and there's an additional option to strap one to the front of the pack. I like the Guru as it's tall enough to just about squeeze a smaller tripod inside, although my Gitzo Traveller proved to be a bit of a tight fit and repeated use over the years eventually saw one of the main zips fail, but this was after five years of abuse.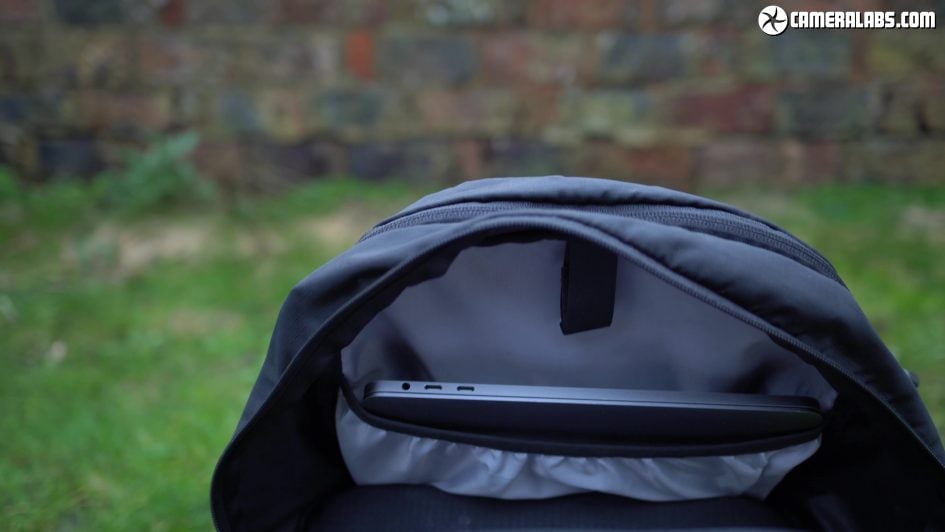 Above: A modern backpack should of course accommodate a laptop, and the Guru UL has an internal sleeve that's big enough for a slim 15 or a chunky 13inch model. Unfortunately there's no padding in the flap though, so for protection I'd recommend storing your laptop in a padded sleeve before slipping it into the pack. Also note that for rear access to camera gear, the laptop flap is positioned at the front of the pack, furthest from your back when carrying it. It's no problem if you're also carrying a load of camera gear, but on occasions when you don't have an ICU inside, the laptop can become the heaviest item and cause the pack to feel a little unbalanced – but to be fair this is foremost a camera backpack and you can always stabilise an empty pack with a coat or jumper.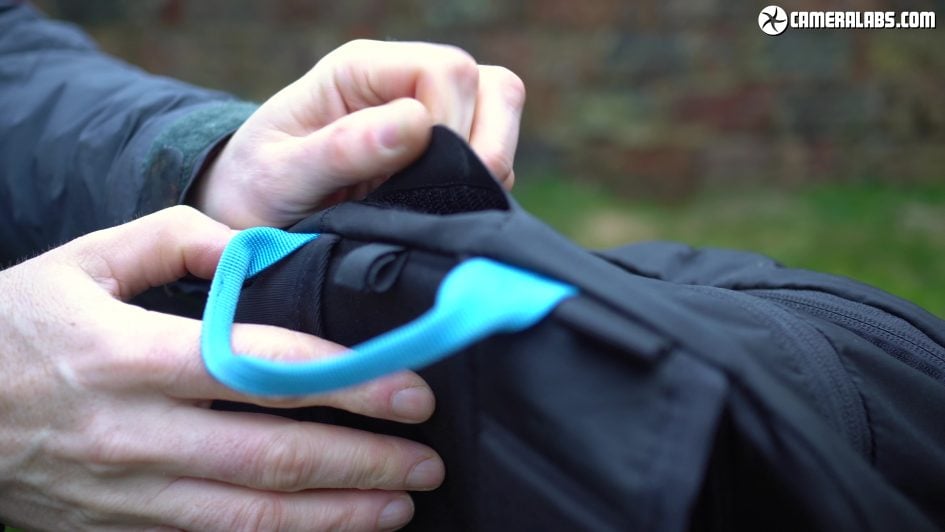 Above: The laptop sleeve – or indeed the main pack – can also be used for a water bladder and the Guru UL has a velcro'd flap at the top to pass the drinking pipe through.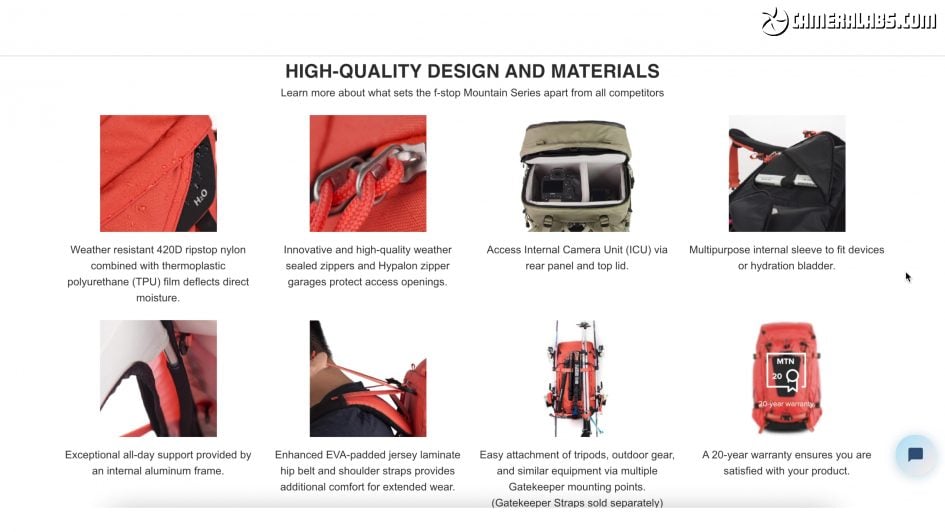 Above: f-stop's toughest backpacks are the original Mountain series, but the more recent Ultra Light models manage to save weight without feeling compromised, at least for my own activities.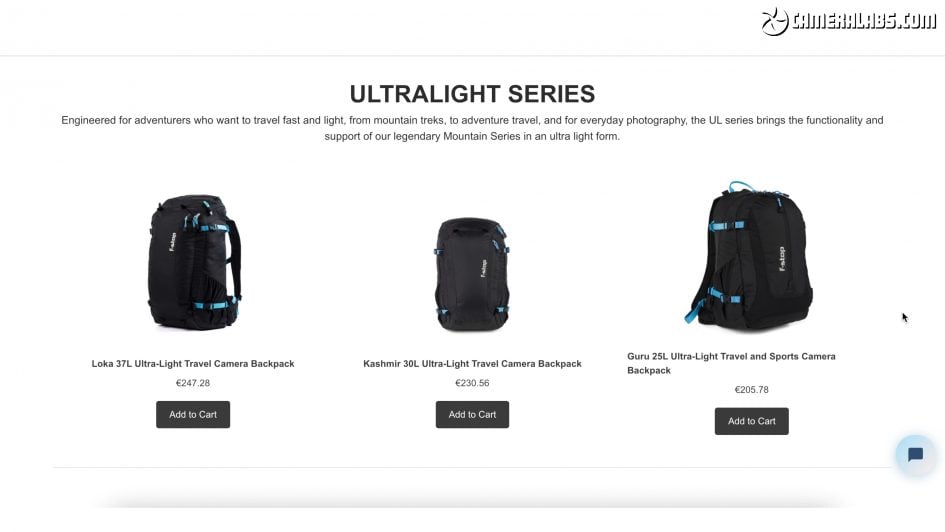 Above: They use nylon shells with water-resistant coatings and strong zips – they're not waterproof, but they have always kept the insides dry even in sustained heavy showers, and I've rarely felt the need to fit the optional raincover for further protection. The padding and straps are thinner than the Mountain packs, but still feel comfortable, and I've hiked with a packed Guru UL all day long.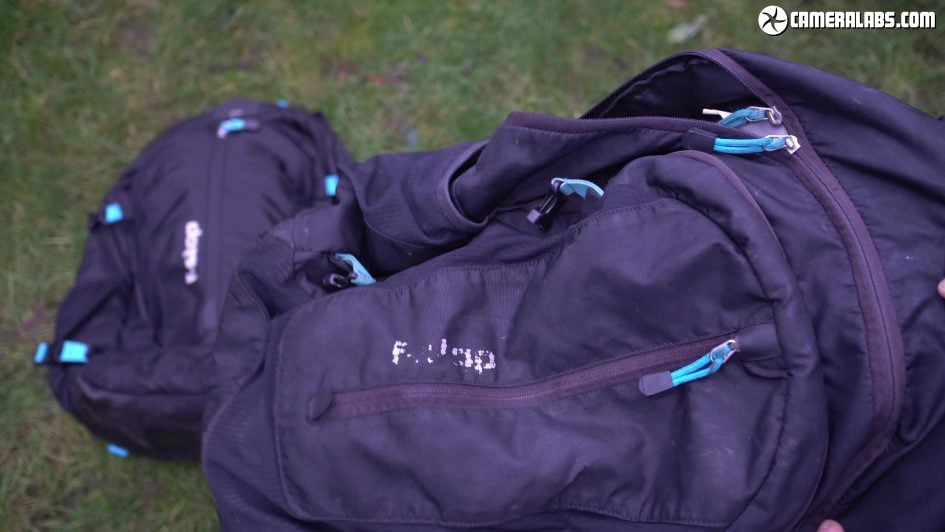 Above: The outer material also proved resistant to tears. For comparison, here's my previous UL pack which served a solid five years of pretty much daily use and a lot of travel, and again the only problem I had was breaking a zip after years of squeezing in a tripod that was a little too large for it. f-stop offers a three year warranty on the UL range, and an impressive 20 years for the tougher Mountain series – and indeed my own Loka comes from that range and is now over a decade old without complaint.
f-stop Guru UL verdict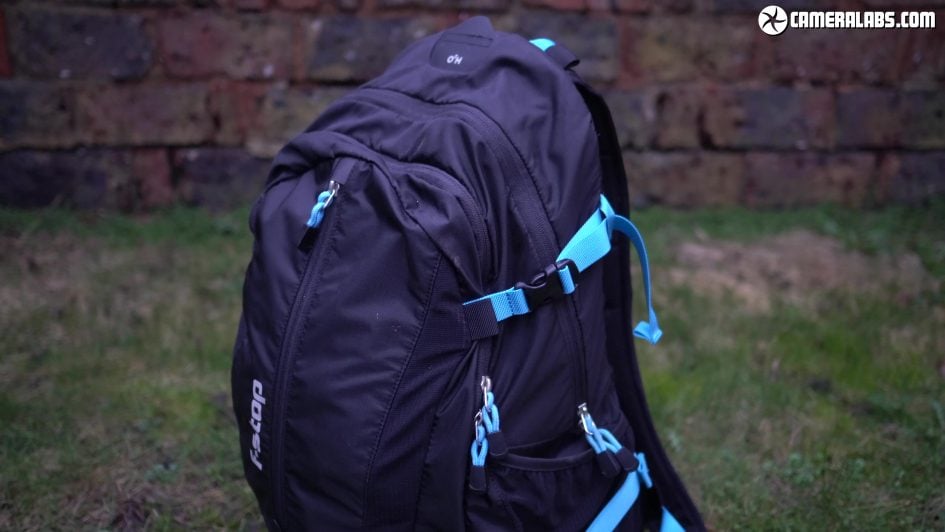 Ultimately the f-stop Guru UL remains the best camera backpack I've used and one I'd confidently buy again. I was already sold on the modular approach of the original Mountain series and while the ultra-light range may lack the same degree of robustness, I feel f-stop has successfully made weight-savings without compromise for most activities.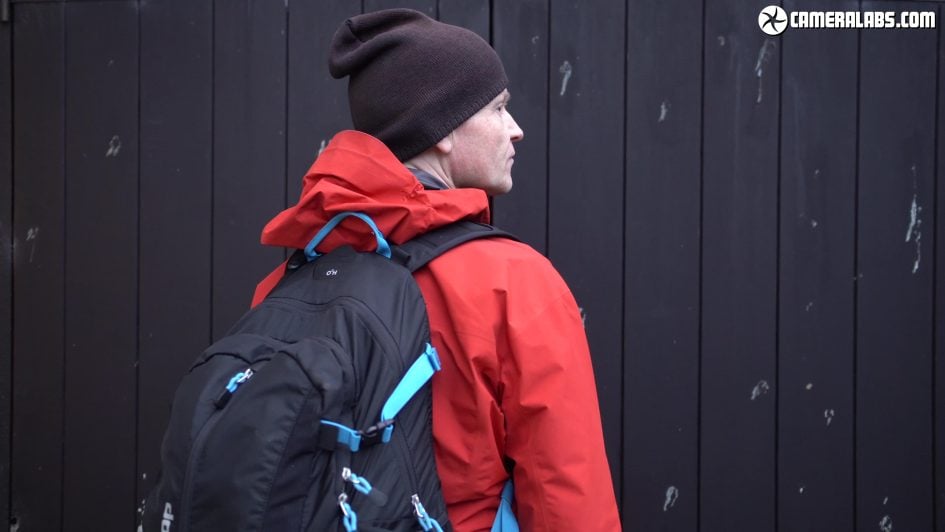 The Guru UL is light but strong, shrugs-off all but the worst weather, comfortable to carry even for long periods, and crucially stores my camera gear securely and discreetly. The weak-point is the unprotected laptop compartment, but padding would have increased the weight even if you never used it, and you can simply employ your own padded sleeve instead. Overall the Guru UL is the best small backpack for photographers that I've personally used and one I can highly recommend.

Check prices on the Guru UL at the f-stop store! Alternatively get yourself a copy of my In Camera book or treat me to a coffee! Thanks!