The DJI Mini 2 drone, launched in November 2020, is the successor to the 249g Mavic Mini launched in October the previous year. That weight is significant enough to make it into the first sentence of a review because it is the limit below which several countries allow users to fly drones without registering. Since registration is rarely free, and can sometimes involve a test (online or otherwise), this drone and its predecessor occupy a special place in the market.
Looking at the launch dates, however, might well cause you to ask "Just why is this drone getting an update after less than 13 months?" Looking at the airframe, however, might well cause you to ask "Is it actually getting an update at all?" This revision has, however, chosen to concentrate on areas which had been of most interest to prosumers it brings a 4K camera (doubling the pixel count from 2.7K), more powerful motors and – perhaps most excitingly – DJI's OcuSync 2.0 radio system, more than doubling the drone's range.


There have also been some useful improvements to the camera – principally the arrival of Raw mode, panoramas and exposure bracketing. In making these updates DJI have added value, which they've also chosen to reflect by adding $50 / £50 to the price. The key question then must be "Are the improvements worth it? For everyone? Just for video? Photographers? Instagrammers?" You can check out my Mavic Mini review for some additional context.
DIJ Mini 2: Setting the Scene
It isn't worth spending too much time discussing the many successes of the original Mavic Mini, suffice to say that – as DJI's second attempt to appeal to consumers – they essentially got it right. Firstly, of course, it came after the FAA and CAA had made clear their 250g (8.8oz) registration limits. Secondly, though, with a three axis gimbal and a 2.7K camera the drone had similar photographic capabilities and quality as a high-end phone.
DJI accompanied this with a serious effort to improve the flying experience. Piloting was done via a radio control connected to a phone-with-app serving as the monitor, like most prosumer and professional drones. (DJI's previous consumer drone, the Spark, was controlled only via the phone's wi-fi unless you paid extra for a radio control, giving a very limited range).
DJI's drone control app (DJI Go) was also updated with a cleaner user interface much more akin to a phone camera app. It also had the more sensible name 'DJI Fly', and the app was capable of performing a wide range of 'QuickShots' in which the drone took a stylish clip for you, keeping the camera on your subject (all you had to do was make sure to hit 'stop' if there was a risk of hitting anything).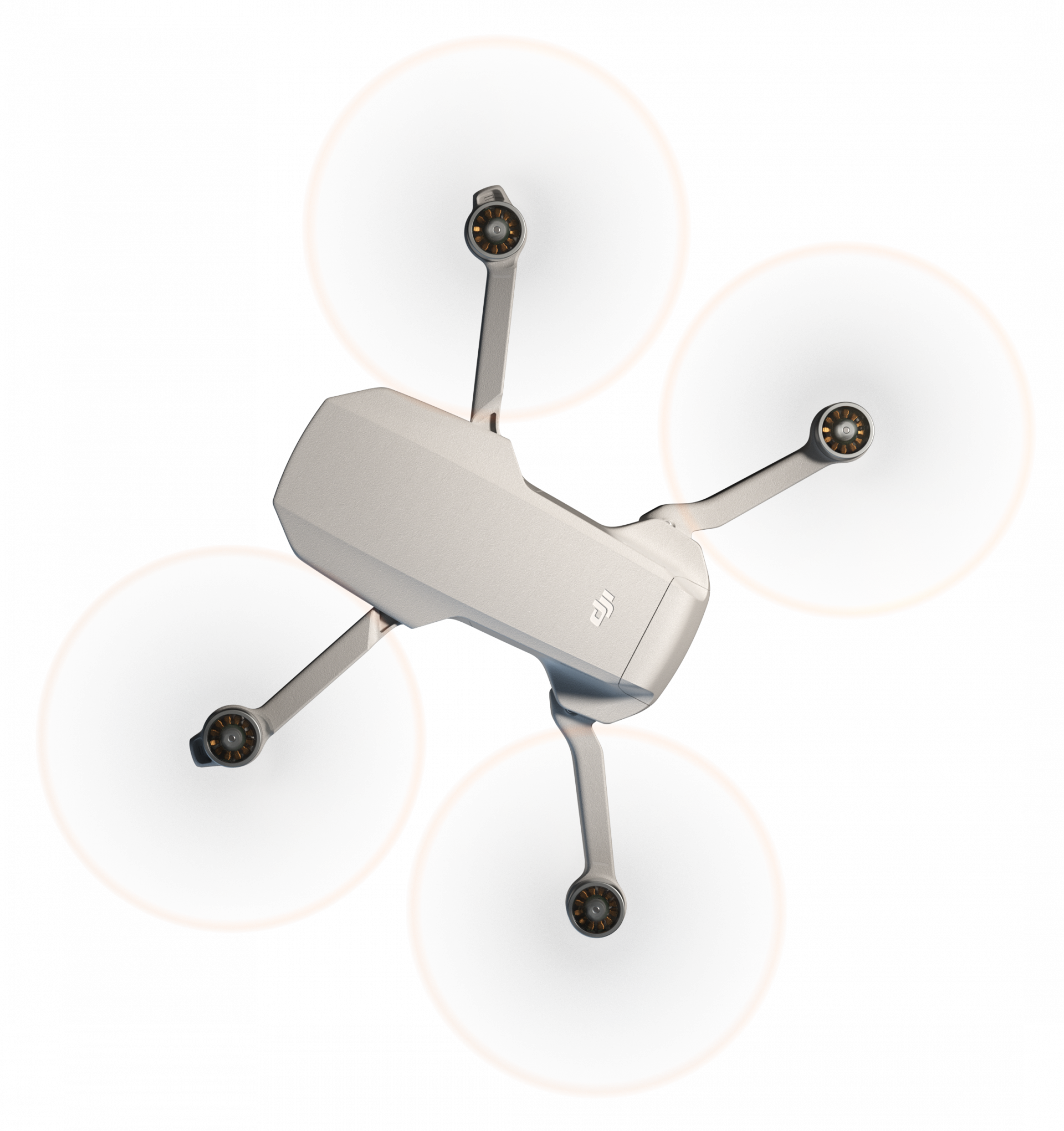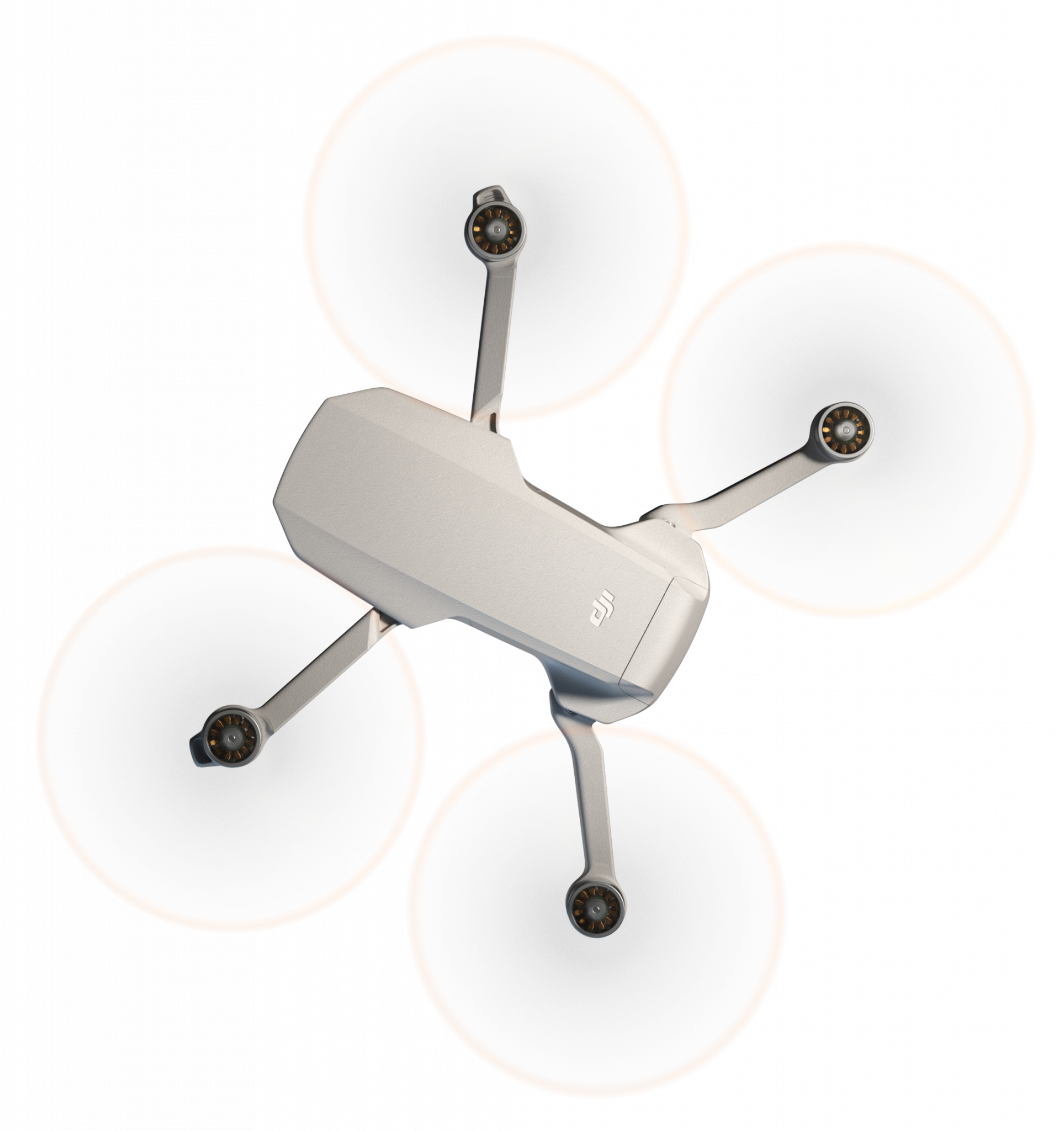 The drone was an obvious choice for families or YouTubers looking for a few shots – still or video – from more interesting angles; it was (and is) light and convenient to carry around, yet the camera was still supported by a gimbal (stabilizer), it could fly at least comparably with the pro models and, at 30 minutes, the battery typically lasted a bit longer than drones costing four times the money. Inevitably it's been very popular.
So, was there even a problem? Sort of. The lack of 4K video was mentioned in every review of the original drone in 2019, and as more and more 4K phones emerge that has become more and more of a negative talking point (however rarely the drone's target market actually view video at that resolution).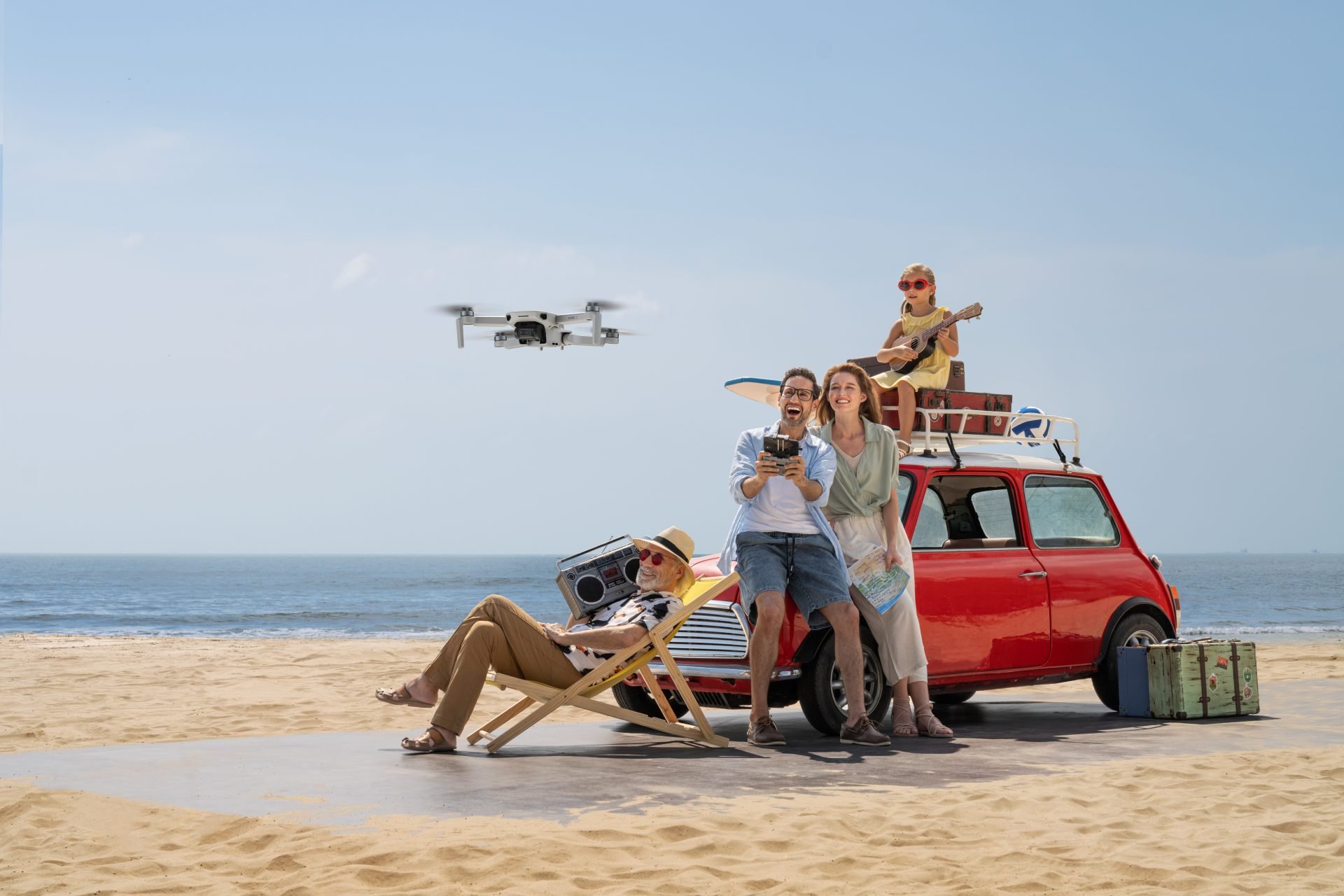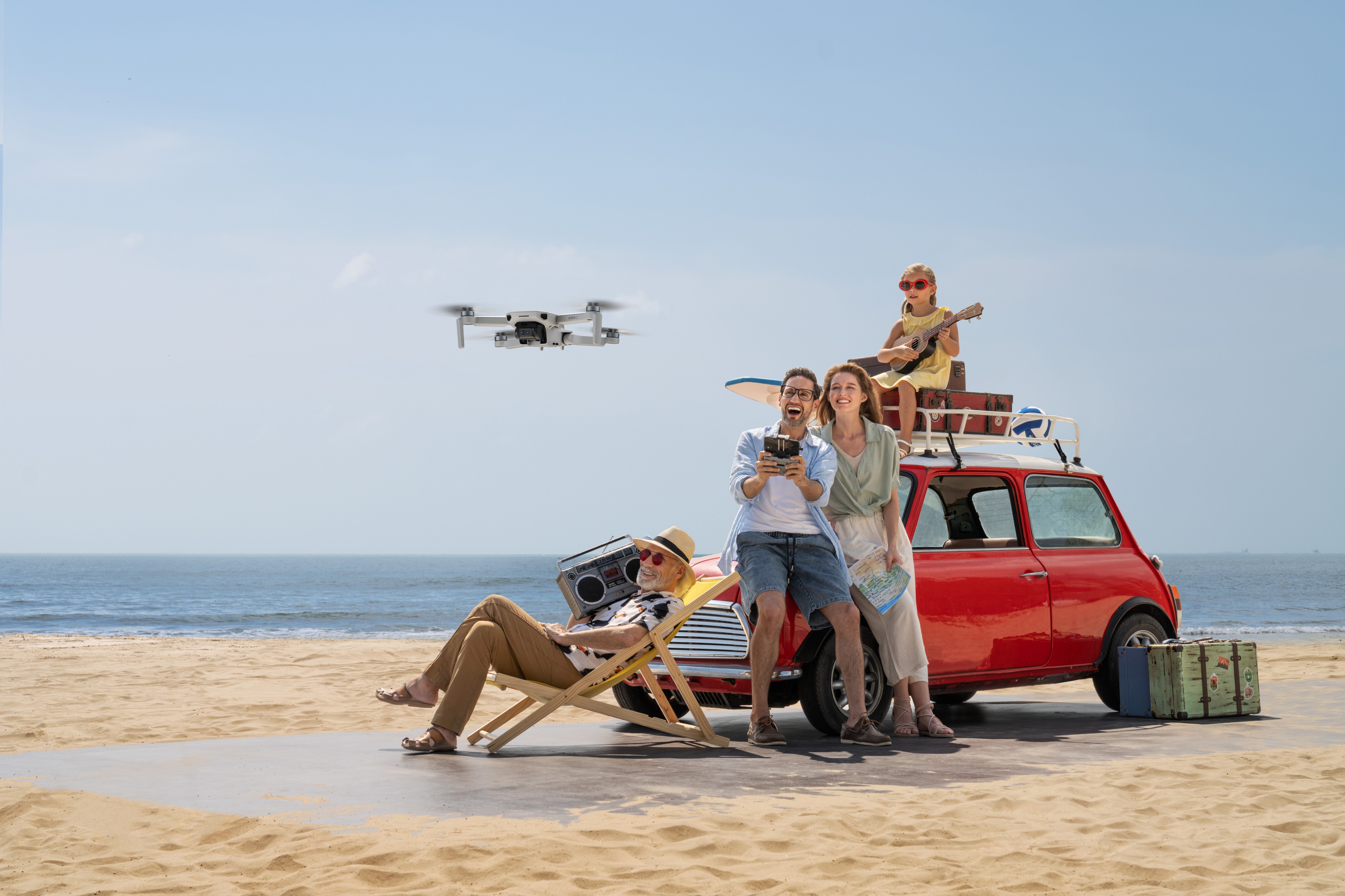 More seriously, in my view, was the combination of a weak radio control system and limited horizontal travelling speed. A cross-wind will always cause a drone to drift sideways and, ordinarily, the on-board GPS and downwards visual positioning system will detect this and the drone (but not the camera's gimbal) will lean into the wind to compensate. The problem the Mavic Mini had was only being able to handle an 8 m/s sidewind ("Moderate Breeze" in Beaufort's terms). Worse still, with the Mavic Mini's limited radio, it's possible to lose your control – especially the live video feedback – in surprisingly short distances, sometimes under 500m (the legal flying range in the UK).
At the same time, regulations continue to make life easier in the lightweight category – Europe (including the UK's CAA) launched new categories which also have a sub-250g class. So prosumers and even pros who had been impressed by the original Mavic Mini started loudly discussing the features they felt were missing or could be enhanced.
The Drone Itself: A Great Leap Forward
Sticking with the many successes of the original design also enables DJI to continue to sell some of the same accessories (including stickers for the shell and a screen you can use to 'carry messages' – no, I'm not sure why either).
Despite that, the motors and the battery were replaced, the latter meaning the machine isn't compatible with any collection of Mavic Mini batteries (or charging hubs) you may have, which makes an upgrade less attractive for some. However the new 2250mAh battery is 14g lighter, which presumably helps the new motors deliver the extra minute's flight time. They can be charged via an external hub (included in the Fly More kit), or via the USB-C socket on the back of the drone.
That socket replaces the Mini-USB socket on the old model, next to the MicroSD card slot, which nicely completements the same modern USB connector found on the bottom of the all-new controller design. (New, that is, unless you've got an Mavic Air 2, which came out a few months before – in which case it'll be a pleasingly familiar design.) Consistency across charging connectors is very welcome, and if you do have the charging hub it, too, has USB-C. Even better than that, it has a traditional USB socket so that any remaining charge in up-to three batteries can be used as a power brick should you need it.
Turning back to the drone, and turning it to examine the front, we see the arrival of a shiny '4K' next to the lens. Also an additional hue-changing LED light has appeared above the gimbal for no obvious reason. The branding now reads 'Mini 2' rather than 'Mavic Mini', so presumably the name Mavic is on the way out, or being reserved for the pricier tier. It's not on the box, either.
The arms fold with a firm feel, taking the drone from something that'll drop into a coat pocket (140x81x57mm / 5.5/3.2/2.2in) into a machine with a 213mm/8.4in diagonal – which seems even bigger when the motors come on and the propellors spin out to their full length via centripetal force. In practice, this is pretty small and the lack of weight further reduces the drone's stability in comparison with larger machines, but this is relative, and all but cancelled out by the top-notch 3-axis gimbal as far as your recordings are concerned.
The Controller: The Greatest Leap Forward
Just picking up the new controller is a different experience in comparison to the older Mavic Mini. For a start, the new design doesn't feel in any way lesser than the prosumer models; you can feel the heft of a good sized battery and the screw-in, screw-out thumb-sticks are metal, just like DJI's higher end drones. On the back there are nice rubber hand grips, almost like a good camera. (The Mavic Mini used the same shape controller as other Mavics, but somewhat unsubtly "cheaps-out" here with plastic sticks.)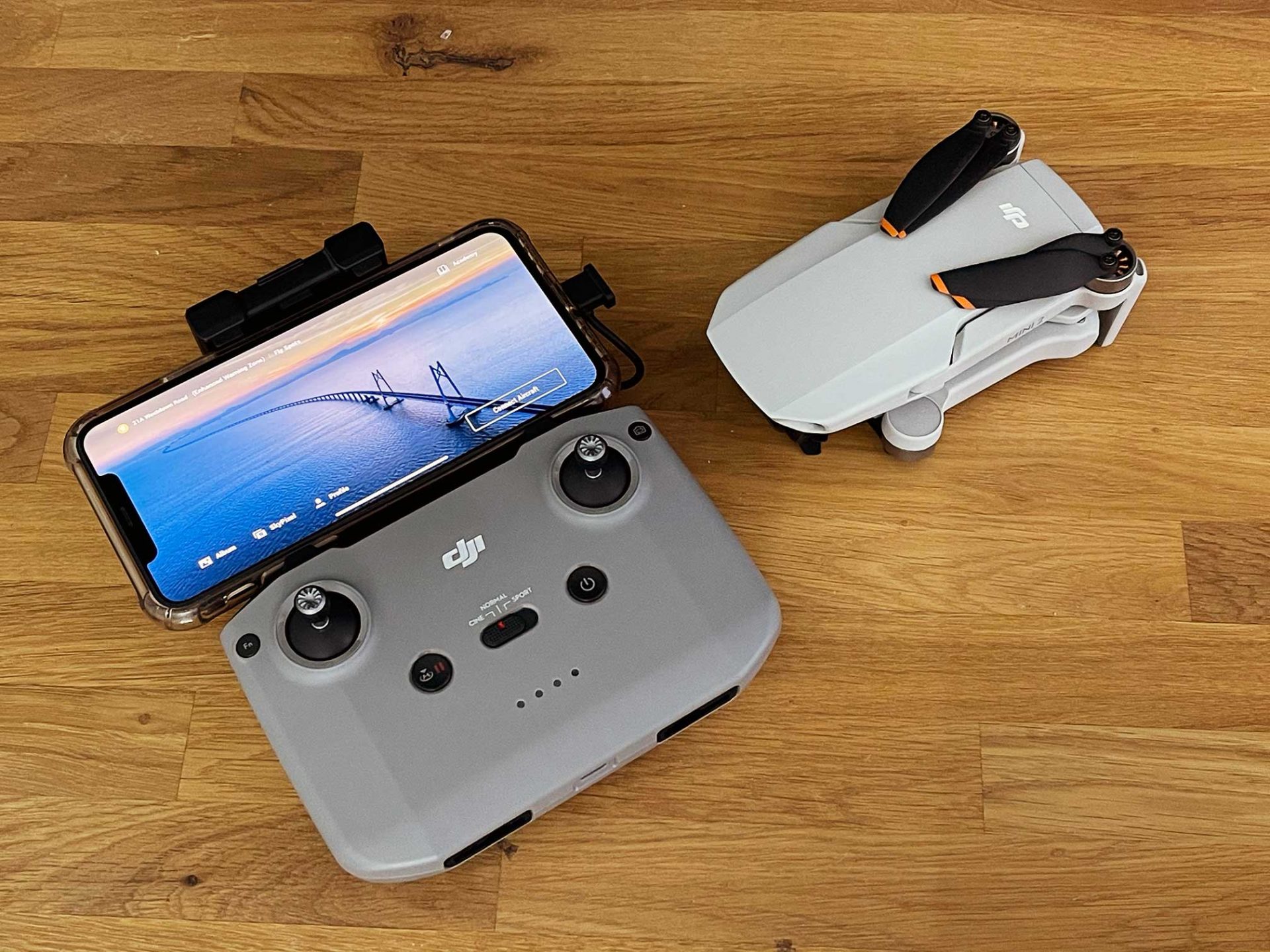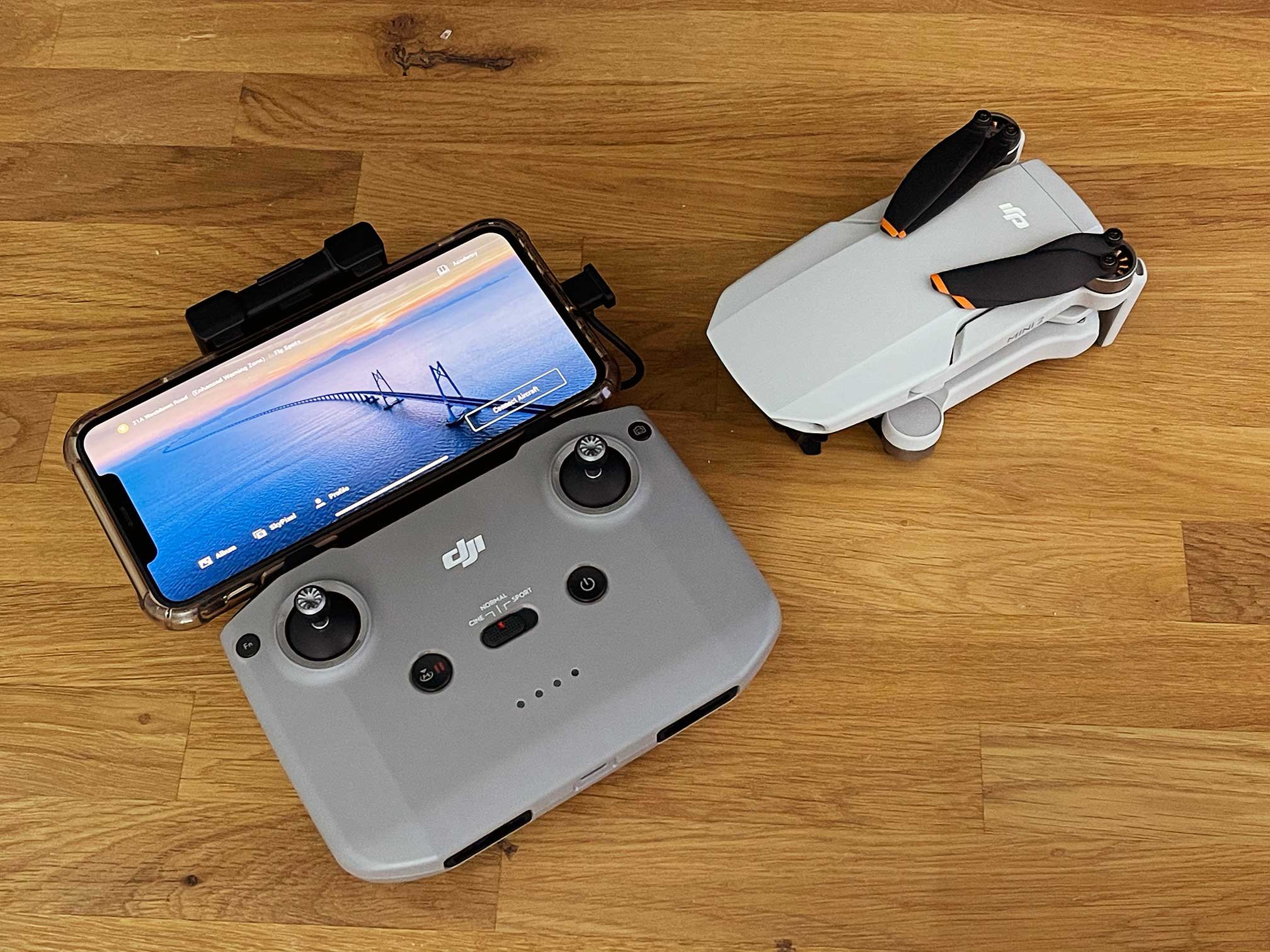 What it doesn't appear to have at first is fold out grips for the phone or folding antenna. It doesn't. Instead you pull out a sprung metal grip from the top which hides a recess for the phone connection cable. This is a very neat solution, and (together with rubber indentations in the top corners) can grip most sizes of phone without issue – up to 92mm (plenty bigger than an iPhone 12 Pro Max in a case, which is more than can be said for the previous Mavic controller styling).
All the expected controls are there too – wheel for the gimbal tilt on the left grip, shutter on the right, assorted buttons including return-to-home and a sliding switch through Cine, Normal and Sport flight modes. Only in the latter can you fly the drone at its maximum speed (though it'll use all its strength to fight against any wind it detects). Cine simply slows the flight to such a speed that any video you capture while moving in it appears to be on a dolly. Sport is more for play, and you really need to keep an eye on the aircraft's momentum if making sharp turns near obstacles in this mode.
The opulence of the controller is really just the icing on the cake though. Inside is OcuSync 2.0, an established DJI technology which uses both 2.4GHz and 5.6GHz, and automatically manages switching to the best available signal. In this version it offers a range of 6 km (most of world) or 10km/6miles (countries covered by FAA regs). In use this system is far better at maintaining a signal for the length of the advertised range (you can read about the technology in my Mavic Air 2 review).
I should note that I didn't fly beyond 500m in testing – UK regs – but in that range I was able to expose problems with the older Mavic Mini. In contrast, the new Mini 2 maintained its video and control signal flawlessly, even near some EF interference.
The Camera

The camera is a relatively unexciting 12-megapixels with a 1/ 2.3" CMOS sensor with a 24mm EFL and an aperture of ƒ/2.8. It's capable of 100-3200 ISO, and uses an electronic shutter offering 4-1/8000 sec. That represents no change from last year's Mavic Mini. Where things have improved, however, are when it comes to the options available in the camera app.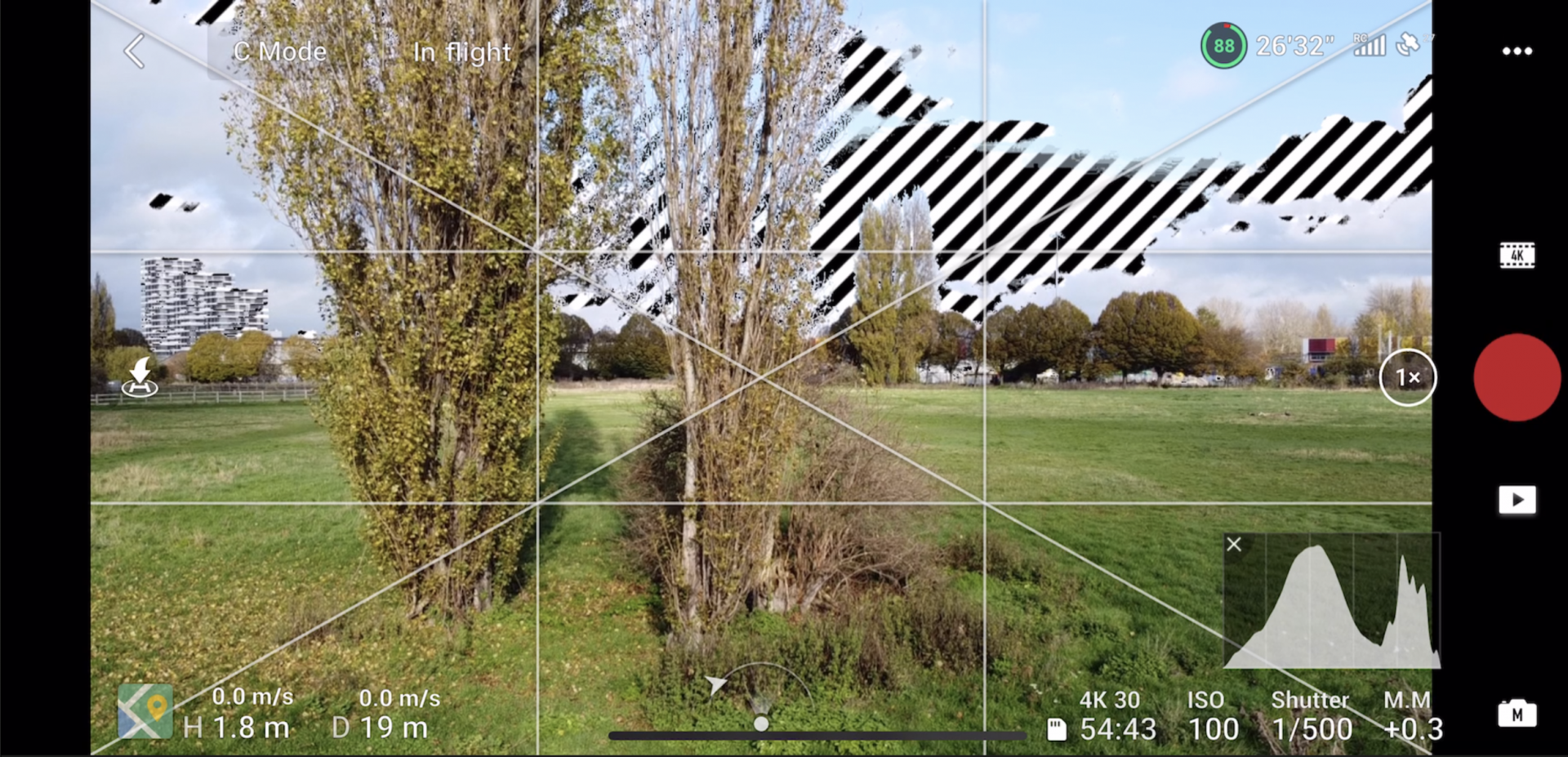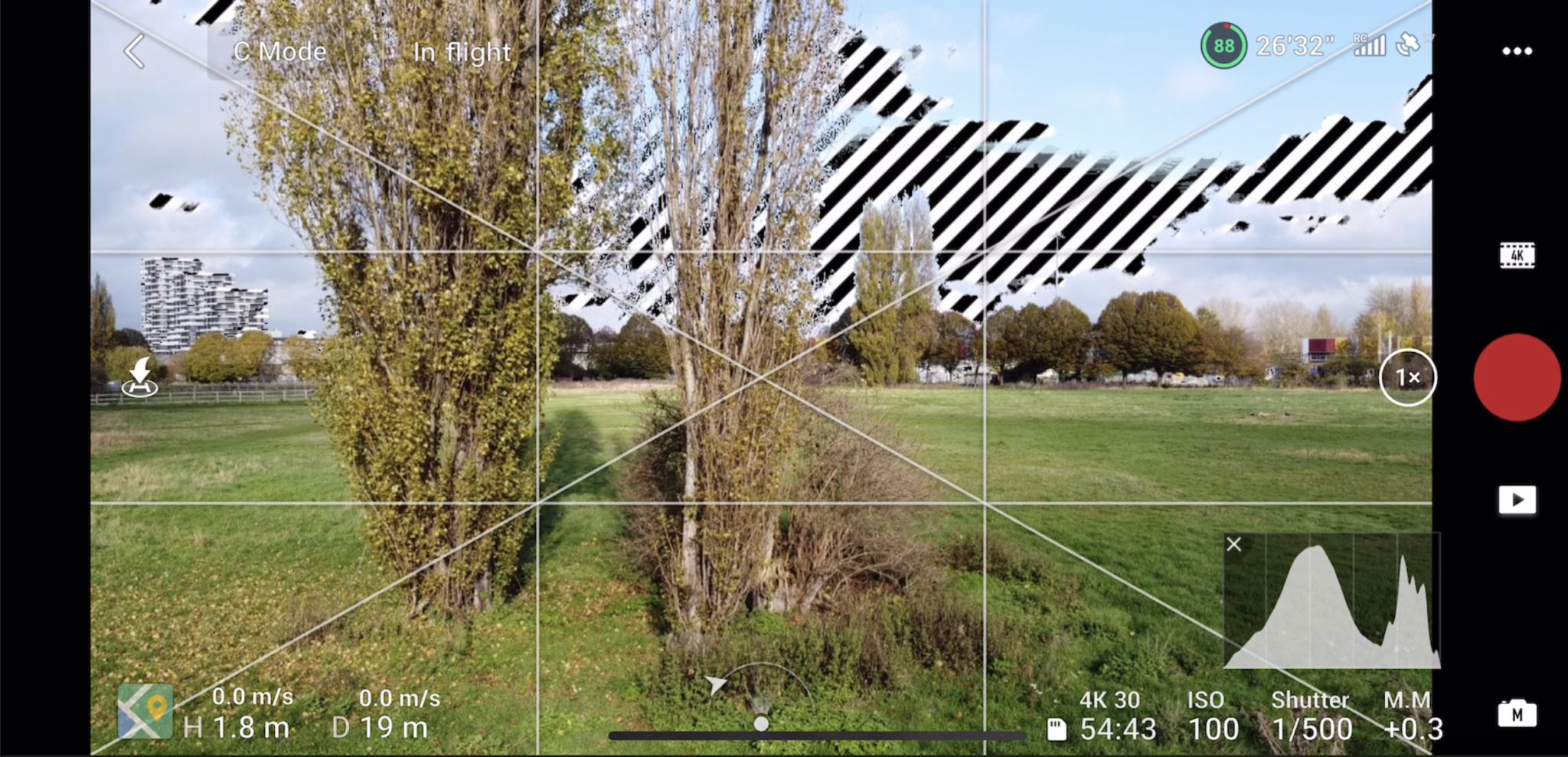 The DJI Fly app is – aside from one irritation I'll come to – a very friendly affair that'll feel very at home if you're used to your phone's camera. So much so, in fact, that I usually find myself reaching up to tap the shutter button on the screen rather than using the shoulder button on the remote control.
Starting with still photography, the camera has JPEG and RAW. RAW is always welcome, but this drone and its predecessor do not have an especially wide dynamic range, so anything that can be done to improve that is all the more beneficial here. DJI have already improved the app, DJI Fly, to add manual exposure to the Mavic Mini (this wasn't included at launch), but here Auto Exposure Bracketing is an option too. It's very good to have, though it's limited to 3 bracketed frames at 2/3 EV bias (and it is a bit slow, so perhaps that's partly understandable).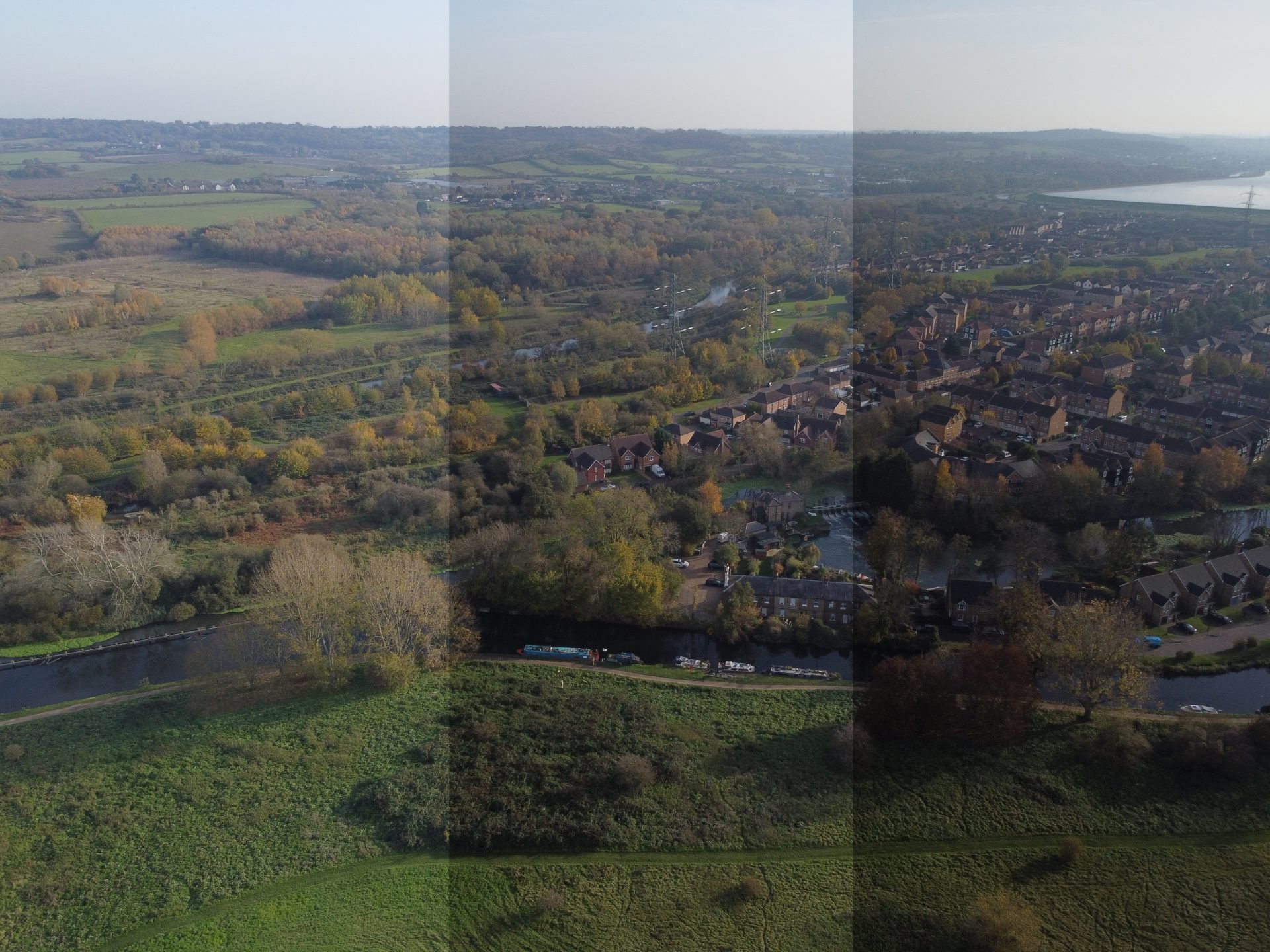 DJI have long offered some very neat panorama modes on other higher models, in which the drone hovers automatically and turns the camera to all necessary positions, then the app assembles the image for you (and delivers the individual ones should you prefer to stitch by hand). They have also made their way down to the Mini 2 and they're of surprising quality; the sphere option is fun for VR fans, the 180˚ solidly impressive, and the 3×3 provides a really smart way of simulating a wide-angle lens. Given that drones with swappable lenses cost in the order of 10 times what the Mini 2 does, that's pretty impressive.
The comparisons with phone cameras don't stop at the good usability. It is fair to say that the narrow dynamic range has not noticeably improved, leading to a tendency to flare out patches of the images. This is easy enough to anticipate since the same camera is used for the 720P "live view" you see on your phone while you're shooting, and the app provides optional 'zebra' lines and a histogram.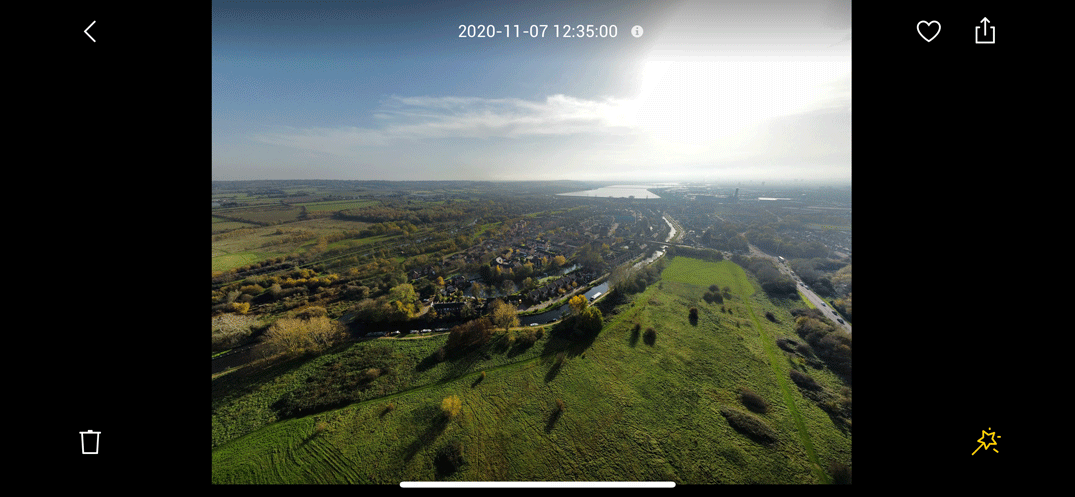 In use the app is at the top end of the software you're likely to experience on iOS or Android; it has effectively been refined for over half a decade (though only as DJI Fly for a year or so), making good use of platform sharing features and so on.
Video Mode
Broadly the video is of the same high standard we expect from DJI – it's good that it is delivered using 100mbps. Given the size of the camera, it's important to be realistic about the feasible quality, and note that you will see grain even on a cloudy day, let alone if trying to operate in the dark or indoors. DJI already had a good camera with last year's Mavic Mini, and (as with still photo modes) it seems the majority of the improvements have come in the software (at one level or another). The most obvious is 4K, and the arrival of 'Boomerang' to the collection of quick shots. The other nice surprise is a crude but useful digital zoom.
The arrival of 4K might seem a dramatic step up – it's certainly earned a lot of comment – but it's worth remembering that most videos are watched on phone screens and the bigger phone's tend to have a pixel resolution of, well, about 2.7K as it happens. Still phone customers tend to hear about 4K cameras rather than 2.7K screens (marketing departments being what they are), and it's rarely a loss to have higher resolution. In this case that's even more true since the pixel count and size is still the same, so the dynamic range seems essentially unaffected.
The arrival of digital zoom is very much in keeping with the phone-like styling of the app. It will let you go up to 2x in 4K mode, 3x in 2.7K and 4x in 1080P mode – as ever with digital zoom the limits seem placed for the operator's own good, since we're looking at a (mostly) lossy technology.
I have no doubt the same people who complained about not having 4K last time will feel this isn't enough, but to be honest I found it a useful and fun little addition and on a drone without the mass to carry an optical zoom, let alone such a low price, it seemed more than enough. Obviously the quality doesn't compare to, say, the three-times more expensive Mavic Zoom – which has a real optical zoom – but it does make possible some more cinematic shots that look just fine dropped into a YouTube video or other sharing platform and provide a welcome change from the wide angle we're used to seeing from drones.
One irritation I found was that the QuickShots, which are fantastic, seemed to be restricted to 1080P. They're not, but they don't take their settings from the video mode, nor do they take it from the setting shown at the bottom of the screen – you need to go back through the menu (via the … icon at the top right) once you've already switched to QuickShot mode. I imagine some would find the fact different modes retain their own settings very useful, but I can't really see why I wouldn't want this at 4K if my other video was 4K? Additionally you cannot change these modes when not in flight, which is irritating to me as I'd like to be able to get all my settings right while the motors aren't burning though my battery charge, but this is a very minor complaint – once you know where the settings are they're quick and easy to operate.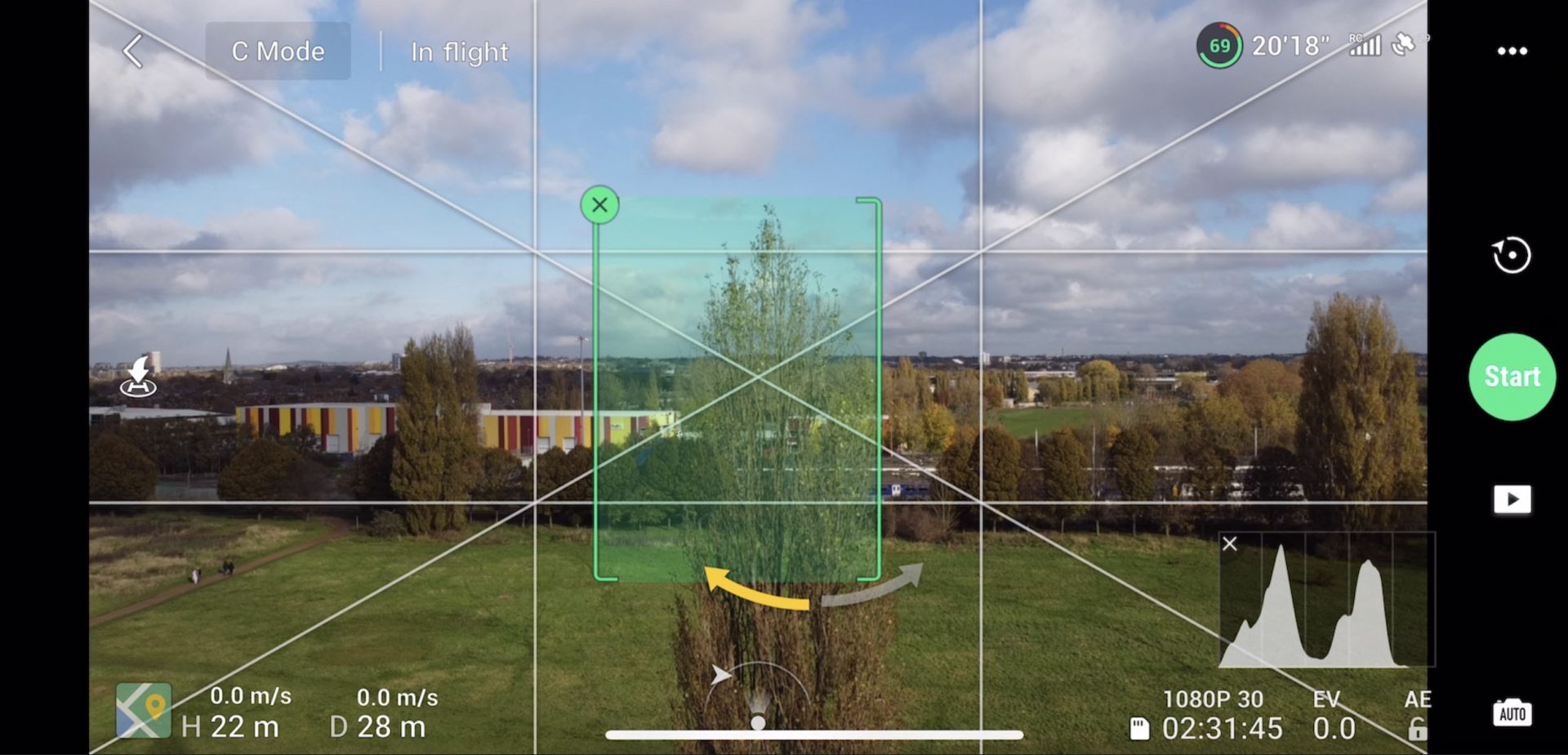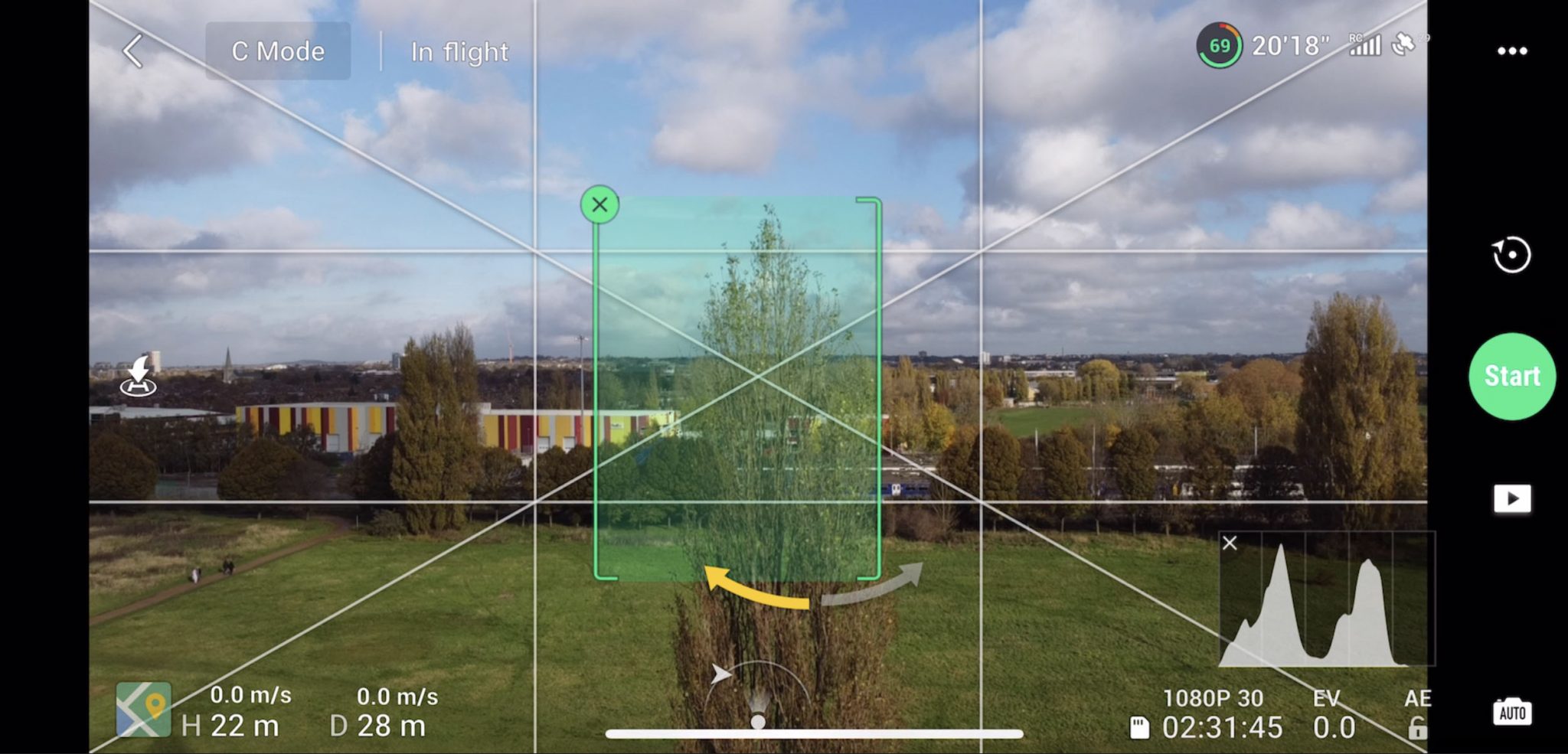 Usability etc.
One thing that's worth taking a look at when reviewing drones is how you interact with them. With the aircraft you have the basics of getting in the air and flying – the Mini 2 handles this as well as any other DJI drone – but later you find yourself with images, a memory card, a drone with a finite amount of remaining charge, and ideally you want your files on your editing device with the minimum of fuss. The point is that there are a lot of scenarios in which the drone, its app, and other hardware are involved with, and different people have different workflows. Is DJI getting it right for you?
Here, well, DJI have attempted to be all things to all people, which is probably the best solution, but can feel a little schizophrenic. You can forget to put a memory card in and the drone will let you record the video straight to your phone (at the lower frame rate and 720P limit of the live view). That's handy.
You can leave the drone on and switch the app to the 'Album' mode, which shows you thumbnails of images & clips and lets you download them. This is great if your workflow is phone based – you can also do this via wi-fi (QuickTransfer) but for reasons I can't understand you need to power up traditionally (legs open) first.
Finally there is a MicroSD card which you can insert into a computer the old fashioned way. Here you get the files as the drone shot them (Raw/Jpeg/.MP4), untouched by the algorithms of the phone app.
So you're not short of options, but is it too many choices? Is it clear which your best choice is? I find it all a little too easy to end up with multiple versions of the same images, some via the desktop and a memory card reader and some via the app (which then goes to the phone's Photo catalogue, which is of course cloud based…). Perhaps it just takes time to pick the right workflow and stick with it?
Verdict
If you've not already bought a Mavic Mini – perhaps you were concerned about the camera's capabilities? – then this is definitely the budget drone for you. It's the ideal entrance to the world of aerial photography or videography, and (with raw, AEB and 4K) there is very little to complain about any more.
If you were thinking of upgrading from a Mavic Mini the choice is more complex. Yes, getting past the frustration of being stuck with JPEG (if it ever actually concerned you) and the lower video resolution would be nice, but not only is the new Mini 2 a little more expensive, but the batteries are not interchangeable, meaning you'll either need to be very organised, or spend more than you had planned to upgrade.
Overall, though, this is still a better drone than you could reasonably expect for the money, and I can now imagine some experienced pilots being happy to settle for this sub-249g drone (and avoiding the registration paperwork) rather than the far more subtle improvements that spending more brings.