DJI Mavic Mini review – preview
The DJI Mavic Mini is a compact and lightweight drone weighing just 249g, with a half hour maximum flight time and a 12 Megapixel camera with 2.7k video on a three-axis stabilised gimbal. Announced in October 2019, it brings aerial photography and video to the most portable form factor to date from DJI. It's no coincidence it scrapes just under 250g either. DJI have been such a leading force in the drone market that they've been able to set its direction – until the regulators stepped in. Not to break the company up to encourage competition, but to set something of a challenge – registration. Most leading jurisdictions – USA, UK, China, Canada – insist on paid registration of aircraft over 250g, which includes all the photographer-friendly aircraft released thus-far, even the Parrot Anafi.
The DJI Mavic Mini, however, squeaks in below that with a take-off weight (including battery) of 249g, small and light enough that it will not worry most civili aviation authorities. Until, that is, you start loading it up with accessories, but we'll come to that later). Physically it's about the size of a bigger iPhone, but noticeably thicker, when folded.
Despite that, the Mavic Mini has specifications not too far out of line with some of its weightier siblings; it has a theoretical 30 minutes of flight time, putting it up there with the Mavic 2 series or the Parrot Anafi and comfortably beating the Mavic Air. It also has a (claimed) 4000m range – that means wi-fi which means, in practice, it'll probably not get beyond 1000m, but that's still past the legal limit!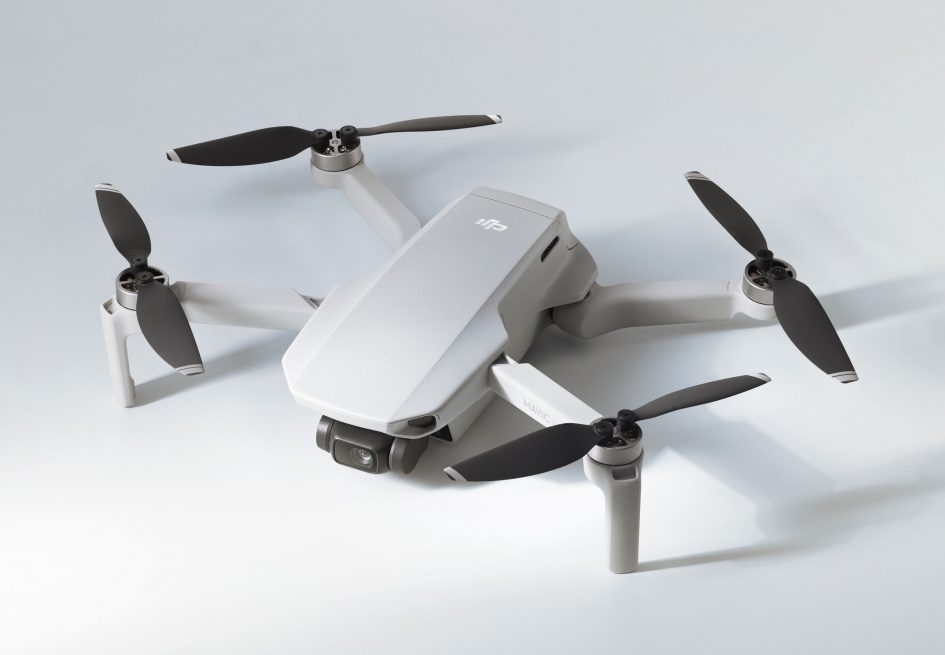 There are sacrifices though; the extra weight of DJI's bigger birds allows them to carry more powerful processors which are how they're able to produce 4K video, while Mavic Mini users will have to be content with 2.7k at 30fps or 1080p at 60fps. It's worth remembering, though, that these are more than adequate for most YouTube creators or Instagrammers.

The compact size will make the drone more susceptible to gusts, but to combat this the camera is mounted on a 3-axis motorised gimbal – an impressive achievement which is boosted with the new CineSmooth flight mode to assist capturing smooth but stunning shots.

Usability and branding seems to have been high on DJI's mind throughout, which leads to some other changes. Instead of DJI's traditional App, the phone view is now provided by 'DJI Fly' which sports a cleaner, less technical-looking interface and even more quick edits for instant uploading from the field. Most shooting is in automatic modes though – don't expect to change the white balance! That said, all the cool QuickShots (short automatic flights) are still in there for assorted social-pleasing "dronies".

Really interesting is the term "FlyCam" in DJI's marketing videos; they seem to want to coin a term – to define the market, even. It's not the only clue that they see this a bit differently; the fact they sell stickers to help you cleanly personalise the Mavic Mini, and adapters to hold things on the back (like hovering romantic messages) says a lot about who DJI see buying this.

That seems reasonable; they clearly want to expand the market they've done a lot to create, hence the "Worry less, fly more" phrase you'll also see in the marketing. My only worry is that the adapters would technically push the drone over that 250g limit, so better hope you've done the paperwork if you're using them!

As a photographer or videographer, the upshot is that you have even less excuse not to give drones a try, and even experienced/professional users will be torn between this adequate video from a very compact device and the sheer effort of lugging a heavier craft for more flexibility.

Check back soon for my full review!

Check prices on the DJI Mavic Mini at Amazon, B&H, Adorama, or Wex. Alternatively get yourself a copy of my In Camera book or treat me to a coffee! Thanks!