The DJI Mavic Air is a compact but capable drone pitched between the entry-level Spark and higher-end Mavic Pro. Announced in January 2018, it shares its design aesthetic with the Spark, but sports more advanced features and foldable legs for a smaller footprint.
When it comes to DJI (who claim to represent 70% of the entire market) it's not always easy to say whether any one of their drones is for consumers, prosumers or professionals. All now share the slick DJI Go 4 interface application which feels very consumer (and social-media) friendly while being feature rich. All feature automatic hover, GPS and mechanical camera stabilisers and most are fitted with sophisticated features like collision sensors. Basically that leaves you with size and price. The new Mavic Air is priced half way between last year's DJI Spark, the company's cheapest offering, and the fold-up Mavic Pro Platinum.
Branding aside, the new Mavic Air looks great. It has foldable legs, making for an even smaller footprint than the go-anywhere Spark. For maximum protection, a neat bag is included in a 'Fly More' pack, that also adds extra batteries and protective propeller guards. Even the controller (this is not a Wi-Fi product) has unscrewable thumb-sticks for stowage. Nevertheless the battery is a claimed 21 minutes, not too far short of the Mavic Pro Platinum's half hour, though this will likely drop if you thrash it up to 68kph in sport mode.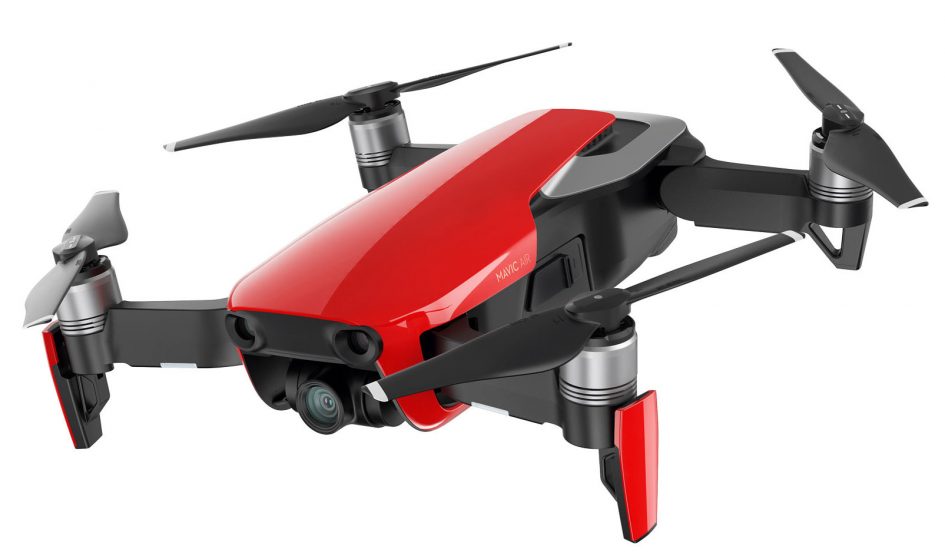 Quality-wise, the 1/2.3in 12 Megapixel f2.8 camera (35mm effective) can capture 4K video at 30fps (slow-motion fans can opt for 120fps at 1080p) and with a data rate of 100Kbps. This is up to 40kbps more than many competitors, giving meaningfully better quality video while still fitting in memory or onto the Micro SD card (that's right, the Mavic Air includes 8Gb of on-board memory). A 3-axis gimbal offers better stabilization than the still-very-good 2-axis one on the Spark.
A few neat new tricks have been added to the software. ActiveTrack – the automatic subject-following feature on many DJI drones – can now follow more than one person, car or whatever. There are also two new QuickShots, Asteriod and Boomerang, bringing the total of instant selfie clips up to six. Finally a 32-megapixel Sphere Panorama mode does in moments what used to take a long time in Photoshop. The system is also compatible with DJI's high-quality FPV goggles.
Oh, all that and you can still do the Spark's "Jedi Trick" (gesture control), which is definitely awesome for a bit, though not that practical. Check back soon for my full review of this new flying camera!